Beneteau 456 Propeller Size
---
Looking For The Correct Dimensions For A Propeller For My Beneteau 456. I Have The Perkins 4108 @ 50hp.
I'm having a similar issue on my Beneteau 440 and was looking for some help too. I've just changed from the Perkins you have to a Yanmar 54 and its not allowing me to take the revs over 2200 (she should be a 3200).

Im in Slovakia and boat is in Fort Lauderdale and I have had the boat pulled in my absence in the past and found they overrun and cost a fortune unless I'm there. I dont want to loose 3 days whilst they pull her, take the old prop off and get a new one sorted so asked for one to be made up for me ready to install myself underwater on my next trip in 2 weeks when I go to the Bahamas.

I've been quoted $1200 and a 4-6wk delivery time! Fella, if I do get mine sorted, your welcome to the old prop.. Can anyone advise what I need. Its on a 30mm shaft just to add to my woes!
Wow thanks a lot
..... I believe there are places where you can give them the boats displacement, hp, revs etc. And they tell you the specs on the prop. I would rather try the old way.....find someone that has already matched the prop-boat-engine.
How was your experience with the 4108. Mine was recently rebuilt, runs fine but smokes a lot upon startup and when at idle.
Senior Member
Join Date: May 2006
Location: Sarnia ON
Posts: 695
Thanks: 3
Thanked 5 Times in 5 Posts
Rep Power:
11
Contact the Manufacturer
---
Pick the prop or props that that you want then contact the manufacturer for a recomendation. They are all very helpfull.

Gary
.
Join Date: Nov 2006
Posts: 10,851
Thanks: 0
Thanked 5 Times in 2 Posts
Rep Power:
15
Avasquez, contact
Gori props
in the USA they will tell you what to get, and while you're at it, get a 2 blade folding prop..you'll love it.
Click on contacts select your country. They will tell you what to get and recommend a size. They did it with me on a boat with few specs. They calculate based on Engine, lenght, displacment etc.
I have a racing folding one, but you can get a regular folding prop.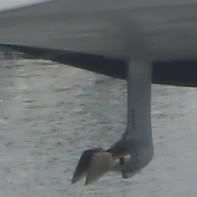 Don Radcliffe
Join Date: May 2007
Location: Santa Cruz
Posts: 396
Thanks: 0
Thanked 0 Times in 0 Posts
Rep Power:
10
Congratulations on buying the First 456--we just competed a 12 year circumnavigation in ours.

With the perkins 4108 and a hurth 2.74 transmission we are using a 20" 3-blade Maxprop, set to a pitch angle of 22 degrees or 15.1", whereas Maxprop recommended 20 degrees or 13.7" pitch.

The Maxprop isn't cheap, but its adjustable, and the feathering feature really improves sailing performance.
Wow...12 years....

Are you the owner of Klondike?

Wow then I believe you can help me. In addittion to propeller I am buying new sails and doing a lot of things to my boat.

I will e-mail you and ask you other things related to the 456.......
Currently Active Users Viewing This Thread: 1

(0 members and 1 guests)