Junior Member
Join Date: Jan 2010
Posts: 1
Thanks: 0
Thanked 0 Times in 0 Posts
Rep Power:
0
Another newbie seeking boat advice
---
Greetings. I will be taking sailing lessons this coming spring and will be relocating to the coast, either Florida or Maryland in the near future. I found a new passion in sailing after going on a couple day trips on a vacation last year. I realize I have alot to learn and much is gained through experience but I would like to purchase a sailboat at some point in the near future and am inquiring about a few questions I have:
1) Any books or websites that teach about the different sailboats and rigging ie) daysailers, racers, cruisers etc...and manufacturers, pros /cons to each, as well as older model boats
2) What type of boat would you recommend, I am hoping to find a boat that is capable of coastal sailing, has a fun quality, meaning can be raced, but is also not a bad rig for overnighters. At most there would be 3 people on it, however most oftern it will be either myself or one other person. I am thinking 20-30 foot range.
3) I wish I could say money was not an issue, but it is, I have saved 30-40k so not sure if used or new is the way to go.
4) Last, I think I prefer to haul my own boat, and thus be able to haul it home after sailing. I see so many boat models between new boats older used ones and types of boats it's mind boggling to me, any help would be appreciated. Thanks!
"ASSUMING" as you state, you want to haul the boat yourself, to be legal in most jurisdictions, you will need to be less than 8.5' wide. Now you can pull a boat wider than that, but you may or may not need permits, you will need wide load signage etc.

Another to look at, is a centerboard or equal. They can float off in shallower ramps etc. A keel, even a shoal model may need a hoist to launch. Or a really steep ramp, along with an extendable tongue, which may be needed even for a CB model.

You will probably find yourself looking at boats with a max legth of around 25'. Hake builds a 30'r that will trailer, not sure about the cost.

The trailerable option will limit you the most. If you did not want a trailerable boat, then you are a bit to a whole lot more options with a 30-40K budget. You could get yourself a reasonably priced 30-35' boat that will probably do what you want overall. Your budget could get you a pretty basic 20-25' boat new depending upon model, or a really nice used one.

The whole boat and trailer will be in the 4000-7000 lb range, so a tow rig of semi decent size will be needed, along with 4wd if you have to go on steeper ramps in salt water area's.

Marty
---
She drives me boat,
I drives me dinghy!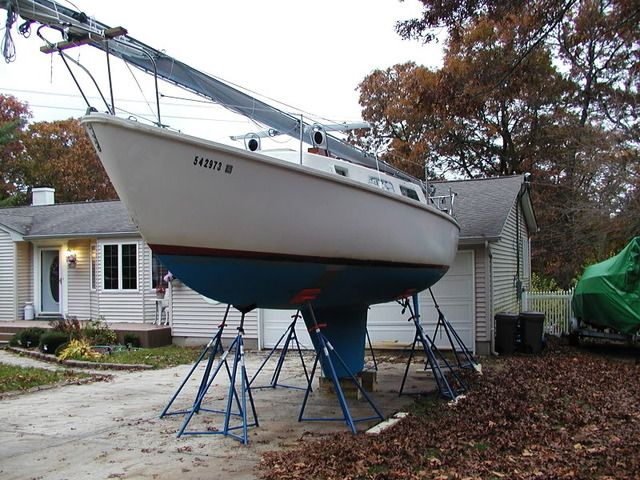 Well
Having 3 boats at home between 19' and 29' feet that is a REALLY BIG size range
with the 19' being the only one i would really consider easy to trailer in that the mast is up and down FAST
Or a small boat like a Catalina 22 after that size it starts to take a really LONG time to get ready to sail
As a DIY hauler even the Silverado knows the J24 is getting taken down to the boat yard for a travel lift launch and forget about the Cal
that's pay the pro
---
1970 Cal 29 Sea Fever

To view links or images in signatures your post count must be 10 or greater. You currently have 0 posts.

1981 J24 Tangent 2930
Tommays
Northport NY


If a dirty bottom slows you down what do you think it does to your boat
To view links or images in signatures your post count must be 10 or greater. You currently have 0 posts.

---
Last edited by tommays; 01-04-2010 at

07:40 PM

.
Senior Member
Join Date: Aug 2009
Posts: 266
Thanks: 0
Thanked 0 Times in 0 Posts
Rep Power:
8
Think local, act global!

Continue your research on what type of boat you are looking for. There probably is a boat in your geographic area that suits your needs for the current criteria. Sail her around until you feel a sense or need for the better "boat".

Get the local "yahoos" to sail with you also - to discuss pros and cons of what you are really looking for versus what you currently own. This will help you decide if you really can afford a larger boat, faster boat, smaller boat, etc.

Then make your decision - long or short range cruising?!?
Senior Member
Join Date: Mar 2006
Location: VA
Posts: 2,131
Thanks: 2
Thanked 7 Times in 7 Posts
Rep Power:
12
The expense of keeping a boat in the water is not inconsequential, however of your stated criteria, "trailerable" is going to limit you the most. It means a smaller boat which will limit your willingness to leave the dock when the conditions are less than ideal. It means far less room than your budget would otherwise allow which may limit your (or your S.O.'s) willingness to overnight aboard when the conditions are perfect.

There are a lot of 28'-30' boats in your price range capable of coastal cruising and casual PHRF racing. Sabre 28's, Catalina 30's, Cal, Oday, the list goes on and on. When you throw in a trailer the list gets culled pretty quickly.
---
PalmettoSailor
s/v Palmetto Moon
1991 Catalina 36
Senior Member
Join Date: Jul 2006
Location: Cape Cod
Posts: 330
Thanks: 0
Thanked 1 Time in 1 Post
Rep Power:
11
Even if you end up with a boat you can trailer, I would suggest finding a mooring or a slip that you can access easily. Launching and rigging a boat is a time consuming prospect. Under these circumstances it is unlikely you will be able to go out by yourself if for example as you leave work you determine what a great night to go on a sunset sail. If you have to trailer the boat to the ramp and set up the rig and then add the sails, you will most often realize it's not worth the effort and a great sailing day has been lost.

IMHO the expenses and maintenance required of owning a boat is only worthwhile if you use it a lot. and the way to maximize its use is to be able to get the boat sailing as quickly as possible, so you can decide at the last minute to go for an impromptu sail by yourself or with friends that can't really help you launch or sail.
Senior Member
Join Date: Aug 2007
Location: Buffalo
Posts: 838
Thanks: 0
Thanked 0 Times in 0 Posts
Rep Power:
10
With that kind of budget, and looking for a trailer sailer, you have a lot of choices. However if you want to tow it home after every sail your choices get limited real quick unless you don't mind a lot of work. The larger the boat the longer it takes to rig. That said my favorite trailerables that will still be reasonable to rig, have plenty of room for 2 to overnight, and have a decent turn of speed. Catalina 22 (sport or MKII), Precision 23, both can be bought new in your budget. The Precision would be right up at the limit, but you could always buy a few years old. They are a bit better built than the Catalina IMHO.

Catalina 22 Sports start at $15,000 or so new
Catalina 22 MKII (the one you want for racing other C22's) starts in the low $20,000 range
Precision 23 is much more, like mid $30,000 range, but it's a lot of boat.

These boats are quite large to trailer, and step the mast as I said. A small daysiler/cruiser is much easier (Catalina 18, Precision 18) but they are really cramped. I have (had, just sold) an O'day 19. It is not a boat I would want to rig every sail, or overnight in. I kept it in a slip and just daysailed it. In hindsight I would rather have had a 22' to 23' boat as my first small cruiser, the 192 was useless as a cruiser and an average daysailer at best, it's a compromise.
---

To view links or images in signatures your post count must be 10 or greater. You currently have 0 posts.


Technician, RCR Yachts Buffalo.
Currently Active Users Viewing This Thread: 1

(0 members and 1 guests)