Quote:
Originally Posted by
GeorgeB
CD,

Interesting, my Catalina experience is C22 (owned), C28 (owned), C30, C34 (owned), C36, C38, C380, C42 and I took a boat ride on a C470. So now you have me thinking and I need to pay more attention to the C400. As I understand it, the 400 was the first Douglas design in Ft. Lauderdale? I think the 380 series was a Morgan mold that was "Catalinaized". I like the looks of the 400 out of the water. The Ft. Lauderdale keels are things of beauty and are pretty fair and have a nice foil shape. The Woodland Hills castings always seemed a little rough. I had to do a bit of fairing on mine. One of the things that bugs me on the Mk II and "0" boats is the lip of the scoop is a little low. How deep does your stern "dig in"? Below the edge? With so much of the aft cabin devoted to sleeping how is your storage? What do you do with all the cruising gear? (… And toys, dogs and other necessary stuff?). You have the roller main? What are your thoughts on a slab reefed main? I have sailed on several C42s and find them stable and predicable, really forgiving in waves, just not a greyhound. Interestingly, the 400 and 42 share the same PHRF number out here, albeit, the 400 has a slightly shorter water line.
Lets see....
You are completely correct about the 380 being a Morgan. Sails like it too. We even had the tall rig which added even more tenderness to the boat. SHe was fine in a blow, but it took a blow to move her. The similarities between the 380 and the 38 stop at the numbering. I would take a 380 cruising, but anyone who has any interest in performance will not like her.
I had the stern paint raised (I raised all the waterline on the boat), but remember, my boat is loaded down cruising. If it touches the bottom paint at all, it is not much, and this is with a tender, davits, and a full solar arch and panels (Pic to follow). Even in the gale, she had no tendency to broach, where many of the wide-butts do in a following sea. She tracks true (much like a 320) runs smoothly. Again, this is the best sailing Catalina I hve been on.
Regarding storage, maybe I should just tell you that I have two kids and a fat bulldog living aboard on her! I think they could have done better with teh storage, but I personally believe that of all their boats. It is just a function of cost. I added cabintry to over come, but I doubt a couple would ahve to.
SLab versus inmast. Ahhhh... the great debate. I will refrain from the million so of comments I have on that, but I will say that I have been very impressed with the inmast. The safety of staying in the cockpit cannot be overstated. My wife can reef the boat from the cockpit, as can I. There is now no reason to go forward - which I always had to do on my other boats for any number of reasons, including the T's getting stuck in the track, securing down the main for a blow, etc. However, there is a performance loss. Before I took the boat down here, I probably would have traded with anyone for the traditional main. Now, I doubt it. However, it is important to know that my wife would never have lete me trade it! SHe is sold and loves it. I have also noticed (and this is important) that we sail a lot more with teh main than we did on our other boats. Pulling it out is a snap and reefing it is a snap and hardly any more time spent than with a jib. I think even you will end up sailing more with an inmast than a slab. However, for those that love their racing, it is not the right setup.
I suspect that you will like the 400 much better than the 42. It is a much newer design. Do note a few things: 1) there is a MKI and a MKII... but in reality there is also a MKIII (they just do not advertise it). I really think the MKII is the superior boat, with many changes that are huge plusses - not to mention the 54 Yanmar versus Westerbeke. However, about hull #307 or so, they changed the boat. I do not know that they changed the hull, I suspect maybe just a different keel and stringer configuration, but the boat draws 5'4 on the post 307's versus the pre's. I have heard, but cannto confirm, that the post 307's do not point as well or perform as well. That would make sense given the draft changes. If I were going to shop a boat, I would shop a MKII pre 307. The deper bilge can come in handy for storage, water drainage offshore, and if the rumors are true, may perform better too. Just be aware the MKII's before the design mods have a draft of 5'10, not 5'4 as advertised.
Go give the boat a shot. let me know what you think and what hull numer you sailed. You will like it.
Brian
PS To the OP, sorry if this was a hijack on your thread. I left it here because the discussion of baots and what we look for (esp given you are considering a Catalina) seemed relevant to the discussion.
Our sail down...
Nice little gale offshore...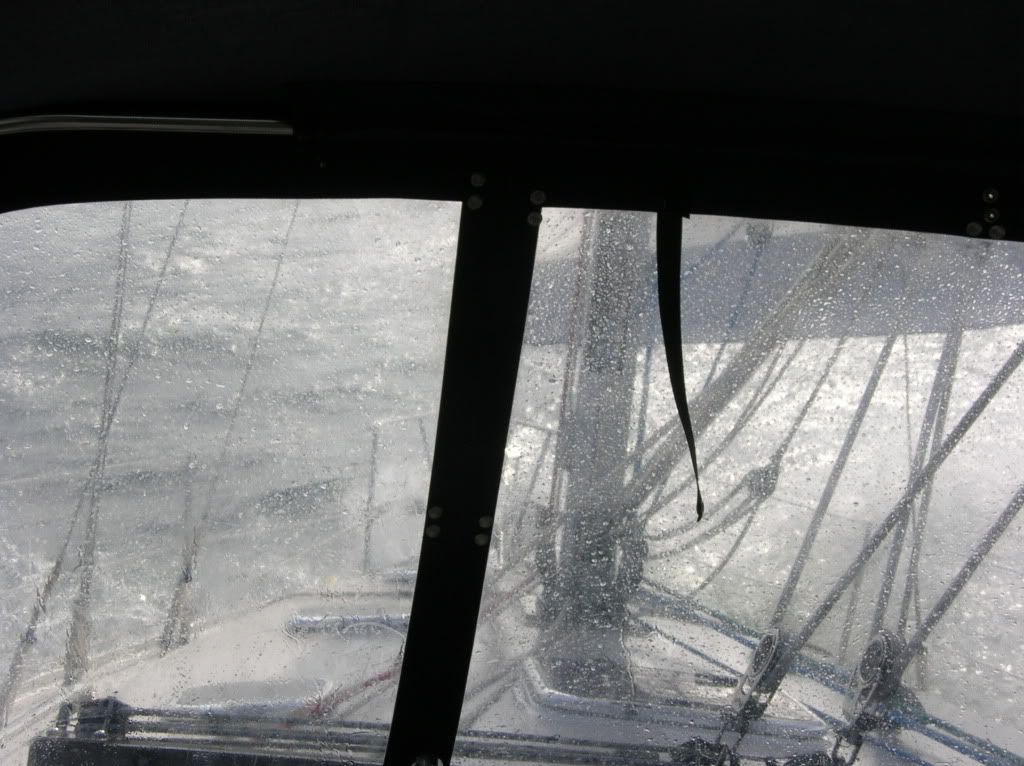 Some of the cabintery changes I have made (they are a little hard to see)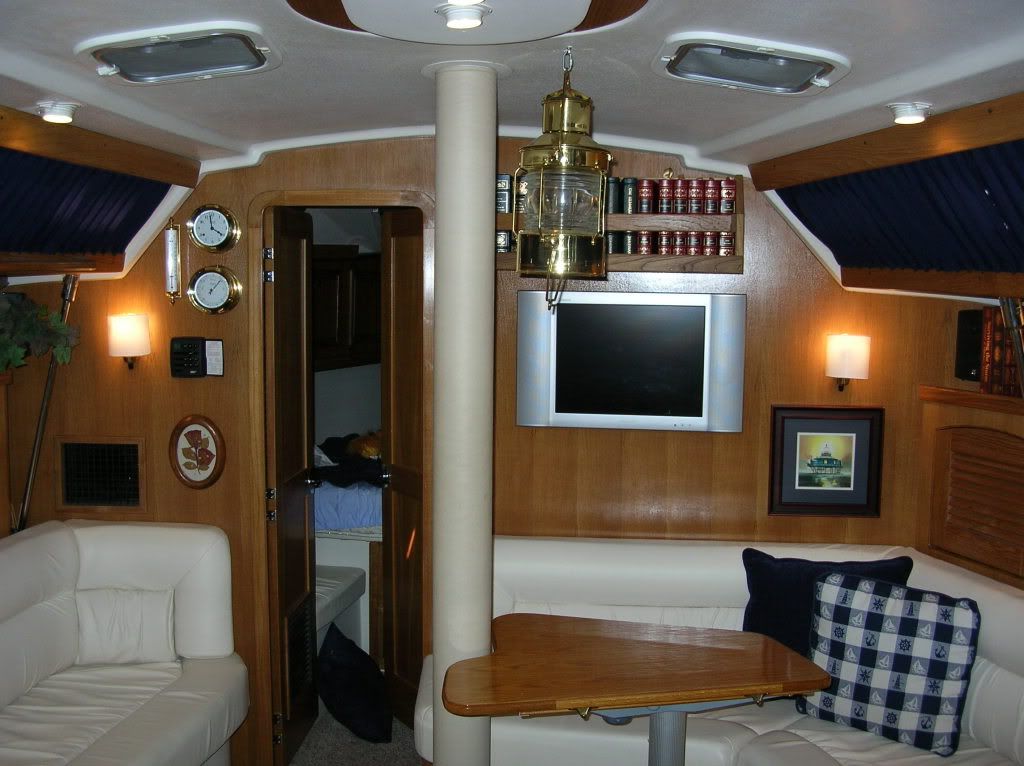 How the stern sits in the water....