Junior Member
Join Date: Apr 2008
Posts: 8
Thanks: 0
Thanked 0 Times in 0 Posts
Rep Power:
0
If I get to florida - I'll look you up for sure. Might happen around year-end.
Junior Member
Join Date: Mar 2012
Posts: 1
Thanks: 0
Thanked 0 Times in 0 Posts
Rep Power:
0
Re: Tiki 36, Wharram design catamaran
---
Many thanks to Boatsmith and Jeff H for their inspiringly articulated replies in this thread. I am in the process of looking for a boat to buy which i intend to spend many years on with my young family and learn to sail it to its apex.
I have spent many years on the water, mostly coastal cruising in power boats. The romantic ideal of sailing now has me firmly by the hip pocket and i am wanting to buy a multihull. I have looked at Searunners, Cross's and Piver because Tri's in Australia are the affordable multihull option. Im not interested in plastic
(unless someone wants to buy me a dragonfly or farrier) So when Wharrram's came into focus, my interest in Cat's resurfaced as a possible option. Much has been said about performance and perception of such but it is only the two aforementioned contributors who have given a would be/potential Wharram owner a balanced and objective view of their capabilities. I agree with you on your point of experience and sail trimming contributing to better overall performance, seamanship in navigating more windward points. Quality of build must also contribute to performance. then..If all else fails... a reliable motor to windward or anchor/beach up till the wind changes. Isn't cruising about enjoying time passing slowly?
Boatsmith, in your professional opinion.. how close to the wind will your Tiki 36 sail? Is it possible to put a pilothouse on them with dry access to the hulls?My partner loves the idea of a cat which doesnt require accessing the other hull via the elements and a lounging area for shady mohito afternoons.
Also thanks to someone ( cant remember who) for the comparison to an old Kombi.. I have always wanted one to modernise with newer technology whilst keeping the great Kombi "look".
Senior Member
Join Date: Sep 2011
Location: Liberty Landing
Posts: 668
Thanks: 0
Thanked 1 Time in 1 Post
Rep Power:
6
Re: Tiki 36, Wharram design catamaran
---
I was on a 43' Wharram once that later crossed the pond. It pulled right up onto the beach at my beach cat club.

I was not impressed. It had very very little space for a 43' boat. The decks are not laid out in a way that makes the best use of all the space, there is no real bridgedeck, and the space in the hulls is very very small for such a large boat. Having a family in this boat would be tight, and I imagine a tiki 36 would be even smaller.

They are seaworthy boats, but supposedly the flare of the deep V gives some discomfort and possible control issues in a seaway.
BoatSmith
Join Date: May 2009
Location: Jupiter FL
Posts: 141
Thanks: 0
Thanked 0 Times in 0 Posts
Rep Power:
8
Re: Tiki 36, Wharram design catamaran
---
The way that things worked out we have not built a Tiki 36, yet. We were commissioned to build a 47' Ariki. This is an earlier design of Wharrams that we( with Wharrams help and approval streched a bit and tweaked a bit and are building in foam cored glass. We have actually sold two of these boats now. We have built molds for all of the peices except for the beams at this point. We are having some engineering done before we build these molds. We are very excited about this vessel. The first boat will be delivered as a bare boat to be completed by the owner. The second boat will be at the Miami show in February. Here is a recent photo and a rendering. There is still no bridge deck saloon and it is still a shallow draft lightweight speedster. We can build this boat with mini-keels,or daggerboards or even centerboards. It will be a very comfortable boat for a cruising couple with occasional guests. It will not have three heads and four staterooms. It will also demount and ship in two 48' containers. We also are fans of Richard Woods designs. We are just now putting the bracing structure on the hull mold for the 32' Eclipse. This boat can be built as tube boat or with a bridge deck cabin. Peace, David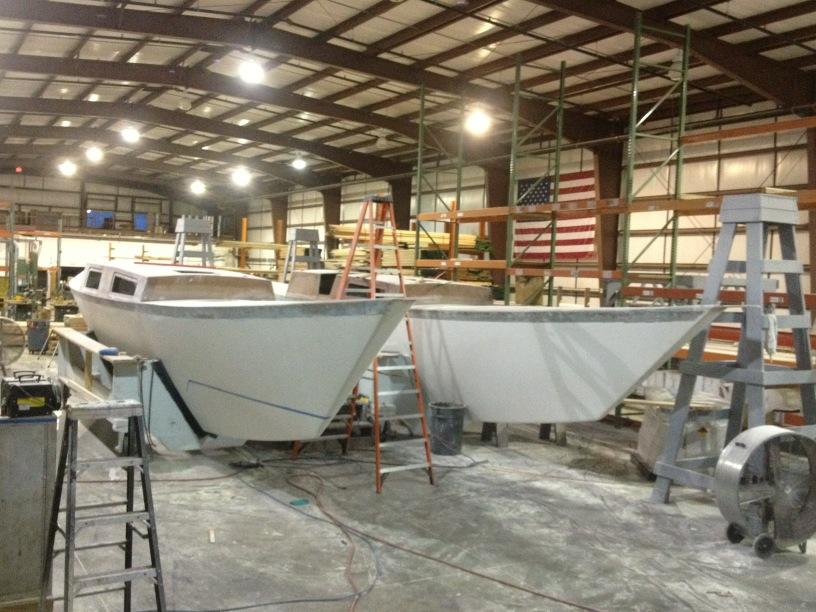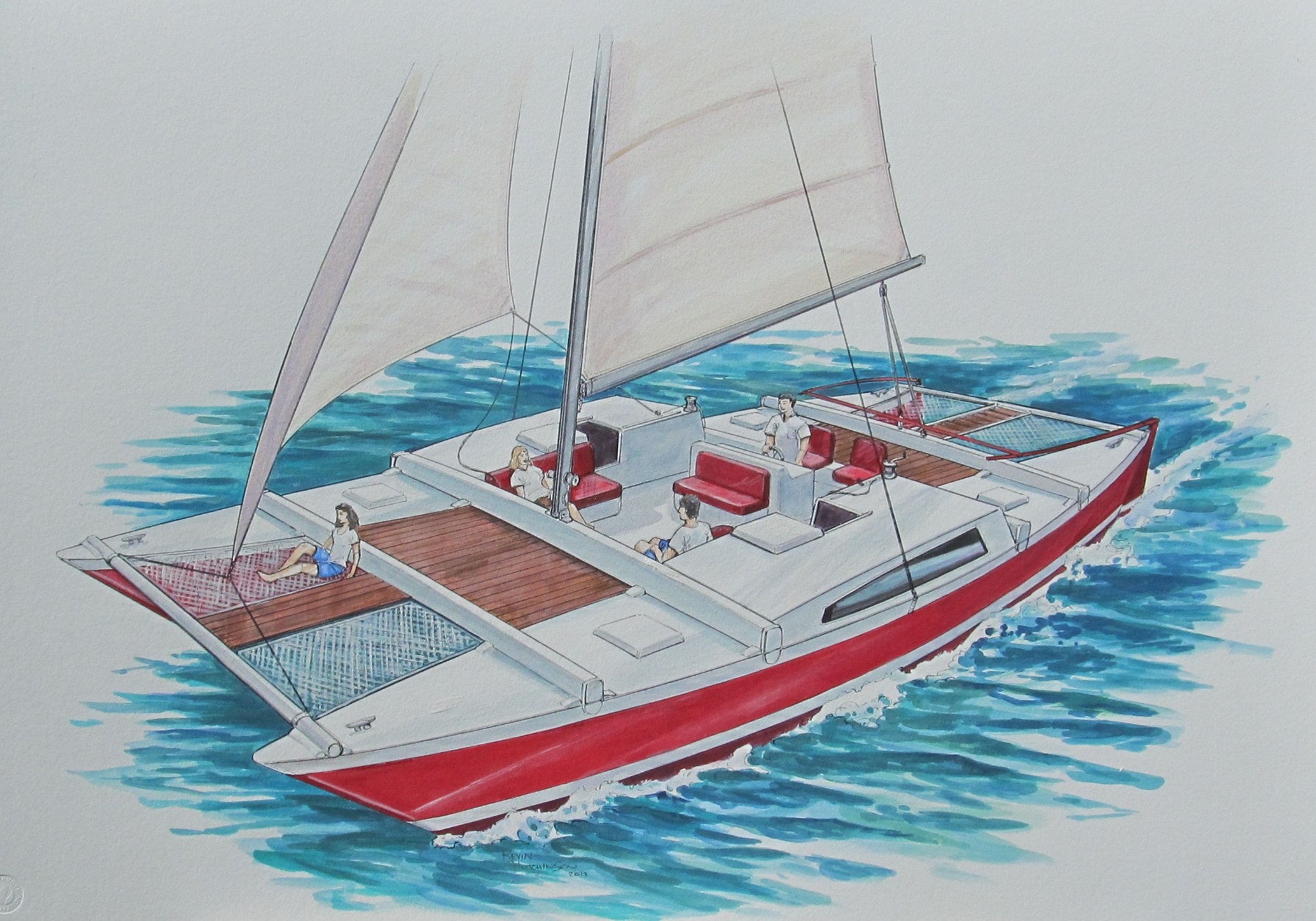 My freind Kevin Hutchinson is the artist. He measured the hull and house, and then drafted the hull and then painted it.
---
BoatSmith ---Boatbuilder
BoatSmith
Join Date: May 2009
Location: Jupiter FL
Posts: 141
Thanks: 0
Thanked 0 Times in 0 Posts
Rep Power:
8
Re: Tiki 36, Wharram design catamaran
---
A youtube of our progress.
---
BoatSmith ---Boatbuilder
BoatSmith
Join Date: May 2009
Location: Jupiter FL
Posts: 141
Thanks: 0
Thanked 0 Times in 0 Posts
Rep Power:
8
Re: Tiki 36, Wharram design catamaran
---
---
BoatSmith ---Boatbuilder
Currently Active Users Viewing This Thread: 1

(0 members and 1 guests)