Senior Member
Join Date: Jul 2006
Posts: 1,370
Thanks: 0
Thanked 2 Times in 2 Posts
Rep Power:
11
Quote:
I would second the idea of looking into a Tartan 30 (or the Yankee 30, FWIW).
If you are interested in adding another solid and fast boat or two into the mix, a couple of well constructed and fast 30 footers would be the Ericson 30+ and the Olson 911S, the later built by either original builder Pacific Boats or later ones by Ericson.
Another classic with a nice easy motion at sea is the Cal 34-3. The Mk 2 has the same hull, but I like the interior in the Mk3 a lot better.

LB
I'd third all the selections above.
Senior Member
Okay, I jacked my yw search price up to 35K. Seems like I dont really want to be scraping the bottom.
Just another Moderator
Join Date: Sep 2005
Location: New Westminster, BC
Posts: 18,774
Thanks: 141
Thanked 499 Times in 473 Posts
Rep Power:
10
That'll open up a lot more options for you! Good luck.
---
Ron

1984 Fast/Nicholson 345 "FastForward"

".. there is much you could do at sea with common sense.. and very little you could do without it.."
Capt G E Ericson (from "The Cruel Sea" by Nicholas Monsarrat)
Senior Member
Join Date: Aug 2003
Location: Long Island, NY
Posts: 2,008
Thanks: 4
Thanked 79 Times in 74 Posts
Rep Power:
14
lots of boats
---
Hey,

Here are my thoughts:

If you really plan on spending a week or longer aboard, I would want a bigger boat. If you only plan on spending a night or two aboard then 28-30' would be fine. The problem with 30' boats for an extended time period is there isn't enough space to put all the 'stuff' you'll want to bring. When you are in sleep mode with all the berths used, there won't be any room to move around. A 33' boat will have significantly more room.

I think that just about any commonly available racer / cruiser from the 80's would meet your needs. Off the top of my head this would include:
Catalina, Hunter, Beneteau, Jeanneau, O'day, Pearson, Newport, Cal, S2, Sabre, Tartan, Irwin, C&C, etc. etc. etc.

Do you want any particular features in a boat? Things like shoal vs deep draft, swim platform, wheel or tiller steering, traveler mounted on cabin top or in front of wheel / tiller? What about interior features like pressure hot and cold water, refrigeration, propane stove? Decide on things like that and you will start to rule boats in or out.

For example, my boat stays on a mooring and I board from my dingy. My family and I also like to swim off the boat. So I required a boat with a swim platform. I also wanted the traveler on the cabin top so no one could trip over it when they moved around the cockpit. The boat had to have wheel steering, inboard diesel, self tailing winches, and decent interior features. In my price range that didn't leave too many models (like Hunter, O'day, Newport).

Spend time going to brokerage yards and climb around a range of boats until you decide what you like or don't like.

Good luck,
Barry
---
Barry Lenoble
Deep Blue C, 2002 C&C 110
Mt. Sinai, NY

To view links or images in signatures your post count must be 10 or greater. You currently have 0 posts.

Senior Member
Join Date: Oct 2008
Location: Durham N.H.
Posts: 558
Thanks: 2
Thanked 15 Times in 15 Posts
Rep Power:
9
Check out the Ericsons on yachtworld... nice boats... there is a 30' in Northport near you for 21k looks really nice...
I agree the first one looks nice withe the new motor the other two look horrid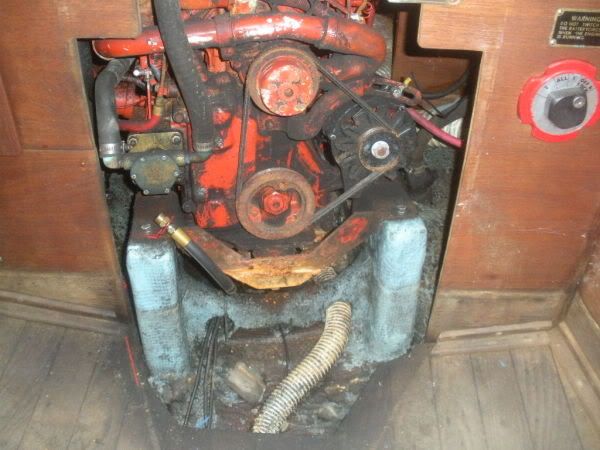 ---
1970 Cal 29 Sea Fever

To view links or images in signatures your post count must be 10 or greater. You currently have 0 posts.

1981 J24 Tangent 2930
Tommays
Northport NY


If a dirty bottom slows you down what do you think it does to your boat
To view links or images in signatures your post count must be 10 or greater. You currently have 0 posts.

Senior Member
Why bother showing a photo of an engine like that???

Barry,
Point taken about stowage, but more often than not I will be doing day sails of <6hours with a crew of 0-2, so keeping it around 30' will make me a lot more comfortable single handlling it. I sailed a Catalina 320 for a week and it was a handful trimming and tacking by myself while crew was below. Doable, but it wasn't pretty.
Senior Member
Join Date: Sep 2006
Location: Yeocomico River, VA
Posts: 1,643
Thanks: 3
Thanked 18 Times in 15 Posts
Rep Power:
12
Those photos are so sad. They're an affront to all things nautical and proper. On the other hand, they make my engine look positively pristine, so I'll show them to the Admiral.
It's quite possible that they run flawlessly, but given the state of the engines and the surrounding areas, I think that it points to the general level of maintenance.
Yuk
---
Sabre 38 "Victoria"
Senior Member
Join Date: Nov 2010
Location: Randolph, MA
Posts: 164
Thanks: 0
Thanked 0 Times in 0 Posts
Rep Power:
7
Good luck Mazzy.

We just went through this and settled on a Catalina 310. We bounced around in budget a lot, from around $75K with financing to $25k for cash.

When we were looking at the $25K range the boats that had my interest the most were the Sabre 28 & 30, the Pearson 28 & 30 and C&Cs in 27 to 30 range. I also considered Ericsons and O'days. Some friends at the marina have an Ericson 27 and an O'day 272. Both boats sail great for the money and there were lots of deals on it. The Ericson was purchased for $15K and the O'day for $6K. Neither were "project" level boats and were sailable with just a good detailing inside and out.

One piece of advice I would give is to try and make friends with a local broker. They typically have access to a sold boats website that summarizes the asking and sail price and length on the market for boats sold through yacht world. In doing this, I was able to figure out that the boat models I was interested in were generally selling for 10% or more off of the asking price. I then recalibrated my search settings on yachtworld and found the boat I wanted in my price range.

The other thing to keep in mind is that boats on yachtworld are through brokers who generally get a 10% commission. Boats through sailboatlistings.com are from private sellers. This is a little far from you, but the URI boat program and the Mass Maritime Academy have donated boats for sale that can often be good deals.

Good luck and happy sailing.
---
"Twenty years from now you will be more disappointed by the things that you didn't do than by the ones you did do. So throw off the bowlines. Sail away from the safe harbor. Catch the trade winds in your sails. Explore. Dream. Discover." -Mark Twain
A mig 80's Jeanneau Attalia or the slightly smaller Arcadia might fit you bill too. There are 3x as many attalia's around vs the Arcadia. SunDream or sunlight 28 or 30 are newer models in and around the same length.

Reality is, ANY boat with a fin keel, enough SA/disp to move in light winds will be fun and better than what you have. I would suggest closer to 30-32' if you can. Also boats where all of the sheet lines are with in reach of the helm make life easier too. Most Catalinas have the main sheet on the cabin top, which is hard to reach from the helm.

Marty
---
She drives me boat,
I drives me dinghy!
Currently Active Users Viewing This Thread: 1

(0 members and 1 guests)
Similar Threads
Thread
Thread Starter
Forum
Replies
Last Post
Moving out

solman55

Living Aboard

72

05-31-2010

07:26 PM

Moving to TN

NomadPa

General Discussion (sailing related)

5

05-29-2007

09:35 PM

Need help moving 24'' MTH-JAX

Ihop

Crew Wanted/Available

1

03-24-2005

03:04 AM

Best Moving Map

sailnaway

Gear & Maintenance

0

01-17-2005

12:01 PM

Moving up

wheelerbrian

Boat Review and Purchase Forum

0

09-10-2003

10:39 AM