Cassie&Michael
Join Date: Nov 2011
Location: Kentucky
Posts: 5
Thanks: 0
Thanked 0 Times in 0 Posts
Rep Power:
0
Needing information on a potential boat
---
Hello forum users! My boyfriend and I are looking to buy our first sailboat. We live in KY, but are looking to purchase something that can put us on both the large lakes of the region and ocean waters around FL and the Bahamas. We're both 20 years of age, with limited sailing experience, but eager to learn and ready to get on the water as soon as possible.
We have been searching for an ideal boat on Craigslist in the area of NC when we stumbled upon an ad for a boat that seemed promising. Below is a picture of the ad.

I've been in contact with the owner about my questions of the boat, and the owner has been prompt and seemingly honest in his replies, but I've been unable to find a review for it. Does anyone recognize what we're looking at? Does the vessel seem to be in good condition and adequate for our proposed sailing needs? Any information is greatly appreciated. Thank you!
Senior Member
Join Date: Oct 2009
Location: In New Zealand about to head for Alaska.
Posts: 660
Thanks: 29
Thanked 32 Times in 29 Posts
Rep Power:
8
It looks like a nice little boat and it's price is half of what I paid for my inflatable dinghy.

If the sails are in reasonable condition it looks like a good buy.

Great for the lakes and the Florida Keys but a bit small for sailing to the Bahamas. Not impossible but you would need to be very careful of the weather.

Good Luck Phil
72 C&C Corvette
Join Date: Jun 2011
Location: PHYC
Posts: 318
Thanks: 0
Thanked 2 Times in 2 Posts
Rep Power:
6
The boat seems to be in good shape, and would make a good starter boat to learn on but for any extended crusing you might want somthing bigger, mabey with head room and a galley. Whatever you choose welcome to the world of sailing and have fun
Don't know the boat, but it's cute. If it were me (for all that's worth, which is nothing), I wouldn't try to satisfy both needs yet. I say that, because outside of knowing that you're ready to learn to sail and that eventually you'd like to spend time in warmer climates, you're not sure what it is, exactly, that you really desire in a boat. Find one you like that's affordable, buy it, and enjoy it as much as possible. Then, you can get a feel for what's a "must have" for your next one.

BTW, which lakes in Kentucky? I'm originally from there, and ironically, my first sailboat, a USYacht 22', was sailed down from Ky to the west coast of Florida, which is where I picked her up.
Senior Member
Join Date: Oct 2008
Location: South Coast Ontario
Posts: 8,484
Thanks: 35
Thanked 93 Times in 82 Posts
Rep Power:
10
What is your budget?
If You can stretch the funds, you might want to consider a West Wight Potter 19, possibly the best trailer sailor/camp cruiser ever built.
The Trailer Sailor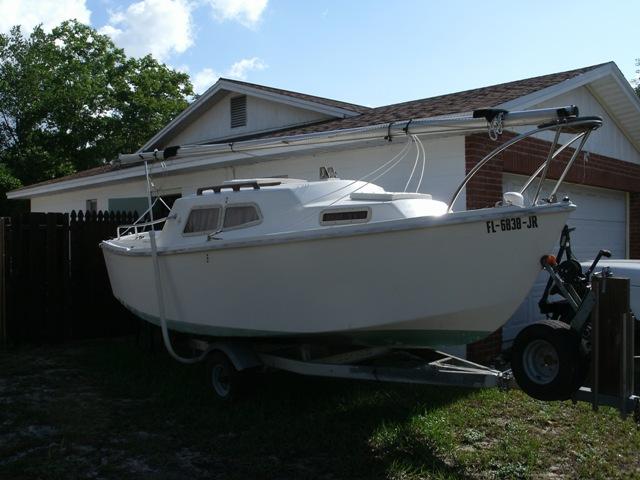 ---
It's 5 o'clock somewhere:


To view links or images in signatures your post count must be 10 or greater. You currently have 0 posts.

Junior Member
Join Date: Jan 2003
Location: Tacoma Wa
Posts: 6
Thanks: 0
Thanked 0 Times in 0 Posts
Rep Power:
0
Looking at the boat it seems a very sturdy type. Built in England would suggest it has been well built. They have tight manufacturing rules. I would not hesitate to purchase but would caution until your competent don't go off shore.
Senior Member
Join Date: Sep 2008
Location: Victoria B.C. Canada
Posts: 7,799
Thanks: 0
Thanked 111 Times in 102 Posts
Rep Power:
10
---
Brian
Living aboard in Victoria Harbour
Bristol 45.5 - AiniA
Join Date: May 2006
Posts: 4,513
Thanks: 5
Thanked 122 Times in 110 Posts
Rep Power:
11
I agree with Mitiempo about the boat ID. I doubt it is a 'Lloyd's' - I suspect that this refers to it being built to Lloyd's standards - which is a good thing - and is tied in some fashion to the famous marine insurance house in England.

I would not suggest that this is not a good deal, it may well be. Have you done lots of looking around? There are lots of decent available with prices starting at $0. If you have not checked yachtworld.com, have a look and search for boats from 20 to 25' and from $500 to $2000 and see what you like. I saw a Catalina 22 for $1000 and a C&C 24 for $2000. Note that Yachtworld is not the best place to look for real bargains since they are being sold through a broker. Keep looking at eBay and Craigslist and at bulletin boards at sailing clubs for the real deals.

Good luck with it.
---
After the refit we have decided to sell Ainia. We want something smaller that would be could for the light summer winds of Lake Ontario, although we plan to spend at least a couple of winters in the Caribbean before heading north.
Cassie&Michael
Join Date: Nov 2011
Location: Kentucky
Posts: 5
Thanks: 0
Thanked 0 Times in 0 Posts
Rep Power:
0
Thank you, everyone, for the helpful reviews! We've been doing some more research, and are almost sure we're looking at a Silhouette, so thank you mitiempo and killarney.

We currently plan to start on KY lake and perhaps Cumberland, emoney. The plan of the man is to build his confidence on the lakes quickly so that we may move out to coastal sailing. We'll also use the lakes in the months we're unable to travel with school and work.

Taking everyone's information into consideration, along with the fact that Michael would prefer something larger, we're focusing on an O'day 22' at the moment. We both seem to think this will suit our needs more adequately than the Silhouette, but we must keep it in mind for the price, for now.

Thanks again, everyone! We greatly appreciate the knowledge from seasoned boaters and look forward to becoming a part of this great community.
Junior Member
Join Date: Sep 2006
Location: Hingham, MA
Posts: 12
Thanks: 0
Thanked 0 Times in 0 Posts
Rep Power:
0
I like the Silhouette better than the O'Day--just in terms of the solidity of the boat. As others have pointed out, if you just want to go a little bigger, there are plenty of great 22's out there. I see the Catalina's everywhere, and they seem to get sailed a lot. I guess that is my reason for the preference. The O'Days that I see are rarely off their moorings. So the truth is I have no great reason for my preference other than, when I was looking for a boat, I didn't think the O'Days were as well built or designed as the other boats I looked at.

I looked at a LOT of boats.

I also agree with the folks who said "get a boat and sail for a while." If you use CL as your broker you will probably get about the same $$$ back as you put in to purchase it. I bought a 16' day sailer (AMF Sundbird) and we sailed that happily for two years. Then I heard a lot of complaints about tippiness and "facilities" and I purchased a considerably bigger boat. Turns out that I LOVED both boats and my family was unimpressed either way. Sail and see what happens for short money would be my advice!
---
1967 Soverel 28
THE INCIDENT

He not busy being born is busy dying
Currently Active Users Viewing This Thread: 1

(0 members and 1 guests)