Junior Member
Join Date: May 2010
Posts: 3
Thanks: 0
Thanked 0 Times in 0 Posts
Rep Power:
0
New C&C 32 Owner Here
---
Hi, we just bought a 1981 C&C 32, I am looking for any help or tips and photo's if possible of anchor windlass installations. I have been looking around for information/advice and find that it seems to be a screw up waiting to happen, so many different opinions on the best way to wire them, to add a battery or not to add a battery and even whether to go with electric or manual. So if there is someone out there who has a C&C 32 with a windlass that works I'd be interested to know what it is, where it was installed and how it was wired (if it's electric).
Thanks,
John
ASA and PSIA Instructor
Join Date: Apr 2000
Posts: 3,831
Thanks: 13
Thanked 37 Times in 37 Posts
Rep Power:
18
That seems a small boat for a windlass, so I'd say go with a manual if possible, but figure out what you can fit somehow into the anchor locker so you don't clutter up the foredeck...
---
Certified...in several regards...
Just another Moderator
Join Date: Sep 2005
Location: New Westminster, BC
Posts: 18,865
Thanks: 141
Thanked 513 Times in 487 Posts
Rep Power:
10
Here's a pic culled from a Yachtworld listing: No details but what looks a clean installation.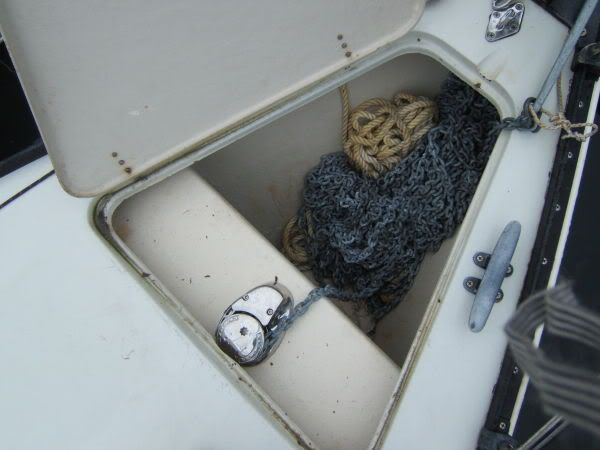 ---
Ron

1984 Fast/Nicholson 345 "FastForward"

".. there is much you could do at sea with common sense.. and very little you could do without it.."
Capt G E Ericson (from "The Cruel Sea" by Nicholas Monsarrat)
Junior Member
Join Date: May 2010
Posts: 3
Thanks: 0
Thanked 0 Times in 0 Posts
Rep Power:
0
Thanks for that Faster, I know the owner of that particular boat so have been in touch with him already. The thing about the way this was done is the anchor has to be hauled off the bow and into the locker each time it's brought up, otherwise the locker door won't close.
Currently Active Users Viewing This Thread: 1

(0 members and 1 guests)