Junior Member
Join Date: Oct 2001
Posts: 14
Thanks: 0
Thanked 0 Times in 0 Posts
Rep Power:
0
Spanish Virgins anyone?
---
We are contemplating a sail next spring out of St. Thomas to the Spanish Virgin Islands of Culebra and Vieques. Has anyone made this trip? It looks like a great sail to the islands but coming back to Charlotte Amalie on St. Thomas could be hard on the nose. Possibly leaving for St. Thomas out of Vieques, having a bit more north in the sail, may make it more of a close reach. Are there customs offices on these Islands? Was it an enjoyable destination? Thanks for any feedback..Popye
We took a run down to the SVI's this last February on a buddy's Isand Spirit 37 cat, S/V Sanctuary.
Great sail down, caught a bunch of fish (released) pulled into the back side of Rio Honda Harbor in Culebra, checked into customs via cell phone, had a great dinner at Mamacitas, then off to Culebrita and Viques, picked some provisons up at Dewey, very big latin influence, feelt like Mexico.
The Village Idiot greeted us and chased us and our dink off the fishing complex dock, quite an experience! We put hher on the beach instead!
We sailed back to STT in 20-25 knot winds and steep 6'+ seas, all to weather, logged about 70 miles on the GPS, left around 9:00 in the morning and arrived right at sunset, about 9 hours wind at the nose.
Caught a really nice Blackfin Tuna at the dropoff and had her prepared sushi and also seared at Eppernay in Charolette Amiale, YUMMY!
Go for it, great trip, desolate ancorages, really cool!
Some pics and videos here! The pics start in BVI, then go on to SVI's!
saildoggie/virgins 08 - Photobucket - Video and Image Hosting
---
An over 40 victim of fate
To view links or images in signatures your post count must be 10 or greater. You currently have 0 posts.
To view links or images in signatures your post count must be 10 or greater. You currently have 0 posts.
---
Last edited by Saildoggie; 12-10-2008 at

03:48 PM

.
Since St Thomas in the USVI and Culebra & Vieques (PR) are both part of the US is customs clearance required? I sort of thought it would be like sailing from Key West to Miami.

But maybe things are different down there. Years back flying from San Juan to Miami I had to clear customs in San Juan to board the plane. Was coming back from a delivery and among other things I checked a life raft in a fiber glass cannister. Had a lot of fun with the customs officer and that one. He never did figure out how to look inside without inflating the thing.
Don Radcliffe
Join Date: May 2007
Location: Santa Cruz
Posts: 396
Thanks: 0
Thanked 1 Time in 1 Post
Rep Power:
10
If you have the customs user decal and US crew, you can check in by phone in Culebra. St Thomas is a duty free island, so you need to deal with customs when you arrive in PR, but not on the way back.
Senior Member
Join Date: Sep 2004
Location: Massachusetts
Posts: 1,297
Thanks: 5
Thanked 28 Times in 19 Posts
Rep Power:
13
Culebra
---
Had such a good time in Culebra we never made it to Vieques.
If your cell phone doesn't work you can also check in w/ customs at the airport in Culebra. As mentioned above, PR and VI are in different customs areas and you are required to check in when you arrive.
Culebra is a laid back place, very different from the USVI. The photo below gives you an idea of how the place works.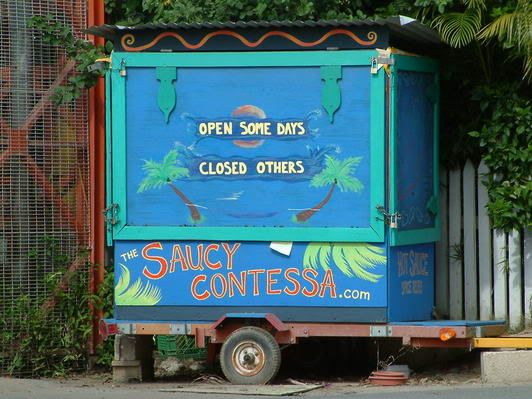 Dewey -- We found it easier to anchor on the west side of Dewey (Culebra's main town) rather than in Bahia Honda. The ferries come in on this side and create some wash, but you have good places to leave the dinghy on the main quay and a much nicer dinghy ride. If you anchor in Bahia Honda and the trades are up you have a wet ride back to your boat. On the Dewey side there is room for 6-8 boats to anchor, but stay to the left as you face the town. The ferries come in and turn around on the right side of the harbor and they don't like yachts in their way. The holding is generally good in sand w/ grass, but do check the set of your anchor with mask/snorkel. As you can see in the photo below it's fairly calm on this side of the island, even on a windy day.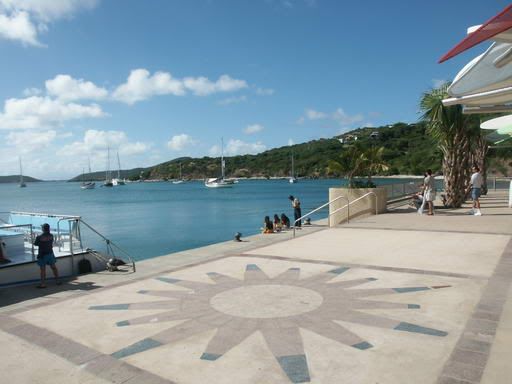 Culebrita -- Definitely worth a visit, but be careful with your pilotage onthe way in and out. the photo below is looking NNE. Check your charts carefully, but my recollection is that you parallel the reef break on the left of the photo. The reef on the right isn't breaking in this photo, but you can see the outlines of it as light colored water above the masts of the two sailboats in the center. This place is good in settled weather but stay away if a northerly swell is running or the wind is up or is forecast to be strong. A walk to the abandoned lighthouse affords a good view and don't miss the 'jacuzzi' which is on the eastern side of the bay. Turtles nest on this beach off the sterns of the boats. There can be some swell here, the boat on the far left is in the best position -- behind the small reef. When we were there there were moorings in the bay, but I'd check them carefully as they looked a bit dodgey when we were there.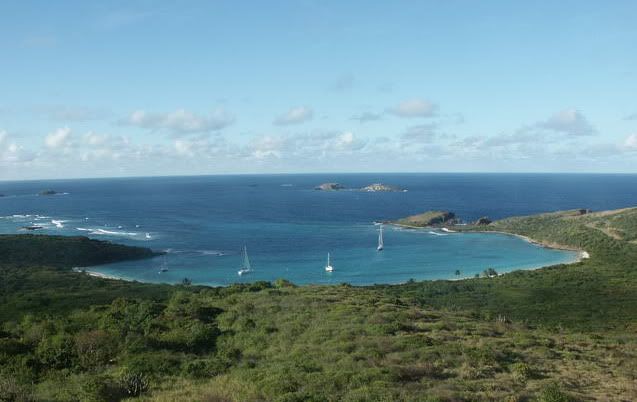 Have fun. We stayed a month. Don't miss Flamengo Beach and it's fun to rent motorbikes for a day or more. There are several rental places at the airport.
Finally, this is a good place to change crew. The ferry to Fajardo on the main island is so fast and inexpensive it makes no sense to take your boat there. Fajardo is easily reached from the San Juan airport and the air taxi ride to Culebra is not that much more than the taxi to Fajardo.
As for the trip back to the VI, it's only 20 miles or so. Pick a day when the trades are down a bit and enjoy the sail to weather.
Culebra is the best...
---
For a really good night sleep the best anchorage is definitely inside Ensenada Honda, on the west side of Cayo Pirata.
I don't discuss my member
Join Date: Aug 2007
Location: Chesapeake Bay
Posts: 2,557
Thanks: 0
Thanked 33 Times in 33 Posts
Rep Power:
10
Title was a bit misleading....nevermind.
---
Merit 25 # 764 "Audrey"
Glad I found Sailnet
Join Date: Jul 2008
Posts: 3,820
Thanks: 14
Thanked 51 Times in 50 Posts
Rep Power:
10
Yes. Misleading title. Great thread though.
Member
Join Date: Nov 2008
Posts: 96
Thanks: 1
Thanked 2 Times in 1 Post
Rep Power:
9
culebra
---
Land of many snakes...............Culebra is snake in Spanish
AEOLUS II
Join Date: Oct 2008
Location: From The Land of Pleasant Living
Posts: 2,938
Thanks: 3
Thanked 12 Times in 12 Posts
Rep Power:
9
Quote:
Title was a bit misleading....nevermind.
A twelve year old girl that runs faster than her brothers??
Currently Active Users Viewing This Thread: 1

(0 members and 1 guests)