Member
Join Date: Apr 2006
Posts: 39
Thanks: 0
Thanked 0 Times in 0 Posts
Rep Power:
0
Georgian Bay Cruising
---
Hi, I am currently keeping my boat in Toronto. This way I can get to the boat and participate in the evening club races. Weekend cruising is not so great. We don't have many islands at west end of Lake Ontario. Going to 1000 at the East End of the Lake Ontario will call for 1-2 week trip which I can only do ones per year.

I was thinking of relocation boat to Georgian Bay which is famous cruising ground. I can sail for 2-3 hours on weekend drop the anchor for the night and come back next day. The draw back is that it is 1.5 hour from Toronto and on busy weekend it may be 3 hour drive. So evening sails are out of question but I can still crue at my club and do cruising on weekend. I will also be able take 1-2 week trip to Northern Channel.

I was wondering if 1.5-2 hour drive will affect use of my boat. I am afraid that if I move the boat I will not be using it as often plus the maintenance issue. It's one thing to drive to the boat for a weekend and another to drive 3-4 round trips to fix something on the boat. Does somebody keep boat in 1-5-2 hour range? Any feedback/advice would be much appreciated.
Telstar 28
Join Date: Mar 2006
Location: New England
Posts: 43,290
Thanks: 0
Thanked 18 Times in 14 Posts
Rep Power:
16
A lot of people keep their boats further away than that. As long as you're willing to do it, I think it should be workable. A friend of mine at my marina lives four hours away and he's often on his boat more than I am, and my drive is only an hour or so. I could have kept my boat closer than it is, but I wanted to have the diverse choices that Buzzards Bay, another well-known cruising ground, gave me, with easy access to Martha's Vineyard, Cape Cod, Nantucket, Block Island, and Newport.
---
Sailingdog
To view links or images in signatures your post count must be 10 or greater. You currently have 0 posts.
Telstar 28
New England

You know what the first rule of sailing is? ...Love. You can learn all the math in the 'verse, but you take
a boat to the sea you don't love, she'll shake you off just as sure as the turning of the worlds. Love keeps
her going when she oughta fall down, tells you she's hurting 'fore she keens. Makes her a home.
—Cpt. Mal Reynolds, Serenity (edited)

If you're new to the Sailnet Forums... please read this
To view links or images in signatures your post count must be 10 or greater. You currently have 0 posts.
.
Still—DON'T READ THAT POST AGAIN.
Senior Member
Join Date: Dec 2005
Location: Porter, IN
Posts: 4,647
Thanks: 1
Thanked 1 Time in 1 Post
Rep Power:
13
We drive an hour and a half each way.
Up on Friday evening and home on Sunday evening.
I think spending two full days on board, you actually get more boat time.
I used to work fifteen minutes from our mooring, I do miss the easy access and the evenings on board during the week, but we have adjusted nicely.

I would think that the beauty that Georgian Bay and the North Channel have to offer would offset the longer drive. Just my feelings.
---
Courtney is My Hero
If a man is to be obsessed by something, I suppose a boat is as good as anything, perhaps a bit better than most - E.B. White
Senior Member
Join Date: Jul 2007
Posts: 109
Thanks: 0
Thanked 0 Times in 0 Posts
Rep Power:
10
ichorniy - this is too funny. We too are moored in TO and while we were in town, it was just too easy to pop down for a few hours. Have since moved up to Borden and we are finding it a little difficult to make the adjustment as it is now 1.5hr drive to the boat instead of 20 mins. 1st time we did it, we forgot many things but with a little pre-planning things are getting much better.
Biggest issue though is the lack of decent cruising areas, once out of the inner harbour there is nothing much to do but sail in circles. We too are exploring Georgian Bay, availability is an issue though, at least in the Wasaga area, Things ease up further north but I don't want to just trade one 2hr commute for another. I will be curious to see what others have to say.
Caribbean Surveyor
Join Date: Sep 2006
Location: Now in Sosua, DR
Posts: 511
Thanks: 0
Thanked 1 Time in 1 Post
Rep Power:
11
ichorniy - my slip is in the North Channel. I drive from Sudbury, which is about 1 hour and 15 minutes away, each weekend and sometimes after work to do a quick job. I don't think twice about it, the drive is great and goes by real quick. The sailing you'll get in Geogian Bay and in the North Channel is worth the drive, I wouldn't sail anywhere else at this time nor is anywhere else really available.

I do understand the grid lock you face in Toronto on fridays, maybe you can leave earlier in the day and drive back home later at night.

The problem you may find is getting a slip in Georgian Bay....but with so many power boats for sale up, slips may be more available. You're looking at Midland or Parry Sounds I gather?

Good luck.
Member
Join Date: Apr 2006
Posts: 39
Thanks: 0
Thanked 0 Times in 0 Posts
Rep Power:
0
Midland Area
---
I am considering Midland. There are 5-6 big full service marinas in that area. I don't think finding a slip should be a problem. It may take couple of year moving from place to place before we find the place we want to stay for a while. I think many boaters in that area are moving around from marina to marina. I am considering Doral Marine Resort for now. Parry Sound will add an extra hour to commute and I don't know if I want to go that far.

We get boat a Hunter 29.5 in Ohio and keep it in the marina while readying it for the trip to Toronto. We enjoy staying on the boat all weekend. It took us 5.5hour to get from Toronto to Huron Ohio so 1.5-2 hours commute should not be a big issue. It looks like it works for many other boaters too.
Senior Member
Join Date: Apr 2007
Location: St Peters, MO
Posts: 389
Thanks: 0
Thanked 0 Times in 0 Posts
Rep Power:
11
OH, to be an hour and a half from the North Channel!! A couple years ago I drove 18 hours to charter a boat there. I currently drive 40 minutes to be on my boat, and with the current flood condition in the Mississippi we don't even sail; just be on the boat! The river at best is a poor to fair sailing ground, but it's what we have! I have a cousin who used to keep his boat on Kentucky Lake, a 5 hour trip. Arthritis finally forced the sale of his boat. Next year I am retiring and taking our boat to the North Channel. Trust me, if I lived in Toronto I would not hesitate to harbor my boat 2-3 hours away in Georgian Bay. It is not only workable, but delightful, to have the boat far enough away that you stay aboard Friday evening to Sunday evening. Most of us would cheerfully trade a dozen evening sails for a weekend in a much improved sailing ground. The only reasons I can see to stay in a questionable sailing ground is if you are devoted to the club races, or the nearest great sail is far enough away that you must leave after work and drive until midnight.
---
Don
To view links or images in signatures your post count must be 10 or greater. You currently have 0 posts.

1980 Endeavour 37 sloop, currently in the Mississippi near St Louis
To view links or images in signatures your post count must be 10 or greater. You currently have 0 posts.

---
Last edited by RAGTIMEDON; 07-08-2008 at

01:20 PM

. Reason: spelling
Senior Member
Join Date: Aug 2007
Location: Georgian Bay
Posts: 400
Thanks: 2
Thanked 1 Time in 1 Post
Rep Power:
10
Georgian Bay
---
Igor, I'll repeat my e-mail to you for the benefit of others.
We are located just north of Guelph, which puts us 1 hour from Lake Ontario, 2 hours to Lake Huron and 2 hrs. to Georgian Bay. Being 2 hours away from the boat eliminates the summer evening sails, which I miss. We've spent many summers in the Georgian Bay region and love the area, which is why we ended up here, even though it limits us to weekends and summer holidays. Georgian Bay and especially the North Channel above Maintoulin Island, is world famous for its cruising grounds with endless areas to explore and anchor out. Our typical weekends consist of sailing on Saturday for several hours and then dropping the anchor in a protected bay and spending the night in great surroundings, sometimes with only a few other boats and minimal cottages. Sunday we sail back to our marina. This summer we are headed up to the North Channel for 2 weeks of sailing, cruising and anchoring out.
One disadvantage to being in the Midland area is the amount of boats and sometimes feeling like I'm trying to sail across the 401 (the 16 lane highway through Toronto). Midland area has probably 4 - 5,000 boats and nice weekends like this past one can get busy. However, once you get past the 2 hour cruising range it thins out considerably.
Check out this website for a good listing of the marinas in that area.
An overview of marina rates for a 30-footer on southern Georgian Bay
That site also has lots of info on the area in general. Otherwise there's lots of info on this region on anchoring locations and crusing grounds from various locations and the people up there are great. I spent the first winter after we bought the boat doing research on cruising and anchoring
etc.
Best info on the area is the Ports Cruising book.
Cruising Guides
| | |
| --- | --- |
| The Following User Says Thank You to scottbr For This Useful Post: | |
Senior Member
Join Date: Aug 2007
Location: Georgian Bay
Posts: 400
Thanks: 2
Thanked 1 Time in 1 Post
Rep Power:
10
jjns, you should check out Midland, Penetang, Victoria Harbour.
It takes us 1 hour from Foxy's chip wagon on Airport Rd. to Penetanguishene.
Beckwith Island on a busy day, we're anchored in 12 ft. clear blue water, sand bottom.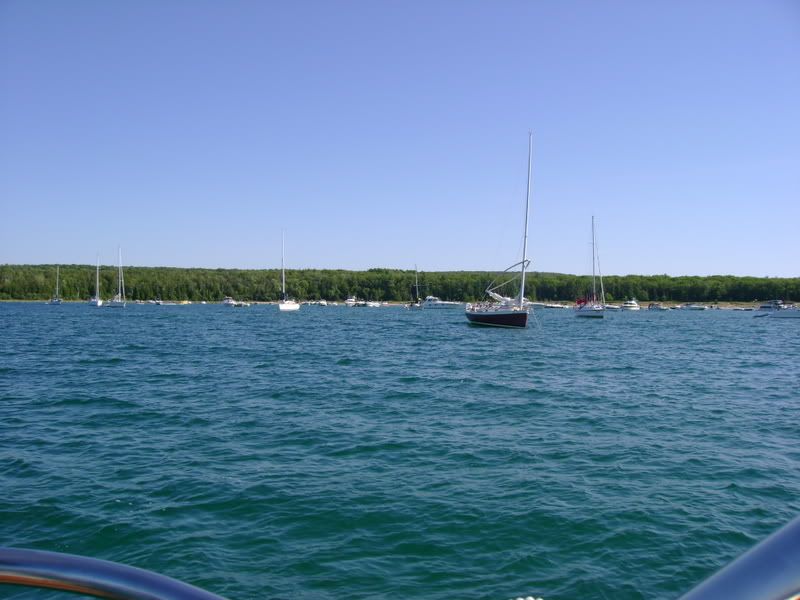 Senior Member
Join Date: Aug 2007
Location: Georgian Bay
Posts: 400
Thanks: 2
Thanked 1 Time in 1 Post
Rep Power:
10
and on a quiet weekend ( May long weekend this year, cold and rain forecast all weekend)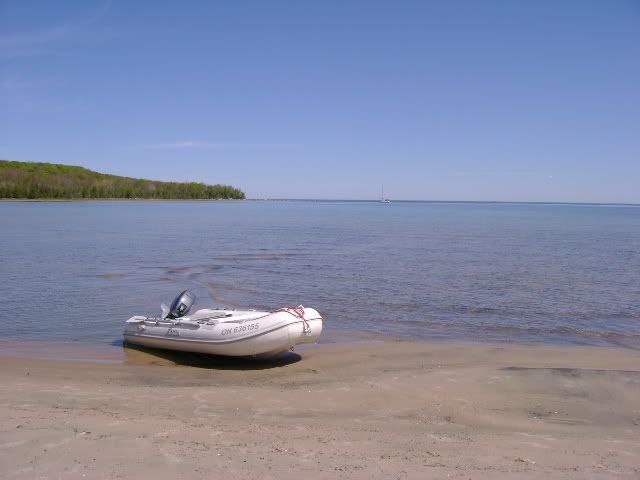 Currently Active Users Viewing This Thread: 1

(0 members and 1 guests)