Junior Member
Join Date: Jul 2010
Posts: 26
Thanks: 0
Thanked 0 Times in 0 Posts
Rep Power:
0
Converting V-berth to Storage
---
My SO and I have a 30' Islander Bahama. We are thinking about traveling the Great Loop in this boat, which means living aboard for 9-12 months.

SO is 6'1" and doesn't fit in the V-berth at all, so we have a bed that rolls out across the cabin settees. Since we don't use the V-berth we are considering ripping the whole thing out and converting it to storage. We're planning to take our work with us (we can both work online), so we need office storage as well as space for clothing and personal effects.

Does anyone out there have examples, especially pictures, of people who have done this? Any other cool storage ideas for a small production sailboat?
---
Last edited by SailingLazy; 10-31-2011 at

04:27 PM

. Reason: Grammar!
hydroholic
Join Date: Sep 2011
Posts: 51
Thanks: 0
Thanked 0 Times in 0 Posts
Rep Power:
6
IMHO the v-berth is an awkward place for storage. the objects in the back would be stuck behind everything else, and the triangular shape makes it hard to organize things effectively. very awkward for a shelf or cabinet design. you might be better off just extending the v-berth to accomodate the 6'1" passenger and turning the settees into storage/office space.
Bristol 45.5 - AiniA
Join Date: May 2006
Posts: 4,525
Thanks: 5
Thanked 124 Times in 112 Posts
Rep Power:
12
The original version of the Niagara 35 did not have a V-berth but had the area setup for storage and with a small workbench. If you could check one of those out it would give you an idea. You have to be careful though - some were built with a child-size v berth and some with a full-size one. I would imagine you could built a small desk surface in (large enough for a laptop at least) with a folddown seat facing forward and then use the surrounding V for storage. I think you could make shelves to port and starboard but leave the area forward of the 'desk' as a large open bin for sailbags and other large objects.

We had a Portbote with our N35 and were able to store all of the parts (seats and transom) in the Vberth area standing up along the sides. When we got the Bristol (displacement more than twice as much) there were no convenient places to store those bits so we got rid of the Portabote.
---
After the refit we have decided to sell Ainia. We want something smaller that would be could for the light summer winds of Lake Ontario, although we plan to spend at least a couple of winters in the Caribbean before heading north.
Senior Member
Join Date: Aug 2011
Location: Eagle River Wi.
Posts: 1,105
Thanks: 2
Thanked 16 Times in 16 Posts
Rep Power:
6
When you change your boat around watch the waterline, vessels are balanced ; And you could be changing your craft more then you know! Just changing from a A4 to a YMS8 made a large difference in my 28 Cal------Dale
Senior Member
Join Date: Dec 2001
Location: North Brookfield, Mass.
Posts: 935
Thanks: 0
Thanked 0 Times in 0 Posts
Rep Power:
16
As you'll see I share your desire for more storage and less berths. The 2 of us have slept in the forward berth of our last 4 boats maybe.... twice total. So here is what I did with my last boat a Catalina 320. When I brokered it out in trade for my Nauticat the broker insisted I revert the forward berth back to "normal" for a sale. So I wasted time, energy, and money to do that. Well......... when I spoke to the eventual buyer he said something like Oh..... what a shame, we (2 live aboards) would have loved it just the way you had it set up -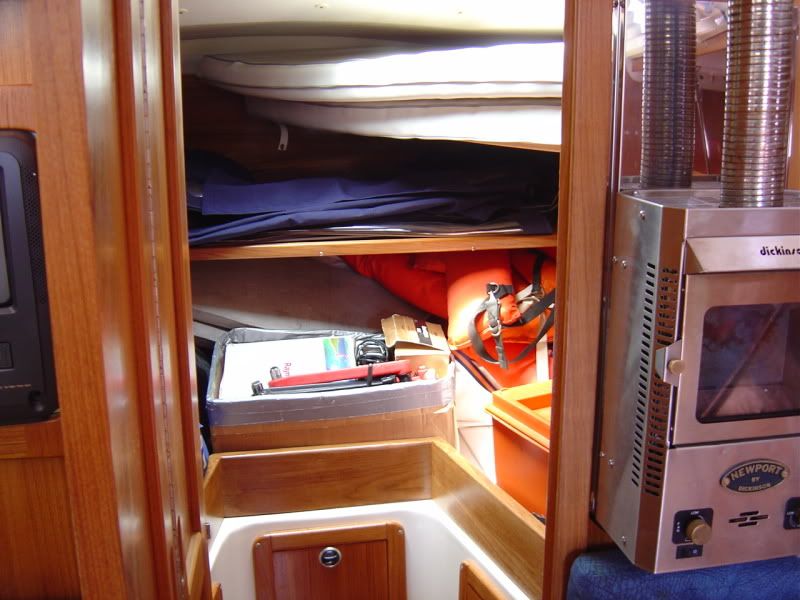 On my current Nauticat 331 the forward berth cushion started its new life in the cellar 6 years ago as soon as I got the boat. I have the teak lumber to build a shelving system but other projects have pushed it back year after year so here's a quick look at what I do for now -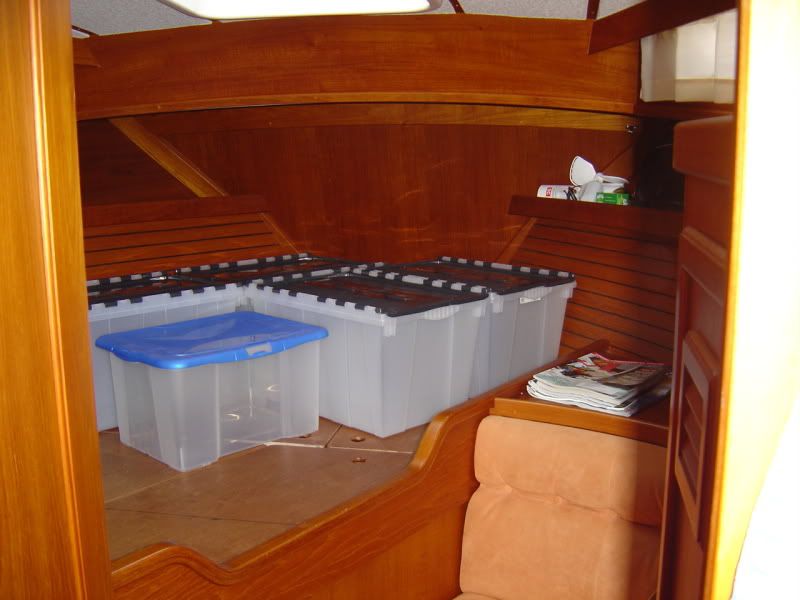 Good luck on your trip !!!
---
Stan
'Christy Leigh'
NC 331
Wickford/Narragansett Bay RI
Senior Member
Join Date: Oct 2009
Location: California
Posts: 1,381
Thanks: 0
Thanked 3 Times in 3 Posts
Rep Power:
8
---
How inappropriate to call this planet Earth when it is quite clearly Ocean ~ Arthur C. Clarke

Quinn McColly
Macgregor Venture

Junior Member
Join Date: Jul 2010
Posts: 26
Thanks: 0
Thanked 0 Times in 0 Posts
Rep Power:
0
@ChristyLeigh - thanks so much for sharing pictures. Really helpful to see how you've used bins as a storage system.

@LakeSuperior - thanks for the reminder. I'm thinking replacing our current anchor rode w/ 100' or so of chain will take care of the weight issues, but it's a great point.

@Killarney - I'll definitely look for specs and pictures of the Niagara 35. Found some specs of a Cape Dory 25D that had a head where the v-berth usually is, but that's more remodeling than we care to do!
Junior Member
Join Date: Jul 2010
Posts: 26
Thanks: 0
Thanked 0 Times in 0 Posts
Rep Power:
0
@QuickMick - nice book recommendation!
Currently Active Users Viewing This Thread: 1

(0 members and 1 guests)