Member
Join Date: Apr 2010
Posts: 39
Thanks: 0
Thanked 0 Times in 0 Posts
Rep Power:
0
Quote:
Our son sailed with us throughout his whole life... 18 days old the first time. I'm happy to say that he's a boat owner himself now and sails/races on OPBs as well.

We designed and built a littly opti-like dinghy when he was 4 or 5 and he started sailing it on his own not long after. He learned to row in it too, and it provided hours of entertainmnet (and independance) as he was growing up on the water.
My son is 3 and we are about to buy our first boat. I want so much for him to enjoy and love the whole experience. I'd like to know more about that little opt-like dinghy you built. Got any pics? Or a web site with a tutorial???
Junior Member
Join Date: Apr 2010
Posts: 3
Thanks: 0
Thanked 0 Times in 0 Posts
Rep Power:
0
I found that giving my 4 year old 'jobs' that were his responsibility when we were preparing the boat, untying, underway etc. has made a huge difference. One of his jobs is to take off the tiller and winch covers and stow it in the lazarette. Utterly minor, but he takes it very seriously. He is also responsible for making sure everyone is wearing a lifejacket while on deck - and woe betide the skipper when he forgets. He also has important sail folding duties at key points.

He doesn't really have the strength for hauling on the sheets or any of that yet, and he doesn't really get steering (I tried), but these things will come with time. So far he is really, really into it - he loves when I take him down to the boat with me just to check on it or tinker. But then, he's pretty much really into anything - he's a 5 year old.
Just another Moderator
Join Date: Sep 2005
Location: New Westminster, BC
Posts: 18,773
Thanks: 141
Thanked 499 Times in 473 Posts
Rep Power:
10
Quote:
My son is 3 and we are about to buy our first boat. I want so much for him to enjoy and love the whole experience. I'd like to know more about that little opt-like dinghy you built. Got any pics? Or a web site with a tutorial???
Sorry, it was some time ago (before digital pics!!) and we only built 3 of them - 2 of which are still in use as far as I know.
But really, any Sabot, or Walker Bay with sail kit, or the other various pram designs available will do. Wooden Boat magazine always carries various ads for plans - the 'stitch and glue' method is family friendly. A member/mod here, JohnRPollard has a thread up somewhere with his family project.. I'll see if I can dredge it up (the thread, not the boat
)
Anyhow good on you for having this attitude, there's so much to gain by having the kids actively involved in the whole game, even from as early as 3... Good luck.
---
Ron

1984 Fast/Nicholson 345 "FastForward"

".. there is much you could do at sea with common sense.. and very little you could do without it.."
Capt G E Ericson (from "The Cruel Sea" by Nicholas Monsarrat)
Senior Member
Join Date: Nov 2008
Location: Deale, MD
Posts: 2,981
Thanks: 1
Thanked 87 Times in 86 Posts
Rep Power:
9
Given the title, does this belong in the off-topic forum?
---
I find the question that I should "train-up my young" to follow in my footsteps replusive, right on the face of it.

My daughter has sailed with me as much or more than most children. we have gone on several 2-week trips together. We have gone climbing on ice and rock and backpacking. She has learned to love adventure from my example and company. If she stops sailing tomarrow, I will be saticfied that she has experienced it and learned from it.

But "train-up?" Nuts. I cannot imagine if my parents had tried to get me to follow in their steps in something as personal as recreation. I wanted to make my own steps. I hope my daughter makes her own.

As for faith, one that is "trained-up" is empty. Life teaches what you need to know. There can be nothing more personal than faith and ones private thoughts. I will not interfere. I may lead. She can follow if she likes. Or not.
---
Writing full-time since 2014

To view links or images in signatures your post count must be 10 or greater. You currently have 0 posts.

"Keeping a Cruising Boat for Peanuts"
"Faster Cruising for the Coastal Sailor"
"Singlehanded Sailing for the Coastal Sailor"
Handsome devil
Join Date: Jan 2008
Location: LaConner,Washington
Posts: 3,477
Thanks: 0
Thanked 1 Time in 1 Post
Rep Power:
12
Sorry my title rubs you the wrong way pdqaltair.
But this has everything to do with Sailing only and what people are doing to promote that within the family....Whats off topic about that?
You see, I have gotten a very late start with my kids sailing wise so it is a wake up call for some to get with it if their procrastinating and also for me this thread is a place where I can get input from others as to how best to now jump start that excitement or interest in the sport.
Some have shared that its really to late....others have shared tips on how I could best proceed....others just drop in to wish me and others in the same perdicament good luck and to keep trying...keep leading an make it fun.
I am very pleased to say that after I started this thread , My middel daughter has decided on Sailboat racing as a Senior Research project for High School....And two of our great members here are seeing to it she gets that opertunity..
Was that something I did?......Well I definitely had planted the seed by showing her racing videos of wet and wild rides....So in that regard I lead by example...or "Trained" her mind to at least consider the option.
Will it stick?..time will tell.
Will I force her?...absolutely not.
Will I continue leading "Training of her mind"....most definitely...
(note; I am not a racer she will have to get that specific training from others)..But I can and will incourgage her, and get excited with her and provide all the opertunitys for "Training" I can aford to..
Shoot she might eventually start posting here about her new zeal for all I know...or head on over and become a Sailing Anarchist..
---
"Go Simple...Go Large"

Relationships are everything to me..everything else in life are just tools to enhance them.


The purchase price of a boat is just the admittance fee to the dance...you still have to spend money on the girl...so court one with something going for her with pleasing and desirable character traits others desire as well... or you could find yourself in a disillusioned relationship contemplating an expensive divorce.

---
Last edited by Stillraining; 04-06-2010 at

12:47 PM

.
Junior Member
Join Date: Mar 2010
Location: SF Bay (South Bay)
Posts: 25
Thanks: 0
Thanked 0 Times in 0 Posts
Rep Power:
0
Just starting down that path myself
---
Great thread. I am just starting down that path myself, but since sailing is new for my as well, I've decided to enroll by son (14 yrs old) and I in lessons. Once we have our Babeboat cert I am hoping to take the rest of the family sailing as often as i can.

I have introduced them to camping, backpacking, hunting, fishing and kayaking. Of all of them he liked kayaking the most so I'm hoping sailing will be the next step.

Looking forward to learning from everybody's experience and then charter our own course.

Regards,
Dave
Banned
Join Date: Mar 2010
Posts: 394
Thanks: 0
Thanked 0 Times in 0 Posts
Rep Power:
0
I don't think you can do anything specific to teach kids to love something. All you can do is provide opportunities for them to fall in love. I love sailing, my wife loves sailing, my kids do not. We have had boats off and on throughout the last 20 years, and sailing was just never something that caught on with the kids. Even within sailing, there are lots of different aspects to it. For instance, my son does love cruising and appreciates that sailing is part of that. He does not love the sailing, but doesn't mind it when it is part of a cruise. My daughter hates cruising, but likes racing and can appreciate that sailing is part of that. She does not mind sailing as long as in the end it means she gets to take satisfaction in the looks of defeat on the faces of the losing skippers and crew. Two kids, raised the same, in the same house, two totally different outcomes. Neither loves sailing in the way I do, however both have come to appreciate other things and know a little more about themselves as a result of my passion.
You bet!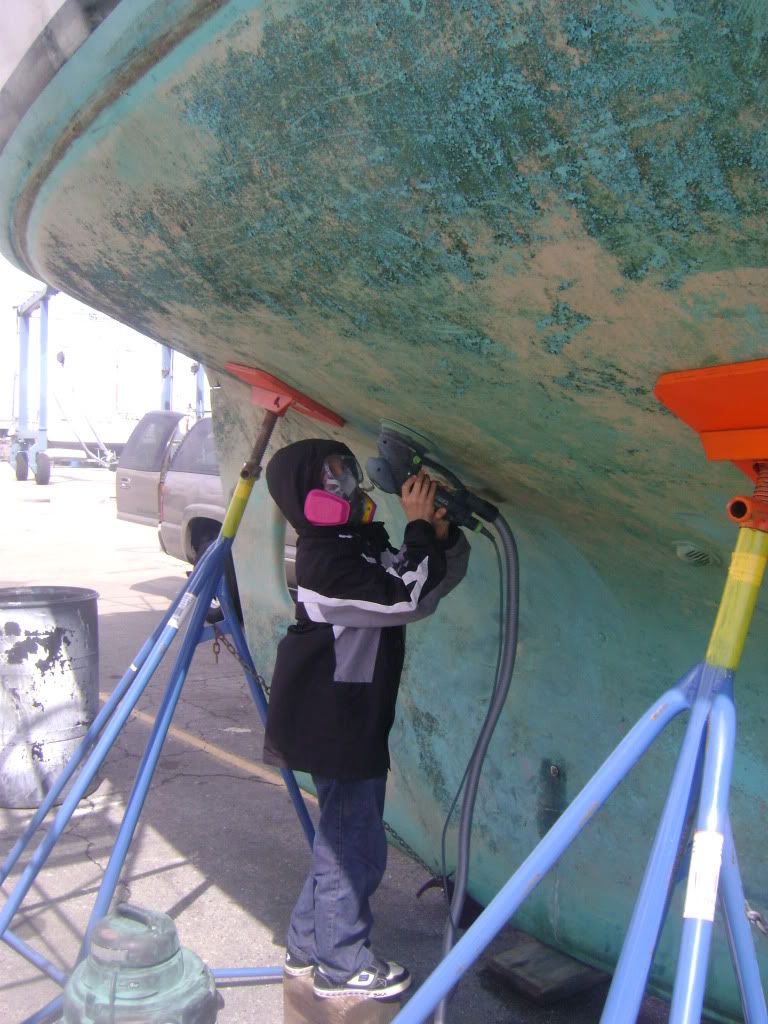 Master & Commander
Join Date: Nov 2006
Location: Long Island, NY
Posts: 204
Thanks: 2
Thanked 2 Times in 2 Posts
Rep Power:
11
I fell in love with the sea at an early age when I would go out on my Uncle's boats and it has drawn me closer as the years went by.

I would take my 2 boys out on my own boat when they were young. The little one at that time wasn't so thrilled because he was 3, it was a 19' motor boat and he was held by his Mom when we were underway. After the boys got too big and the boat got too small, I took up an interest in sailing and would take them out on a daysailer.

When they were 19 & 22, they joined us on a week long charter in the BVI and will be joining us again next month. How many young adults want to go away with their parents on vacation (never-mind that the old man foots the bill)?

Don't think I'm not using their desire to spend sailing time with us to my own advantage. Just telling my wife that she'll see her kids more if we owned our own boat is like money in the bank! Which is ironic, because when we do get that boat, there won't be money in the bank anymore.....
---
I've got blisters on my fingers
I love this thread. I don't have any kids but I did learn to love being on the water when I was young. Each time my family got invited out on our neighbor's boat, my mom's enthusiasm became contagious. That excitement has followed me into adulthood and eventually led me to sailing. So, from my perspective, retaining an ability to be thrilled by sailing experiences and letting your kids see you in action is the best way to get them hooked!
Currently Active Users Viewing This Thread: 1

(0 members and 1 guests)