Junior Member
Join Date: Sep 2001
Posts: 4
Thanks: 0
Thanked 0 Times in 0 Posts
Rep Power:
0
Merriman winches
---
I am restoring my Cascade Chinook. It is equipped with Merriman winches. They were removed to replace pieces of rotten deck.

I need to disassemble the winches, both to clean and lubricate them and to remount them on the new deck. I cannot, however, figure out how to open them up. There are no circlips or snap rings on either the top or bottom of the winches. There aren''t any screwdriver slots, nuts or bolts, either, except for the winch drive.

I''m stumped. The people at the boatyard are stumped.

Does anyone have experience with Merriman Brothers winches?
Junior Member
Join Date: Sep 2001
Posts: 4
Thanks: 0
Thanked 0 Times in 0 Posts
Rep Power:
0
Merriman winches
---
I solved the problem. I''m posting a reply in case others have old Merriman Bros winches.

The top of a Merriman Bros No. 6 winch is a round nut. It may be held onto the winch shaft with a set screw. The set screws had been removed from my winches.

The top of the winch turns counter-clockwise. It is round, thin and does not have any facets on which to hold a wrench. I used a Craftsman strap wench to avoid marring the bronze surface.
Junior Member
Join Date: Jul 2003
Posts: 20
Thanks: 0
Thanked 0 Times in 0 Posts
Rep Power:
0
Merriman winches
---
This is going back a ways but as I remember the merriman winches I had there was a flat handle that you could insert vertically into a slot in the nut that holds the winch together. This nut is recessed in the top of the winch and the slot is about 5/16 to 3/8 inch across. The nut is round and about 1 1/2 inches in diameter(same diameter as the width of the handle). Remove the nut and lift off the top of the winch but be careful not to lose the two pauls and their springs. Now lift off the winch drum. No bearings to lose here. You will probably have to make your own springs for these winches.
美國佬
Join Date: Feb 2008
Location: Maryland
Posts: 484
Thanks: 32
Thanked 12 Times in 12 Posts
Rep Power:
10
Re: Merriman winches
---
I am trying to remove a small merriman (? has an anchor stamp on the top) winch from my mast, and can't get it off. The top looks a lot like this one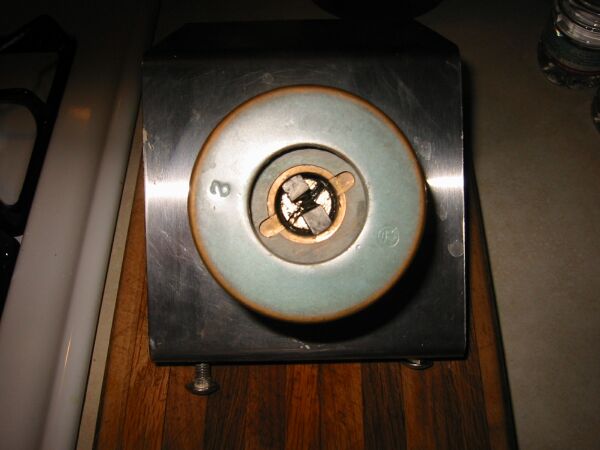 - those two "teeth" move back and forth as the winch spins, and can be moved out of the way to access what looks like a slot for something to loosen the center screw, but I don't want to damage anything. A large screwdriver inserted past the "teeth" and into the slot deep inside the winch didn't loosen anything even when using a crescent wrench for leverage. Any ideas?
---
1964 Whitby 25
Severna Park, Maryland
Currently Active Users Viewing This Thread: 1

(0 members and 1 guests)