Junior Member
Join Date: May 2005
Posts: 6
Thanks: 0
Thanked 0 Times in 0 Posts
Rep Power:
0
mast winches
---
I have a 1977 Pearson 30. I want to move the winches from my mast to cabin top. One problem-the screws that hold the winches to the mast are frozen. I even tried to drill one out-yea right. Ay suggestions? Bob
Telstar 28
Join Date: Mar 2006
Location: New England
Posts: 43,290
Thanks: 0
Thanked 18 Times in 14 Posts
Rep Power:
16
Ahh, the joys of galvanic corrosion. You will need to drill out the screws holding the winch in place. The screws have galvanically corroded, and are now bonded to the mast via the corrosion.

Ideally, you could just drill out the screw heads and then lift off the winch, and then deal with the remaining parts of the screws once the winch had been removed, but I don't know how likely this is to work. It depends on the number, location and alignment of the existing screws.
Seņor Member
Join Date: Oct 2004
Location: Narragansett Bay
Posts: 4,858
Thanks: 0
Thanked 1 Time in 1 Post
Rep Power:
15
Bob,
I checked photos of my mast winches and found they are secured by what appears to be bronze rivets. If I were to remove them by drilling, the drill bit would need to exceed the rivet shank diameter by a slight amount. The rivet backers would then simply fall to the deck mount base, freeing the winch base.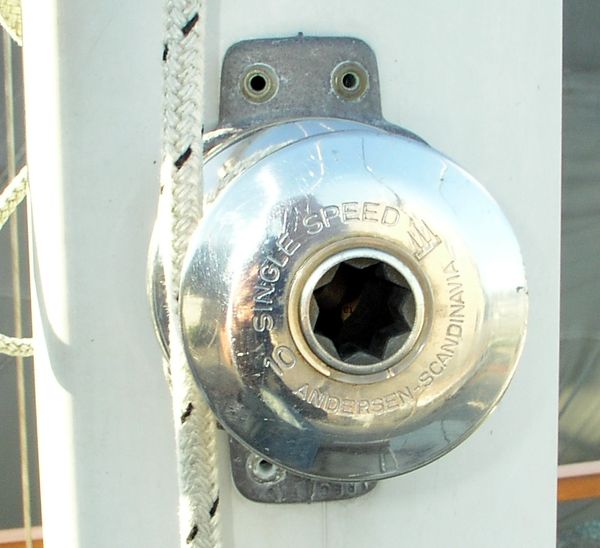 If your SS screws are galvanically bonded to the aluminum mast, as sailingdog suggested, drilling out is the preferred method. The drill bit would of course, need to be large enough to bite through the screw shank. The remaining portion of screw head should then fall free, with the shank bits ending up in the mast's base - keel or deck stepped.
---
True Blue . . .
sold the Nauticat
Member
Join Date: May 2006
Posts: 80
Thanks: 0
Thanked 0 Times in 0 Posts
Rep Power:
0
You could try soaking them with penetrating oil, even over several days and then using an impact driver to remove them. I have also heard that touching the head with an arc welder will often loosen them up. If these procedures fail then it is back to drilling...

hth
Phil
Senior Member
Join Date: Jul 2001
Posts: 272
Thanks: 0
Thanked 0 Times in 0 Posts
Rep Power:
16
That's a lot of trouble to go to for what are probably not new winches. Why not leave them there, and put other winches, either new or used, on the cabin top?
Just another Moderator
Join Date: Sep 2005
Location: New Westminster, BC
Posts: 18,866
Thanks: 141
Thanked 513 Times in 487 Posts
Rep Power:
10
They could be in the way
---
The only problem with that idea is that often the old winches on the mast interfere with the lead from the exit holes to the turning blocks on deck.
It's surprising to see how an impact driver can in fact remove what originally appear to be solidly frozen fasteners. Failing that, drill the heads off the bolts/screws that are there as previously described.
Catalina 38 Avantura
Join Date: Aug 2000
Location: Michigan
Posts: 208
Thanks: 0
Thanked 0 Times in 0 Posts
Rep Power:
17
I would a dremel with a small grinding wheel. I think that would be mush easire than getting a drill bit to stay centered on a screw head.
---
Sincerely,
Russ Duff
Catalina 38, Hull #112
"AVANTURA"
Lake Erie
Grosse Ile, Michigan

Member
Join Date: Feb 2006
Location: Wilmington, DE
Posts: 60
Thanks: 0
Thanked 0 Times in 0 Posts
Rep Power:
12
PB Blaster
---
Although you may ultimately have to resort to drilling, try PB Blaster over a couple of days. If you have only used other penetrating oils like liquid wrench, I think you will be amazed at how much better PB Blaster is.
Member
Join Date: Apr 2001
Posts: 55
Thanks: 0
Thanked 0 Times in 0 Posts
Rep Power:
17
Impact Wrench
---
Bob -

First try an impact wrench. They cost about $20 - best investment ever!

If that doesn't work, try heating the area with a blow-tourch..then hit with either the impact wrench or just a large screw driver. Try working some WD40 in there at some point but be very careful with the heat. Do not use the heat if your mast is still on the boat.

I just did this on my '78 Cataline 30 and they came right out. The mast was off the boat.

Good luck - Rob
Currently Active Users Viewing This Thread: 1

(0 members and 1 guests)