Aristo Blue Awlgrip Now with Snow White Stripes
---
We painted the stripes over the weekend and here are some pictures how did we do?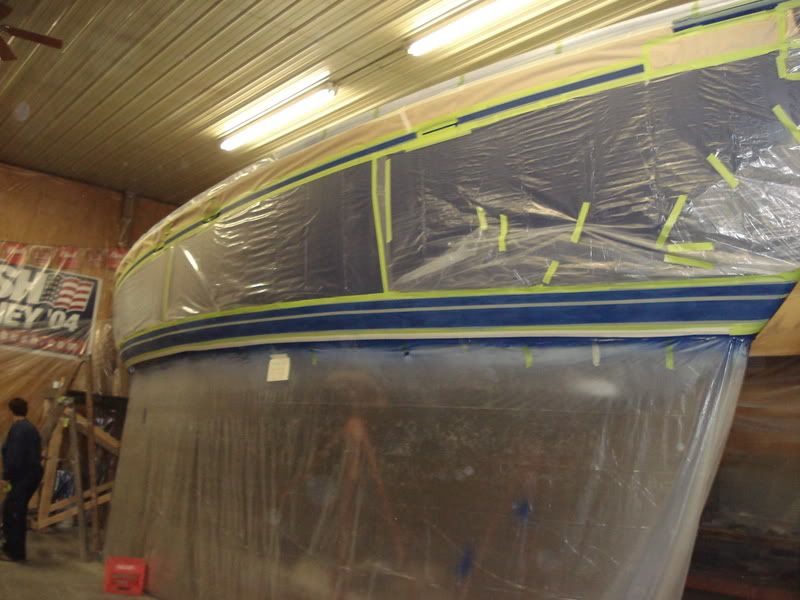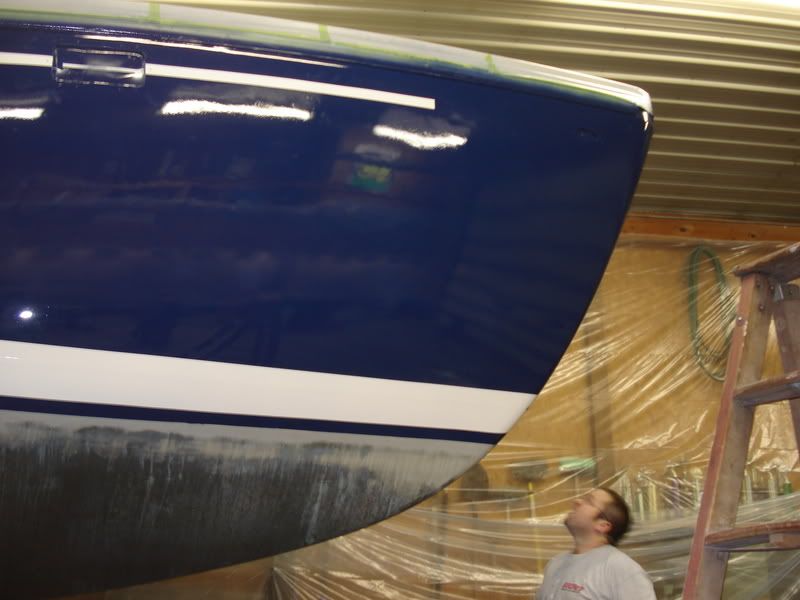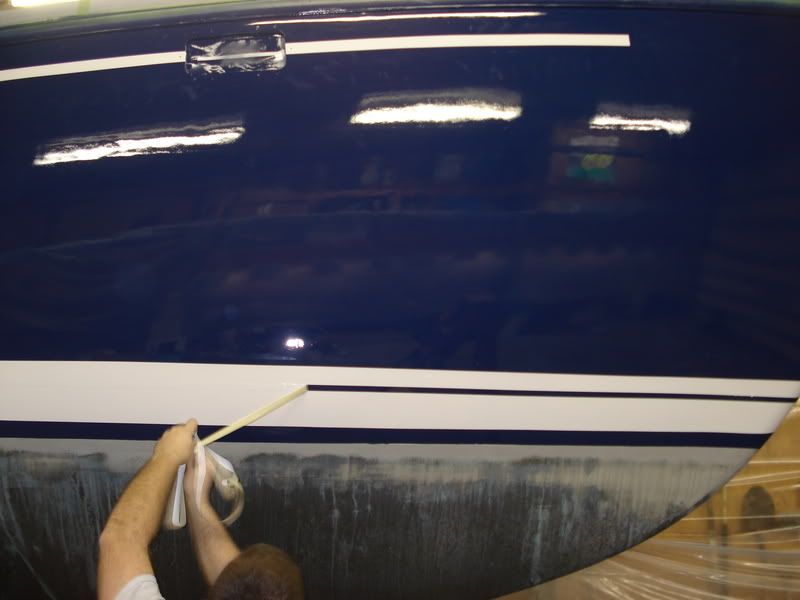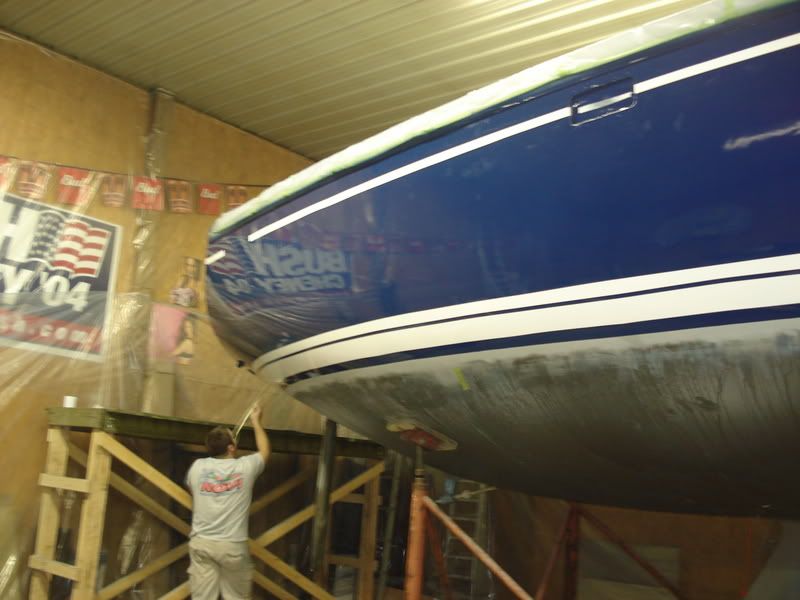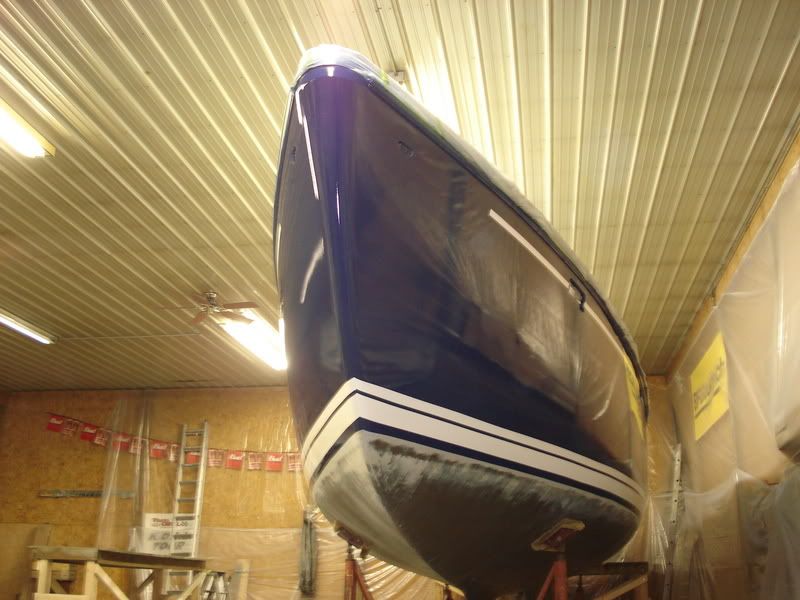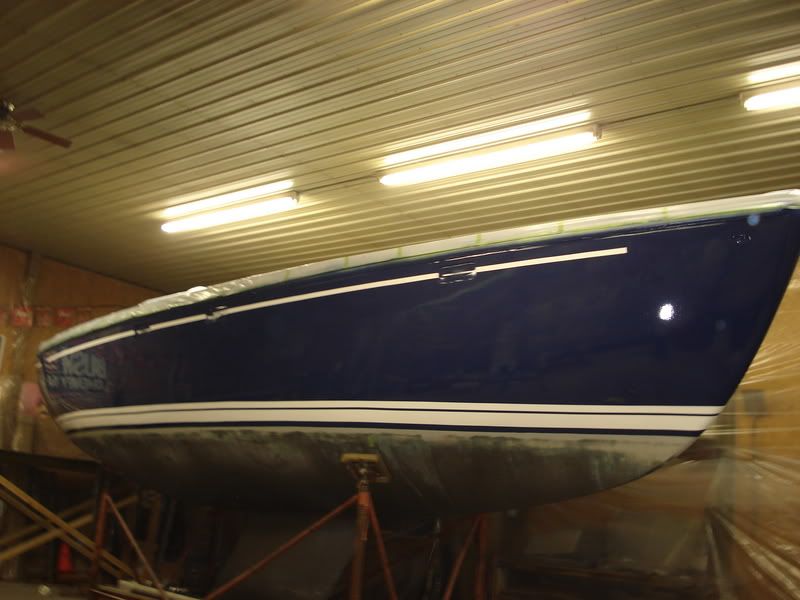 Senior Member
Join Date: Oct 2006
Location: Maryland USA
Posts: 4,949
Thanks: 99
Thanked 67 Times in 47 Posts
Rep Power:
11
Its all in the prep eh...looks great from here!!!
moderate?
Join Date: May 2002
Location: East Coast
Posts: 13,877
Thanks: 0
Thanked 6 Times in 6 Posts
Rep Power:
18
Nice job...particularly like the two stripe lower. You must really be good with the masking tape to hold that same distance all around the hull to the stern in those two lowers!
Just another Moderator
Join Date: Sep 2005
Location: New Westminster, BC
Posts: 19,120
Thanks: 153
Thanked 541 Times in 515 Posts
Rep Power:
10
Nice job all around! Pulling the masking tape to reveal results like that can totally make your day!!

Did you use a laser to lay out the stripes?
Senior Member
Thanks everyone, yeah its all in the prepwork. We just did it by eye and with a ruler, I did the masking while my wife and parents stood back and told me good or bad. This had to be done that way for the back since the 4" stripe flared out to little over 9" on the stern. The breaks in the top line at the stern is where we are putting a Columbia Name Logo, and fwd of the stripe will be the MC numbers. Next will be painting the decks.

Scott
.
Join Date: Nov 2006
Posts: 10,851
Thanks: 0
Thanked 5 Times in 2 Posts
Rep Power:
15
Nice job, congratulations!!

For the stripes here we don't paint anymore, we use Vynil Plastic film that comes in al colours and is particularly good wnen painting the bottom, because its already masked and after we remove it a put a nwe stripe. I change my stripe colours once a year!!
We use water and soap to put them on.

For my boat, the vynil sripes cost around 150 Euros.
SONNY
Join Date: Jan 2004
Location: Wilton, CT
Posts: 69
Thanks: 0
Thanked 0 Times in 0 Posts
Rep Power:
14
Don't know if I would have had it painted next to the Bush 04 poster.
---
Sonny
s/y NIRVANA, SO49
Member
Join Date: Feb 2006
Location: Wilmington, DE
Posts: 60
Thanks: 0
Thanked 0 Times in 0 Posts
Rep Power:
12
Wow! Looks great! Have you thought about creating a blog on Sailnet to document the entire process? I know I would be interested and I bet, based on recent threads, the entire group would as well.
Senior Member
I guess I did not know that was a feature. Yeah I get alot of comments about the Bush poster but I can't complain to much the barn rent is free, and its heated and has every tool anyone could ever want in it. I guess one good thing about the poster is its great for showing the gloss of the paint. I will work on doing the blog for the group. I can't wait to post new pictures of the new stainless steel tank that we made for the boat.

Scott
Owner, Green Bay Packers
Join Date: Sep 2006
Location: SW Michigan
Posts: 10,318
Thanks: 0
Thanked 1 Time in 1 Post
Rep Power:
14
Scott,
I don't know if you could have gotten the same results with an Al Gore poster in the barn. He's kind of "dull" isn't he?
Great looking job. What did you use for lung protection?
Currently Active Users Viewing This Thread: 1

(0 members and 1 guests)