Thanks for your quick reply..... Yes. The removable unit only contains one built in Spectra... or something similiar luff rope that, when tensioned properly, will roll up nicely. It also has a 2-1 on the halyard which allows one to get good purchase on the hoist. What we did on the O60 was to take off the unit completely when it was obvious that the wind conditions would not allow its use. Removing this furled unit, laying it down on the deck and coiling it up for below deck storage is what I am envisioning.
.
Join Date: Nov 2006
Posts: 10,851
Thanks: 0
Thanked 5 Times in 2 Posts
Rep Power:
15
By the way, what 60 did you cross the Atlantic?? Wow...lucky man. How many days..what was your position? tell me more
I am having a ride in this next week.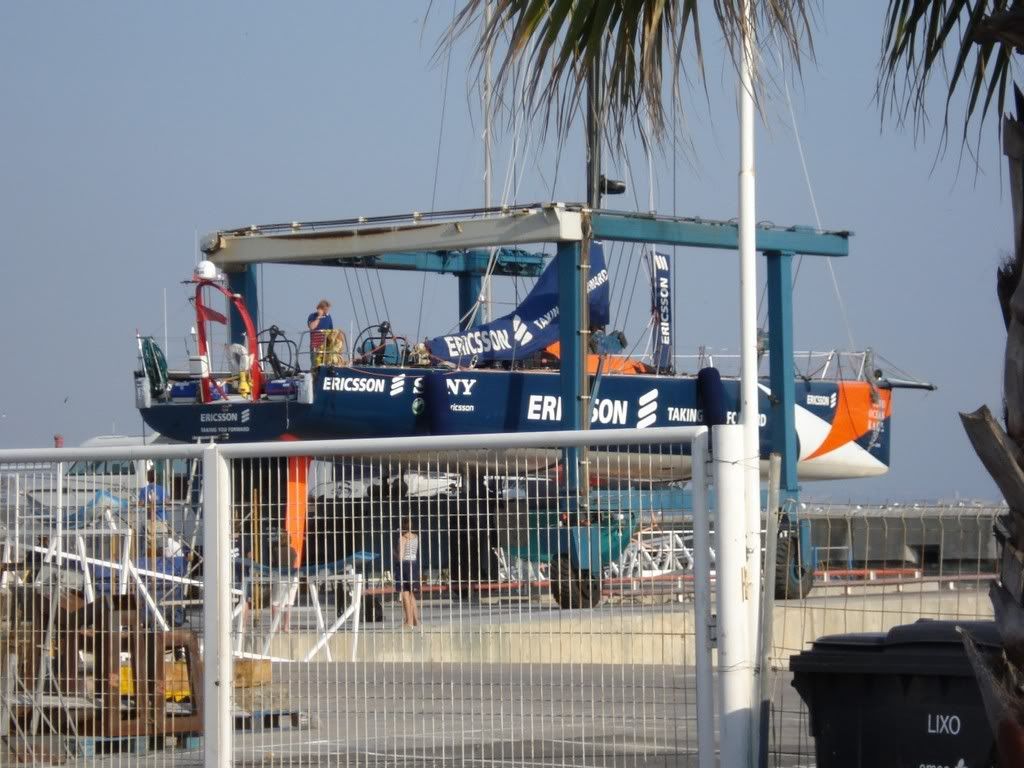 By the way here you see the removable roler arrgment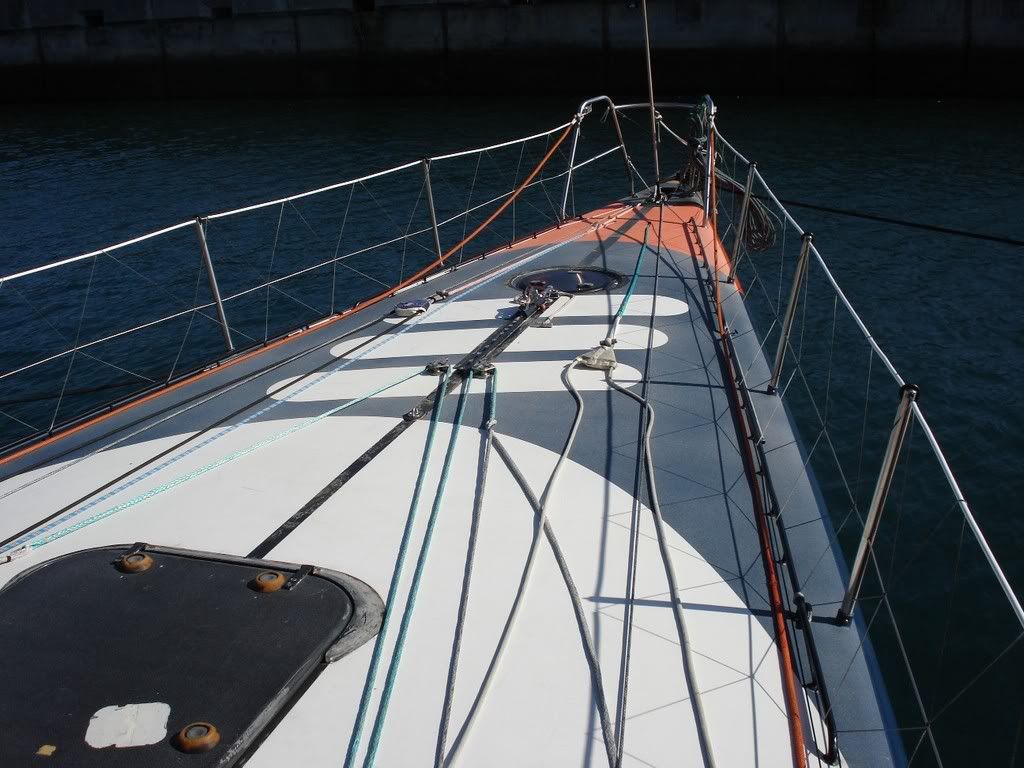 The boat was Bruce Schwab's Ocean Planet. In the summer of 2004, my wife and I were able to provide Bruce with some custom canvas products (the businesss that I'm in )for his boat, which at the time he was refitting over in Portland Maine. He was getting ready for the Vendee Globe which was to begin in November from Les Sable de Olonne. Well one thing led to another and after spending many long hours on this project getting the boat ready, he asked the two of us to be part of a 5 person crew to help him deliver the boat to France! Well he didn't have to twist our arms for long.....We reworked the next 4 weeks of our lives and after waiting for numerous Hurricanes and TS's to pass, we found the window to depart in early October. 5 of us was a real rush on that race horse.

It took us 11 days of non-stop sailing to get across during which time we encountered a couple of low pressure systems, 2 bumps with hidden objects at sea but most impressive .......28.4 on the GPS with 2 reefs in the main and #3 jib up!! Most of the time the breeze was over the stern quarters so it was like surfing a Lasar off the wind...finger tip control on the tiller.

Crossing the shipping lanes in the Bay of Biscay at night with wind on the stern at 17 knots was a super time. My wife and I were on watch together which was an opportunity of a life time. We also had the opportunity to get back to Les Sable for his finish in early Feb. I have to say that you you folks on the other side of the pond sure know how to throw a party when it comes to sailing. His finish was unbelievable in the early morning hours, light snow in the air, we RIB'd out to meet him a couple of miles off shore where the the finish line was.

As you can tell, I get pretty excited about this and could go on for hours.

Now, we are hooked for sure...thus the reason for getting our own boat which we purchased this past summer, ready for another adventure. She won't go quite as fast but non the less exciting.

Enjoy your ride on this boat. Who is her skipper? Are they getting ready for any races to come? The O60 class is an amazing sailing machine and the way they are set up, easier to sail than one thinks. It does take a special breed of person to endure. Hopefully you will be able to gain some valuable experience just being around such a dynamic individual....we sure did.
---
Last edited by telekitr; 11-10-2007 at

09:29 AM

.
Senior Member
Join Date: Dec 2004
Location: Alameda, San Francisco Bay
Posts: 1,955
Thanks: 3
Thanked 60 Times in 59 Posts
Rep Power:
13
Giu, a little follow-up on the Facnor. I went around and got some quotes for a code sail and one of the sail makers (who happens top be on our local PHRF committee) said it will cost me six seconds from my rating (its already too low!) So I don't think I'll be getting a code sail anytime soon. However, I'm thinking about using a furler on my asymmetric spinnaker. Do you do that? If so, can you show me some photographs on how it works? (The other ones you posted were great!). What I'm mainly concerned is how you attach the tack line and can that line be adjusted once the sail is set. Normally, I rig my Asymmetric outside of the pulpit so I can ease the tack line way out when I'm running deep angles. I'm thinking that in order for the furler to work, I will need to rig the tack line so it feeds the sail from the inside of the pulpit and I will have to use a furler strap (parrell beads) to keep the sail from fouling on the pulpit. Does this make sense to you?
Currently Active Users Viewing This Thread: 1

(0 members and 1 guests)