View Poll Results

: What type anchor do you use most often?

Plow
33
27.97%
Claw
34
28.81%
Delta
28
23.73%
Fluke
34
28.81%
Multiple Choice Poll. Voters: 118. You may not vote on this poll
Member
Join Date: Aug 2008
Location: BRASIL
Posts: 61
Thanks: 0
Thanked 0 Times in 0 Posts
Rep Power:
9
Quote:
Had this 2006 test but was not sure what the test variables were; sea beds, rode types, scope ratio, direct pull or offset....etc.
It's amusing to see
again and again
this comparative curve..
It should be noted that this curve has
NEVER BEEN PUBLISHED
by either SAIL or Yachting Montly but this curve in fact is a
FAKE MODIFIED CURVE
made by Rocna to prove that their anchor was the best :
This is one
NON MODIFIED
curve as published by SAIL magasine where it is obvious that both the Fortress, the Hydrobubble and the Spade anchors gave better holding than the Rocna...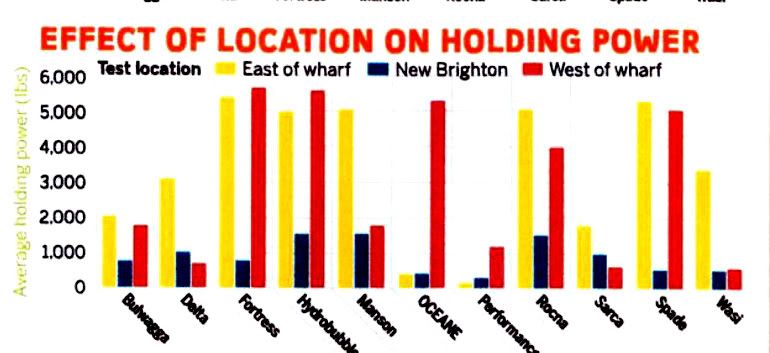 Joćo
---
Ancora Latina
---
Last edited by ANCORALATINA; 03-12-2009 at

08:37 AM

.
Senior Member
Join Date: Jan 2003
Location: Maine Coast
Posts: 6,428
Thanks: 22
Thanked 310 Times in 240 Posts
Rep Power:
18
Please re-read..
---
He DID NOT properly set his anchor and he admits this to be his problem. Any anchor not properly set is a risk even a Bulwega, Rocna, Spade, Manson Supreme or Raya.
I would almost guarantee that if he had properly backed down on that anchor using lots of reverse thrust he would have found out that it was not set and he could have re-set it and then held fine. The problem is, as I stated, Franklin thought his Bulwagga was a self setter.
I'm sorry but there is no such thing as a self setter and if someone believes a manufacturers hype then.. well.... How do you know if you are actually set if you do not thoroughly test the hold with upwards of 80% reverse engine thrust? You don't...
My post was in response to your comment:
IMHO quotes like this can mislead owners to a level of over confidence and reckless behavior, like not setting the hook properly.
To say any anchor is the "world's MOST dependable anchor" is deceitful, and misleading at a minimum. These claims have NOT been scientifically proven with data to back it up.
If a drug manufacturer were to make a claim like that they would be paying out hundreds of millions in fines for false and misleading advertising if they did not have the actual scientific data to back up those claims.
An anchor can be the difference between life or death just as a drug can...
Rocna, Manson Supreme, Raya, Spade, CQR, Bruce nor Bulwagga can not make such a claim because there is no possible way to prove this. If you find a way to prove claims like this I'm sure the marine industry and insurance companies would love to have that data..
Personally I think most of the new generation anchors are better than the older gen but I really have no clue as to which one is the "world most dependable anchor"?
I currently use a Rocna based on much research, personal testing, and how it performed in my average bottom type for my sailing waters. I make no claim that the Rocna is "the worlds most dependable anchor" and would never even consider it. Like the Bulwagga is is a very good performing anchor, nothing more, nothing less....
---
______
-Maine Sail / CS-36T


To view links or images in signatures your post count must be 10 or greater. You currently have 0 posts.




© Images In Posts Property of Compass Marine Inc.


---
Last edited by Maine Sail; 03-12-2009 at

09:01 AM

.
Member
Join Date: Apr 2007
Location: Portland, ME
Posts: 560
Thanks: 0
Thanked 1 Time in 1 Post
Rep Power:
11
Quote: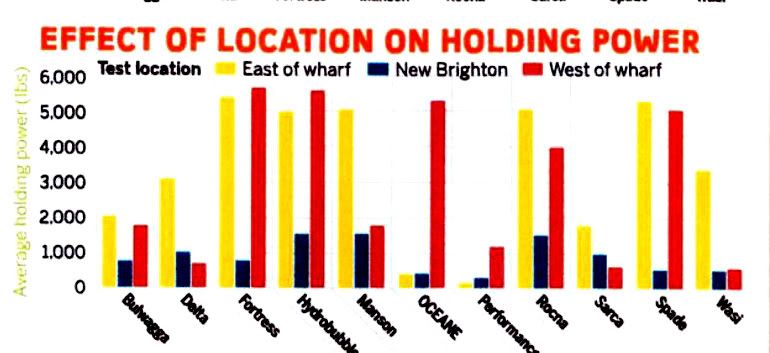 Joćo
You know what this graph really tell me?
Don't anchor in New Brighton!
---
S/V Gracie
P303
Member
Join Date: Jul 2007
Location: Racine on the lake
Posts: 59
Thanks: 0
Thanked 0 Times in 0 Posts
Rep Power:
10
Quote:
It's amusing to see again and again this comparative curve..


Joćo
My point exactly. No to curves are definative as to what works best. That is why I wanted to ask sailors in the real world for thier personal experiences. What I understand sailors are using and comfortable with does'nt justify any of the holding charts. Please keep your real life experiences coming. thanks
---
s/v Talisman 1979 SJ45 #179
Rhumbunctious
Join Date: Dec 2008
Location: Espoo, Finland
Posts: 150
Thanks: 0
Thanked 0 Times in 0 Posts
Rep Power:
9
Quote:
What I said is "He just lost his boat to a Bulwagga. ". ...

The reality is he did not properly set his anchor,

... It had nothing to do with the anchor.
Your post was (apparently) in response to a discussion within this thread about the reliability of the Bulwagga anchor, and saying "lost ... to a Bulwagga" in that context suggests that the Bulwagga anchor contributed to the loss of his boat (whether you meant to assert that or not).
If you believed the loss of the boat "had nothing to do with the anchor" then why name the anchor in that way, especially in the context of a discussion about reliablity of that particular anchor? If the point was about setting your anchor, any anchor, then why name the anchor in that manner?
I didn't wish to get into any kind of altercation, but I think it was fair for me to interpret what you posted as I did.
But I won't belabor the point further.
---
...
If a man speaks at sea where there is no woman to hear, is he still wrong?
To view links or images in signatures your post count must be 10 or greater. You currently have 0 posts.

-
Cruising the Baltic in 'Merihiisi', a 1979 Westerly Berwick Ketch
Junior Member
Join Date: May 2007
Location: Half Moon Bay
Posts: 19
Thanks: 0
Thanked 0 Times in 0 Posts
Rep Power:
0
What works in 80 knots
---
Every year we get a blast to 60kts and every 3 years it hits 70 and every 5 to 7 it hits 80. The year I moved here it broke 100 but I was at the dock then and have been at anchor for 10 years.

Out here there's no second chance. Every good blow sends a pack of boats to the beach (a lot of rock walls) and even this year - very light - we've lost 3.

The year it blew 72 here (March - funny month to get it) it was 3am and I heard ka-krash - ka-smash on deck (I sleep in forepeak and yes - I can sleep through a pitching bow that lifts me and drops me a good 6 inches between snores) and I went out on deck and saw my clubfoot had billowed a little over a foot in diameter and had become a wild waving stick. I went below and put on welder's leathers - gloves, chest protection, motorcycle helmut (funny sailing gear I suppose, but it helps to be ready for an impact) and crawled to the bow about a foot behind the wild stick, checked the sheet - good and tight, but not tight enough to keep the club foot down, so I grabbed some spare anchor chain and waited for it to hit the deck and then jumped on it - wow - that was a ride.

Crawled up to the tack and threw the heavy anchor chain over it, seized some line and got it under control. Meanwhile 4 - 6 footers were busting over the bow (in a protected harbor - what fun) and by the time I got back to the cockpit I was pretty soaked.

I usually have a pretty warm fire going and stoked that again, changed clothes and figured since it was nearly dawn I'd stay up and do cockpit anchor watch. My dingy stores over the cockpit, under the mizzen, so you can sit there under a hard shell, out of the rain, with the cabin doors open and get a pretty good flood of heat coming out of the interior.

Had a smoke and looked around....oooops...we had dragged 200 lb Danforth (thick metal low tensile style) and 700 lbs of chain about 50 yards with another 100 to the rocks. Not a good feeling.

I looked around and saw a mooring ball that was normally 40 yards to my stern was now 10 yards off the port bow. I went back down below and got my wetsuit on, retrieved 200 feet of some 1 inch line, secured the line to the bow cleat (semi-soaked again), went back to the cockpit and prepared to dive in if I dragged any further. I surf and 6 foot waves are easy enough to deal with and I can board the stern easy enough.

I sat there and waited for dawn. With the club foot down and no wind resistance I didn't move further but did notice I was at the edge of where growlers coming across the harbor were soon becoming breakers on the shoal behind me. That explains why I was getting so much over the bow.

I also dropped my Bruce although by the time any scope paid out I would have been in breakers and I doubt it would have done any good except slow down an escape. Just the same, more metal on the ground seemed the right thing to do.

In the morning a friend showed up and the harbor calmed down and I spent 4 hours lifting all the gear and resetting it. Lucky day it was.

Thereafter, whenever winds were predicted to clock over 40 I followed some advice I read somewhere ?Chapmans?Some Anchor book? and it goes like this.

Northern Hemisphere (or at least my area - S.F.) As the winds start to clock out of the S.E. and build, the storm has begun. They're still under 15 so you have some time to get this job done and it helps you sleep at night.

Take a second anchor and go 90 degrees off the starboard bow. It can be a light anchor, but it will certainly be well tested by the time the storm is over.

As the winds veer to the south you're in the fury of it. Go on deck and adjust the mooring lines and second anchor, putting most of the load on the second anchor.

What you've done is create a V between the mooring (or primary anchor) and the secondary and it works really well.

As winds veer SW the fury may still be going, but now the light anchor is taking nearly all the load. Sometimes I pay it out so I distribute the load, other times I want to know just how well a 25 lb bit of metal can hold 30,000 lbs in a ripping storm.

My Bruce (45lb) never failed me and after 2 years of that I have now adjusted to a tiny danforth - never failed me and its easier to get up after the show.

What I did do to my mooring is add another 200 lb Danforth by creating a loop of 1 inch stud link chain and draping the loop around the primary lead and dropping the danforth to form a catenary/weight below my mooring ball. I means that while my bow might lift the chain a little, it never has a chance for any prolonged lift that might upset the main danforth at the end of the line. Someone told me its called a Texas Tandem with an anchor at the end of the chain and another at mid chain. Whatever its called it works.

One ripper came through here and I dragged - the middle anchor only - whilst the anchor at the end of the chain acted like a pivot. Think of a watch hand and the center stays put while the end with the anchor on it veered north (storm out of the south) and then set and hasn't moved for 4 years.

Meanwhile with the second anchor down off the starboard bow - soon to become a V pull at the height of the storm, then well-tested as the boat points SW and is now solely on the second small anchor, I have found the bruce worked well - it would sit there and take it all - and the danforth half its size works well too. We have a mud bottom and that's a good start for either of those anchors.

What I have since done to that little rig is add a tiny 15 lb CQR to the end of the line and now have the danforth about 30 feet from the end. The result is that the CQR - next to worthless on a 30,000 lb boat, keeps the danforth from dragging too far before it resets. Additionally that CQR is absolutely the best thing in the world for finding chain from old moorings - it works like a grappling hook and the prayer is that if I ever do skate across the harbor it is sure to find something along the way. In bringing it up I have had to clear bar tables, long steel rods and once caught my own main mooring anchor chain which required a dive to clear it up.

That brings me to the danger of using second anchors off the bow. As the diurnal winds flip around each day you are sure to foul that second anchor with your main (mooring in my case) so as soon as the winds ease I pull the stern over the second anchor, easing the mooring enough to get there, and then cleat it off and let the tides lift if from the mud. It is usually far too well set to get up by hand. I have had it wrap the main mooring once or twice and that can be a nightmare requiring a dive in S.F. waters in January - enjoy - or you may have to severe the lines altogether. One guy in Santa Cruz lost his gorgeous chinese junk because of dual anchors fouling. You can't leave them down like that unless the tie point is below the swivel on the main mooring gear. If they foul you can lose all holding power as you slowly winch them together by spinning around creating a big ball of metal with no functional anchor in the mess.

The result is I have a lot of faith in my 45lb bruce (in mud) and a lot more faith than I ever thought I would have with a danforth. I have seen those things twisted into pretzels on some boats and never felt they were worth trusting, but so far this little 25 has done the job nicely, holding 30,000 lbs firm on the SW blow with 120 feet of scope in 15 feet of water in 60 kts of wind. Not bad for a 25 lb anchor.

In my bilge is a 60lb CQR I used for my first year out here; with 1/2 inch and 3/4 inch chain. I used to lift that up every now and then - what a bear.

But to be honest if I had to throw that out it would mean I was in some distant anchorage with no mooring or other tie point available and 80 knots blasting down with a sketchy bottom and only a panic attack would make me resort to that. Anything else and I'd be comfortable with the danforth below 20 knots, or up to 50 if it was mud and anything above 40 and below 80 with no mooring around, I'd be comfortable with the bruce if it was mud or rock as that claw is a pretty nasty character when it comes to finding crevices.

One thing I did learn was that corkscrew moorings are absolutely worthless. The big ones that are supposed to handle the larger vessels can't. Every year someone with a big boat ties to one that the harbor patrol set and every year they go blasting past me on their way to the rocks. The shanks snap or bend or ??? something on them breaks and I wouldn't trust them to hold anything over 10,000 lbs. Corkscrew moorings are worthless.

One of the best inexpensive mooring setups I heard of came from a fisherman who used to ply the coast from Santa Barbara to S.F. Take a 4 ft x 4 ft x 1/2 inch steel plate, weld a cross beam on it and put a 2 inch eye through the middle. As the vessel starts to lift the 320 lb plate plus chain the plate tips and dips into the mud and you aren't going anywhere. To me, that is absolutely the best way to design a mooring there is, especially if you bump that up in either size or thickness for larger vessels.

And always remember - if the chain links are the size of your shoe and the scope is 10 - 15 to 1 (mine is) you've got a good shot at making it through the storm as long as your bow gear hangs together as well. I always use a loop bridle and every 2 hours or so, go on deck and pay out a nip to change the wear point.

Some of the boaters here use thin chain or short scope and in the morning you can find them - sizing up the hole the rocks ate in the bottom of their boat.
---
Craig Mead
Founder and Teacher
Kids Computer Kamp (KCK)
Free PCs for Kids since 1983
(Eduhosting.org/edkck.html)
and Woodcarver (trained by NASA Physicist)
The most beautiful Wind Generator Blades on Earth
(WindGenZen.com) Free Wind Gen blade carving classes

To view links or images in signatures your post count must be 10 or greater. You currently have 0 posts.


To view links or images in signatures your post count must be 10 or greater. You currently have 0 posts.


To view links or images in signatures your post count must be 10 or greater. You currently have 0 posts.


To view links or images in signatures your post count must be 10 or greater. You currently have 0 posts.


To view links or images in signatures your post count must be 10 or greater. You currently have 0 posts.

Member
Join Date: Jul 2007
Location: Racine on the lake
Posts: 59
Thanks: 0
Thanked 0 Times in 0 Posts
Rep Power:
10
Craig, thanks for sharing your experiences. I have to re-read the Texas Tandem part again.
---
s/v Talisman 1979 SJ45 #179
Senior Member
Join Date: Dec 2008
Location: North Carolina
Posts: 684
Thanks: 0
Thanked 17 Times in 11 Posts
Rep Power:
9
I have read a number of reports on the 2006 West Marine test.....they use a ~52ft. tow boat weighing 59,000 lbs. as I remember (more or less) to set anchors that would normally be used for a 35 ft. boat....isn't that correct? In my opinion that test was completely bogus....bogus...as in nonsense. First of all, only the new high price anchors did well. The old standbys (cheaper) plow type, Bruce type, danforth types wouldn't even set....that's got to be your first clue. Now, as far as I can tell, those three anchors, in some combination, are the standards the world over, but they wouldn't set or hold. This test was run by people who are trying to sell anchors. You can't sell a lot of plows, bruce, or danforth types...everyone already has these and when you do sell, the price is low. But if you can convince boat owners that they're going to loose their boat in the first serious storm, then you can sell lots of high priced new fangled anchors. Plot the price vs. the performance and you see that the higher the price, the better the anchor in the test. With that tow boat, it's a little like me trying to set a 5 lb. Bruce on my 32 footer. But that was a tow boat, geared down low. Just a little difference in how fast/hard you backdown is going to make all the difference in the world...and bias the results if you want to affect the outcome.

I am not a fan of Practical Sailing, but they ran a test in 2002 that is probably better representative of anchor performance. The old standards more closely matched the newer types. They tested a spade (Roca, Manson were not tested and may not have been around then) and the spade did actually hold much better, which supports the argument for the new types, but the performance differential was not as great as the 2006 WM test

In the 2005 WM catalog, they had a table on recommended sizes for various boats for the various types of anchors. The recommendations had all of the anchors relatively closely placed, and as you would expect, the bigger the boat, the bigger the anchor. Additionally, many of the fluke type anchors had lists of holding power for various types and sizes. And the holding power was a lot more than in the 2006 test. These tables and lists were eliminated in the more recent catalogs, and at least one of the newer catalogs has a statement by WM to effect they were surprised and had some questions as to the test results.

My bottom line is that the old standards work fine as always. The newer spade types do seem to offer better performance, but maybe not enough to rush out and spend lots of money for the average sailer. Also, the tests often forget the complaints about Fortress...they do bend (I've seen several myself) and because they are so light, I've seen complaints that they sometimes skip along the bottom rather than setting.

As to the fluke type anchors not taking a reversal of winds. Practical Sailor in it's 2002 tests, did some reversal tests (either 140 or 120 direction change...I don't remember which), and they found that most of the anchors, including the fluke types, readjusted to the change of direction without breaking out completely and most of those (all commonly known types) reset in a several feet if they did break out. (One WM fluke type on a single try was pulled 180 degrees, broke out and wouldn't reset because a clam had jammed in between the movable parts...therefore it wouldn't reset because it's action was disturbed. No other anchors were tried on the 180 degree test, and they didn't retry the WM fluke type minus the clam...but this seems to be adequate basis for people to say that they won't reset in a reversal. Are there other real tests out there, or is this just another old wives' tale?
---
Last edited by NCC320; 03-12-2009 at

10:37 PM

.
Senior Member
Join Date: Jan 2003
Location: Maine Coast
Posts: 6,428
Thanks: 22
Thanked 310 Times in 240 Posts
Rep Power:
18
A Different View of the Sail Anchor Test
---
The Sail Magazine anchor test had more than one test per
anchor
. They tested all the
anchors
at three different locations with multiple sets, pulls and scopes and they then reported exactly what the results were. These tests were done on "HARD BOTTOMS" and they did not hide that fact. They needed a boat like the Shana Rae to get to their ultimate hold strength goal of 5000 pounds. You simply can't generate 5k pounds of thrust with a sailboat. Max thrust for my 44hp diesel and three blade prop is about 500 lbs+/- (data Michigan Wheel thrust calculator)..
People on this and other forums have made odd claims that Sail gave preference and may have "fixed" the results to satisfy advertisers?
Using this logic Sail Magazine really cut off their supply of ad money that month. It seems three of the
anchors
that got beat up the worst were the
LEWMAR
Claw(Bruce type), the
Lewmar
CQR
(Yes they now own
CQR
) and the West Marine Performance 20.
Lewmar
is one of Sails larger advertisers! In that months issue they had one full pager and one quarter page ad.
West Marine's VP of product development Chuck Hawley was actually involved in the testing and WM also spends ad money with Sail. Three of the best performers Manson, Hydrobubble & Rocna had zero, zilch, nada or no advertising in Sail Magazine at all.
While I agree with NCC320 that this test was very "flawed" or biased its just not in the same way he sees it.
IMO these tests were very biased, in favor of, when it came to the "tried and true"
CQR
& Claw but NOT their competitors. The testers/investigators went so far as to have "in-depth discussions" to figure out a way to get the Lewmar Claw and
CQR
to set better so they could at least get load test results.
Now bear in mind this test was ONLY a hard sand test so you can't translate these results to a soft mud bottom but the authors made it quite clear that these were HARD SAND tests not "pudding sets", something even a cinder block will do well in...
Here's a direct quote:
"The CQR is another tried-and-true anchor that yielded surprising results. The maximum load we recorded during our first three pulls on 5:1 scope was a very short spike up to 350 pounds, but most of the time we never felt the anchor set. No matter how slowly we went or how we tried to manually coax the anchor to set, it seemed to just skip along the surface of the bottom."

Remember that Lewmar (Claw/CQR/Delta) is a HUGE advertiser and HUGE vendor to West Marine and Rocna, Manson & Hydrobubble were nowhere in sight and had spent basically ZERO ad revenue with Sail and were not distributed by West Marine at the time.
This to me sounds like they perhaps had to give the
CQR
a little "extra bias" by going slower than with other
anchors
and trying to "manually coax" it to set. How can anyone claim bias against the
CQR
or the Claw or the West Marine Performance 20 when they clearly gave them preferential treatment? West Marine went so far as to actually be honest and admit in print that their own West marine branded anchor basicalluy sucked at setting in a hard bottom. Bias??
This "extra coaxing" seems a little unfair if you are replicating test results using the SAME technique with all
anchors
to make it as fair as possible.
The results don't surprise me as I own a Bruce and a
CQR
and though they perform well they are not always quick setters (CQR) or high holding (Bruce). My assertion is that 80% of boaters never actually set an
anchor
and get very lucky using basically a "rope on a rock" in rather benign summer conditions. Remember hard bottoms are HARD to set in and this was not an easy pudding test liek many of the other anchor tests we read about.
I suggest some of you begin diving on your
anchors
in a shallow spot to see what's going on down there I think you'd be surprised.
I used a Bruce 33 for years but about 20% of the time in soft mud bottoms, even with multiple sets, I could still drag it around the cove with my boats engine. Your sailboats aux engine should NOT be able to budge a properly sized and set
anchor
.
That being said the clones, like the Lewmar Claw are NOT Bruce
anchors
! The angles and flukes rarely if ever match that of the original and the original was heat treated...
Yes these tests were "BIASED" just in favor of the Claw and
CQR
and not the competition...
West Marine still does NOT sell the Hydro Bubble though they did begin selling the Rocna and the Manson Supreme shortly after the tests because they were clearly impressed.
So let's recap:
1-They slammed one of their biggest advertisers & vendors while at the same time giving thumbs up to a company that still does not advertise with them and was not even sold by them at the time.
2-They slammed thier own product WM Performance 20 and praised one three they were not even selling a the time.
3- They gave preferential treatment ONLY to the tried and true old gen anchors but not the new gen.
Biased??
Just another perspective..
P.S. As for your cost / more margin argument. My Port Supply discount on a Rocna is roughly 15.5%. Yet my Port Supply discount on a CQR is 18.3%. What this means WM makes more margin on the CQR than they do on a Rocna as my pricing matrix takes me to a base level of profit margin with my Port Supply account.
Here's the killer! The Lewmar Claw is a 32% discount for me with Port Supply meaning the least expensive anchor they sell is also their largest margin anchor product!
---
______
-Maine Sail / CS-36T


To view links or images in signatures your post count must be 10 or greater. You currently have 0 posts.




© Images In Posts Property of Compass Marine Inc.


---
Last edited by Maine Sail; 03-12-2009 at

11:12 PM

.
Senior Member
Join Date: Dec 2008
Location: North Carolina
Posts: 684
Thanks: 0
Thanked 17 Times in 11 Posts
Rep Power:
9
Same test ----- different assessment. But then there are those other tests and real world experience that says plows, claws, and danforths work.

There's more money in selling a $560 Rocna at 15.5% + markup vs a $99 Claw at 32#+ markup.

A Rocna looks nice but it's just too high in price (in my opinion). Also, the sharp points of the various spade types will need some time to see if they bend against rock (and I suspect that their good setting performance comes from the sharpness vs. the more traditional anchors). Heck, even Ancoralatina's scoop anchor looks nice, and perhaps needs some promotion.

The bottom line is for each sailor and his usage, do you really need to spend a lot of money for the latest, or will your old standbys continue to work well (as they seem to have for most people in the past)? The answer will be different for different people.
---
Last edited by NCC320; 03-13-2009 at

12:03 AM

.
Currently Active Users Viewing This Thread: 1

(0 members and 1 guests)
Similar Threads
Thread
Thread Starter
Forum
Replies
Last Post
Using Two Anchors

Tom Wood

Seamanship Articles

0

01-19-2004

07:00 PM

Using Two Anchors

Tom Wood

Gear and Maintenance Articles

0

01-19-2004

07:00 PM