05-05-2009
Old as Dirt!

Join Date: Nov 2008

Location: Tampa Bay Area

Posts: 2,918

Thanks: 15

Thanked 128 Times in 121 Posts

Rep Power:

7
Moe--
The next time you really need to clean your teak, try using some "Greased Lightening" from Lowes or Home Depot.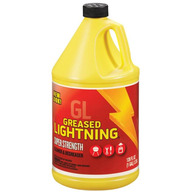 I don't knw what's in it but it does a heck of a good job cleaning up teak (brush across the grain!) and it's far less costly than the teak cleaners at marine outlets.
When you apply the teak oil, be sure to wipe down the caulking with a clean cloth soaked in Mineral Spirits to keep that clean. Works like a charm.
Cheers,
s/v HyLyte
__________________
"It is not so much for its beauty that the sea makes a claim upon men's hearts, as for that subtle something, that quality of air, that emanation from the waves, that so wonderfully renews a weary spirit."