Can anyone identify this track and slide?
---
Can anyone help me identify this track and slide? I'd love to buy some additional slides, but I'm not sure what to look for. I suspect they're not even made any more.
This is on a 1969 Ranger 26. I think it's the factory-installed track. A friend with a '71 Ranger 23 has the same track. The track is 1" wide, and it's shaped a little like T-track, except it has a groove along the top. It doesn't have pin-stop holes; the slide has a screw that, depending on how tight it is, will either press down into the track groove or bump into the screws holding the track down to hold it in place.
The slides look very similar to the slides currently manufactured by Schaefer. But I don't see anything in their catalog that quite matches.
Here's a picture: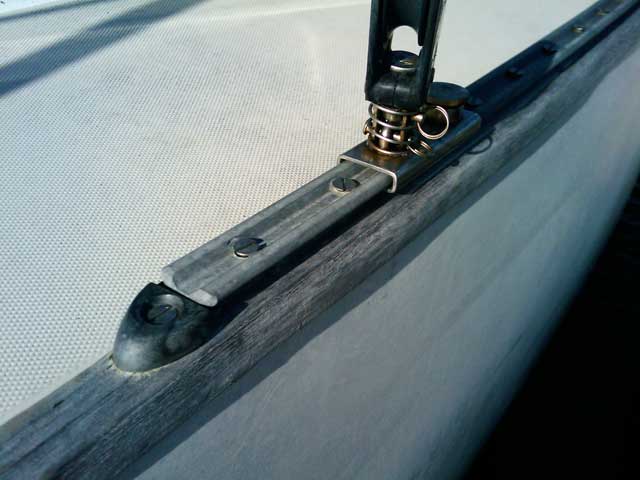 - Steve
Oops, image was broken when I first posted it. Working now.
Senior Member
Join Date: Jun 2004
Location: West Michigan
Posts: 515
Thanks: 0
Thanked 0 Times in 0 Posts
Rep Power:
13
measure your track, compare it to makers that you can find, then buy your slides from them. Only the width, and thickness of the track itself is critical the upright/base doesn't matter really. Yours, with that recessed center, means that you'd want to go with a screw type, not spring loaded.
Can you measure the slide itself?
On one of my boats there was a box of parts, and I ended up with a couple slides that don't fit anything I have. They're wide enough, but made for a thicker track.
Here are the dims for schaefer tracks, which may allow you to match yours up and determine if the slides will work:
APS - Schaefer T-Track Eye Slide Cars
Ken
Senior Member
Join Date: Aug 2007
Location: Toronto
Posts: 407
Thanks: 0
Thanked 0 Times in 0 Posts
Rep Power:
10
It looks and sounds like standard 1" x 1/8" track. Take the existing slide off and go to the local marine store and test it on a section of new track. Then buy the appropriate new slide and try it on your track to see if the stops works properly.
---
Patrick Rea

To view links or images in signatures your post count must be 10 or greater. You currently have 0 posts.

1978 30' Hughes Northstar 1000
1964 20' Bertram Moppie
Currently Active Users Viewing This Thread: 1

(0 members and 1 guests)