Junior Member
Join Date: Jun 2009
Posts: 2
Thanks: 0
Thanked 0 Times in 0 Posts
Rep Power:
0
Riveting? How does this work?
---
Hey everyone
Pretty new to sailboat maintenance and repair, so sorry in advance for what might be a silly question.

I'm installing a boom vang and I need to attach a pad eye to my boom. Because the pad eye is so far forward, I don't have access to secure it with screws, washer and nuts.

I've read that using a rivet gun is the best way to make this happen, but I'm not clear on the process.

Can someone please provide more details?

Thanks!
Dave
69' Bristol 33.3
Learning the HARD way...
Join Date: Jan 2007
Location: Boston / Ft Myers Area
Posts: 5,471
Thanks: 286
Thanked 195 Times in 191 Posts
Rep Power:
11
I assume that you mean "pop riveting."

It is fairly simple. A pop rivet is a tube of aluminum (soft) with on end flanged, and the other straight. A "Mandrel" (which looks like a finish nail) runs through the tube, with the "head" of the nail opposite the flanged side, and the pointy side of the nail sticking out the flanged side.

To use, you drill a hole in the two objects that you wish to join. The hole needs to be just big enough for the rivet to fit into, but no more. You also need a rivet gun to complete the fastening process. When used with a rivet gun, the "nail" is pulled through the tube from the pointy side, widening the tube as the head is pulled through it. When the head reaches the drilled hole, it cannot fit through because of the compressed aluminum from the rivet. Ususlly the head of the mandrel snaps off, creating the "pop" sound that gives this fastner it's name.
A picture is worth a bunch of words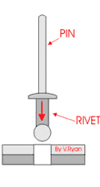 Easy
---
Marine Propulsion Engineer
Senior Member
Join Date: Oct 2006
Location: North Carolina
Posts: 197
Thanks: 0
Thanked 1 Time in 1 Post
Rep Power:
11
Note that you may want to use stainless (marine quality) rivets for that purpose.
You will need to use SS rivets and on that size boat they would be 3/16 or 1/4 which requires the BIG rivet tool


Some boats drill and tap BUT it depends on how thick the section is and rivets are best IMHP
---
1970 Cal 29 Sea Fever

To view links or images in signatures your post count must be 10 or greater. You currently have 0 posts.

1981 J24 Tangent 2930
Tommays
Northport NY


If a dirty bottom slows you down what do you think it does to your boat
To view links or images in signatures your post count must be 10 or greater. You currently have 0 posts.

Member
Join Date: Apr 2008
Location: Rocklin (Sacramento)
Posts: 79
Thanks: 0
Thanked 0 Times in 0 Posts
Rep Power:
10
I think I'd used monel pop rivets and still put tef-gel or lanacote on the assembly.
---
----------------
Just a Columbia 28
I don't discuss my member
Join Date: Aug 2007
Location: Chesapeake Bay
Posts: 2,557
Thanks: 0
Thanked 33 Times in 33 Posts
Rep Power:
10
My 25' boat used a bail and was threw-bolted.
---
Merit 25 # 764 "Audrey"
Senior Member
Join Date: Apr 2007
Location: Three Mile Harbor, East Hampton, NY
Posts: 511
Thanks: 3
Thanked 6 Times in 6 Posts
Rep Power:
11
Someone more expert than I should advise the OP about the issues of electrolysis in using dissimilar materials.
Senior Member
Join Date: Nov 2006
Location: Greater Vancouver B.C. Canada
Posts: 433
Thanks: 0
Thanked 2 Times in 2 Posts
Rep Power:
11
My 26' boat also uses a boom bail and is through bolted. I am not sure I would trust rivets (especially aluminum ones) given the forces put on the padeye from the boom vang. SS rivets may be an improvement but perhaps you should consider a bail bolted through the boom instead of the padeye.
Cal 9.2 SilverSwan
Join Date: Jul 2000
Location: East Tennessee
Posts: 272
Thanks: 0
Thanked 2 Times in 1 Post
Rep Power:
17
The stainless steel strap bails on the boom on the Santana525 are pop rivited on with stainless steel pop rivets. There are 2 on each side. I would not trust the yield strength of the aluminum ones. The 525 is only 10 x 29 under 160 ft sq for the main
The stainless bails on the Cal 9.2 are through bolted on a Kenon boom and allowed to swivel. 10x32.5 main with roach. Its amaising the extra forces that exist between the 2 boats! Last resort, call a rigger like JSI for pricing and their method for reference, most are willing to chat.
---
Cal 9.2 #19 SilverSwan
Currently Active Users Viewing This Thread: 1

(0 members and 1 guests)