Junior Member
Join Date: Sep 2009
Posts: 1
Thanks: 0
Thanked 0 Times in 0 Posts
Rep Power:
0
Cracks in the Keel Near the Prop
---
I bought a Columbia Defender about a month ago, after she went in the water the bilge was filling up rather quickly. Like every other day. The water was coming in near the propeller shaft, although I could not get a good look at things.

When she finally came out of the water again, I found several cracks on the keel. I'm assuming that is where the water was coming in, not the stuffing box or something else as I had assumed.

I was advised to drill small holes along the cracks and start pouring in git-rot, then cover with a structural putty and paint.

Does this sound reasonable? Does anyone have any suggestions?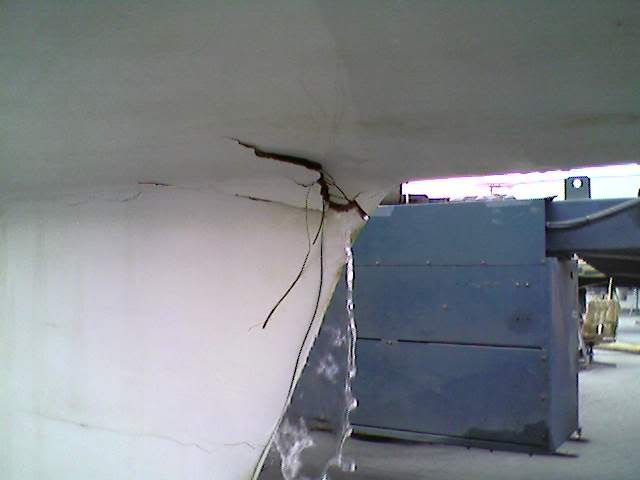 You might not be at this level of
BUT it is going to take more than git-rot and putty
---
1970 Cal 29 Sea Fever

To view links or images in signatures your post count must be 10 or greater. You currently have 0 posts.

1981 J24 Tangent 2930
Tommays
Northport NY


If a dirty bottom slows you down what do you think it does to your boat
To view links or images in signatures your post count must be 10 or greater. You currently have 0 posts.

Senior Member
Join Date: Sep 2008
Location: Victoria B.C. Canada
Posts: 7,796
Thanks: 0
Thanked 111 Times in 102 Posts
Rep Power:
10
I would advise grinding the paint off both inside and out to expose the extent of the damage. I checked and the Defender is a full keel boat according to Columbia Owners Group
Columbia Yacht Owners Association
, so not sure how it could have happened unless the prop threw something into the hull. After grinding you should build up layers of glass cloth (biaxial) and epoxy inside over the damaged area and beyond 4-6 inches in each direction. Outside you should grind out the cracks to get to clean dry fibreglass and grind a taper each side of the crack to about a 12-1 ratio. This means if you grind 1/4" deep the tapered width should be 3" each side. This is then glassed with progressively wider fibreglass cloth until level with the surface. After sanding and fairing with thickened epoxy prime and/or paint as normal. I wouldn't use Git-rot and wouldn't use any structural putty unless it is thickened epoxy as nothing else will adhere long term. Here's a link to West System's fibreglass repair manual which explains how to do this in detail.
http://www.westsystem.com/ss/assets/...aintenance.pdf
If you're not comfortable working with epoxy or believe it's more than you want to take on hire a professional in fibreglass repair. Do not hire the person who recommended git rot.
Good luck.
Brian
Senior Member
Join Date: Mar 2007
Location: New England
Posts: 966
Thanks: 0
Thanked 7 Times in 7 Posts
Rep Power:
10
Okay, I am going to ask a stupid question....
---
how was this missed in a survey or did something go awry afterward?
---
If you liked my advice/response, give me some rep points. If you didn't......well what do you expect, it was free.
Senior Member
Join Date: Sep 2008
Location: Victoria B.C. Canada
Posts: 7,796
Thanks: 0
Thanked 111 Times in 102 Posts
Rep Power:
10
Definitely agree with tommays. And DrB as well, would like to hear about the survey (if there was one). But it is a full keel design so don't think a grounding would do it - or am I wrong?
Brian
Currently Active Users Viewing This Thread: 1

(0 members and 1 guests)