Screen enclosure
---
I am going to make a screen enclosure for our sailboat. Does anyone have a reccomendation for the screen material? I need it to keep the little no see ums out but I need to be able to see clearly through it.
Member
Join Date: Jun 2009
Posts: 93
Thanks: 0
Thanked 0 Times in 0 Posts
Rep Power:
8
We use 2 personal screens for camping. I think I got them at dicks sporting goods. They have 4 eyelets that you can attach over a person laying down. It provides a covering of 2 feet by 7 feet and then 2.5 feet. We just tie them over our forward hatch and our main hatch starting in the evening. I am sure you could use these to strech them over a frame.
Consider the enclosure solution originally posted by Capn Ron:
Quote:
Not sure this really counts as a project (other than the Admiral says it does). The creek and river we are on in NC has a major mosquito issue several times a year, so something is needed to keep them off if you want to enjoy the cockpit in the evening. I found a simple solution using a Walmart $30 screen siding that are sold for 10' x 10' canopy gazebo's.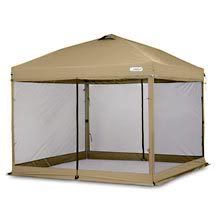 I simply gathered up the the parts that attach to the gazebo frame with some line and I lay that over the bimini. The bottom has elastic straps that attach nicely to the bimini hold downs and it even has 2 zippered entries for easy access. Here is the Admiral enjoying the results of this 'project.'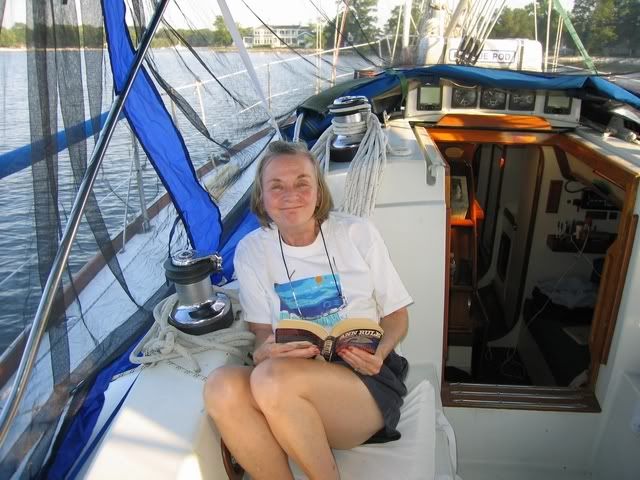 I bought one last spring and it is a spectacular solution. While I am usually for diy, and know my way around a sewing machine, this works so well that I wouldn't consider making anything. It took about 5 minutes to install the first time, only because I had to tie a line around the top and swat at the mosquitos. The next time, with the line permanently attached, it was under two minutes. The zippered sides are great, but we typically just lift the side and slip under it. I like that the screening is not tight, so it moves when touched instead of ripping. It folds up easily and fits right back into the bag it came in, extra line and all.
Senior Member
Join Date: Nov 2008
Location: Long Island
Posts: 2,172
Thanks: 8
Thanked 2 Times in 2 Posts
Rep Power:
9
Currently Active Users Viewing This Thread: 1

(0 members and 1 guests)