Junior Member
Join Date: May 2010
Posts: 14
Thanks: 0
Thanked 0 Times in 0 Posts
Rep Power:
0
Fibreglass and keel replacement questions
---
So as I mentioned in my intro thread, I just picked up an old thunderbird in pretty rough shape, and was hoping to get some ideas on how to fix her up.

First of all, there's a section of the hull inside the cabin that feels like it has some give to it. If I tap on the outside of the hull in the same spot, it seems fine.

This to me would seem to indicate that the inner layer of fibreglass has simply come unstuck from the core, so I was hoping that I could maybe carefully poke a hole in the fibreglass and inject some resin in there to stick it back down. Would this work?


The next major problem is with the keel. The bolts that hold the keel on go through a big oak board at the bottom of the hull, which I assume is supposed to spread the load around. This board is almost completely rotted away, so it obviously needs to be replaced.

I was hoping that I could build some sort of cradle to hold the keel up, grind off the bolt heads, then lift the hull right off the keel. I'd then have to weld new bolts on and replace the board with something.

How is the keel/hull joint sealed? do I just epoxy the heck out of it?

Could I replace the board with a steel plate or something and cover it with fibreglass?

Is this in general a terrible plan? Is there a better way of doing things I'm not considering?

Thanks for your help!
Member
Join Date: Jun 2010
Location: Miami, Florida
Posts: 97
Thanks: 0
Thanked 0 Times in 0 Posts
Rep Power:
7
Just a few days ago I repaired the deck on my boat that had a soft spot. I bought an epoxy sold for that purpose and injected it with a syringe. See
Repair of rotten sandwich deck
The stiffness returned to the area. But do you have sandwich in the hull? Or is it just internal delamination between two layers of fiberglass? If it was my boat I would drill a small peek hole to the delamination level and check first.
Just another Moderator
Join Date: Sep 2005
Location: New Westminster, BC
Posts: 18,869
Thanks: 141
Thanked 513 Times in 487 Posts
Rep Power:
10
Are you sure this isn't a glass-over-ply boat? The wooden beams make me wonder that it might be.

Are you in BC? If so, and it is a glass boat, then this is probably a Booth built boat... I'd be surprised if it's a cored hull, as these glass birds were built to be class-level with the older wood boats. You might try to contact Booth in Victoria for more information on how they were built.(and what to do about your situation)

Post a picture here so we can be sure what you're dealing with.

btw - cutting off the keelbolts is not a good idea.. try removing the nuts first. the keel is cast iron and is not really suited for welding anything onto/into it. Also you'd probably have more luck blocking the boat high enough so that you can drop the keel out of it with a jack.
---
Ron

1984 Fast/Nicholson 345 "FastForward"

".. there is much you could do at sea with common sense.. and very little you could do without it.."
Capt G E Ericson (from "The Cruel Sea" by Nicholas Monsarrat)
---
Last edited by Faster; 06-14-2010 at

03:04 PM

.
Senior Member
Join Date: Mar 2010
Location: SW PA
Posts: 122
Thanks: 0
Thanked 0 Times in 0 Posts
Rep Power:
8
backwards
---
Unless I'm missing something you're going about this a wee bit backwards regarding the keel:

What are the condition of the keel bolts? If the bolts look solid - why not remove the nuts from the all-thread and simply replace the board?
If the bolts have deteriorated - then install sister bolts. Depending on the metallurgy of the keel you might be able to drill and tap for sister bolts with a heavy duty handheld drill. Or if it is very hard metal, you may have to hire someone who does this procedure for a living - using a drill press type of device that is placed on the floor of the main salon.
Maybe I'm still missing something - why do you want/need to lower the keel? Why not block it in place and do the above work?

You might visit the West System website regarding your fiberglass - core issue.
---
Last edited by oomfh; 06-15-2010 at

08:42 AM

.
Junior Member
Join Date: May 2010
Posts: 14
Thanks: 0
Thanked 0 Times in 0 Posts
Rep Power:
0
So after doing some more research on Thunderbirds, it seems that this boat is pretty unusual. While the hull does look like a Thunderbird hull, the rest of the boat looks completely different. Some sort of homebrew maybe?
Here's a few pictures, if that'll help a bit. I apologize in advance for the size.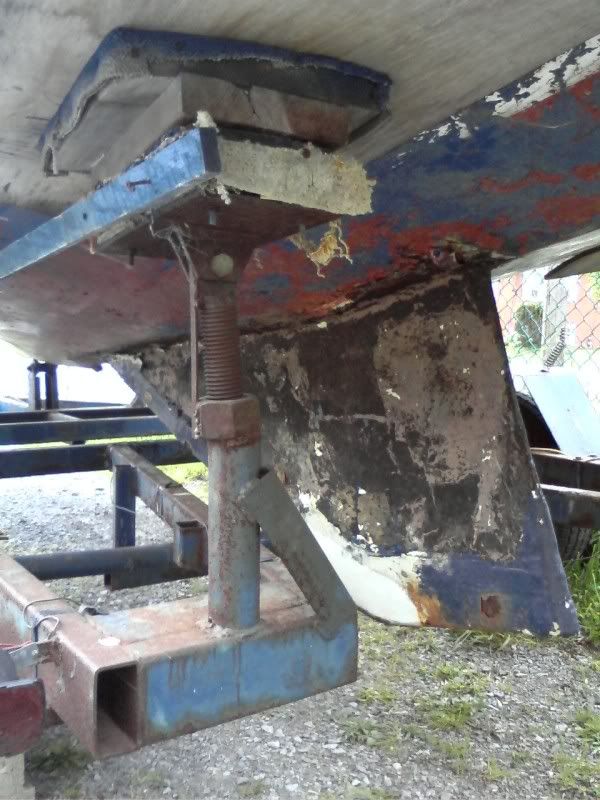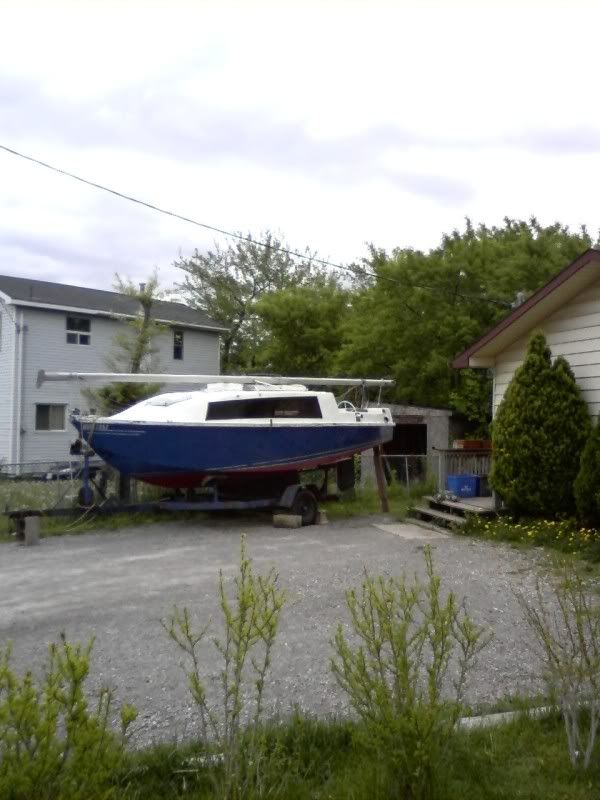 I also called the guy I bought it off of, and he managed to give me a little bit more information, although not a lot.
The boat was built in Bracebridge in 1980, although the hull came from somewhere in Huntsville, ON. I don't know if it was manufactured there or if it was bought secondhand. Supposedly, it is balsa cored.
Thanks for all the help guys. I'm pretty new to sailing so I really appreciate your input.
Just another Moderator
Join Date: Sep 2005
Location: New Westminster, BC
Posts: 18,869
Thanks: 141
Thanked 513 Times in 487 Posts
Rep Power:
10
The only similarity to a Tbird is that it's a hard chine hull. I'm sorry to say you've got yourself a bit of a pig-in-a-poke here. The keel 'attachment' is just plain scary looking.
---
Ron

1984 Fast/Nicholson 345 "FastForward"

".. there is much you could do at sea with common sense.. and very little you could do without it.."
Capt G E Ericson (from "The Cruel Sea" by Nicholas Monsarrat)
Currently Active Users Viewing This Thread: 1

(0 members and 1 guests)