Senior Member
Join Date: Jul 2007
Posts: 430
Thanks: 0
Thanked 7 Times in 5 Posts
Rep Power:
10
Odds and Ends
---
Going thru the boat I have come across some spare sheaves.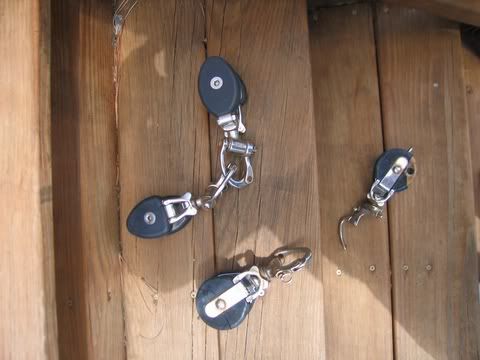 Two of them are Schaefer and possibly original with the boat (20 years old). The pulleys work fine, but the exterior rubber body has deteriorated.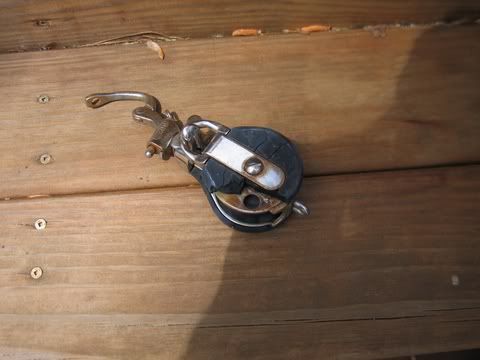 I am keeping them as spares, but is there anything that can be done with these to make them more usable?
What might have the Heart shaped sheaves been used for?
In the Ends department, I have what appears to be a custom captains chair.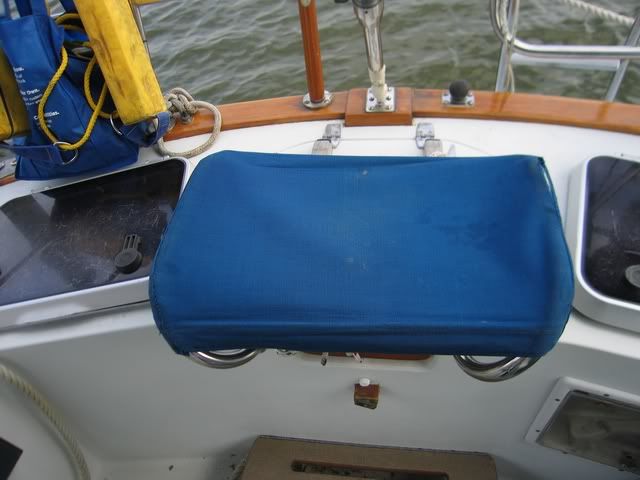 The seat material seems to be the same color as the Sunbrella used on the boat, but it has a rubber backing. It is worn and torn and I would prefer to replace rather than repair it, so I am just asking if anyone has seen anything like this before and if it can be purchased or needs to be remade?
The base structure looks like this: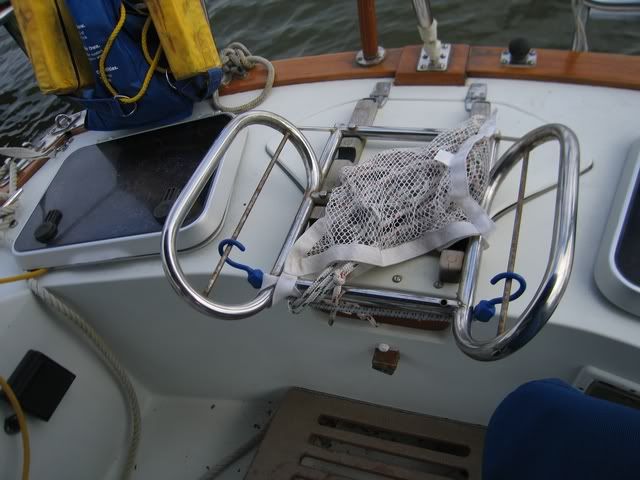 the material is stretched across the structure and held in place with small line webbed to the stainless.
thanks,
Senior Member
Join Date: Dec 2003
Posts: 1,705
Thanks: 2
Thanked 39 Times in 38 Posts
Rep Power:
14
Senior Member
Join Date: Jul 2007
Posts: 430
Thanks: 0
Thanked 7 Times in 5 Posts
Rep Power:
10
snatch blocks
---
CapTTB
Yes, in fact all of them are snatch blocks. I am just wondering why some of them are round and some are heart shaped? Do the heart shaped ones have a specific function? These are all spares, with the possible exception of being spinnaker hardware, all the other necessary hardware is on the boat and fine.

thanks,
Tartan 27' owner
Join Date: Jan 2008
Location: NYC
Posts: 5,105
Thanks: 8
Thanked 141 Times in 133 Posts
Rep Power:
10
I was going to say that some of your spare blocks could have been used as 'twings' for your spinnaker set up.
I think Harken and other mfrs have a good diagram for flying a spinnaker with all their attendant lines.
---
"The cure for anything is salt water~ sweat, tears, or the sea." ~Isak Denesen

Everybody has one:

To view links or images in signatures your post count must be 10 or greater. You currently have 0 posts.

Currently Active Users Viewing This Thread: 1

(0 members and 1 guests)