Tank Monitors
---
Hi all. Thinking of adding monitors for 2 water, 1 holding and 1 fuel tank. I'd appreciate any suggestions or recommendations based on what you might have tried and had good luck with. It doesn't have to be an integrated system for all tanks, but that would be nice. I'm leaning toward the Tank Tender, but I know there are newer systems out there. Any thoughts?

Thanks, Mike
Senior Member
Join Date: Mar 2003
Location: Portland, Maine
Posts: 1,551
Thanks: 1
Thanked 28 Times in 26 Posts
Rep Power:
15
Tank tender is good as it is ver low maintenance and does not require any electricity. Installation is from above.

The Scad Profile is the best electric monitor by far and fairly easy to install.

I have used both on different boats.
---
Tim R.
Our Carina is for sale
1997 Caliber 40LRC

To view links or images in signatures your post count must be 10 or greater. You currently have 0 posts.

-----------------------------------------------------
Senior Member
Join Date: Jan 2006
Location: living aboard since 1972
Posts: 1,717
Thanks: 0
Thanked 12 Times in 12 Posts
Rep Power:
12
I'm very fond of my SCAD "SOLO" holding tank monitor because there is not intrusion of probes or any openings into the tank.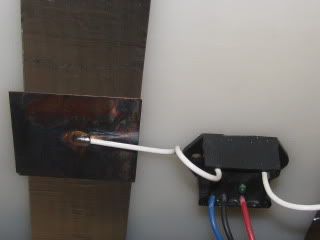 I am able to view intervals of fill levels easily and accurately.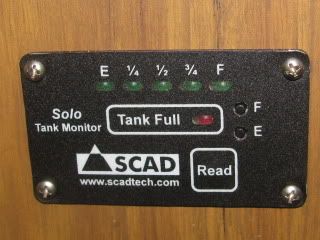 Take care and joy, Aythya crew
Senior Member
Join Date: May 2006
Location: Sarnia ON
Posts: 695
Thanks: 3
Thanked 5 Times in 5 Posts
Rep Power:
11
I am looking for a replacement of the basic dial and float that mounts in the top of the water tank. Have not been able to find one online, any suggestions?

Thanks
Gary
Junior Member
Join Date: May 2008
Location: Alexandria, VA
Posts: 8
Thanks: 0
Thanked 0 Times in 0 Posts
Rep Power:
0
I have an Electrosense monitor on my boat. It works great.

chris
Senior Member
I also have the SCAD monitor for thee holding tank. It works well and does not need an internal float. The make 3 tank monitors also. Easy to install as well.

Dave
---

To view links or images in signatures your post count must be 10 or greater. You currently have 0 posts.
___________________________
S/V Haleakala (Hawaiian for" House of the Sun")
C&C 35 MKIII Hull # 76
Parkville, Maryland
(photos by Joe McCary)
Charter member of the Chesapeake Lion posse

Our blog-
To view links or images in signatures your post count must be 10 or greater. You currently have 0 posts.


"Sailing is just the bottom line, like adding up the score in bridge. My real interest is in the tremendous game of life."- Dennis Conner
Senior Member
Join Date: Mar 2008
Posts: 890
Thanks: 0
Thanked 1 Time in 1 Post
Rep Power:
10
I've often thought of building a multiple tank monitor using a principal I worked on thirty years ago to monitor the level in underground tanks. You build a cheap little manifold from plastic pipe fittings. A flexible PVC hose goes into each tank with weight on the end to hold it on the bottom. Each tank hose connects to the manifold by 1/4 turn valve. An outboard fuel bulb is connected to the manifold. Then you have a vertical clear U-tube on a bulkhead with colored water in it. One end connects to the manifold, the other is open to atmosphere near the ceiling. To check a tank you open the valve for the tank and start squeezing the bulb. The water in the U-tube is displaced from one side to the other until the air starts bubbling out at the bottom of the tank tube. The water level change indicates the inches of level in the tank. Since fuel is lower in specific gravity than water the level rise will be scaled slightly less than actual inches. Close the valve after checking.

Gary H. Lucas
Currently Active Users Viewing This Thread: 1

(0 members and 1 guests)