Outfitting a J24 - what is needed?
---
Hi All,
I have a mirage 24 sailboat that co-own with a friend. I just found a J24 with a trailer (nice new cradle ride single axle) that I can pickup for $1000. This beats the going rate in my area by ... a lot. However, the boat NEEDS WORK. The hull is fine, the deck I'm not sure about I have yet to see the boat but .. it needs:
sails
rigging (standing and running)
hardware
rudder/tiller (by the looks of it, those might exist)
I haven't been sailing that long, but I've been sailing long enough to know that a boat is just a hole you throw money into. I want to get into racing at the club level and I'm thinking this is the ticket. It looks like I can get used sails for under $500. Rigging will run about that much I would expect (maybe I'm wrong) but it's all the deck hardware, engine and miscellaneous that i don't know about. I don't mind work, in fact, I relish in work. I have another boat that sails just fine so working will only keep me from sailing due to time limits rather than not being "seaworthy".
I feel like I'm answering my own question .. you know, the inevitable "is it worth it?" ... "what will it cost?"
Broad questions I know, but please humour me. BTW, I'm 32, not married (though I have a serious girlfriend that loves sailing) no kids, live close to the club (a bike ride in fact) and keeping a trailered boat there is cheap.
I figure if worse comes to worst I can blow it up or give it away and use the trailer for our mirage 24. However, I am a romantic and I love the idea of taking things that are forlorn and forgotten and making them great again.
The seller is asking $1500 for it but after speaking with him I think he realizes that it's just a liability and he wants to get rid of it. Hey, maybe I can get it for even less. Doesn't hurt to try but I'm confident I wouldn't pay over 1k for it.
Thanks all!
---
Last edited by smp; 07-25-2011 at

12:56 PM

.
Junior Member
Join Date: Sep 2010
Posts: 12
Thanks: 0
Thanked 0 Times in 0 Posts
Rep Power:
0
buy a used boat that's complete
---
I have a Ranger 22 for which I have been replacing most of the items you describe over the last 3 years.

a full suite of used sails for $500? seems unlikely.
standing rigging? $500
running rigging? $500
hardware? you mean this hull is stripped?? no winches or anything? $2k+ for new.

There are race ready Santana 20's and 22's going for $3k out here in California, which in my view is a much better investment because--then you're on the water. Used J boats for not much more than that.

My own fixer upper is a labor of love but I wouldn't recommend it to anyone else. it is much more expensive than you would think piece by piece.
---
Last edited by FijiSomeDay; 07-25-2011 at

01:07 PM

. Reason: added info
Thanks. I'm assuming that there are winches included. Correction, $500 for sails minus the chute, used. I'll be speaking with the seller in the next couple of days, he's out of town ATM.

J24 because I like them and because they have the biggest class association. Around here they are very popular.
Senior Member
Join Date: Jul 2006
Posts: 1,370
Thanks: 0
Thanked 2 Times in 2 Posts
Rep Power:
11
This forum does some things well particularly related to cruising and cruising boats, but others, not so. Here are a couple places you can get better info on a J24 than you're likely to find here:
U.S. J/24 Class
http://forums.sailinganarchy.com/index.php?showforum=58
Most sailmakers and hardware manufactures can give you very specific cost/parts information for anything related to the J24. If you want to save $$$, it's up to you and the magic of ebay and the like.
I don't discuss my member
Join Date: Aug 2007
Location: Chesapeake Bay
Posts: 2,557
Thanks: 0
Thanked 33 Times in 33 Posts
Rep Power:
10
You're not getting 2 used sails for $500. You might get some dacron that's cut into a triangle for that, but not usable sails.

Are you doing any OD racing?

Does the rig have spreaders? Does the mast have any hardware on it? Spin pole, ring, ? Any clutches or cleats? Need to know if it has a rudder. A foam replacement will be close to $1k by itself. The shrouds will be about $100 each having a rigger make them and you installing them.

You don't provide enough information. That being said, the trailer is at least worth $400-500 by itself. And the topsides look great.
---
Merit 25 # 764 "Audrey"
Having owned hull 2733 new and 2930 used
There is a crap load of expensive stuff missing from that hull like the bow and stern pulpits stemhead fitting ect and its stuff thats not going to turn up USED
It REALLY makes no sense why it would be gone unless there was a real problem with the hull WHAT # is it
A basic set of J24 standing rigging is about 700 and its a bitch IF you dont have the old stuff as there is no real standard lenth
MOST J24 trailers have six pads and the whole thing looks a bit short ?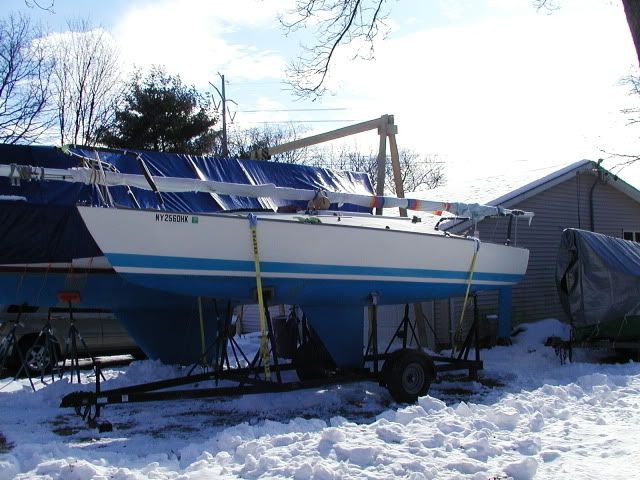 ---
1970 Cal 29 Sea Fever

To view links or images in signatures your post count must be 10 or greater. You currently have 0 posts.

1981 J24 Tangent 2930
Tommays
Northport NY


If a dirty bottom slows you down what do you think it does to your boat
To view links or images in signatures your post count must be 10 or greater. You currently have 0 posts.

---
Last edited by tommays; 07-25-2011 at

03:11 PM

.
Banned
Join Date: Apr 2011
Location: Southern California
Posts: 649
Thanks: 0
Thanked 0 Times in 0 Posts
Rep Power:
0
It is a chainsaw project -


Google J24 sinks


There are bound to be some other OD fleets in your area
The trailer is easily worth $1500. Cheap way to buy a trailer
---
Mike

To view links or images in signatures your post count must be 10 or greater. You currently have 0 posts.

Junior Member
Join Date: Mar 2012
Location: windsor, ont,Can
Posts: 1
Thanks: 0
Thanked 0 Times in 0 Posts
Rep Power:
0
Lots of cash
---
I live in Winndsor and called this guy about this J. It needs everything!!! I also own a mirage 24, good little boat for club racing itself. The trailer is well worth the cash if you just want to dump the hull. You can buy the same boat in the U.S. ready to race on a trailer with loads of sails for between 2500 and 5G if you look. Trust me I buy US boats and bring them to Canada all the time. Good luck
Currently Active Users Viewing This Thread: 1

(0 members and 1 guests)