Quote:
Originally Posted by
mnky
Just wondering if anyone has seen cracks like these in J24s. They are only in this part of the bilge- the rest is solid. It's a 1983 boat, bilge was full of water and has been sitting on a trailer for months, however no sign of water leaking out around keel.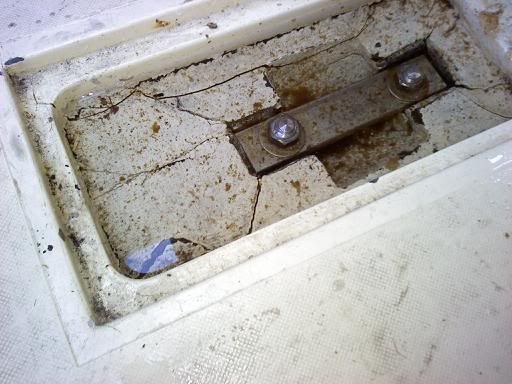 I have 2391 and mine has this too - in fact it looks like you took a picture of my keel. Virtually every boat in my local fleet has these cracks and they're newer than mine. My keel stays dry while it's in the water (fresh water, all sailing season - not dry sailed).
I had a certified marine surveyor look at my boat before I bought it and it was pretty much a waste of money. He freaked out about the cracks because they were cracks, but had no other points of reference or information that factually established why they would be a bad thing. Then I talked to the owners in my fleet.
The consensus view of the owners in my area is that you have you have to ask yourself three questions. 1) Are you anal retentive? 2) do you have money to burn? 3) Do you have too much time on your hands? If the answer is yes to all three, that you should do something about it. The only caveat is if you had massive cracking around the keel/sump mate point and were taking on water. But your pictures show it's dry.
You can buy the kit for this from WaterLine or do it yourself. The view of a boat yard who has done many of these overhauls regards this as a structural repair. So if you do decide to do it and you know you will never sell the boat then doing it yourself might make sense. If you're going to sell it someday, the few bucks more for the kit also buys you paper work that says you didn't compromise integrity. Might make it easier to sell.
The repair looks really cool after it's done. If someone offered to do it to my boat for free I'd take them up on it. The rest of us have decided to go sailing instead.
Finally, I have to laugh about the J24 being a lightweight boat. I'd ask if you'd ever seen one? Compared to a bunker oil barge, yes its a light boat. But even in the 80's it was a beefy boat - it's almost 1,000lbs heavier than a Moore 24. And the Martin 242 is 600 lbs lighter. Since my boat is named after a woman, she'll take the complement about being sevlte.