I like seeing before and after pics of project boats. So many times just a good cleaning can make a world of difference. I would like to see how she comes out after you do some more work. Try craigslist or smalloutboards.com for a good used outboard. Good luck on this project!
Junior Member
Join Date: Jan 2012
Location: Austin, TX
Posts: 20
Thanks: 0
Thanked 0 Times in 0 Posts
Rep Power:
0
Scruba dub dub
---
Had a little bit of a thunder boomer over the last couple of days around here. Boat took on a little water.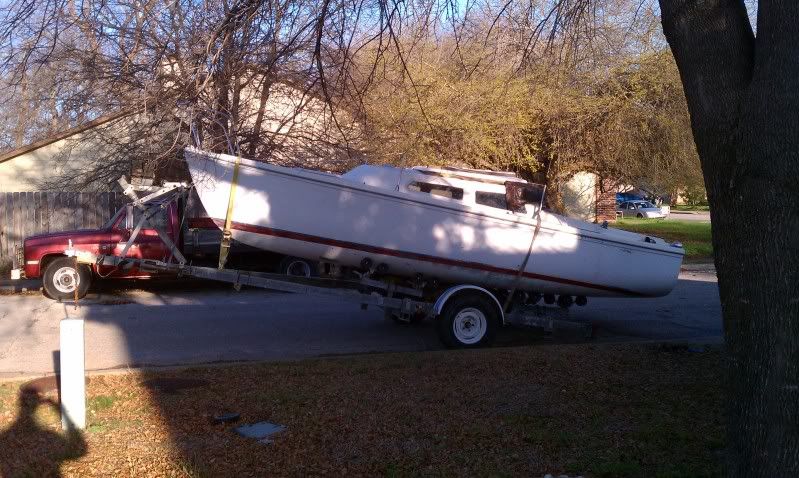 The floor is pretty stained, but most everything else cleaned up pretty well.
Tackled the the area under the cockpit until the bleach fumes started to get to me. I'll pick that back up tomorrow, then it will be ready to take out to the hangar.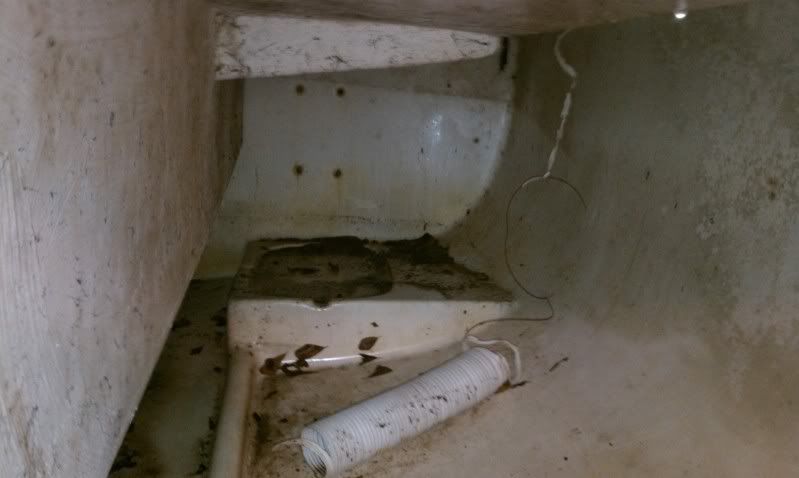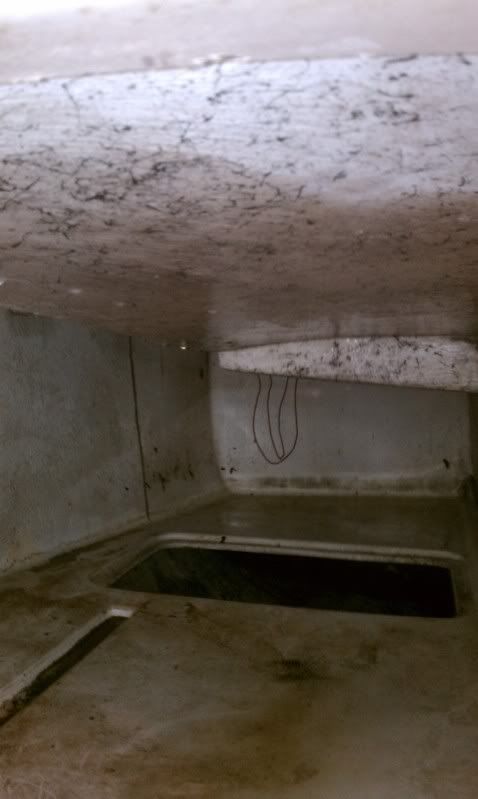 Once I get it to the hangar, I'll take everything off that's bolted or screwed to the deck and put it up on stands so I can get the trailer out from underneath it. The trailer will then be disassembled so that I can have all galvanized bolts made. Should be fun.
------ T.J.
Member
Hey Jack .....Take your time and have fun with her. I spent so many hours on mine....I'm talking hundreds. Now she is the talk of the club... Your good to take before and aft pics. Once your done you can sit back and enjoy your work. AND THEN THE FUN REALLY STARTS
If you are willing to apply some more elbow grease, here's a suggestion for tackling the stains from standing water on the cabin sole and in the bilge -- Oxyclean (the granular kind, not the liquid). It won't work on rust stains but it does pretty well with organic stains like dirt, mold, leaves, and such.
Pour some of the Oxyclean granules into a dry bucket, dampen the bristles of a scrub brush, push the the brush into oxyclean then start scrubbing the stains. Scrub it, let it sit 5 - 10 minutes, scrub again, rinse, and dry. The Oxyclean doesn't just break down the organic stains, it also acts as a mild abrasive so it is a lot like cleaning with Bon Ami.
I've never tried this technique with a
power scrubber
, I expect it would damage the finish. OTOH, that may be just the ticket in the bilge where you probably intend to paint anyway.
Tom
---
T. P. Donnelly
S/V Tranquility Base
1984 Islander 30 Bahama
Pasadena, MD
---
Last edited by dacap06; 01-27-2012 at

08:36 AM

.
Senior Member
Join Date: Oct 2008
Location: South Coast Ontario
Posts: 8,484
Thanks: 35
Thanked 93 Times in 82 Posts
Rep Power:
10
Congrats on the new project, travelin!
Some thoughts on big projects on small boats:
I am not a fan of pressure washing the inside of a boat- you may end up wiht water in places that it was never supposed to end up and that you can't see, simply making the stank and mold problem worse instead of better. Do what you're doing, with a bucket, scrub brush and good old grunt work, and then to finish, get an old garden sprayer, fill it with a bleach solution and spray down the whole interior.
The best source for information on MARINE fiberglass work (not to be confused with aircraft or automotive work- you don't want bondo on a boat) is the Gougeon Bros WEST SYSTEM website.
Epoxy by the Leading Epoxy Manufacturer | WEST SYSTEM Epoxy
keep us posted on your progress, and if you've got any questions, holler.
---
It's 5 o'clock somewhere:


To view links or images in signatures your post count must be 10 or greater. You currently have 0 posts.

Member
Join Date: Jun 2005
Location: Barnegat Bay, NJ
Posts: 2,126
Thanks: 90
Thanked 70 Times in 65 Posts
Rep Power:
12
Just remember whether it's Spray Nine, bleach, OxyClean or some other cleaner that you need plenty of ventilation and fans. Boats are confined spaces and the fumes can knock you out in a hurry.
---
95 Catalina 30 Island Time

"The sail, the play of its pulse so like our own lives: so thin and yet so full of life, so noiseless when it labors hardest, so noisy and impatient when least effective." - Henry David Thoreau
midlife crisis member
Join Date: Jul 2008
Posts: 975
Thanks: 0
Thanked 12 Times in 10 Posts
Rep Power:
9
Good luck. I did a similar project. Cataloged it
HERE
---
I sail.
Senior Member
Join Date: Sep 2011
Location: Liberty Landing
Posts: 668
Thanks: 0
Thanked 1 Time in 1 Post
Rep Power:
6
midlife crisis member
Join Date: Jul 2008
Posts: 975
Thanks: 0
Thanked 12 Times in 10 Posts
Rep Power:
9
Thanks. Not a lug sail. That's my boat's main.
---
I sail.
Junior Member
Join Date: Jan 2012
Location: Austin, TX
Posts: 20
Thanks: 0
Thanked 0 Times in 0 Posts
Rep Power:
0
@Decap06 - I have some of that oxyclean here at the house, that I use for my tile floor grout. I'll definitely give it a go in the morning.

@ Ranger - I'm absolutely enjoying it! I'm like a little kid when trying to get home from work so I can get back to it. It's a nice to have a project again.

@Jim - I work around chemicals all the time, you'd think I would have prepared for that, but in my eagerness to get to work I didn't think to get hook up fans.

@ Thumbs - I actually have that thread bookmarked and have read the whole thing. Very cool indeed!

Once again, I appreciate all the input.
T.J.
Currently Active Users Viewing This Thread: 1

(0 members and 1 guests)