Of the 20 some holes I drilled today, only two or three were actually "cored" with wood...
The rest went thru a 3/8" to 1/2" thick fiberglass outer layer then a 3/4" to 1" air space and then the 1/4" inner liner...Inner liner is intregal part and not removeable...
Here' is a shot of a different area, but shows the thickness of the glass build up...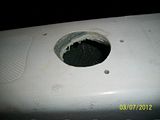 Looks nothing like MS's photo of a deck section, with 1/8" glass, 3/4" wood and 1/8" glass...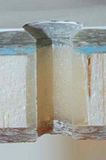 Where the wood is supposed to be, I have air space...so drilled a 3/8" hole on outerlayer, and filled the gap with expanding foam...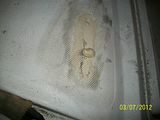 Then hollowed the foam out to fill with epoxy...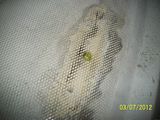 Once this hardens up I can drill it and thru bolt it to the rail with just a pan head showing on the inside...