Senior Member
Join Date: Jul 2007
Posts: 430
Thanks: 0
Thanked 7 Times in 5 Posts
Rep Power:
10
Hurrican Prep - I found a swivel
---
So far we have been pretty lucky with the storms this year in NC. But my preparation plans continue. Last year, for Irene, I anchored up our creek, with some protection from open wind, to 2 anchors and 2 trees. I tied the boat fore and aft with the 4 lines and it could not swing, it did fine even when one anchor rode chaffed thru. As I have mentioned in another hurricane anchoring thread, I would like to allow the boat to swing, but I have been reluctant to use a swivel as it is a single point of potential failure. Well while visiting a local marine consignment store I think I found a swivel I will feel comfortable with.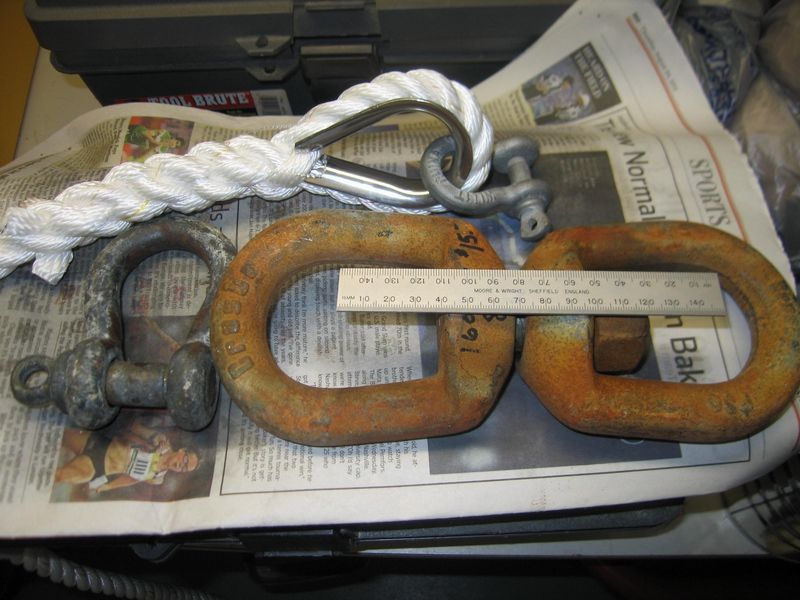 It is a Crosby 22 and may have actually been a swivel for a crane. On their website it is rated at a 4.5 ton safe load (it could likely be used to lift my 35' sailboat). The picture shows it with a new 5/8" rode, eye and shackle for size comparison; the center pin is nearly an inch in diameter. It weighs around 10 lbs, I approve of over sized ground tackle. And given that I will probably only use it a couple of days a year, the $15 price was right.
Now I just have to figure out exactly how to configure the 4 lines to my anchor points and redundant lines to the boat. I purchased a good size shackle (shown on the left) that will help me connect these lines to the swivel, a few more of these may be what I need.
I know it looks a bit unconventional, but I think it will work. Any comments?
Senior Member
Join Date: Jul 2007
Posts: 430
Thanks: 0
Thanked 7 Times in 5 Posts
Rep Power:
10
Re: Hurrican Prep - I found a swivel
---
Questions:
IF I use a 10:1 scope for storm surge I assume that is from the anchors to the boat not just to the swivel? ( I can use chain from the 2 anchors to the swivel as I have 65' on each, but I will use 3/4" line from the tree to the swivel as that is what I have)

Should I use different dimensions lines from the swivel to the boat to provide shock relief (perhaps 3 strand nylon 1/2" line with 5/8" line backup that is longer)?

Now that I have more of a mooring setup (no longer fore and aft) maybe a line to one tree is sufficient (does the redundant tree line cause more potential for fouling than it is worth)?

I have a 25 lb CQR with short (10') of chain, would that be a good 'deadweight' to keep the swivel from moving around too much (or am I overthinking this)?

thanks,
Ron
Currently Active Users Viewing This Thread: 1

(0 members and 1 guests)