Junior Member
Join Date: Jan 2013
Posts: 10
Thanks: 0
Thanked 0 Times in 0 Posts
Rep Power:
0
Cape Dory stuffing box leak
---
Hello everyone, I'm the new owner of a 1978 Cape Dory 28. After moving the boat to it's new home I've now got a steady stream of water coming out of the stuffing box that's causing the bilge pump to go off about every 10 minutes or so. I've crawled down in there and don't see how any conceivable type of wrench could fit in there to adjust the nuts. I've read Mainecruisings page about stuffing replacement, and even bought the recommended tools (pipe wrench and sink drain spanner) but could not get anything to fit around between the nuts and the fiberglass sides of the bilge. Any recommendation on what tools could be used to tighten this guy up? I have some pictures of the shaft, but it won't let me post them cause my post count is too low, maybe I can email them to someone of interested in helping out? Thanks everyone!

-Mo
Re: Cape Dory stuffing box leak
---
Cape Dory (or more likely Spartan Marine) supplied many of the boats with bronze stuffing box wrenches. Sounds like you don't have the ones for your boat. I use large channel locks for my 330. Also to loosen the cap nut, a screwdriver and hammer usually will work.
Definitely post your question on the CapeDory.org board:
The Cape Dory Board • View forum - Cape Dory Discussions
You'll get lots of CD specific help there.
-M
Junior Member
Join Date: Jan 2013
Posts: 10
Thanks: 0
Thanked 0 Times in 0 Posts
Rep Power:
0
Re: Cape Dory stuffing box leak
---
Blowinstink-
Yes, if the special wrenches came with the boat I sure haven't seen them. I did register at the cape dory forum but unfortunately it seems to take a little while for an administrator to approve the account. Thanks for the quick reply.

-Mo
Junior Member
Join Date: Jan 2013
Posts: 10
Thanks: 0
Thanked 0 Times in 0 Posts
Rep Power:
0
Re: Cape Dory stuffing box leak
---
Faster - It's telling me that I have a private message from you but won't let me access it do to me being a new member. You can email me at mahonrig (at) gmail and I'll send the pictures back. Thanks.
EDIT: Here are Mo's pics... very tight in there..... Not easily getting those tools in that spot...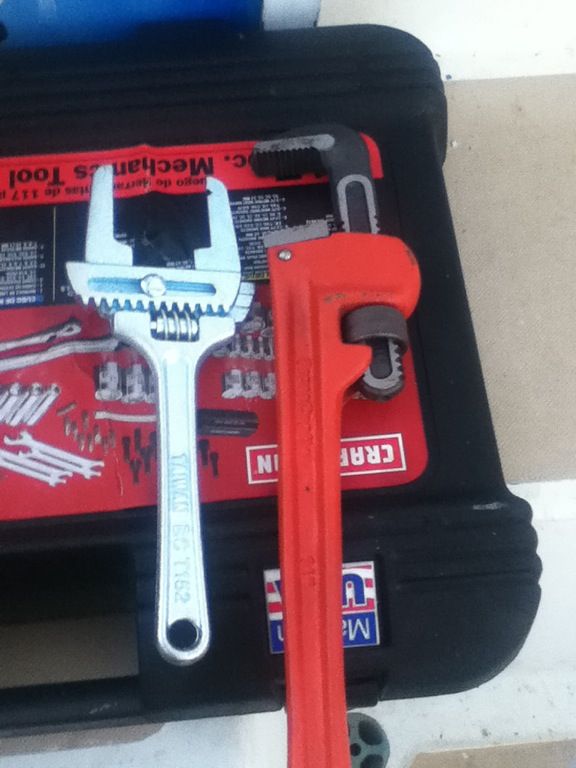 ---
Last edited by Faster; 01-20-2013 at

09:44 PM

.
Just another Moderator
Join Date: Sep 2005
Location: New Westminster, BC
Posts: 18,767
Thanks: 141
Thanked 499 Times in 473 Posts
Rep Power:
10
Re: Cape Dory stuffing box leak
---
It actually looks like the lock nut is backed right off.. it's possible that the gland nut has turned itself loose as well and that's causing the leak. If that's the case you can probably tap it around with a long screwdriver and a hammer.. might be able to slow it down some and you should be able to reseat the lock nut the same way.. not ideal but a short term fix maybe. If it's been that way a while you may need some time with a loosening product like PB blaster or Krolls.
---
Ron

1984 Fast/Nicholson 345 "FastForward"

".. there is much you could do at sea with common sense.. and very little you could do without it.."
Capt G E Ericson (from "The Cruel Sea" by Nicholas Monsarrat)
Re: Cape Dory stuffing box leak
---
One thing to take note of: I don't think that is a standard CD Stuffing Box. I know it doesn't look like mine (which has sprokets on the outside of both nut) Here are some photos I pulled from google images for Cape Dory 28 stuffing box. If you zoom in, you'll notice they don't look like yours either:
Google Image Result for http://www.thebaillies.net/jstark/CD28/images/CD%252028%2520stuffing%2520box.JPG
I know that doesn't answer you immediate problem, but it is something to keep in mind (and it may be related to the difficulty you are having in servicing it).
-Matt
Junior member, rest old
Join Date: Feb 2009
Location: Columbus Ohio
Posts: 499
Thanks: 3
Thanked 1 Time in 1 Post
Rep Power:
9
Re: Cape Dory stuffing box leak
---
As Faster has posted, the lock nut is loose.
It also looks like some glass has been poorly laid up in the bilge, further restricting a tight space.
My personal belief is that you need to make your own wrenches for this purpose. The adjustable spanner that almost everyone recommends (the silver one pictured next to the pipe wrench) is an ungodly awful tool and is totally unsuitable for packing nut adjustment-- just an exercise in frustration. It is not difficult to make your own wrenches out of 1/8" steel plate (available at the big box hardwares). I made mine by modifying a pair of non-adjustable "stamped steel" plumbing wrenches that I got at Home Depot for about $8 each. I cut them to proper shape with an angle grinder then welded handles on them from 1/2" angle iron, attaching them at an angle like all wrenches are made, to allow you to turn the nut from different approaches. Once you make the wrenches, hang them somewhere close to the stuffing box and pass them on to the next owner when you sell the boat.
They don't have to be terribly strong-- once the packing nut is loose and cleaned up, it doesn't take much torque to tighten it properly.
---
Mark Smith
1977 C&C 30 Mk 1 hailing from Port Clinton, Ohio
---
Last edited by msmith10; 01-20-2013 at

10:10 PM

.
Junior Member
Join Date: Jan 2013
Posts: 10
Thanks: 0
Thanked 0 Times in 0 Posts
Rep Power:
0
Re: Cape Dory stuffing box leak
---
After pounding at it for a while with a screwdriver and hammer, I'm letting it soak in pb blaster for the moment. I see in the picture that it looks like the two nuts have separated, but this isn't actually the case, they are very tight together. After the pb blaster has had a chance to work i'll see if i can get them loose from each other and then tighten the packing nut back down, the hammer/screwdriver method seems to be able to apply quite a bit of force to them.
Tartan 27' owner
Join Date: Jan 2008
Location: NYC
Posts: 5,077
Thanks: 8
Thanked 134 Times in 126 Posts
Rep Power:
10
Re: Cape Dory stuffing box leak
---
Obviously your boat is in the water as the stuffing box is leaking.
Hopefully you are at a slip where you have shore power. I'd think seriously about hooking up a battery charger so your bilge pump does not drain your batteries while you work on this.

I do not know where (geographically) you are located but if the water outside your boat is not freezing cold you can also take a wax toilet bowl ring and use pieces of it to temporarily seal the shaft from outside the boat.

All of this should just help you buy some time until you get the stuffing box repacked and tuned.

Your stuffing box implementation makes me feel sort of good about the way it was done on my boat (see pic).
---
"The cure for anything is salt water~ sweat, tears, or the sea." ~Isak Denesen

Everybody has one:

To view links or images in signatures your post count must be 10 or greater. You currently have 0 posts.

Junior Member
Join Date: Jan 2013
Posts: 10
Thanks: 0
Thanked 0 Times in 0 Posts
Rep Power:
0
Re: Cape Dory stuffing box leak
---
Caleb, thanks for the reply. Luckily I am in a slip and plugging in the battery charger was one of the first things I did. Also luckily I'm staying on the boat at the moment and don't have to go anywhere so I can monitor the situation. Water is freezing cold at the moment (Portland, OR) so I don't think I'll be jumping in. It sure does seem like a terrible setup down there, but at least I have access to it, after searching for this problem it seems some boats are designed so that you can't even get down to the stuffing box without removing the engine.

-Mo
Currently Active Users Viewing This Thread: 1

(0 members and 1 guests)