Our swim ladder folds down from the walk-through in the transom.
There were a couple of things I didn't like about it.
1 - it had no treads - just bare stainless rungs. There were some of those glue-on plastic treads but they didn't last the season. These rungs were painful with bare feet.
2 - the ladder only extended into the water by one rung. This meant to get back aboard after swimming required pulling your knees under your chin. This combined with the painful treads was not suitable.
3 - I occasionally dive (SCUBA) from my boat. The conventional rungs made it difficult to climb the ladder when wearing fins. We resorted to removing our gear in the water and hauling it over the transom. Not always ideal.
So I took my ladder in to a local fabricator (
Stainless Outfitters
in Barrie) with a concept for a ladder modification.
I just picked it up today and am pleased with the look of the ladder. Of course I'll have to wait to install it and see how it works, but I'm very optimistic about it.
A pivoting 2-step T-bar ladder was added to the bottom rung. The addition will extend deeper into the water making climbing out easier. The T-bar extension will also make it easier to climb on with fins. Now I should be able to stand waist-deep in the water with my dive gear on.
A pin was added to positively lock the extension in place when it is stowed or deployed, preventing the ladder from swinging under the stern when someone stands on it.
Starboard treads, with reinforced tabs, were added to the existing rungs as well as to the T-bar steps. This should make boarding much more comfortable.
If I planned it right the modified ladder should fold into place as normal.
Here's a pic of the ladder:
And here's a closer look at the pivot point with the pin: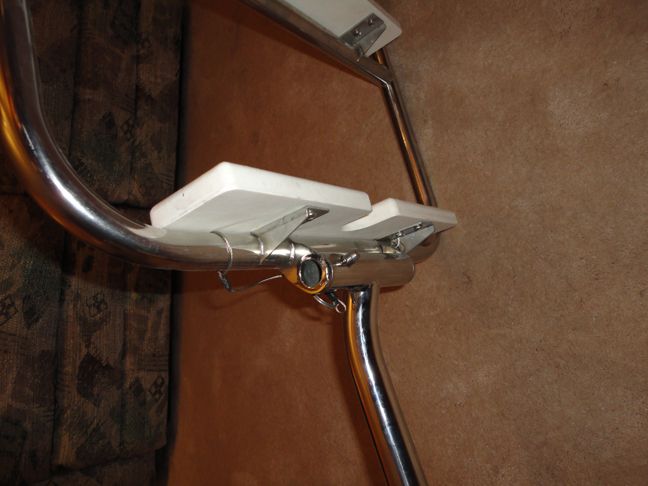 I hope it works as good as it looks!