Banned
Join Date: Aug 2008
Posts: 16,207
Thanks: 193
Thanked 192 Times in 184 Posts
Rep Power:
0
Re: i NEED HELP/Training weather?
---
Quote:
I'm kind of new at the big boat thing. I have owned it for 2 years now
and have had some great days sailing but no with any wind really. Well
this weekend will offer a cold front with some good wind to practice
in
Here is what the weather man is calling for.

Sat
NW winds 15 to 20 kt. Seas 4 to 6 ft...subsiding to 3 to 4 ft in the
afternoon. A chance of showers...mainly in the morning.
Sat Night
NW winds 10 to 15 kt...increasing to 15 to 20 kt after midnight. Seas
3 to 4 ft.
Sun
N winds 15 to 20 kt. Seas 3 to 4 ft.
Sun Night
NE winds 15 to 20 kt. Seas 3 to 4 ft...building to 4 to 5 ft after midnight.
Do you think I would need to reef in this weather? Like I said I have
had plenty of days in 8 to sa 14 knots of wind. So what's your
recommendation to a newby in this weather?

Thanks for your help.
Keep in mind my sail inventory
1) Working head 110% sail with 2 reef points.
2) Working Main sail
3) Racing main sail
3) 135% Genoa
4) 155% Genoa
5) 170% drifter
6) asymmetrical kite with sock.

Thanks again for your help. I need anybody's specific advice on how
the C&C 30 MK1 handles this kind of air.
Dude, 10-15 knots is PRIME sailing weather! Look, just motor out away from hard bits. Put up a reefed main and sail around for a while - avoiding gybes.
Then, when you get ballsy, throw up some more canvass.
If you're going out when there's no wind - you're not sailing.
---
Last edited by smackdaddy; 11-02-2013 at

01:43 AM

.
First String
Join Date: Jan 2009
Location: South carolina
Posts: 868
Thanks: 45
Thanked 9 Times in 9 Posts
Rep Power:
9
Re: i NEED HELP/Training weather?
---
Just a quick report on the weekend sail.
I went on Sunday instead of Saturday. It was a great day. I was a bit petrofied leaving the slip. I wated for the tide to turn so it would help me out of the slip. The wind was from the north and steady and strong. Gust to around 26. I just had the new Bimini put on this past week. It works like a sail. idid not expect it to move the boat like that. The C&C 30 handeled real good. I stayed with the 115% head and 1 reef in the main. All I can say is that was living. I was scaired a bit. But after I got away from the things I could hit it was much better. Gowing down I was flying. Here is the new Bimini's see if you like it? Its takes a bit getting use to.
The boat seamed to want to head up in a gust? any way to control this? I would see a puff coming and let the main out in a hurry to try and dump some wind but the nose still moved toward the wind. the further we heeled the worce it got?
Thanks again for all the advice.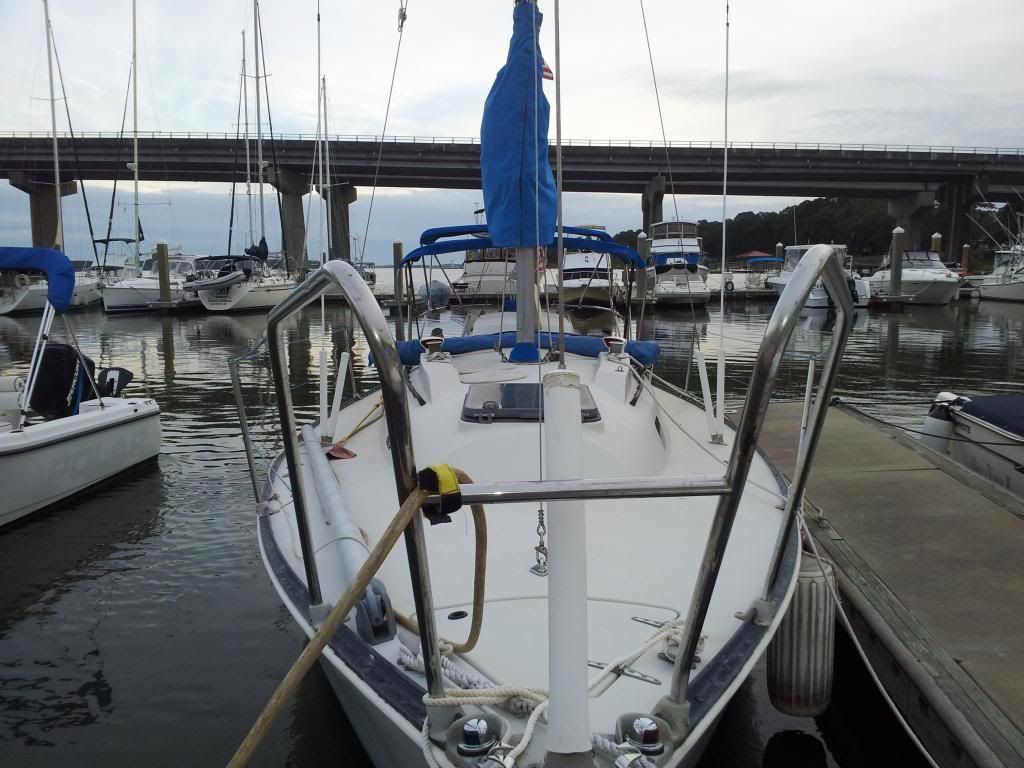 Senior Member
Join Date: Dec 2008
Location: Calgary, AB, Canada
Posts: 9,298
Thanks: 35
Thanked 76 Times in 71 Posts
Rep Power:
9
Re: i NEED HELP/Training weather?
---
Heading up is a gust is the result of weather helm. You want a little weather helm to give some feedback. I personally do not like the feel of a completely balanced helm. Easing the main down the traveller a little will help with rounding up, or just let it come up a little and enjoy the lift.

You can also depower the mainsail by hardening up on the outhaul, the backstay and the cunningham if you have one. That will flatten the sail.

Keep getting used to the feel of the boat and it will start to come more naturally.
---
__________________
ISPA Yachtmaster Ocean Instructor Evaluator
Sail Canada Advanced Cruising Instructor
IYT Yachtmaster Coastal Instructor
ASA 201, 203, 204, 205, 206, 214
As I sail, I praise God, and care not. (Luke Foxe)
Over Hill Sailing Club
Join Date: Feb 2009
Location: Adirondacks NY
Posts: 3,663
Thanks: 93
Thanked 111 Times in 108 Posts
Rep Power:
9
Re: i NEED HELP/Training weather?
---
Getting some weather helm on a gust is normal. It's what you want as long as it's not excessive. Excessive would be if you have to exert a lot of force and put the rudder hard over to bring it back. The worst situation is lee helm, whereby the bow falls off in a gust. Lee helm is dangerous because wind pressure is not relieved and you can get knocked down.

I've found that the things which reduce weather helm are 1. mast position: If your headstay is too long, it shifts the center of the sail aft, leveraging the boat around the mast when a gust hits. Tensioning the head and backstays correctly and getting the mast rake set where it should be seems to make a huge difference. 2. Moving the pocket of the sail forward with a cunningham makes a surprising difference with minimal effort. 3. Avoiding having those "racing" sails on. Rarely do I ever hoist a 160 genny or the maxxed out racing main that came with the boat. They just tend to overpower as soon as the wind gets > about 10 knots and are really best for light wind. It seems to me that for all around sailing, 100% sails are where the most stability can be found.
---
Alberg 35: With a philosophical flourish Cato throws himself upon his sword; I quietly take to the ship.
First String
Join Date: Jan 2009
Location: South carolina
Posts: 868
Thanks: 45
Thanked 9 Times in 9 Posts
Rep Power:
9
Re: i NEED HELP/Training weather?
---
It did not seam excessive Just a bit unexpected. I have felt it a few times but this day was windy compared to most days here in Beaufort. The boat handled very well. it seemed to get in a slot and stay there on its own if and when I had it trimmed properly. Until the gust then she swings up. I think its normal from what I have read but just a little stronger than I expected. The boat accelerates great. I can feel her take off and here the water from off the stern getting loud. Itís a great feeling. We could have used another person. Putting the boat back away in the slip was a pain in the but. I bounced off the dock on the nose the wind drove me up. I couldnít stop it. Thatís a bad feeling when you know youíre going to hit and you have no control.
Thanks for the guidance. Cant wait to do it a gain
Currently Active Users Viewing This Thread: 1

(0 members and 1 guests)