Senior Member
Join Date: Dec 2010
Posts: 5,111
Thanks: 1
Thanked 227 Times in 187 Posts
Rep Power:
7
Labrador...
---
As I'm hoping to be off on a summer cruise before too long, figured I should probably get the account of last summer's trip posted before I do…Fair warning, this is a
LONG
one. Anyone who might make it thru to the end, might want to take a bathroom break first… :-) Hopefully, some pics will help some muddle through...
Last summer I headed north, up to Saglek Fiord, Labrador, and return:
Left new Jersey on July 2, rode out Hurricane Arthur up at the Vineyard, and departed Nantucket on the 6th. Returned to the Vineyard on September 10, and spent about a week dawdling my way back home. Total distance traveled: 4018 NM… For those who subscribe to the oft-stated notion that 90% of cruising is spent at anchor, a summer jaunt to Labrador is probably not for you… :-)
My insurance for this trip came in the form of a stack of rather expensive paper almost a foot high, weighing roughly 70 pounds. In addition to the US charts for the NE, I carried the requisite CHS charts for virtually all of Nova Scotia, Newfoundland, and Labrador. 214 charts in all, at $20 each that amounts to a pricey pile of paper. Fortunately, years ago I'd scored most of my charts for NS and NFLD at a good price, but all of my stuff for Labrador was the latest. Still, I consider it to have been money very well spent, I encountered one situation where I could have easily lost the boat had I not had the requisite paper to refer to… You'd be a braver sailor than I, if you would choose to explore that coast relying on e-charts, alone :-)
Left Nantucket in the wake of Arthur. Blustery SW conditions and rough, confused seas for the first day, but fast sailing wing and wing. By the time I was drawing abeam of Cape Sable, things were settling in nicely, but then the fog came in. Ran the rest of the way to Cape Breton in very heavy fog, became a bit more disconcerting around Halifax after my radar stopped giving any return. Otherwise, an uneventful and pretty quick passage in a boat with only 25' on the waterline, the 500 NM to St Peter's covered in 4 days, with only a couple of hours of engine run time when the breeze died the last night approaching Cape Canso…
Lovely couple of days up the Bras d'Or to Baddeck, where I languished for about 3 days. Baddeck is always tough to leave, a wonderful town, and of course the last real 'civilization' I was likely to see for the next 6 weeks…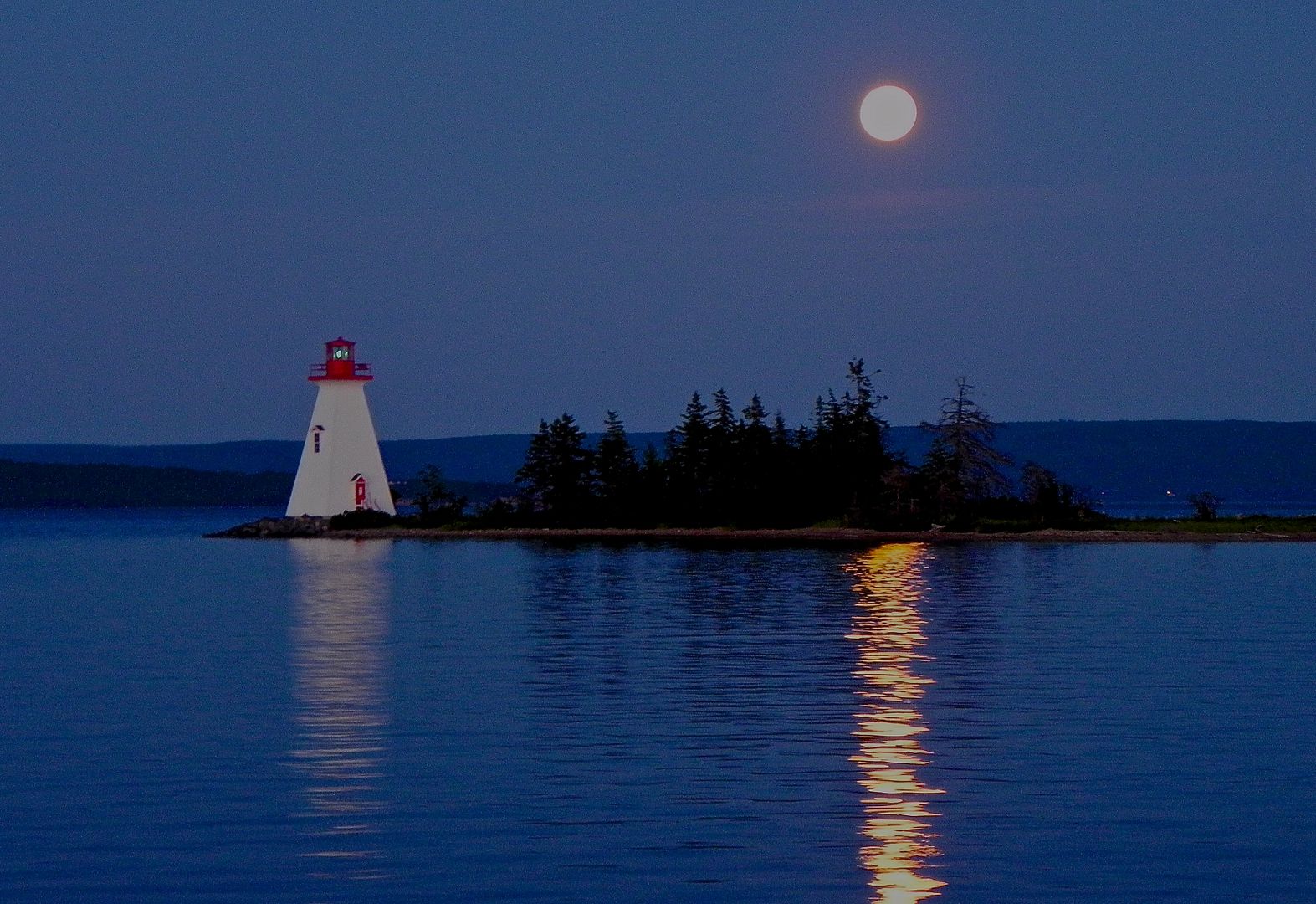 Lights airs up to and across the Cabot Strait, but it started blowing heading up the west coast of The Rock…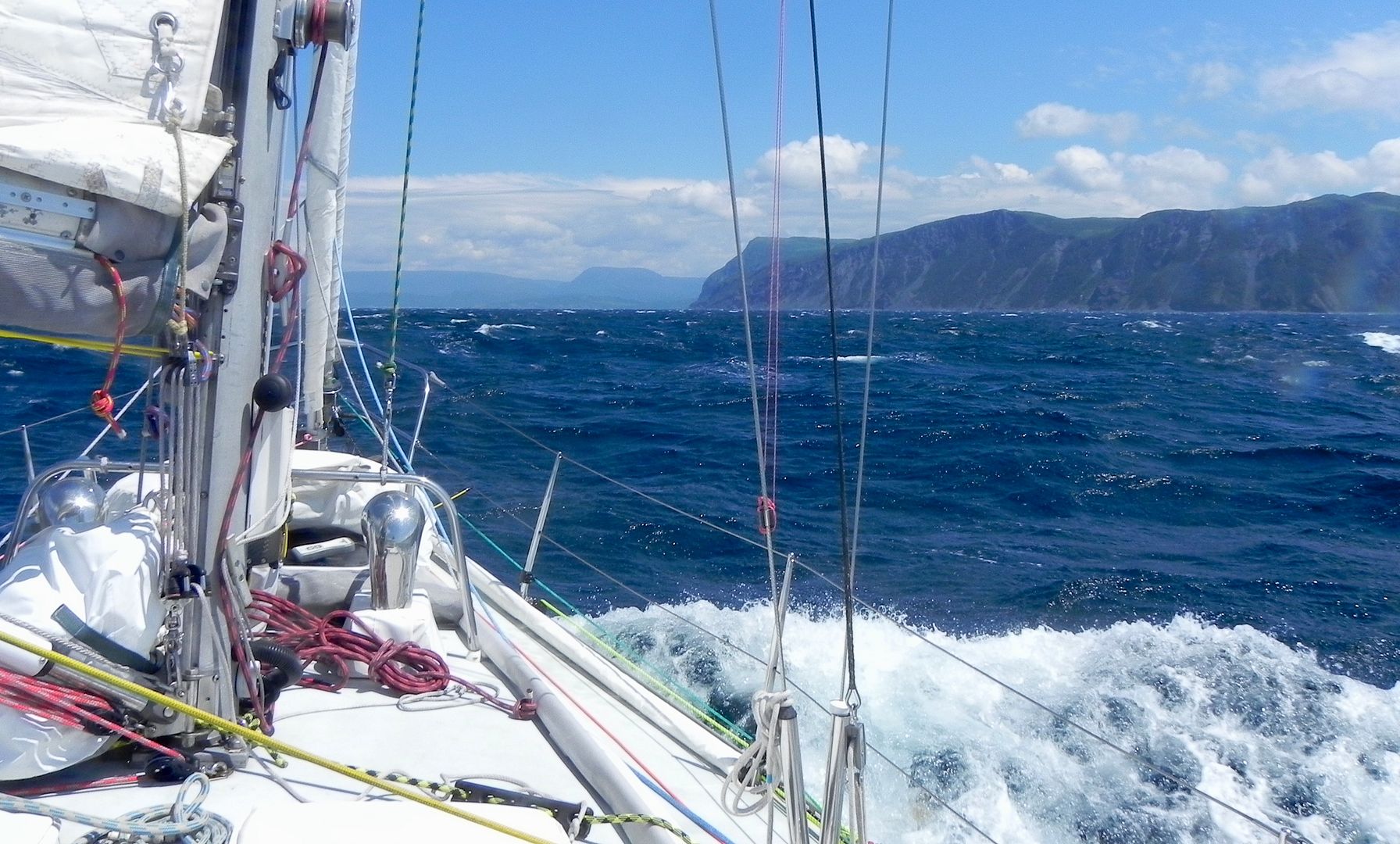 Hard enough that I bailed out into the beautiful Bonne Bay, within Gros Morne National Park. Good call, my 3 days hanging out in the delightful, laid back community of Norris Point turned out to be one of my favorite stops of the entire summer…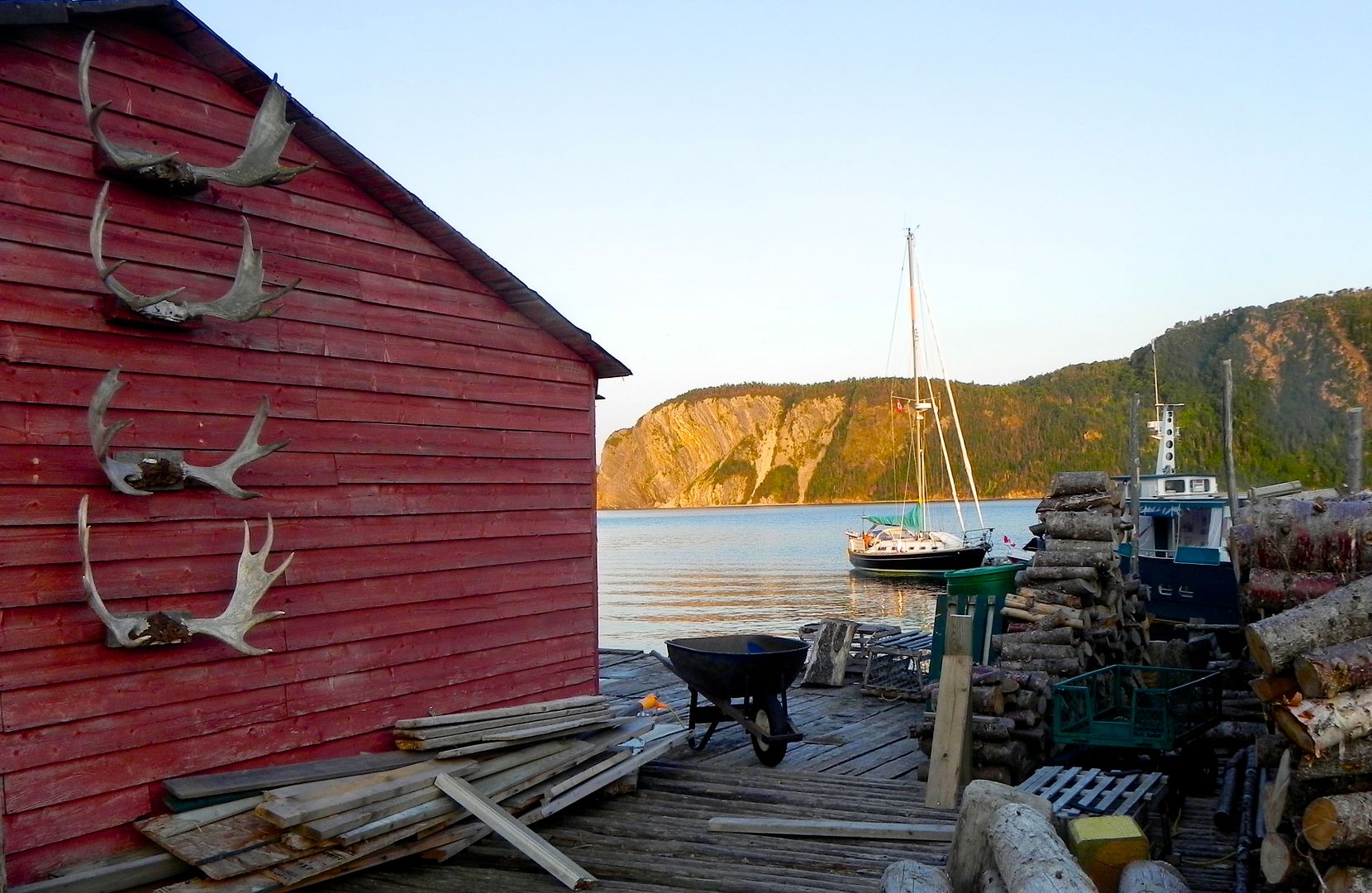 Took one day to climb Gros Morne, NFLD's highest mountain, something I had first done 40 years ago when making a bicycle tour of the Maritimes. It's a pretty challenging hike, felt good to this Old Guy that he could still manage it… :-)
Next stop, Labrador… Another overnight put me up in the Belle Isle Strait the following day, where the wind usually howls. I was flying, but up in the Strait the fog came in, bigtime. Without radar, and with reports from southbound shipping that there were plenty of icebergs north of Belle Isle, it was time to quit. I went into Henley Harbor, another stop that wound up being one of my favorites…
I've always had a fascination with abandoned places and ghost towns, and that was one of my main motivations for wanting to see the coast of Labrador… The once-thriving outport of Henley Harbor was officially 'resettled' about 40 years ago, though a few people return for brief periods each summer. When I came in, there were members of a family who had lived there that were taking their summer vacation in their old home, which was still in remarkably good shape. Delightful folks who gave me a wonderful welcome to their former home, served up some great stories and history lessons… My first Manhattan to celebrate my arrival in Labrador, was chilled with ice from Greenland they'd procured from the harbor…
I remained fogbound there for a couple of days, wandering around the remains of this beautiful, haunting place, situated beneath the striking rock formation known as the "Devil's Dining Table"… I was to see many more places like this throughout the course of my trip up the coast, but few more intriguing than this, a very special place, and a fading glimpse at a way of life that is gone, forever…
Doing day hops north from Henley, I encountered one of the 2 other cruising boats I saw all summer north of Cape Breton, this beautiful Morris 42 heading south after having gone up to Cartwright
Also, the first close encounter with ice on a beautiful day… There's no describing the awe of seeing these up close, offshore, just amazing. Pics don't come remotely close to doing their beauty justice...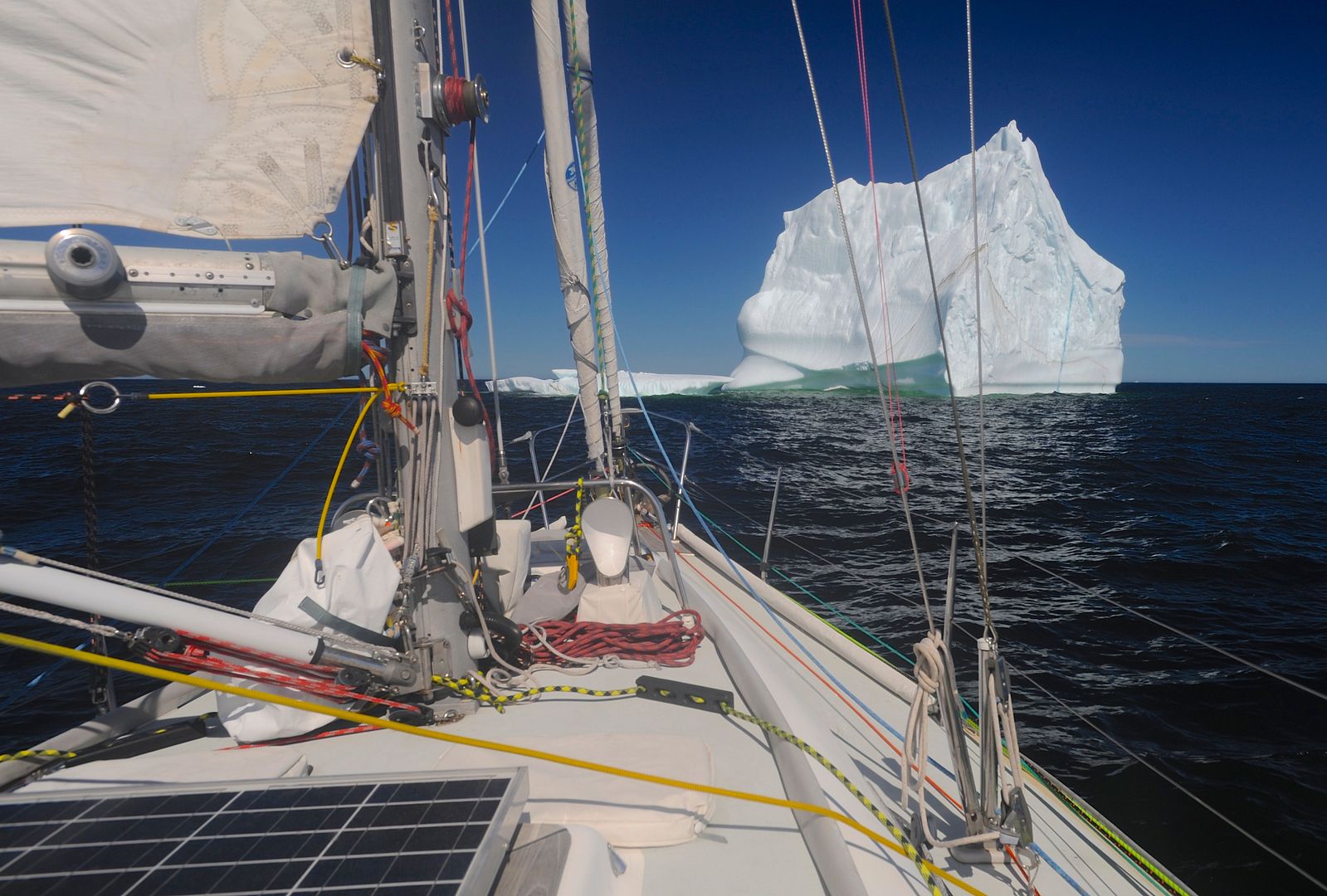 Eagle Cove is typical of the wild, remote feel along this coast, and the hint of the ever-present fog offshore…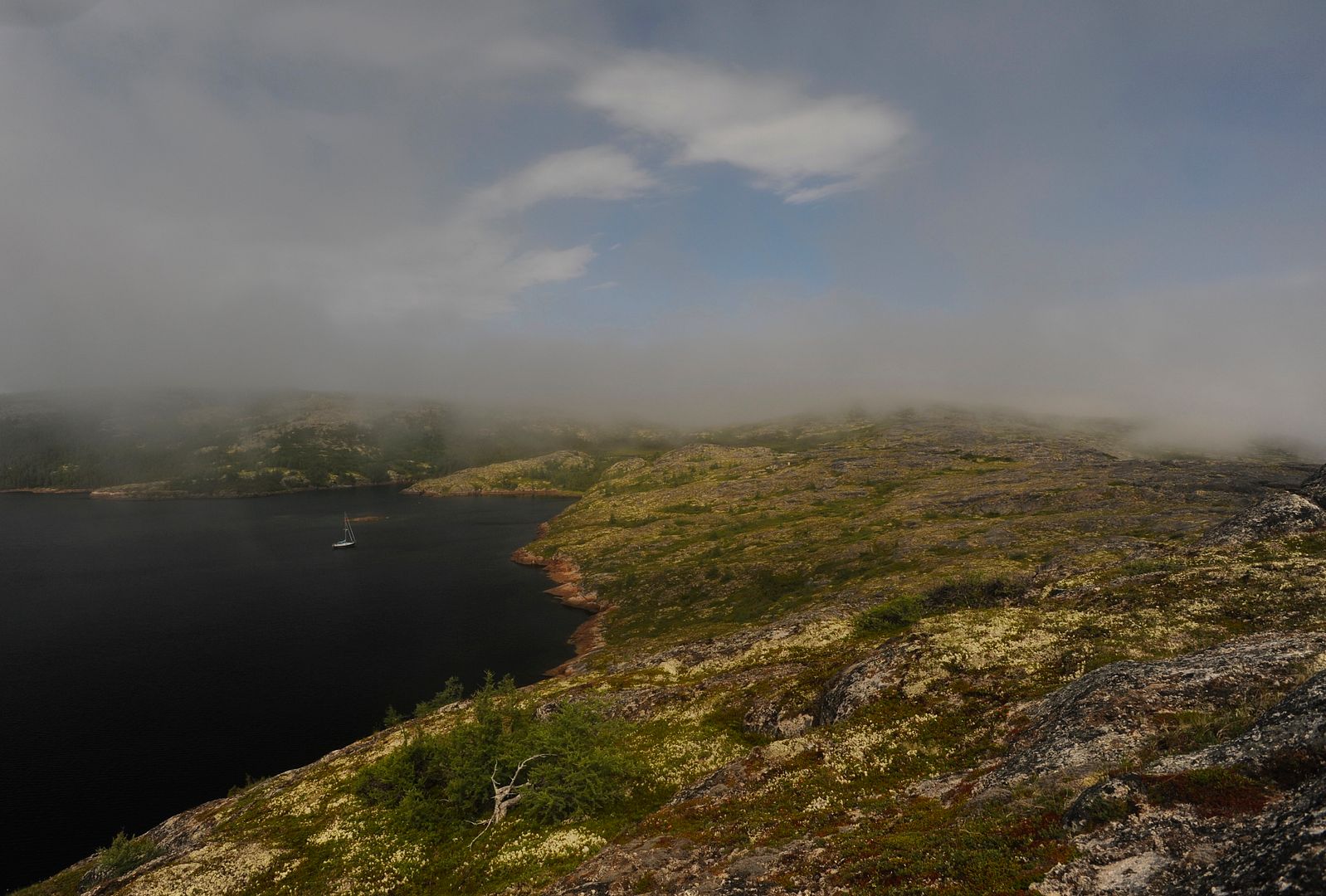 Hawke Harbor was a fascinating spot to explore, the rusted remains of a whale processing plant abandoned half a century ago… In its heyday, it was home to 400 whalers and workers. it was also home to some of the most impressively sized bear scat a came across last summer :-)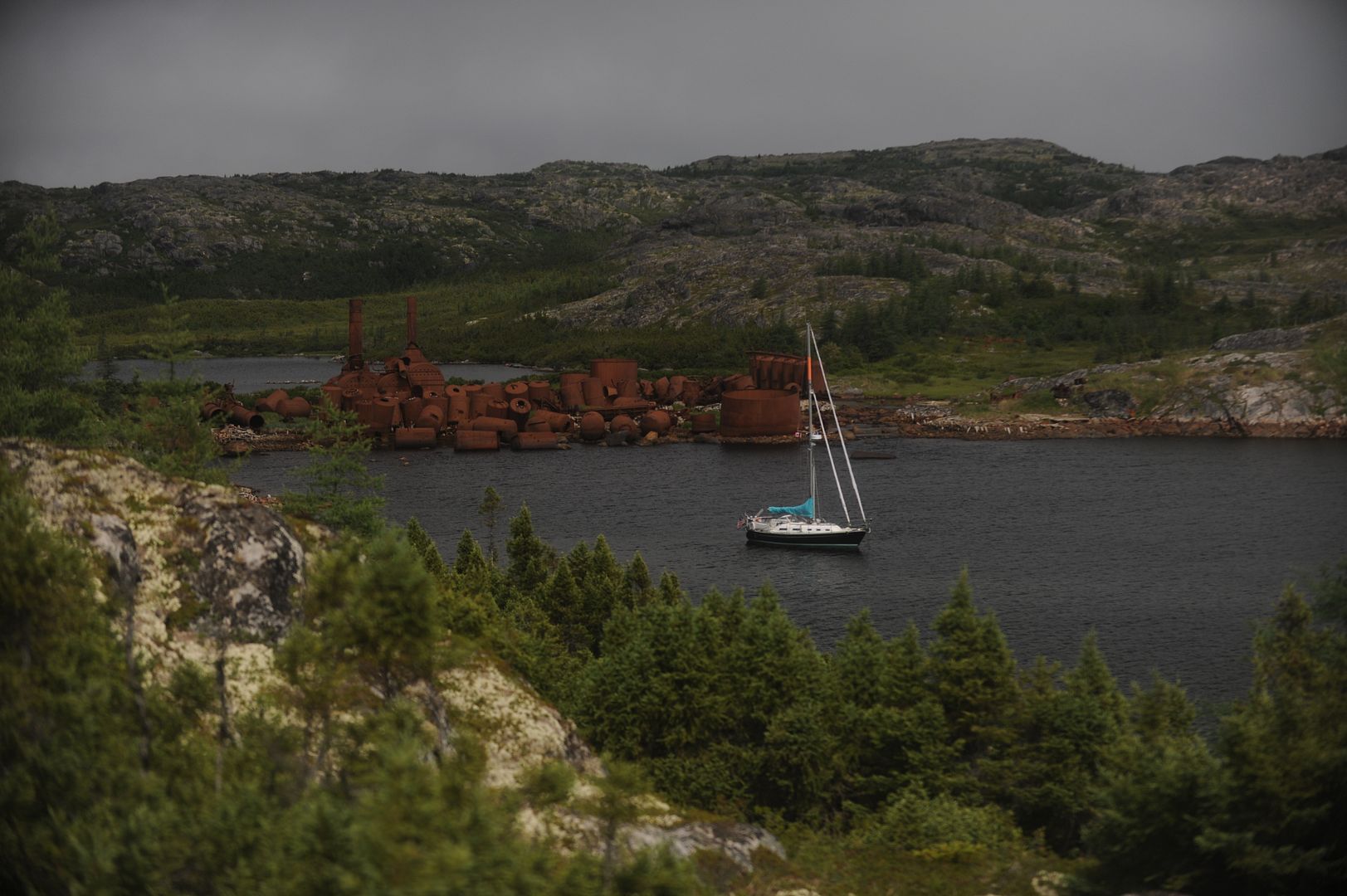 By the time you reach Labrador's mid coast, you begin to appreciate the defining aspects of cruising that coast… One of them, is the fact that the sailing conditions can be pretty diabolical… I've never sailed anywhere where the conditions could be more frustrating, or variable… There were some moments of wonderful sailing, it's just that they never seemed to last more than about 15 minutes. Setting a spinnaker or whisker pole was a virtual guarantee the wind would be on the nose in short order… And, one learns early on, any time one gets within sight of anything labeled a "Cape" in Labrador, it's time to reef as deeply as you can… The 'Cape Effects' and katabatic winds one can encounter up there, even on the most benign of days, are truly impressive…
As a result, if you want to cover ground along that coast, you'll do plenty of motoring… And, the logistics of obtaining diesel up there can be a bit daunting at times, as there is not a single fuel dock anywhere along that coast… In Makkovik - known as "The Friendliest Town in Labrador", I lucked out and the fuel truck was willing to come to me…
…but everywhere else, you'd need to ferry fuel to the boat in 1 or 2 jugs at a time…
Minor inconveniences, however, in comparison to the single biggest downside of cruising Labrador… Namely, the insects… :-)
I grew up and still live on the Jersey Shore, so I'm somewhat acquainted with mosquitos and the like… But i have never seen anything like the mosquitoes in Labrador. There's no describing how oppressive they can be, at all hours of the day. Full darkness was generally the only time I could sit out in the cockpit in reasonable comfort, at least with a citronella candle close at hand. But that would generally not be until about 11 PM. So, it was a continual bit of disappointment, to be anchored so often in such magnificent surroundings, but to often have to retreat below as soon as the hook was down, to gain refuge from the bugs… Even getting underway at 0430, you would be swarmed by insects… Fortunately, once out on the water and moving, they weren't much of a bother, which was a good argument for running the long days I was putting in...
Nain is the northernmost settlement in Labrador, beyond there you are well and truly on your own, and days will pass without seeing any sign of another human. You want to be well provisioned if heading up there, a half gallon of milk and a loaf of bread in Nain will set you back $15… And, I rarely got off the boat once north of there, the risk of encountering a polar bear just becomes too extreme… This anchorage at Manvers Run was one of the few times I went ashore north of Nain, and I certainly didn't wander very far :-)
All along, my target for this trip had been to visit the abandoned Moravian mission settlement of Hebron… Not sure exactly why, but it's always been one of those places I wanted to see someday, and it certainly did not disappoint… Amazing setting, and the welcome from the small group of caretakers who spend the summer there was very warm, indeed. Mine was the only sailboat they had seen thus far last summer… This delightful lady named Jenny served as my polar bear monitor, along with her faithful companion, during my wandering around the remains of the settlement… Just an amazing place, wish I could have lingered a bit longer…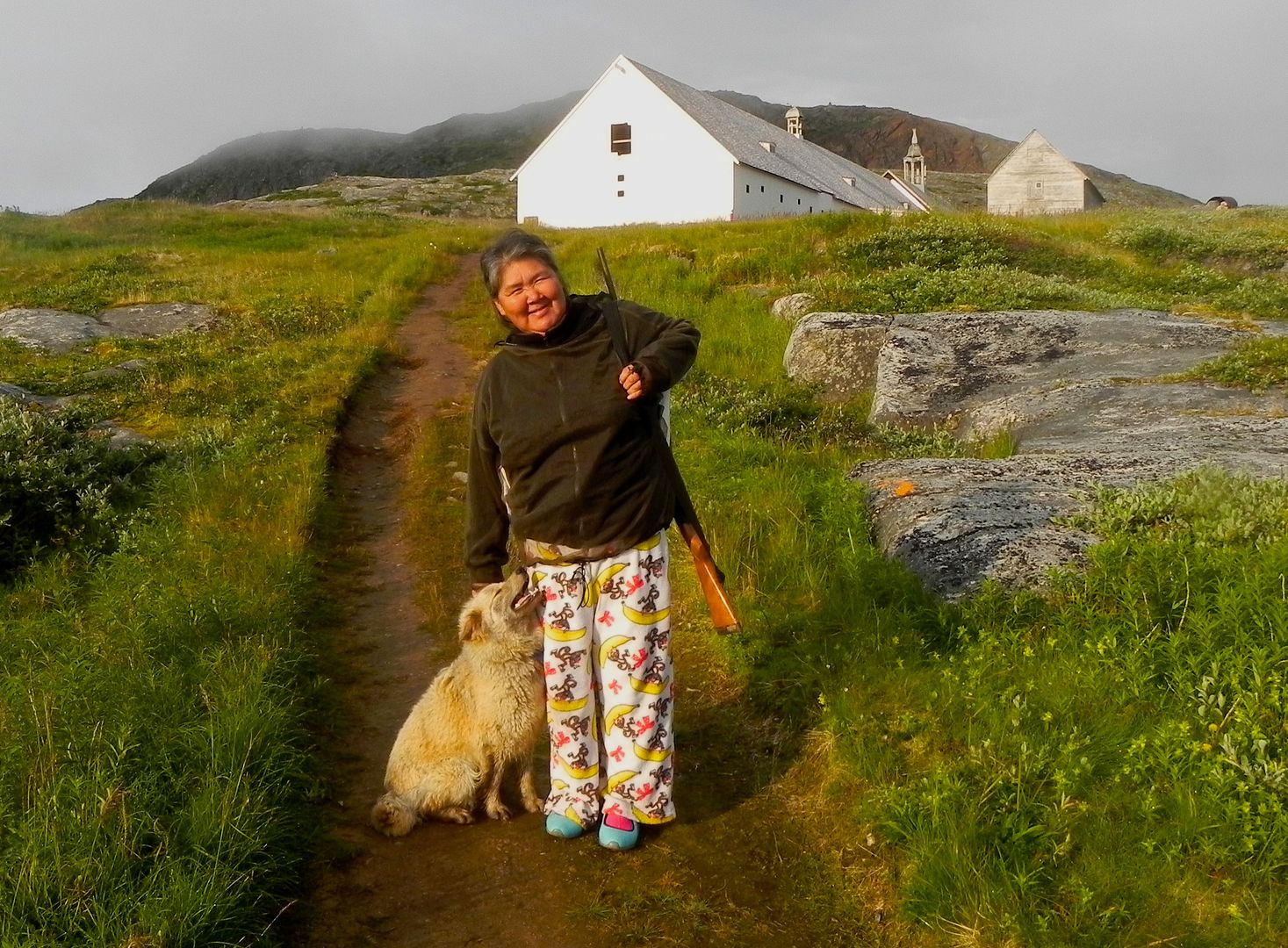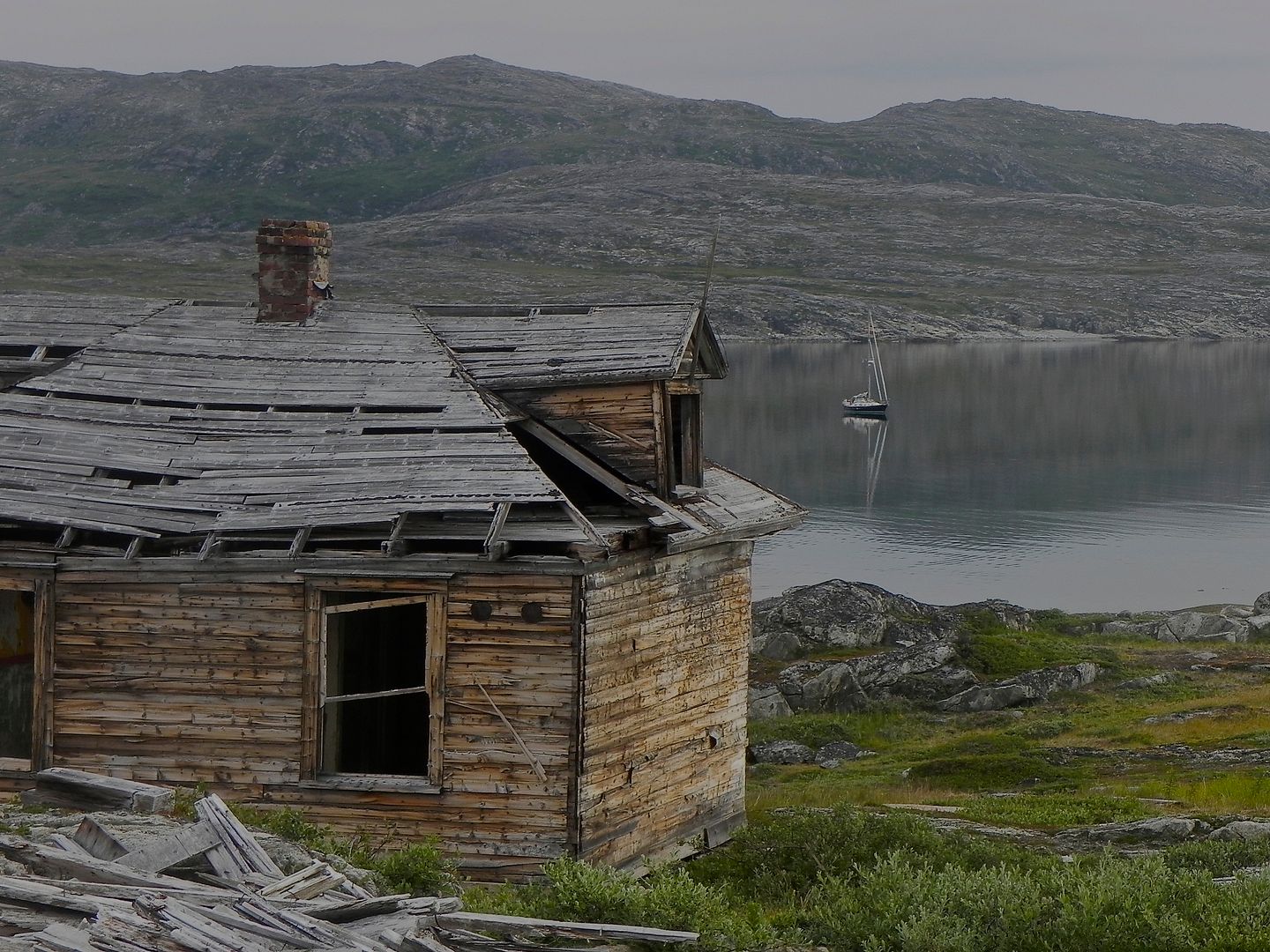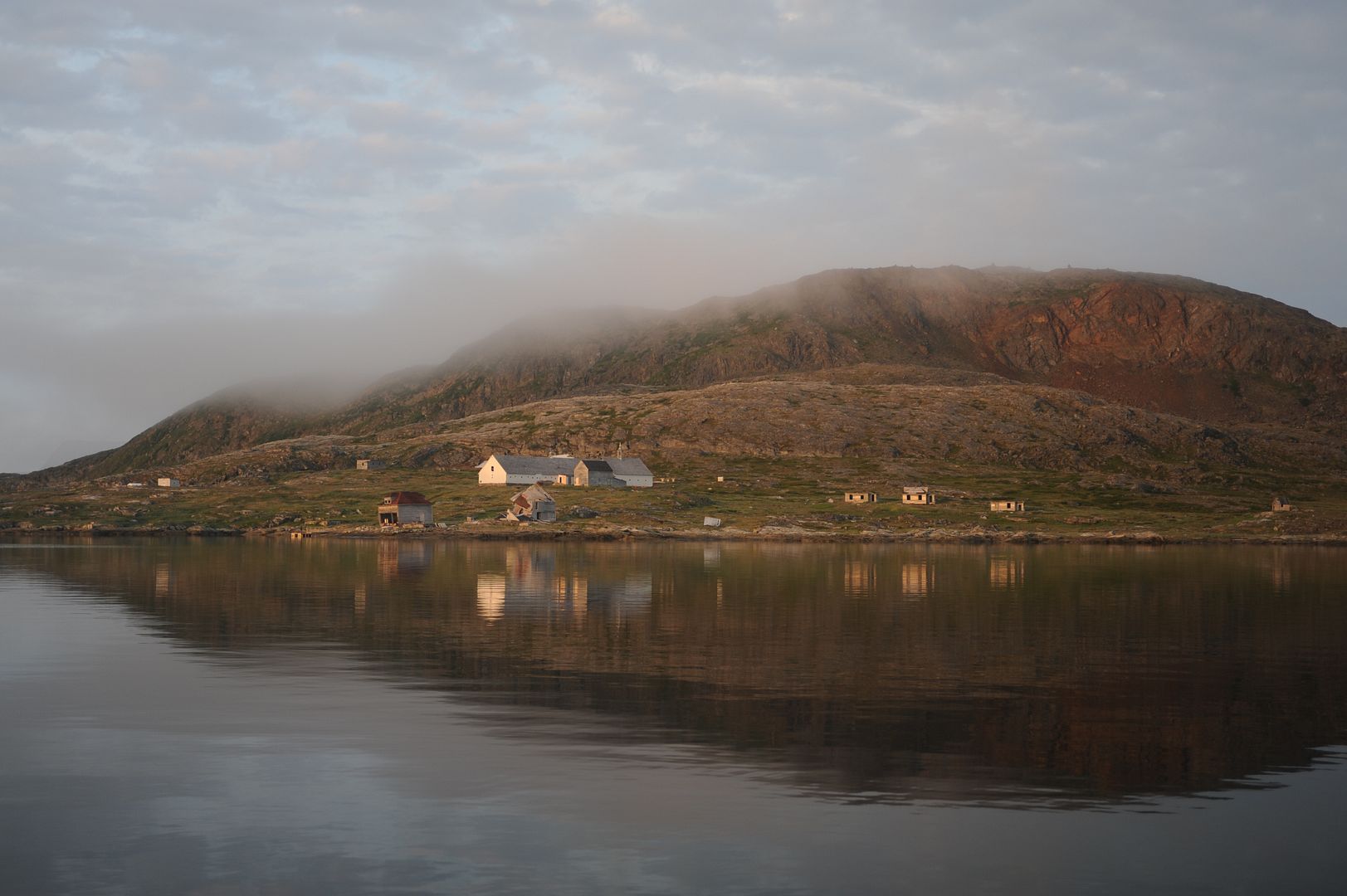 But I was within one more day's sailing of Saglek Bay, and the magnificent Torngat Mountains that cover the northern tip of Labrador. The weather had been overcast for a week, but there was the promise of one fine day coming up, and I'd want to be in Saglek for it… I was incredibly lucky, had most of a perfect day for the 25 mile run up into the fiord… The scale of this place is impossible to convey, that peak behind my mast is still almost 6 miles away…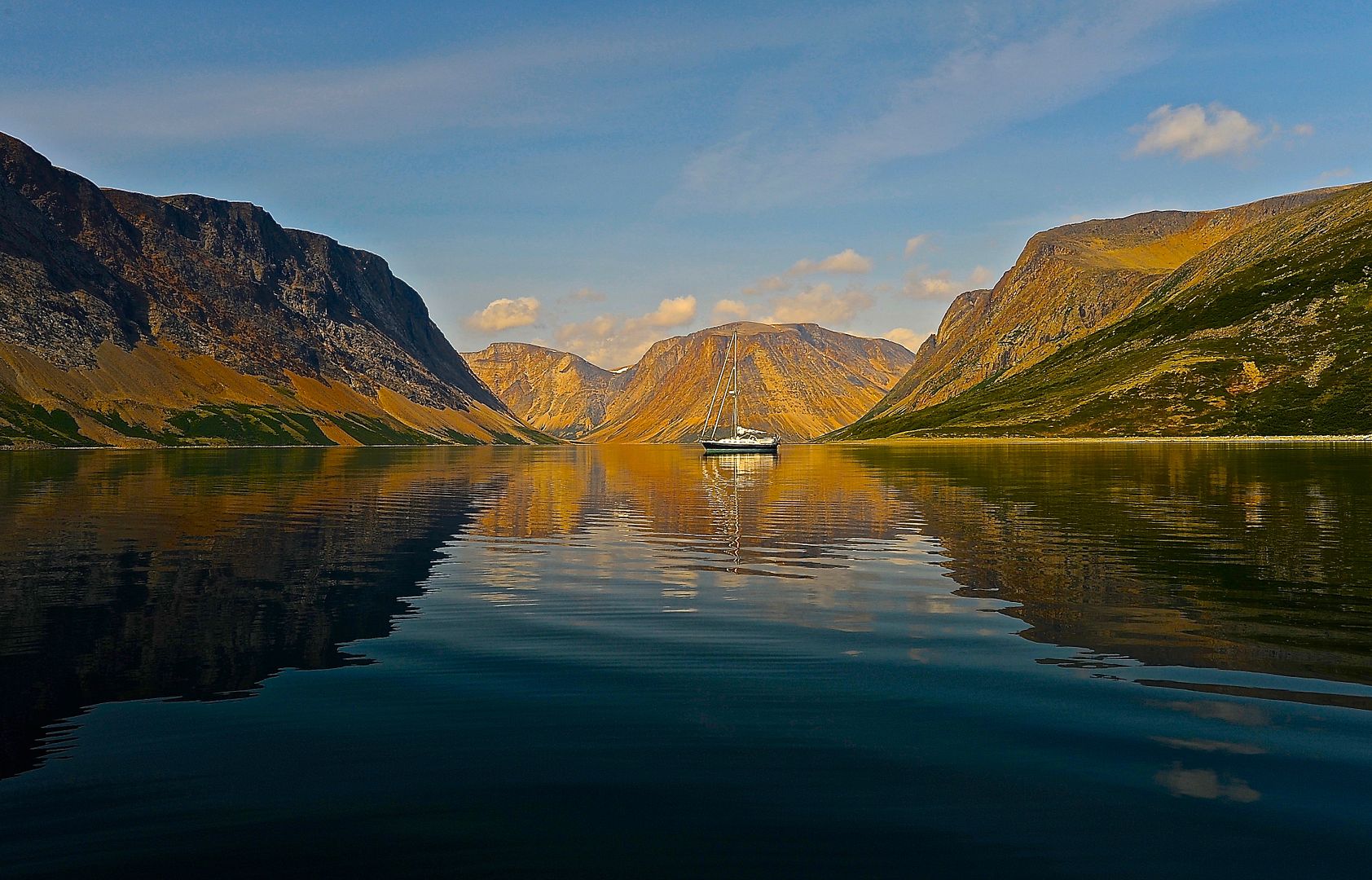 Like sailing into Glacier National Park in Montana, the geology is strikingly similar, to my eye…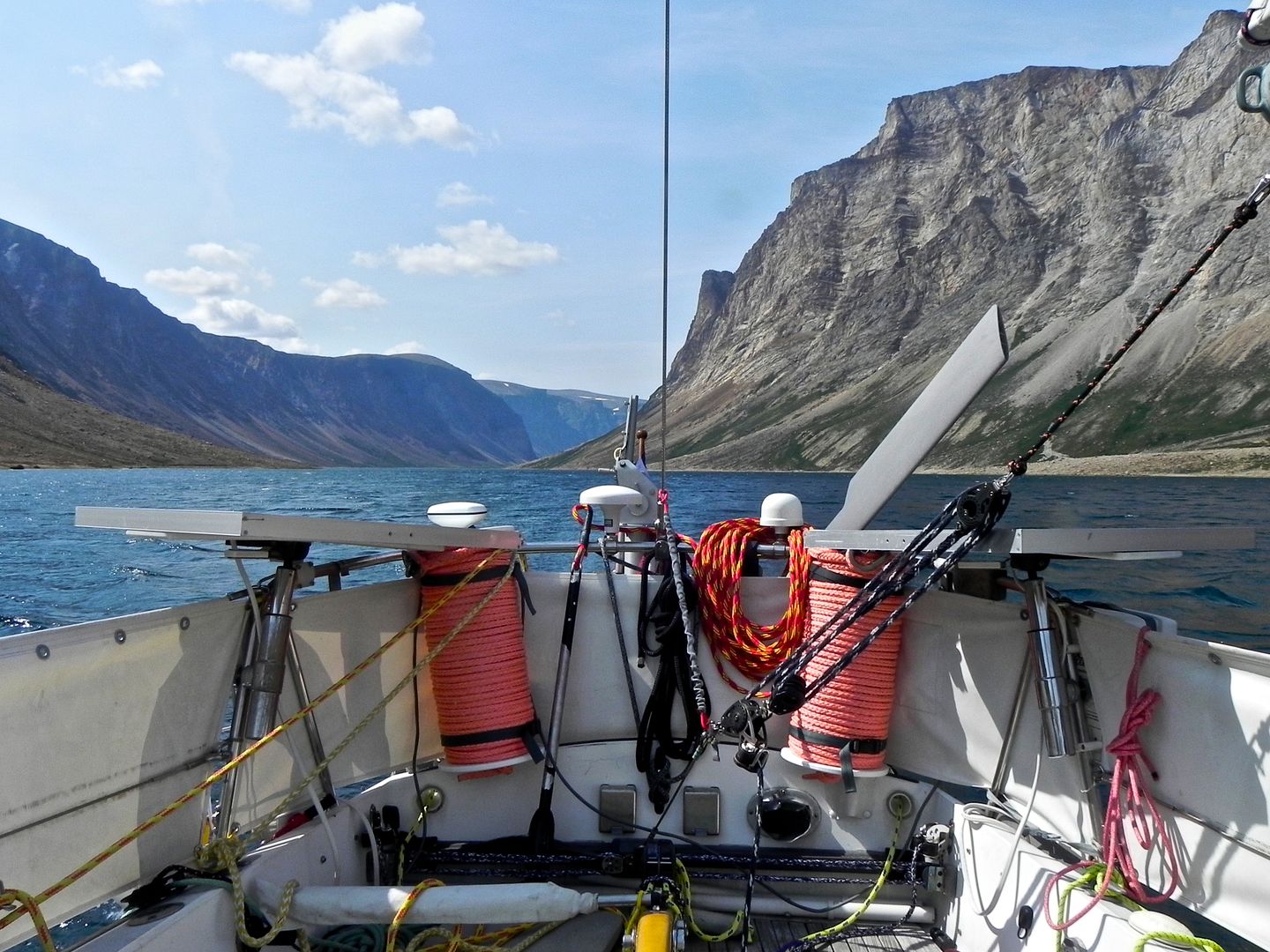 The conventional wisdom is that by mid-August, it's time to start thinking hard about getting out of northern Labrador, the weather can start to turn pretty sharply from then on… And, given the incredible percentage of DDW sailing I'd had to make it up there, I was dreading the return against the prevailing SW breezes, it was time to start heading home…
The trip back down was a bit of a slog, but not as bad as I'd expected… But fighting my way out around Cape Domino about 10 days into the return, I was getting pasted, and decided to bail and take an unscheduled break in the tiny settlement of Black Tickle… Turned out to be one of the highlights of the trip, and one of my most memorable encounters with the wonderful people of Labrador…
Like virtually all of the communities along this coast, Black Tickle is completely isolated, and not connected to anywhere else by road… A town of about 130 people, their only lifeline to the outside world is the weekly visit from the coastal ferry of Labrador, the NORTHERN RANGER. Turned out the RANGER was calling that night, 2100 on a Saturday night…
No question, it's the social event of the week in a place like Black Tickle… The entire community turns out for her arrival, little kids up past their bedtime are part of the fun. Simply watching her come in was very impressive. I'd crossed paths with her a couple of weeks before around Hopedale, she's a very impressive little ship… Coming in out of the fog that night, the ship handling skills and work of the crew bringing her alongside, simply awesome… It was a thrill to be moored right there with her, and in the midst of all the activity of loading and off-loading her for the next couple of hours…
Walking through town that afternoon, every person I encountered immediately knew I was off that "little American sailboat" that had just arrived. I was the first yacht to stop in Black Tickle last summer, and quite possibly the only one, so milling about in the friendly crowd that night, I was somewhat of a minor celebrity… The warmth of the welcome I felt from everyone was astonishing, that's one of the joys of calling in places off the beaten track, of course…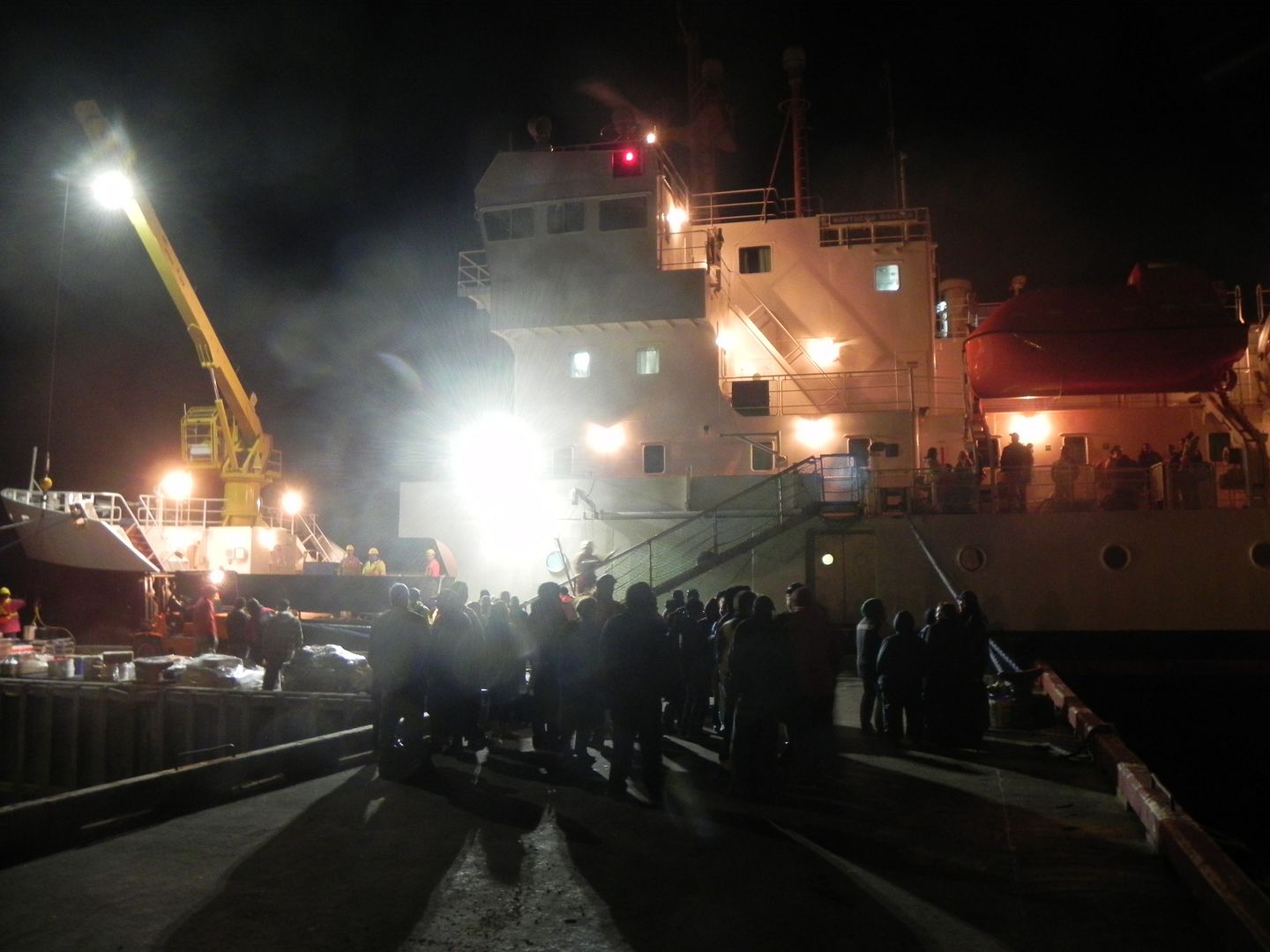 But perhaps my most magical encounter with the 'natives' of Labrador was reserved for my final stop within the province... A big blow was forecast as I was approaching the Strait of Belle Isle, so I went into the community of St Mary's to hunker down for a few days. I'd been running in pea soup fog for several days, and without the service of my radar, I was really ready for a stiff drink by the time I finally wended my way into the little harbor just before nightfall, and dropped the hook in the shallow water within a stone's throw from shore...
I was immediately greeted by a very friendly and curious Beluga whale, swimming slow circles around the boat. These are known to be among the most 'social' of all marine mammals, and he hovered about the boat all night long...
In the middle of the night, I was awakened by a faint 'bumping' of the keel... At first I assumed, knowing I was in pretty shallow water, that I was simply lightly touching the bottom at low tide... As I further awoke, however, I realized it was just my new buddy the Beluga, scratching his back or otherwise rubbing himself up against my keel :-)
Next morning I upped anchor to move over to the public wharf near the fish plant in town... Here's my friend, soaking up the warmer water from my exhaust discharge...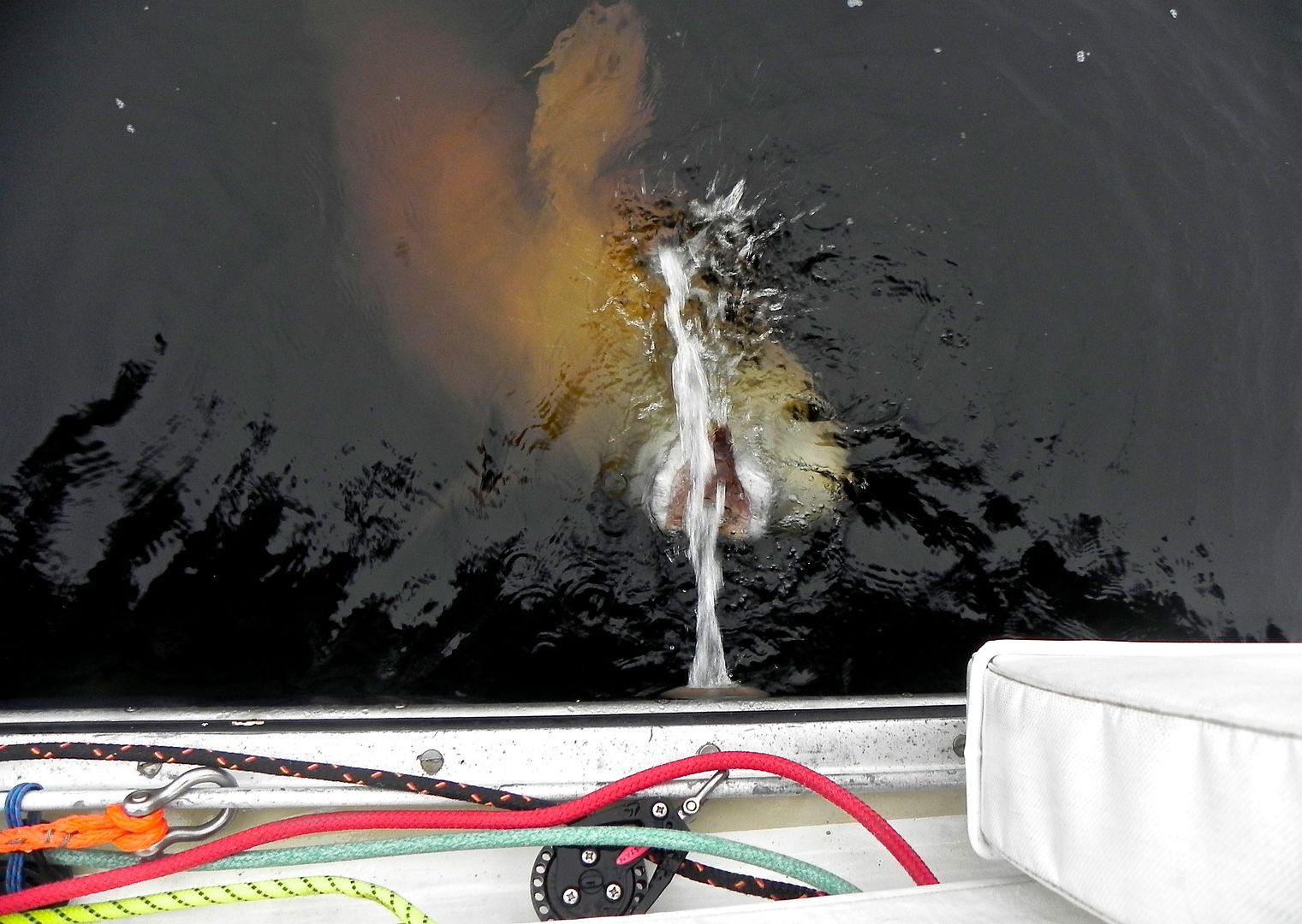 A few days later, when the gnarly NE weather finally moved on out, I was rewarded with wonderful sailing conditions through the Strait, and down the west coast of the Rock... Even flew a spinnaker for the last bit, and across the Cabot Strait, finally putting into the tiny harbor at North Ingonish on Cape Breton... Another delightful spot I'd once passed through 40 years ago on a bicycle tour of Nova Scotia and Newfoundland, hung there for a couple of days, I don't think it's changed all that much in the interim...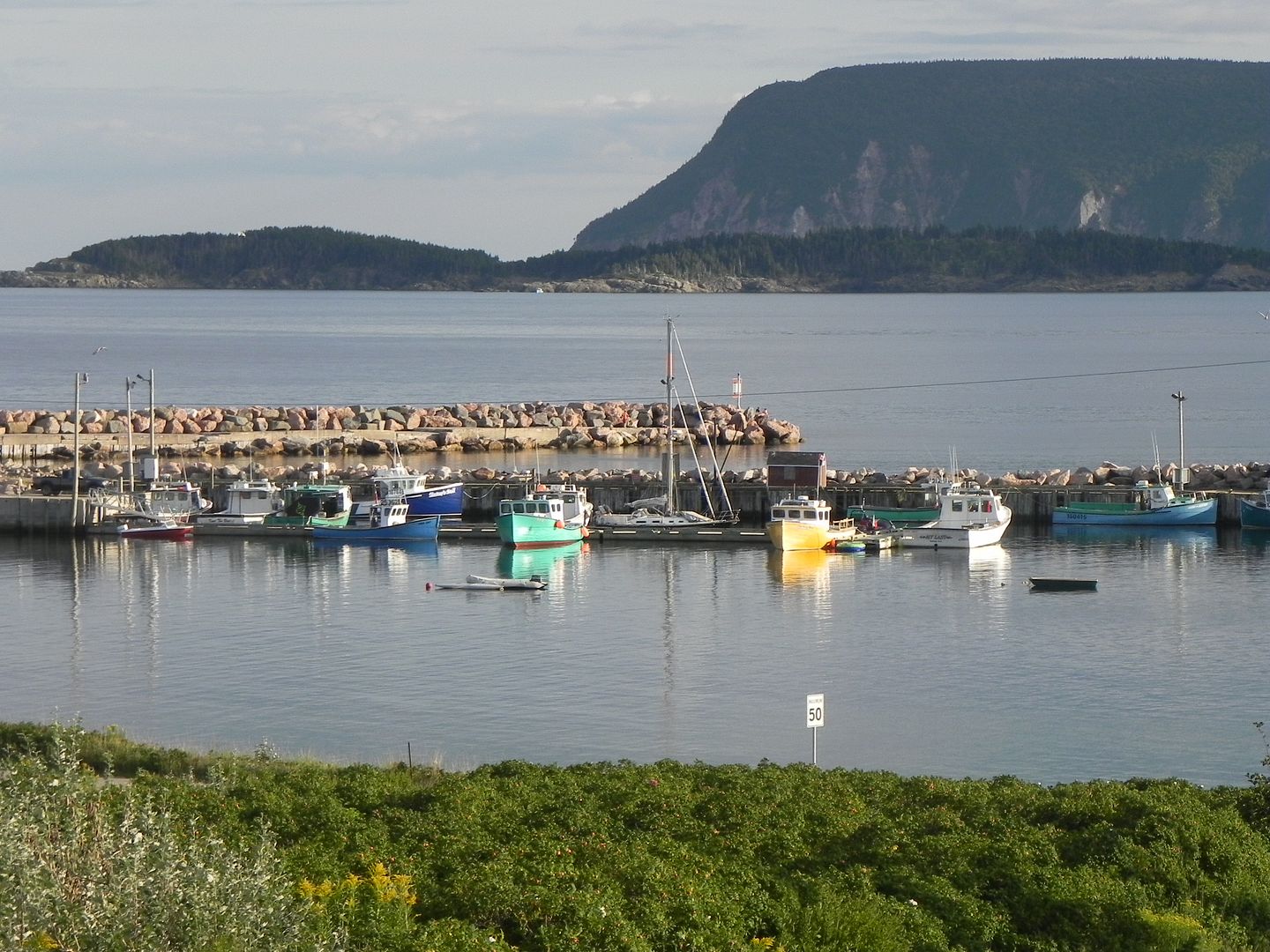 And I managed to get some of the best bike riding I had all summer, there's little opportunity for much of that in Labrador :-)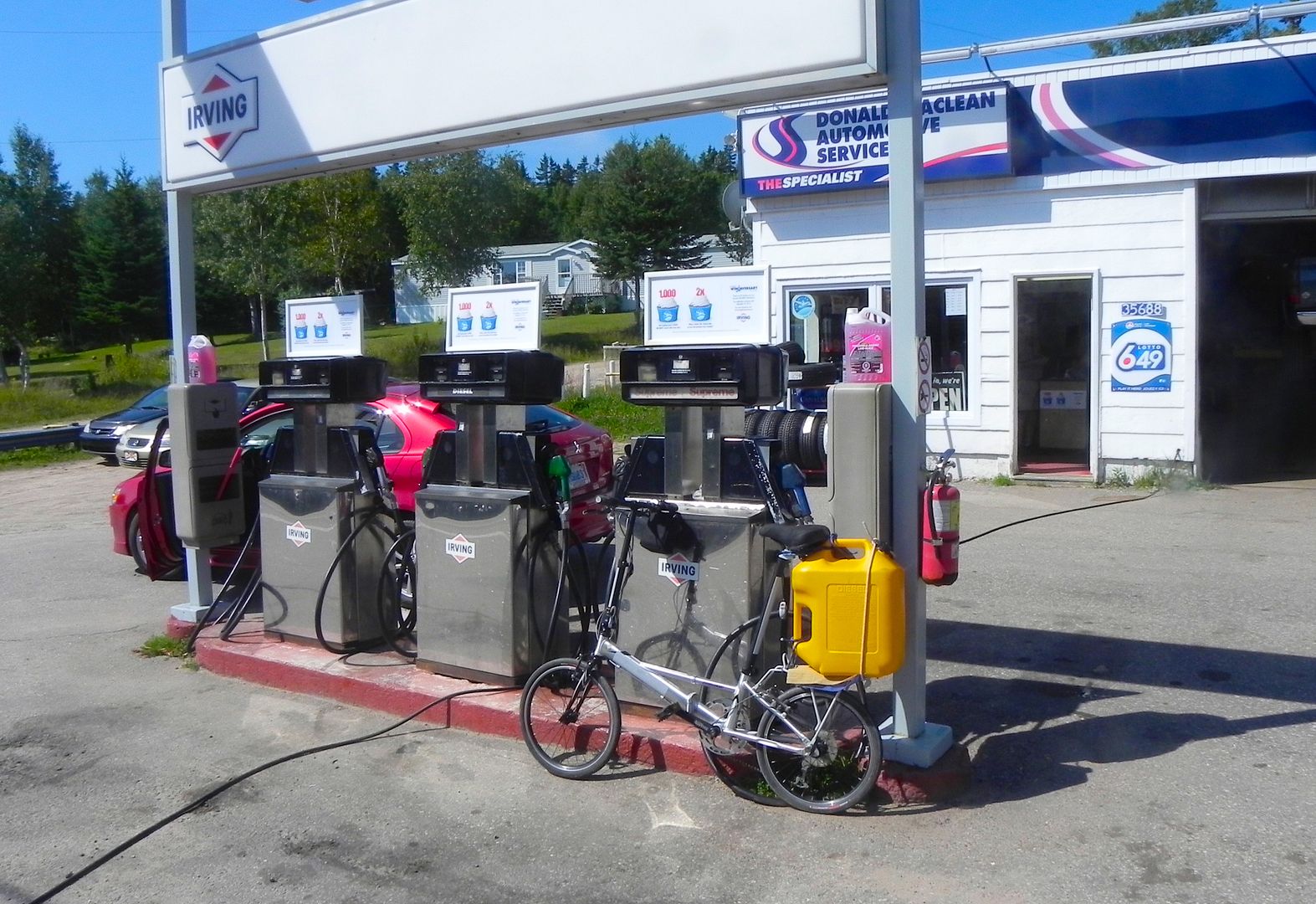 Another couple of days in Baddeck, then fantastic sailing down thru the Bras 'd Or and out around Cape Canso and much of the way towards Halifax in a brisk NE breeze... Then almost a week spent waiting at the wonderful and very hospitable Shelburne YC, waiting for a window to cross the Gulf of Maine... Finally, an opportunity came, a fantastic crossing under a full moon, just sneaking into Nantucket Sound before the weather went downhill...
Arrived in Newport for the Boat Show weekend, perfect timing, and a wonderful way to wrap up the trip... All in all, that one last summer is gonna be tough to beat, for me...
So, anyone still awake?
:-)
The Following 21 Users Say Thank You to JonEisberg For This Useful Post:

AdamLein

(06-11-2015),

Backloop1

(06-12-2015),

BarryL

(06-12-2015),

bshock

(06-11-2015),

chall03

(06-22-2015),

CS Cruiser

(06-12-2015),

flyingwelshman

(06-12-2015),

grossifs

(02-07-2017),

jephotog

(08-05-2015),

jrd22

(02-06-2017),

misfits

(06-20-2015),

mr_f

(06-14-2015),

OldEagle

(06-10-2015),

RichH

(06-10-2015),

Rocky Mountain Breeze

(06-11-2015),

sailorboy15

(06-11-2015),

seaner97

(06-10-2015),

SHNOOL

(06-11-2015),

smackdaddy

(08-02-2015),

smurphny

(06-12-2015),

TakeFive

(08-03-2015)
Just another Moderator
Join Date: Sep 2005
Location: New Westminster, BC
Posts: 18,766
Thanks: 141
Thanked 499 Times in 473 Posts
Rep Power:
10
Re: Labrador...
---
Great trip, great account and amazing pictures, Jon.. Thanks!
---
Ron

1984 Fast/Nicholson 345 "FastForward"

".. there is much you could do at sea with common sense.. and very little you could do without it.."
Capt G E Ericson (from "The Cruel Sea" by Nicholas Monsarrat)
Senior Member
Join Date: Jul 2000
Location: Pennsylvania
Posts: 4,331
Thanks: 41
Thanked 235 Times in 222 Posts
Rep Power:
18
Re: Labrador...
---
Great write up on a great trip.

I spent a lot of time in N&L during my younger days. Your account brings back a lot of good memories ('cept for the damn black flies). Thanks for posting.
Senior Member
Join Date: Apr 2010
Location: Wherever I am
Posts: 2,330
Thanks: 196
Thanked 107 Times in 97 Posts
Rep Power:
7
Re: Labrador...
---
Amazing trip Jon, and great pics & narrative. Love it. Thanks. Leaves me chomping at the bit. Next season we're Newfoundland-bound!
---
Why go fast, when you can go slow.
Member
Join Date: Nov 2013
Location: Chesapeake
Posts: 62
Thanks: 16
Thanked 5 Times in 4 Posts
Rep Power:
4
Re: Labrador...
---
Outstanding--both photos & content.
I'd already told my bride: forget the sun-baked islands--we're going North. This will help!
Less Senior Senior Member
Join Date: May 2011
Location: Bangor, Maine
Posts: 1,434
Thanks: 39
Thanked 50 Times in 50 Posts
Rep Power:
6
Re: Labrador...
---
Loved it. Brought back memories of Makkovik and Nain, where I spent time as a med student, as well as the West Coast of NF. Did you not stop off in St. Anthony to see the Viking settlements? I can only imagine what it would be like to make landfall at the same places the original europeans did. For all you Yanks- if you go, it's pronounced New fun LAND. Not Newfinland as 'mericans usually say.
---
Ocean- that which covers 3/4 of a world made for man, who has no gills.
Senior Member
Join Date: Nov 2008
Location: Penobscot Bay, Maine
Posts: 396
Thanks: 4
Thanked 18 Times in 18 Posts
Rep Power:
9
Re: Labrador...
---
This is a gem.
JV
Senior Member
Join Date: May 2005
Location: East Coast US
Posts: 452
Thanks: 8
Thanked 12 Times in 12 Posts
Rep Power:
12
Re: Labrador...
---
Do you know how to tell the Newfoundlanders in Hevan?


They are the ones who want to go home!

Thanks.

P.S. Arctic Fox mid coat change, Battle Harbour
---
Last edited by hpeer; 06-10-2015 at

10:27 PM

.
Tartan 27' owner
Join Date: Jan 2008
Location: NYC
Posts: 5,076
Thanks: 8
Thanked 134 Times in 126 Posts
Rep Power:
10
Re: Labrador...
---
What, Sail magazine won't publish that?
Maybe it was Cruiser's World.
Very nice Jon.
---
"The cure for anything is salt water~ sweat, tears, or the sea." ~Isak Denesen

Everybody has one:

To view links or images in signatures your post count must be 10 or greater. You currently have 0 posts.

Senior Member
Join Date: Jul 2000
Location: Pennsylvania
Posts: 4,331
Thanks: 41
Thanked 235 Times in 222 Posts
Rep Power:
18
Re: Labrador...
---
Quote:
For all you Yanks- if you go, it's pronounced New fun LAND. Not Newfinland as 'mericans usually say.
HA HA .... dont forget Labra-DOR, too
Currently Active Users Viewing This Thread: 1

(0 members and 1 guests)