.
Join Date: Nov 2006
Posts: 10,851
Thanks: 0
Thanked 5 Times in 2 Posts
Rep Power:
15
Sailing in Boston Harbour with SAILINGFOOL
---
"Absolutely amazing and wonderfull, what a different experience"...
these are my words to describe my day of sailing in Boston with SAILINGFOOL.
The coast of New England is so different to the coast of dear Portugal, the bays, the sights, the little coves, and the trees, the calm waters, the recent war fortifications (remember our forts are 1200 years old), the sound of the bells on the bueys (reminded me of the movie Jaws), the scenery is so very different and so very charming and romantic, the grey colour of the sky and the foggy horizon. The typical NEw England scenery seen form the water is magnificent....so quiet...shame for the Lobster pots....glad its illegal to do that in Portugal.
I had a wonderfull day of sailing with SAILINGFOOL, and his CS36, a very nice boat, by the way. (I will later post a thread on my thoughts of the CS36).
Sailingfool is a very experienced sailor, that knows his boat and the way it should be sailed, he is also a very polite and a highly educated man, that was the perfect guide for my sailing into the Boston Harbour. He is an old time gentleman, and was a pleasure to meet him. However, is taste in beer is weak, as he fed me with Heineken fro Europe
...what happened to Sam Adams??
We left Hingham, early in the morning, was a little cold for my liking but after a few moves I warmed up, and I could use one of Tom's jackets, and later foul weather gear as it rained pretty much all of the 25miles we sailed, except for the last hour.
His boat, POGO is moored at the Hingham Yachtclub, and after a quick cup of cofee, I met with him, we spoke briefly and we were taken to the boat by a power boat that has his rudder handle move forward and aft instead port starbord. Something I had never seen.
Once we borded, we arranged the bags of food and the drinks inside, pumped the head, and powered up, as in the morning there was no wind, but 1 hour later, we were sailing a good sail. It is not common for boats to be moored in Portugal, normaly we dock in marinas, but hey..nothing to it.
We proceeded north, and first it was very very confusing, we are leaving the port and the red buoey is to my port!!!! we have exactly the opposite sense of navigation, so my brain kept wanting to go on the other side..I resisted...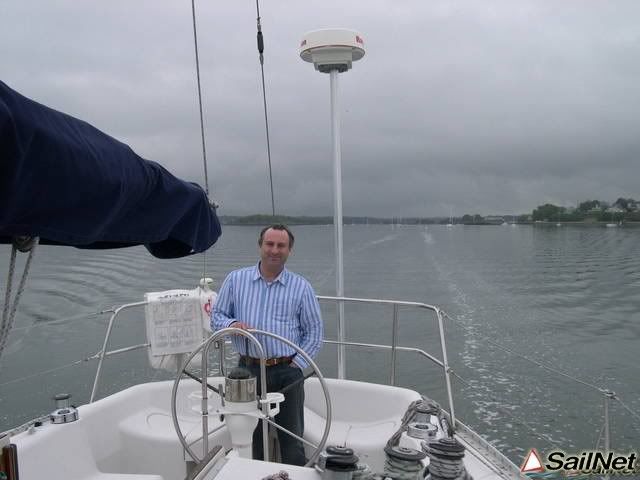 We motored for about 30 to 45 minutes, until we got to a set of islands that mark the entrance to the South entry to Boston harbour, where you need to sail thru the Narrows, as it is really really narrow. We were sharing the Narrow with a cargo ship that passed us on Stbd.
At this point, after he passed us, we hoisted the main, and genoa, and killed the engine. We were now sailing in very very very calm waters, something I am not used, and I got aquainted with the boat. The cockpit is much smaller than mine, as I am used to larger cockpits, and because I hed never seen the boat, and was still trying to familiarize myself with the location of the winches, main traveller, etc, I spent the whole day tripping on things, specially on the first tack, as the system is different than mine, its much heavies, and I actullay almost fell down in the cockpit Tripping on stuff was a comon thing all day long, as I allways found something near my feet. I know it takes a while for us to learn the spacial dimentions of a new boat, but this was too much...
Anyway, we set sail straight into the new Sewage plant,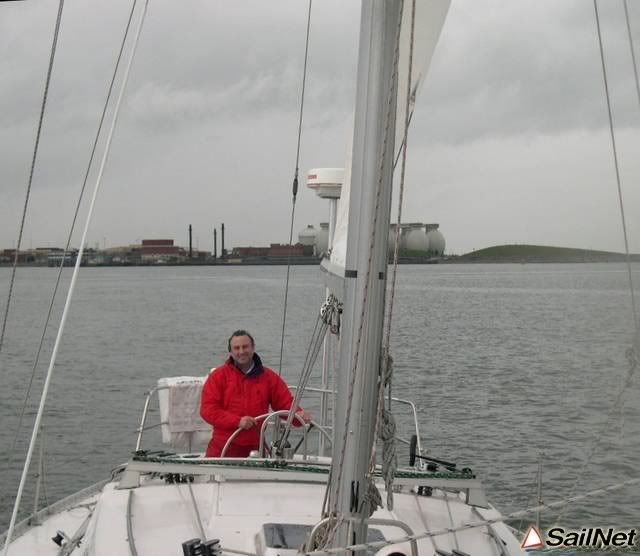 and around some of the local islands, full of vegetation, forts, flags etc.
then changed tack a few times, and headed for the Boston Harbour, we were sailing at around 5 to 6 kts, the wind was around 10 to 12 occasionally gusting 15. It was becoming a very very fun and enjoyable sailing day. His boat is very tender and very forgiving...a change from my dear Giulietta, (she will bite back)..I had a chance to sail a calmer boat and enjoyed it very much. There is a lot of less triming to be done, unfortunately, but..its a cruiser....so I behaved...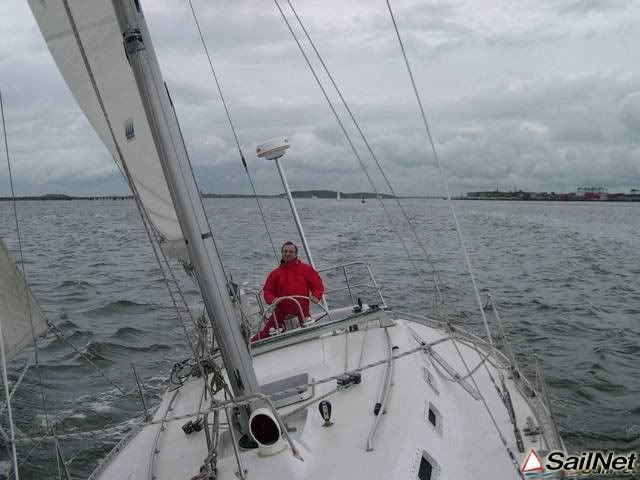 I estimate, as the speed log was not working, and I was too lazy to check the GPS, besides, I don't really care, I'm here for the ride. And it was raining hard, something I got used once I arrive in the US...there is allways something cold and wet falling from the sky here!!!
The speed was constant as there were no waves, and his hull is heavy.
We took turns at the wheel, and we had a very enjoyable happy sail...I resisted the urge to start changing things and trimmings, this his Tom's boat, he knows best and what she likes. I behaved very well and did not break anything, however, the photo camera might be damaged as we forgot it in the rain. He said if his wife gave him trouble he would put the blame on me....so I might have broken his camera!!!
Here is Tom and his Indiana Jones hat..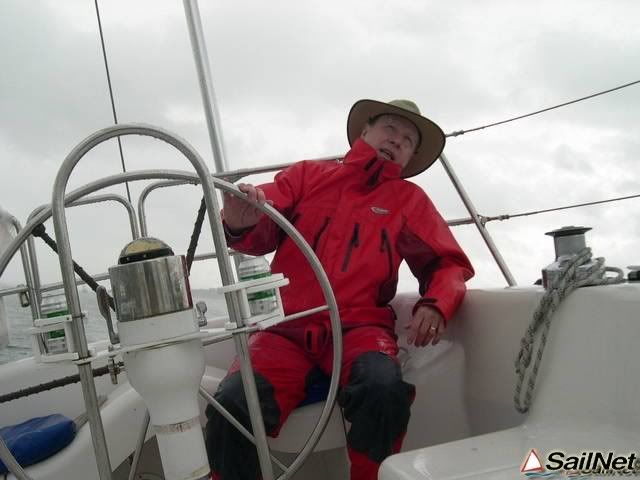 We past a Catalina, (sorry CD), that seemed to be sailing in circles, and saw a Farr 40 (I beleieve as it was somewhat distant), coming our way. We made a few tacks, by now I am following the chart as best as I can, the navigation is pretty easy and straight into the Harbour. We passed the airport and entered the harbour. Rain was still with us. On the way to the harbour, Tom explained to me each island, each fort, its historry, he explained about the Boston Sewage system (I saw it on Discovery Great MArvells program, when I was in Colorado last month), and even explained about the markers and bueys that are still there even is derelict.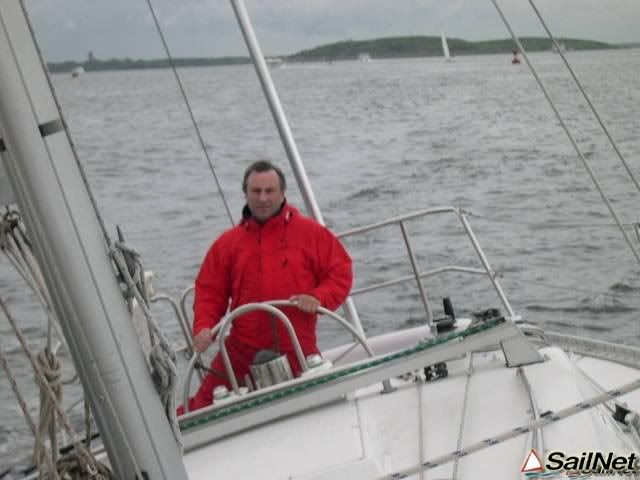 We finally entered the Harbour, this is as you can imagine, vrey very very different from what I am used to see, first our coast is either white sand beach or cliffs, then we have the waves, which make nearing the coast impossible, and only inside rivers can one approach the cities. You guys build these enormous buildings right on the water line, and those mega buck appartments. We don't. Most of the coast in urban water Portugal is not built, or has very old constructions, we start building behind the near water constructions that are either very old fortifications or left flat. We don't normally build right on the water, there is at least 1000 feet by law for construction near water. The water, shore, beaches up to 1000" belongs to the Government, can't be bought. So no construction near the water for us.
So the sight of sailing in a clam water 300 feet from skyscrapers was magnificent....different if not...and those derelict wooden piers are so romantic. We don't have wood, so no wod piers..Ours are concrete.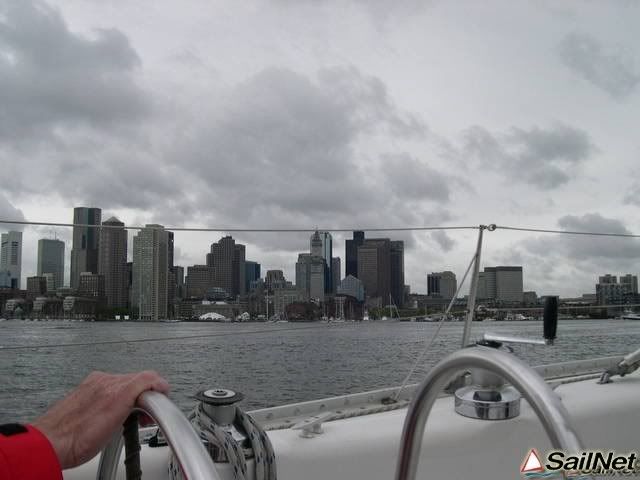 We sailed near the USS CONSTITUTION, and the the WWII destroyer named the Cassin Young and sailed in between the boats moored at the Boston Yachtclub. (I found the waters very dark, dirty and full of debris, unfortunately).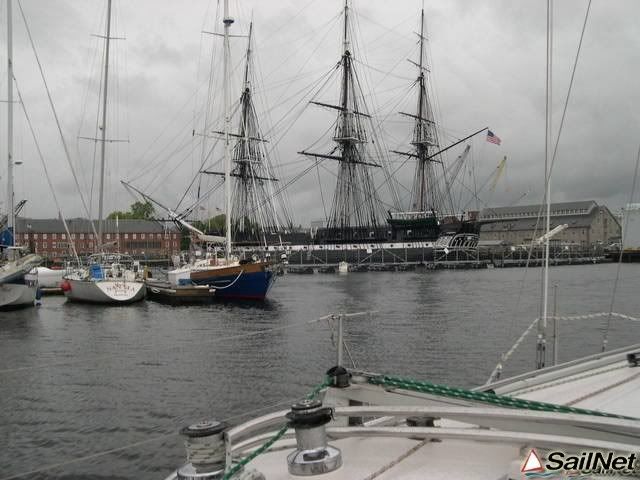 We sailed some more into the harbour and did a complete water tour on sail of Boston. ABSOLUTELY AMAZING!!!!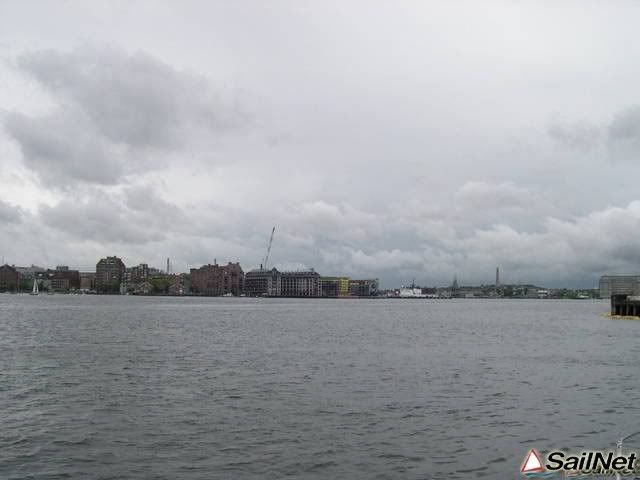 While sailing around the harbour we sailed near the moored boats, so I got a crash course on American boats. I was introducede to the CAL boats the 36 and 39, several Catalinas, Hunters, etc. I was able to observe the boats you guys talk in here.
We then started heading back (please note that by now it rained like there is no tomorrow, really heavy rain). The wind died a little on the way home, so leaving the main hoisted, we motored for say 1 hour, more or less. Time to have lunch...we ate Cheese, mustard (French unfortunately) and ham sandwiches, wet by rain and heineken.
Finnaly we saw the boat we had seen earlier, the one I thought was a Farr40. He was coming home, (I was happy to see I was right, it was a Farr 40), he had the Spinnaker all tangled and rolled up, flapping and completely twisted in his stay, and the guy passed by us (did not even say hello, rude bastard), he was probably thinking he is some type of
"important hot **** racer",
that does not say hello to slower boats, you know, he could not bend over dur to the insertion of the broom stick.....or....he was shamelessely emabarrassed, I think both eheheheheh, imagine a FARR40, motoring into Boston with his Spi looking like my Aunt Mathildas Briefs drying in the rope, flapping around!!! Should have taken a photo....
But that was not only it...later we passed a Catalina sailing with 6 fenders still hanging from the sides....on both sides....was that you CD??
Finnally the wind picked up and and....HURRAY!!!!! stopped raining...the last 2 hours were a straight line wing on wing downwind sailing (the Spi Halyard block was broken so no spi, unfortunately, and we were too wet to move anyway), staright into Tom's mooring. We morred on sail, tidied up the boat and went back to shore. Before we landed we asked the power boat tender to sail around a Hinckley, and a Tartan, so I could see them near. Nice boats.
We had a coffe at Starbucks, and said goodbye. I left the place with the knowledge I had made a friend that day, one I will never forget and allways remember every time the word Boston will be said near me.
On the way home I stopped at the Hingham Boat Yard, and saw several Catalinas (34 and 387) and Several Jeanneaus and 2 Island Packets (horrible shitty diharrea yellow painted...UGLY COLOUR FOR A BOAT
. Did not like them by the way..)
I have seen and able to compare several American boats, and have made my own conclusions. I see some of you guy's remarks and comments, and am able to better understand them now. The Jeanneau and Catalinas were side by side....good to compare....
I will add more to this thread as time allows, have to go to work now. I will edit soon and add more stuff as I remember. Please enjoy the tale of the Portagee in Boston Harbour....
Alex
---
Last edited by Giulietta; 05-21-2007 at

03:39 PM

.
Señor Member
Join Date: Oct 2004
Location: Narragansett Bay
Posts: 4,858
Thanks: 0
Thanked 1 Time in 1 Post
Rep Power:
15
Great trip report Alex. Sorry you had such snotty weather for your first New England sailing experience, but sounds like you enjoyed it anyway.
I'll anxiously await your photo-essay.
Steve . . . (since my wife has been known to use my identity
)
---
True Blue . . .
sold the Nauticat
Wandering Aimlessly
Join Date: Nov 2002
Location: Cruising
Posts: 22,000
Thanks: 0
Thanked 100 Times in 97 Posts
Rep Power:
17
Yes, sounds like an enjoyable day for the both of you. Just remember though, no matter which side the red and green markers are on, JUST STAY BETWEEN THEM.
Currently at anchor 25 44 35 N 80 10 03 W
---
John
Ontario 32 - Aria

Free, is the heart, that lives not, in fear.
Full, is the spirit, that thinks not, of falling.
True, is the soul, that hesitates not, to give.
Alive, is the one, that believes, in love. JCP


To view links or images in signatures your post count must be 10 or greater. You currently have 0 posts.
- Website & Blog

To view links or images in signatures your post count must be 10 or greater. You currently have 0 posts.

Learning the HARD way...
Join Date: Jan 2007
Location: Boston / Ft Myers Area
Posts: 5,420
Thanks: 281
Thanked 191 Times in 187 Posts
Rep Power:
11
More to see!
---
Hey Gui,
Thank you for taking us along... I warned you about the rain - and the waves! Too bad that you did not get outside the Habah to see Boston Light and the Graves. It gives you a great perspective of the natural landscape of New England, and a real contrast with Boston.
If you start missing Boston Habah, you can always check out the live Harbor -(whatever that is
) - Cam at
Sea Tow Boston - HarborCam
.
I almost posted a warning NOT to let you take the wheel, because I know that you get red and green mixed up.
Ed
Hey Giu,

You still around? The Sun is out...Wednesday night racing has started in Boston! You can't beat Wednesday night racing in Boston...it's more like a slalom course what with the recreation boats, ferry boats, and commercial traffic. Yeah, you know that tanker you said passed you to starboard...imagine that guy splitting your race fleet.
SENIOR CHIEF
Join Date: May 2007
Location: YORKTOWN, VA
Posts: 1,380
Thanks: 0
Thanked 0 Times in 0 Posts
Rep Power:
10
Just went to the Boston Habah Cam and it was sunny...No Rain!!!
Alex, not full of crap
Join Date: Nov 2006
Location: Lafayette, CO
Posts: 2,446
Thanks: 0
Thanked 0 Times in 0 Posts
Rep Power:
12
Alex

Glad you had a good time.

Charlie
---
Charlie

Courtney's my Dancing Angel

Where am I, and where's my paddle?
It's not impossible, it just costs more.
Give me ambiguity, or give me something else.
ASA and PSIA Instructor
Join Date: Apr 2000
Posts: 3,815
Thanks: 13
Thanked 37 Times in 37 Posts
Rep Power:
17
Good Time
---
I'm pleased Alex enjoyed his visit - we did have a good time. See how much fun Alex is having in the attached picture.
EDIT: attached photo has been banned in Boston...and not much is ever banned anymore...

Alex is a classic sailing nut, so we had plenty to talk about - but I think he broke my digital camera...

Check the photo album "Giuletta visits Boston" for more pics.
---
Last edited by sailingfool; 05-21-2007 at

05:11 PM

.
Owner, Green Bay Packers
Join Date: Sep 2006
Location: SW Michigan
Posts: 10,318
Thanks: 0
Thanked 1 Time in 1 Post
Rep Power:
14
The Portagee as roving sailnet correspondent is working out quite nicely. Thankyou for the report, Giu. I enjoy seeing things through your eyes.
---
"Scientists are people who build the Brooklyn Bridge and then buy it."
Wm. F. Buckley, Jr.
Senior Member
Join Date: Dec 2005
Location: Porter, IN
Posts: 4,647
Thanks: 1
Thanked 1 Time in 1 Post
Rep Power:
13
Check the photo album "Giuletta visits Boston" for more pics.


Dude,
You look a little gay in that photo.
I would ask sailingfool to post a better picture of yourself.
I think sailaway21 is getting the wrong message.
---
Courtney is My Hero
If a man is to be obsessed by something, I suppose a boat is as good as anything, perhaps a bit better than most - E.B. White
Currently Active Users Viewing This Thread: 1

(0 members and 1 guests)