Senior Member
Join Date: Jan 2007
Posts: 286
Thanks: 0
Thanked 0 Times in 0 Posts
Rep Power:
11
Sailboat with no one on it!
---
A friend of my told me this Sunday (June 24) that his wife and him are having a baby. Now – they have only been married for a few months, but it is good news even if unplanned.
Wednesday (June 27) we decided we needed to go out for a sail and celebrate with a cigar. I will post some of the pictures from that later – the events as we were coming back in were much more interesting.
We drove up from Grand Rapids, Michigan to Muskegon and decided we would go out on his boat – my stern light burned out and I have been to lazy to replace it. No going out when I might get back after dark until I replace the bulb… feels like I am back on curfew. Winds being light, and us sailors being lazy, we motored though Lake Muskegon and though the channel onto Lake Michigan. The winds had dropped and sailing was less interesting then the $10 cigars that we were smoking (in that with both the main and 150% genoa out we were still only making less then half a knot). The sun was setting and it was really time to get back in. It is a long way from the channel to his mooring on the other side of the lake.
The Coast Guard had been doing something or other at the end of the channel and was still there by the time we were coming back in towards Lake Muskegon. By the time we got to the end of the channel a Coast Guard helicopter flew over the area and the two Coast Guard boats turned on their lights and flew by us as we were exiting the channel.
Looking over to our right we saw a bunch of EMS vehicle lights over by a condo development just west of a paper mill. The Cost Guard boats were continuing down the lake from the general condo / paper mill area to mid-lake just of the LakeSide Marina. The helicopter continued to make passes over us as we motored towards the mooring area at the Hartshorn Marina.
We were a little confused about what was going on and I went down below to grab the handheld VHF and scanned 9/16. We heard that there was a person floating in the area in front of the paper mill that had been recovered. As we continued down the lake we passed to the right of the Coast Guard boats and we could see a mast sticking up over them though the binoculars.
We didn't want to get in the way or piss them of so we went far off to the right to avoid them and the shallow part in the lake. I went below and grabbed my camera and tried to get a few pictures (as seen below). The two Coast Guard boats were on either side of a sailboat.
The sailboat had its main down and either its foresail furled or down (I honestly didn't look closely enough to see :P ). The Coast Guard was off and on the boat doing whatever it is they were doing.
The situation looked like the sailor was somehow knocked overboard and the boat drifted further down the lake. No idea what really happened.
I can tell you this though – when I go out for a sail in light winds I am wearing my life jacket. The winds at this point were less then 5 knots and the lake was glass calm. Still – someone got themselves into trouble.
If anyone knows what actually happened I would love to know. I will be checking the local news and posting in this thread if anything of interest is said – unfortunately I haven't seen anything yet… so I doubt it.
And now I am going to go and look at my friend's boat (same one we were on that night) that lost a spreader...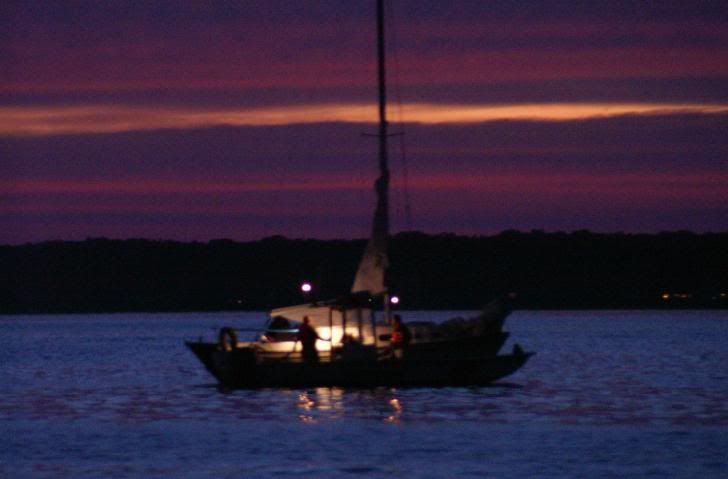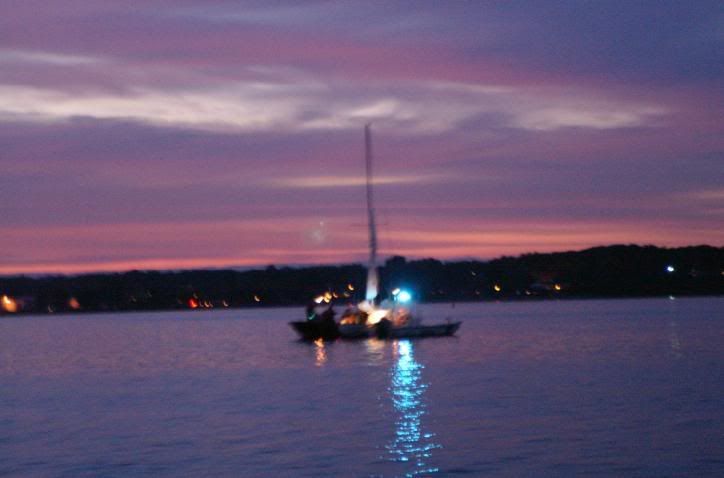 Sorry about the crappy quality. Was a bit dark out and I had to shoot at 3200ISO and at my most open aperature... Hopefully still gets the idea across.
- Byron
Senior Member
Join Date: Jun 2006
Location: Toronto
Posts: 5,491
Thanks: 0
Thanked 2 Times in 2 Posts
Rep Power:
13
Captain's privilege strikes again?
Senior Member
Join Date: Jan 2007
Posts: 286
Thanks: 0
Thanked 0 Times in 0 Posts
Rep Power:
11
Quote:
Originally Posted by Valiente
Captain's privilege strikes again?
Nothing else would make as much sense, but I would hope not.
I am surprised no one else had anything to say... makes me wonder if I should keep bringing the camera out to the boat :P
Not like I can show pictures like that to the woman and expect to be allowed to sail...
Senior Member
Join Date: Dec 2006
Location: Sugar Hill, GA
Posts: 175
Thanks: 0
Thanked 1 Time in 1 Post
Rep Power:
11
What is "Captain's Privilege"?
Senior Member
Join Date: Jan 2007
Posts: 286
Thanks: 0
Thanked 0 Times in 0 Posts
Rep Power:
11
Quote:
Originally Posted by mwrohde
What is "Captain's Privilege"?
Hmm - I guess I just assumed it was, in this case, imbibing a few beverages of an alcoholic nature :P
Though I don't have anything to back that up. Perhaps I just need a drink myself.
Currently Active Users Viewing This Thread: 1

(0 members and 1 guests)