.
Join Date: Nov 2006
Posts: 10,851
Thanks: 0
Thanked 5 Times in 2 Posts
Rep Power:
15
Arrived home...what a ride!!
---
I don't have much time now, because I am really busy with some stuff at home (honey do this) you know...
Here's me...happy as you can see..I really love sailing.
Anyway...here a few OF MANY MANY photos we took (but I will post everything in a week or so, I'm too busy now. Have these for now....
we sailed for 3 days total, unventfull on day one, a broad reach, nothing spectacular, we sailed rather slow at 8 knots to Portimão, from Vilamoura.
This mis Miguel, my best friend.
We then anchored in the entrance of the city, and had dinner.
There were a few boats there as its still nice and warm for the Northern Europeans so they stay till NOvember..
This is dinner...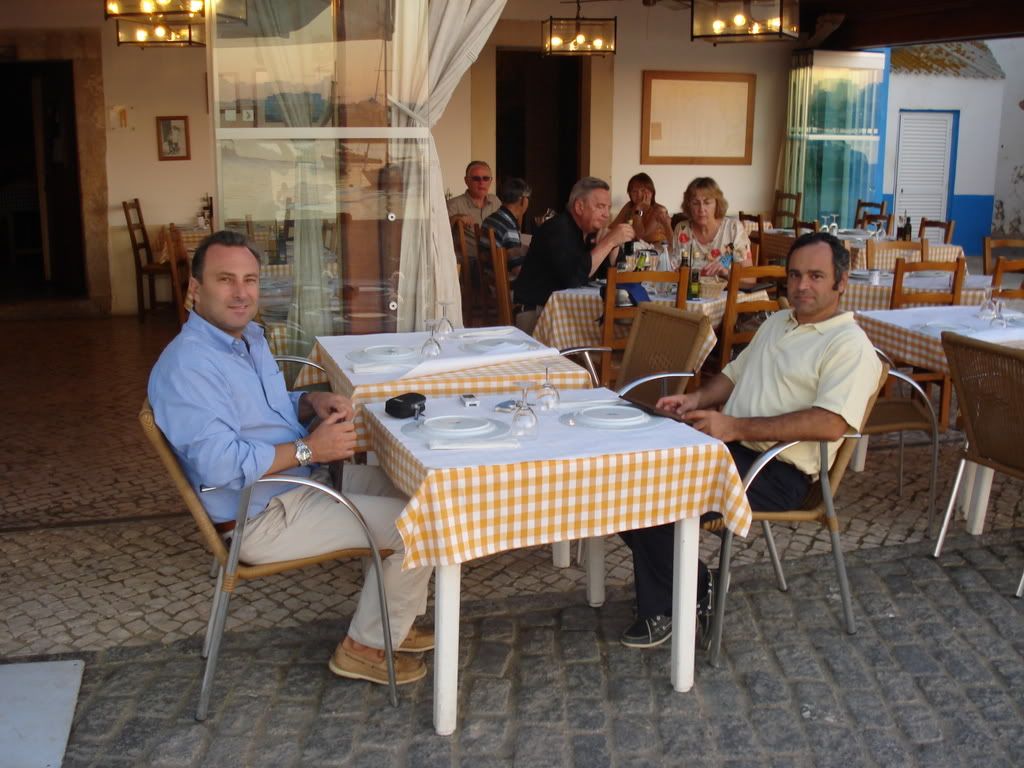 We left at night and managed to sail a calm 8 knots across the cape..nothing special.
Then the day broke...I have some really dramatic photos of this...I'll show later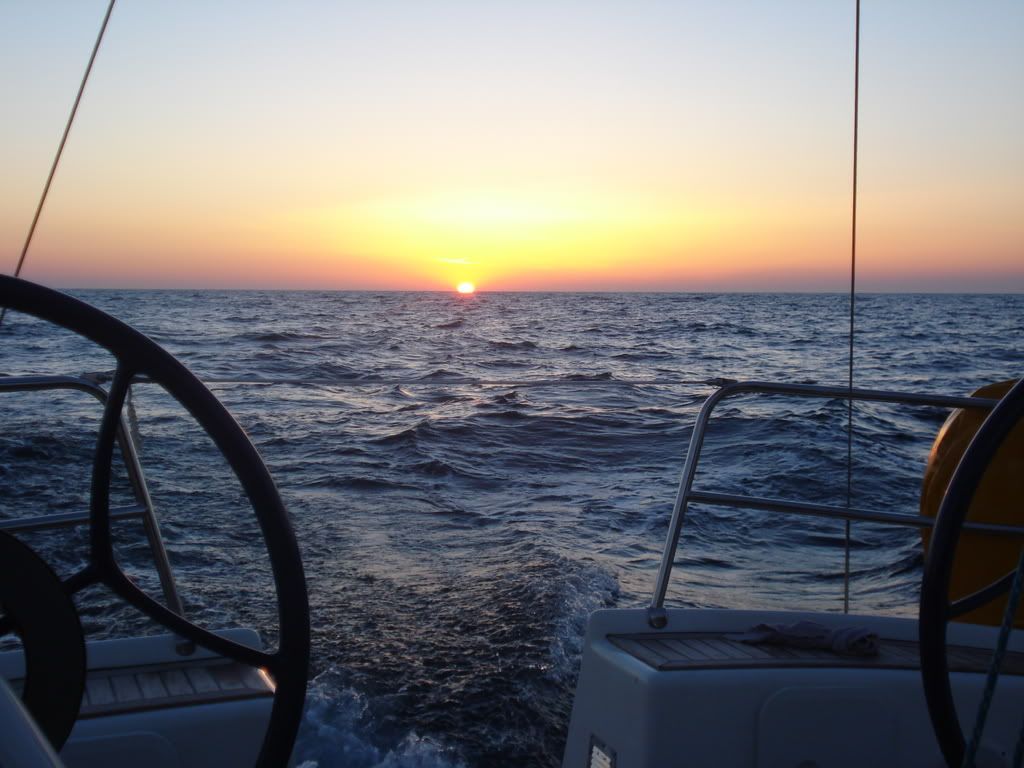 We arrived in Sines, had dinner on the nice restaurant that Tom and MArk missed..
wonderfull fish..but no photos
Then we left for the final leg...50 miles from Cascais to Sines...
we left at 8:30 am, arrived at 15:00 pm in Cascais...one hour after we left we were around 12 miles from the coast, we got hit my 30kt winds and 10 foot waves for most of the journey. Only calmed down around 1 pm...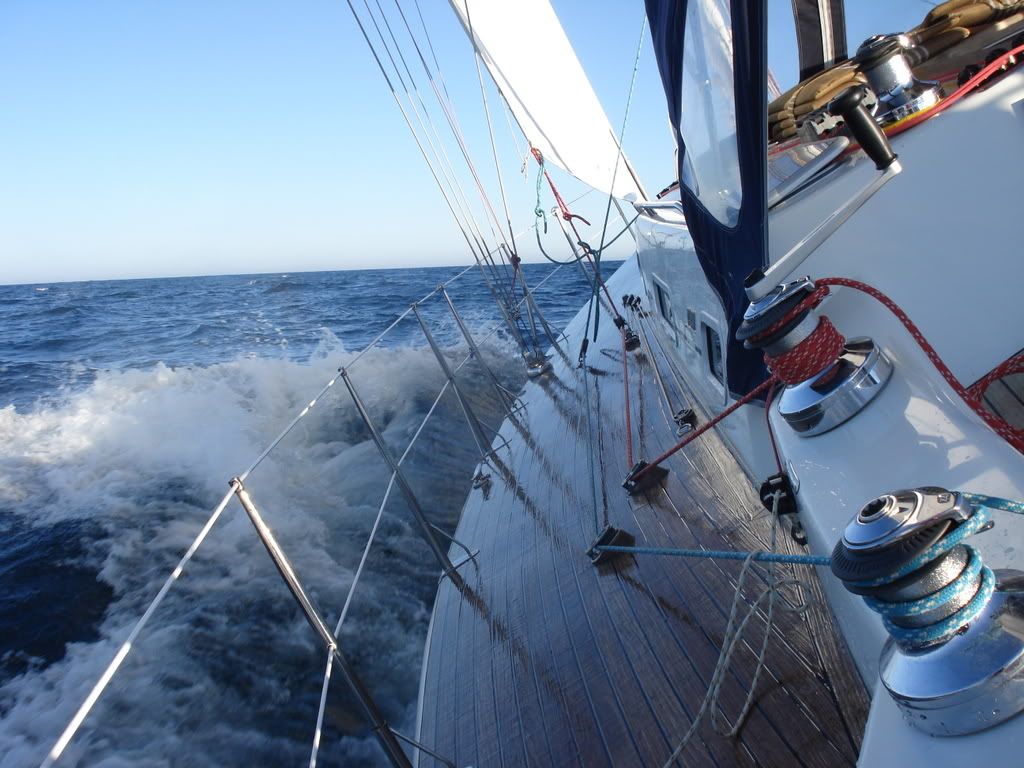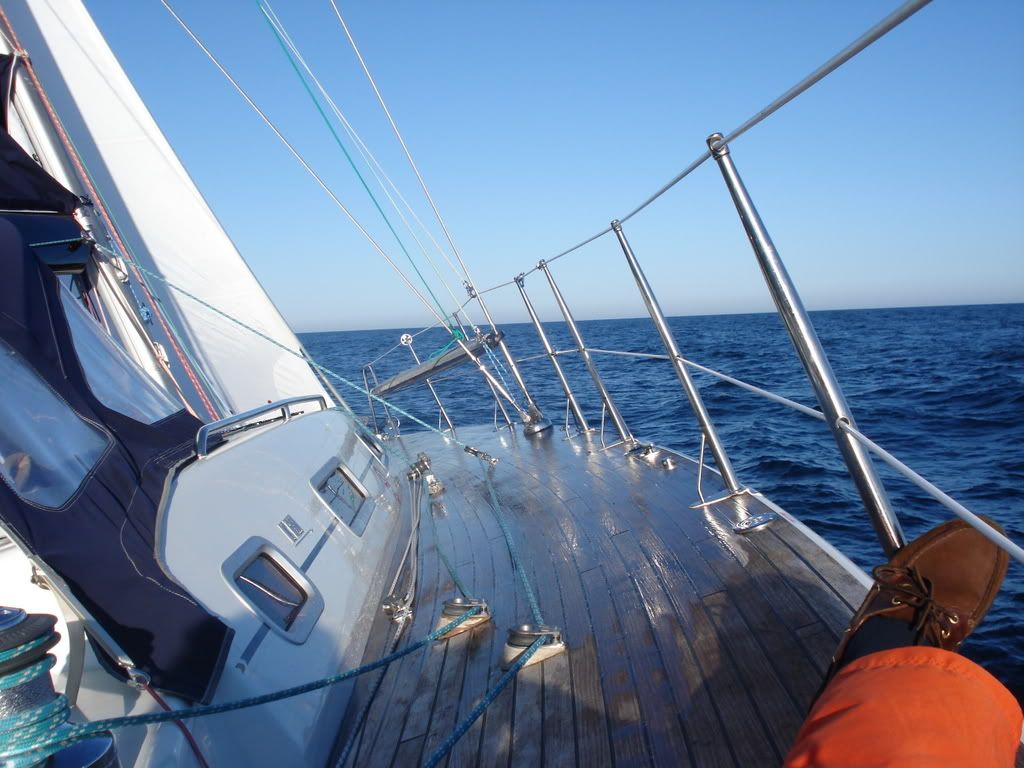 WHAT A RIDE
...we were doing 10kts SOG against this crap.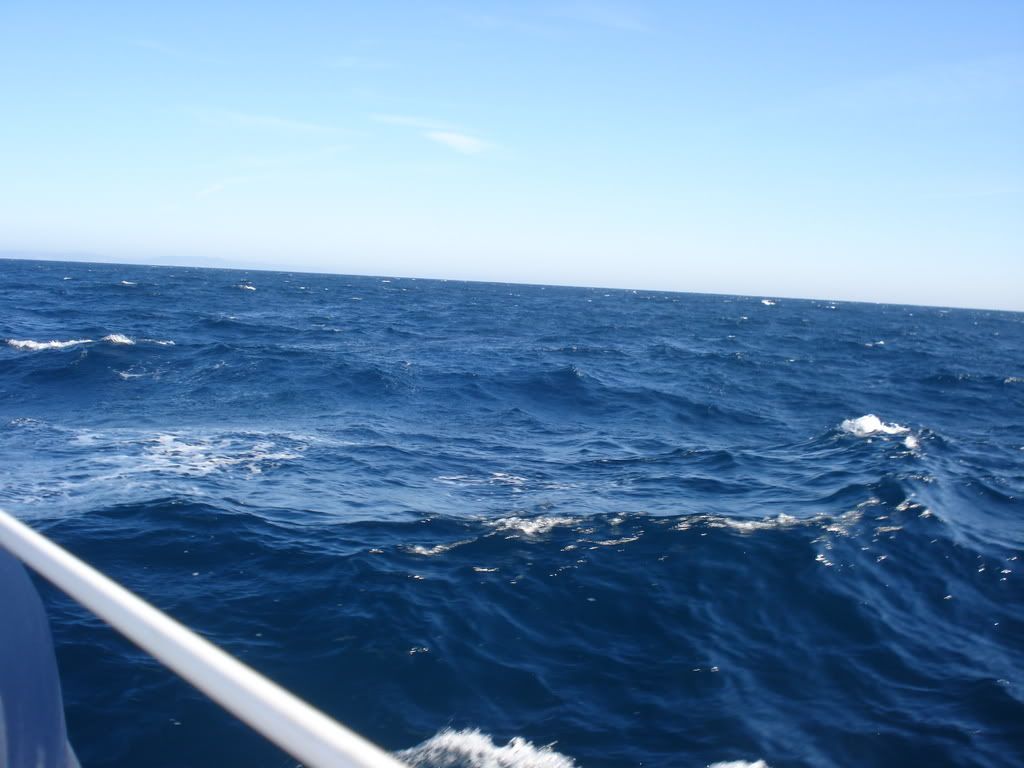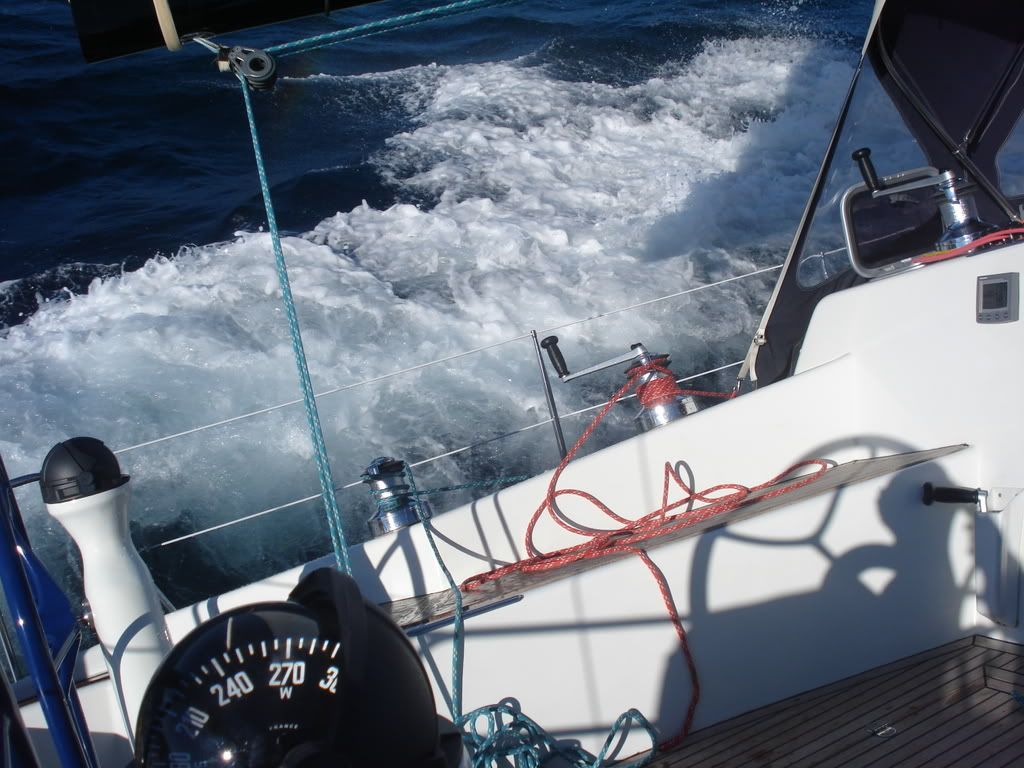 Sometimes the bow would dig completely in the wave, but the camera was too slow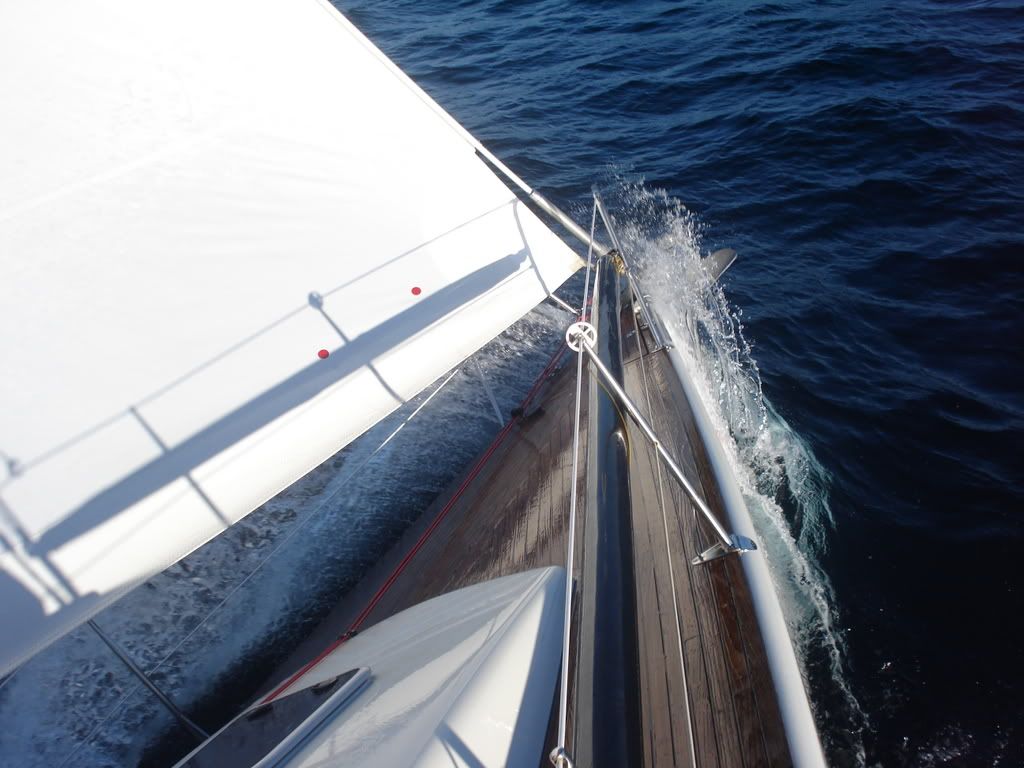 LOOK AT THIS!!! COOL!!!sometimes I could see the eyes of the "shark"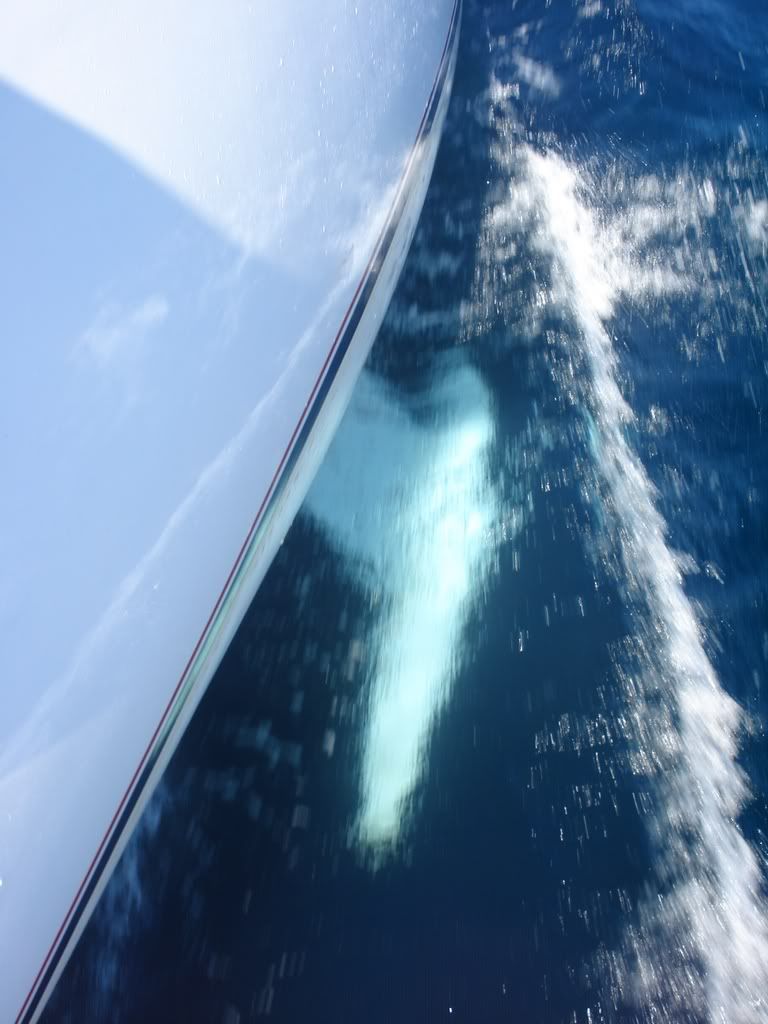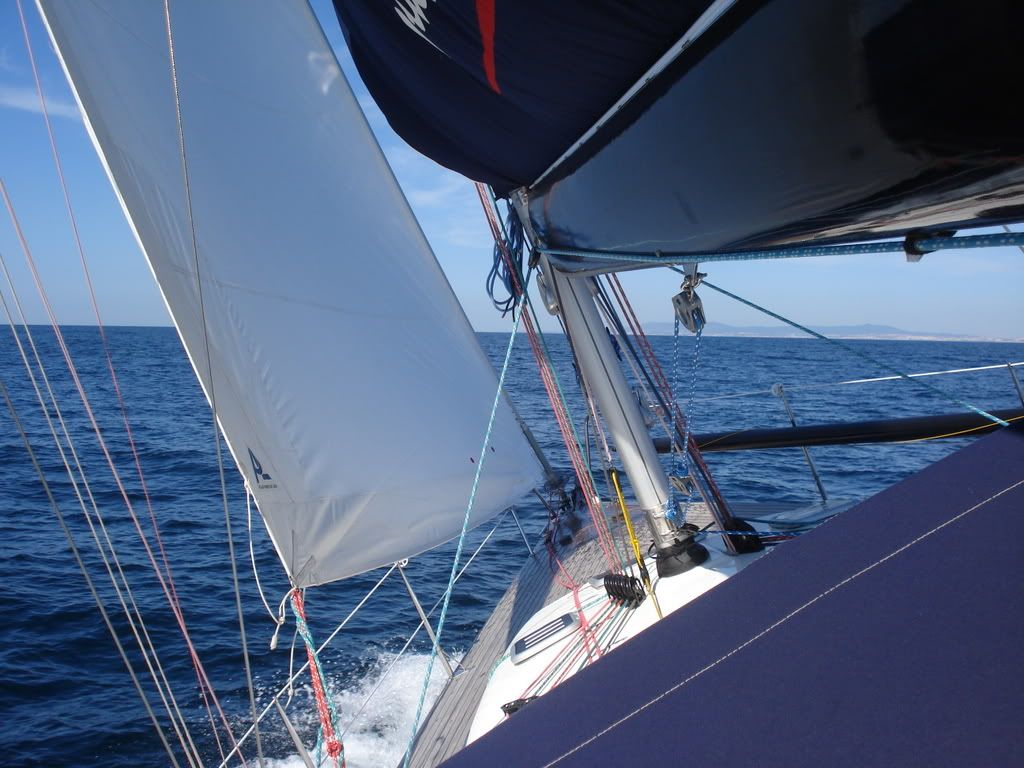 After 3 days I needed a shave!!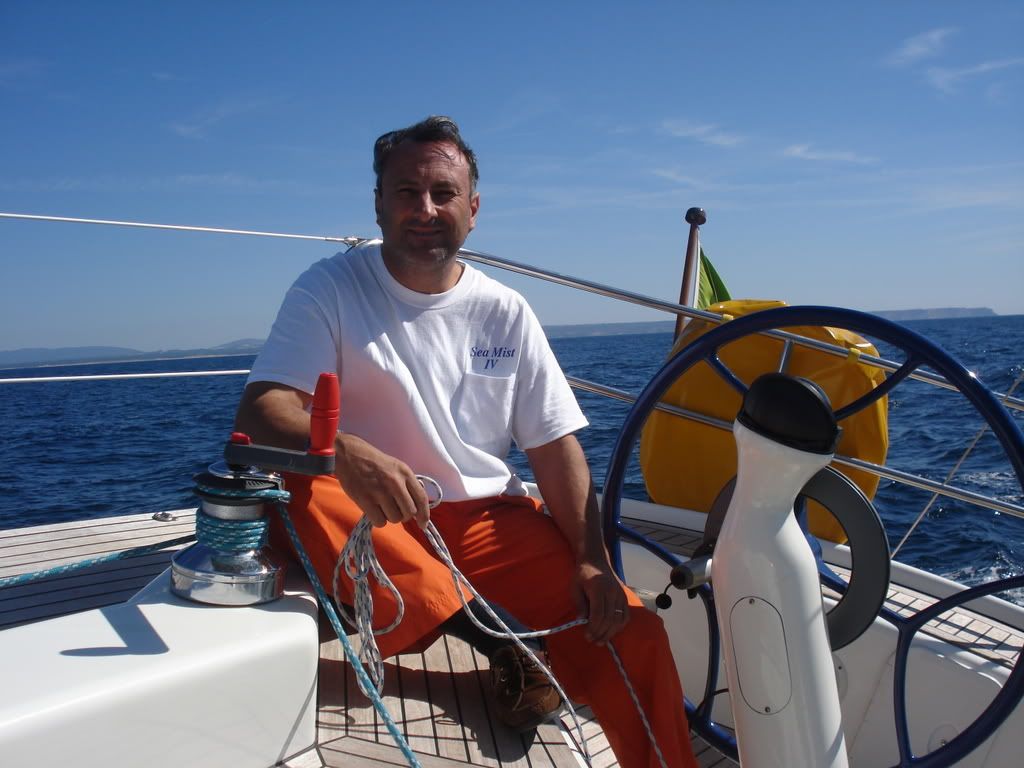 When we arrived, we were greated by a WONDERFULL VISITOR and its crew...no other than the US vessel AMISTAD, yes, its in my marina this week for a few weeks...I have more on that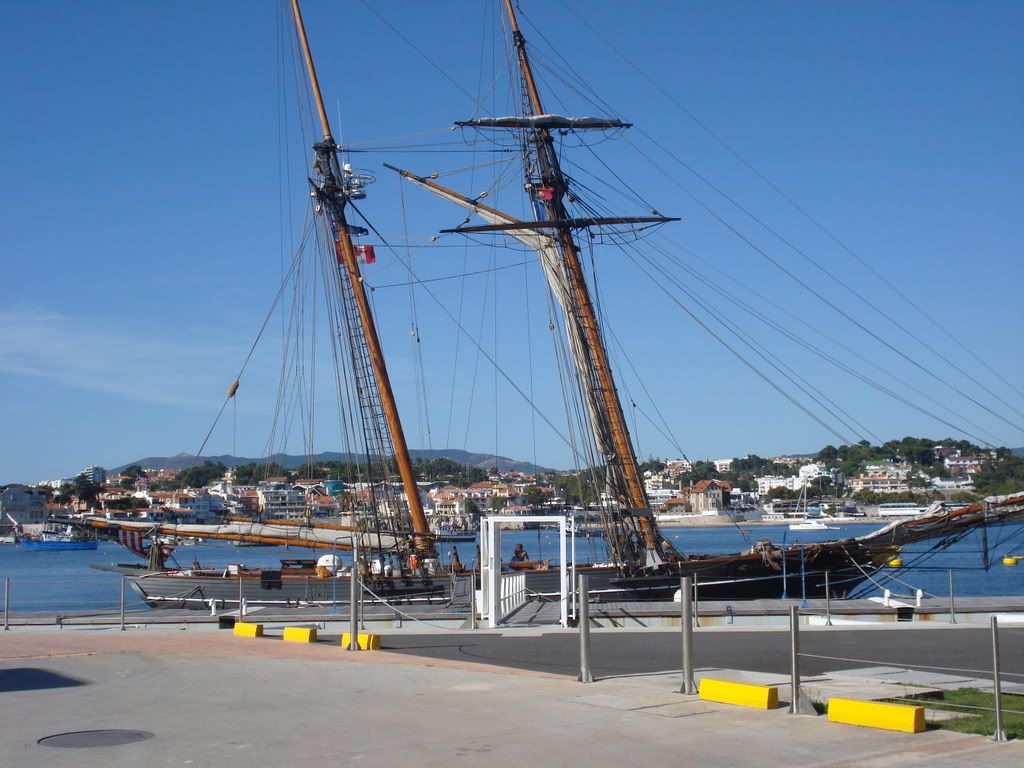 Anyway...once I return fully I will post the videos and all that...
I also filmed a series of small videos that (for those that don't know and want to learn) show the various controls of the mast, sail etc. and how to steer a boat if you lose the rudder. But I need time, soon, ok?
Alex, not full of crap
Join Date: Nov 2006
Location: Lafayette, CO
Posts: 2,446
Thanks: 0
Thanked 0 Times in 0 Posts
Rep Power:
12
Great start Alex. Can't wait for the rest. Enjoy the family.

I forgot how raked the masts on Amistad are.
---
Charlie

Courtney's my Dancing Angel

Where am I, and where's my paddle?
It's not impossible, it just costs more.
Give me ambiguity, or give me something else.
Senior Member
Join Date: Aug 2006
Location: wherever
Posts: 5,609
Thanks: 8
Thanked 30 Times in 29 Posts
Rep Power:
13
Steering without rudder will be especially interesting to me
Banned
Join Date: Sep 2002
Location: Michigan
Posts: 555
Thanks: 0
Thanked 0 Times in 0 Posts
Rep Power:
0
Sure, save the good stuff for the trip home! So, was the great restaurnat in Sine that you went to the one that was closed when we got to it?

I bet your friend did not get to haul you up the mast for over an hour. You saved that for us!

Welcome home Alex and Guilietta!!!!!!! Now we can hear about those daily sails again.
Banned
Join Date: Sep 2002
Location: Michigan
Posts: 555
Thanks: 0
Thanked 0 Times in 0 Posts
Rep Power:
0
Just re-looked at the pictures one more time. You REALLY do like that dodger, don't you? Otherwise, you would have taken it down for the boys trip home. Bet you liked it beating into that stuff the last day.
Senior Member
Join Date: Jun 2005
Location: New Orleans
Posts: 2,161
Thanks: 10
Thanked 49 Times in 46 Posts
Rep Power:
12
Great photos. You've reaffirmed for me how much fun it is to cruise in a fast boat...

Also I like the blue oxford shirt, khakis, and topsiders "uniform". One of my favorites.
Hitchin' a ride
Join Date: Sep 2006
Location: In my mind, I live in Oslo
Posts: 3,191
Thanks: 0
Thanked 1 Time in 1 Post
Rep Power:
13
........Beauty!
---
Great men always have too much sail up. - Christopher Buckley


Vaya con Dios
Senior Member
Join Date: Jun 2006
Location: Toronto
Posts: 5,491
Thanks: 0
Thanked 2 Times in 2 Posts
Rep Power:
12
Alex, I am glad you made it home safely. That is exactly the weather I was hoping to see when I was there, because it makes the boat move! But I have two questions:

1) If you were going North from Sines on a starboard tack, does that mean you had 30 knots of *east* wind? Is that common this time of the year in Portugal? The seas looked rough, but not 30 knots rough from the west, so I am assuming there was just a 12 mile fetch from the mainland. Still exciting sailing, though...the jib looks tight as a drum.

2) Why is the Amistad (which looks like a hell of a schooner) flying the Canadian flag on its mast mast port side? I can see the U.S. ensign off the stern, and I can see the Portuguese courtesy flag in the right place...but it's odd.

You look fit and happy. Wish I was there instead of stripping my sails off tomorrow.
Senior Member
Join Date: Jul 2007
Location: Northport, NY
Posts: 652
Thanks: 1
Thanked 18 Times in 18 Posts
Rep Power:
0
Alex,

Super fotos. Thanks for sharing with us. One thing, can you insert the comments on the bottom of the pics. or reverse the order and keep the comments on the top? Captions are easier to follow underneath.

Looks like dinner was pretty sparse at that restaurant... bottom of the plates? hahaha.

Are you steering or using auto pilot most of the time.. I don't recall you mentioning an auto pilot. That would seem like heavy gear which you would remove for lean racing. But for me, the auto pilot is almost essential so I can do "other things". Helming is a hoot when the conditions are right, bit often it is just boring. What say you?

Giu looks great!

What camera are you using?

jef
sv shiva
Moderator
Join Date: Mar 2007
Location: Chesapeake
Posts: 5,680
Thanks: 0
Thanked 4 Times in 3 Posts
Rep Power:
10
Giulietta,

Very nice report and photos!! I was hoping to see some more photos of Cape St. Vincent, but it sounds like you passed it during the night.

If you are not familiar with the story behind Amistad, I'm sure one of us on the list could fill in the details. My kids have read several books about her, so they know the story well. Try to take Fred by to see her when you're done with the "honey do's".

Valiente,

I'm not certain why the Canadian flag is flying on Amistad, but it usually means that one or more of the crew is from Canada. This is often done as a gesture of courtesy and respect to crew members from other nations.

And, yes, that would be an ugly lee shore (your photo in the other thread).
Currently Active Users Viewing This Thread: 1

(0 members and 1 guests)