Senior Member
Join Date: Sep 2007
Posts: 103
Thanks: 0
Thanked 0 Times in 0 Posts
Rep Power:
10
---
Quote:
Rainin'...tell me about it. We're in control...we're faster so we can avoid whether and reduce the chances of bad weather...were more stable...we're more comfortable...we're more like home...we ain't like camping...and we can go futher on fuel and water and provisions.
If $$ ain't a problem....bigger is better!!
aaaaaah, what about the Titanic?
..... can ya get a baby grand in a 60 footer??
Owner, Green Bay Packers
Join Date: Sep 2006
Location: SW Michigan
Posts: 10,318
Thanks: 0
Thanked 1 Time in 1 Post
Rep Power:
14
Uh ?,
I'd say that the relevant difference is not found in the size of his boat but in the fact that he is in Portugal and we are not. He'll be in Bremerhaven and we will not. We will have the quarter of our boat beautifully, and expensively, painted with our boat's name. He used mailbox lettering from the hardware store, much to the consternation of the frigate birds. If I ever cross the Atlantic again, it'll likely be in a much smaller boat than "recommended". I'll be comforted somewhat by the knowledge that most of the "recommended" sized boats will probably never cross the Atlantic, or any other ocean, and that they and their owners will never find a compelling reason to do so. Ironic how the size of the boat increases in direct proportion to the age of the owner, while the likelihood of an ocean crossing seems to decrease in inverse proportion. Just some observations from a de-clutched mind.
---
"Scientists are people who build the Brooklyn Bridge and then buy it."
Wm. F. Buckley, Jr.
Senior Member
Join Date: Aug 2006
Location: wherever
Posts: 5,608
Thanks: 8
Thanked 30 Times in 29 Posts
Rep Power:
13
The most telling thing about your post Alex is that the first picture you posted is of the wine, not the boat!!! I thought that boats were your number one priority but I've been enlightened.
Now, when you say you're heading back to port, we'll know what you really mean.
Cheers!
Another quiet singlehander
---
In September of '07, in Snug Cove, Bowen Island, I came across the most beautiful Tayana 52 I have ever, or will likely ever see. Black hull, self steering gear, teak decks... If I were staring at a woman, her husband would have taken great offense and beat me senseless.

The owner came out, and through broken English, I learned he was from Japan, had just completed a 50 day crossing from Tokyo, (becalmed for 25 days) and was on a leisurely 10 year trip to 'sail the world'. His next stop was San Fransisco.

I wish I could tell you the name of the vessel, but it was written in Kangi. Each idiom was made from white line, shaped and hardened with something (epoxy) and fixed to the transom. I didn't have my camera with me and have regretted it ever since.

He was a very nice, unassuming gentleman, and I often wonder where he is. I'm sure he very content.
---
"It isn't that life ashore is distasteful to me. But life at sea is better."
Sir Francis Drake
.
Join Date: Nov 2006
Posts: 10,851
Thanks: 0
Thanked 5 Times in 2 Posts
Rep Power:
15
More from my new friend Alois...
Soon I will have many many posts with his adventures...small things he said...like losing his head stay 1000 miles off the coast of the US and staying adrift 10 days after his engine died (no storm, he was lucky, BUT ABOVE ALL THANK BENETEAU FOR A KEEL STEPPED MAST!!!!!!!!!!!!!)....
2 USCG rescues ( he has a big thank you for the USCG), after a Chinese tanker refused to come in his rescue to assist, the USCG flew a heli and stayed with him, with a heli, later a plane and the heli again, untill an Italian tanker (the nice ones), came to his rescue and gave him diesel, unfortunately 1 hour after heading back to the US, the engine quit again, because the diesel the Italian tanker's Filipino crew gave him was contamintaed and clogged all the filters forcing him back to the US.
a six day storm .....twice....doing 10 knots boat speed with only a few turns of his furler genoa (yes furler genoa, no storm sail for this guy)...
There are many stories...like on the 2 six day strom he was exhausted and just cocooned the boat, went inside and lay on the floor with dramamine, as he got seriously sick for the first time in his life....
He will tell me all those by email he will send to me to post...
In the mean time...here he is..my friend Alois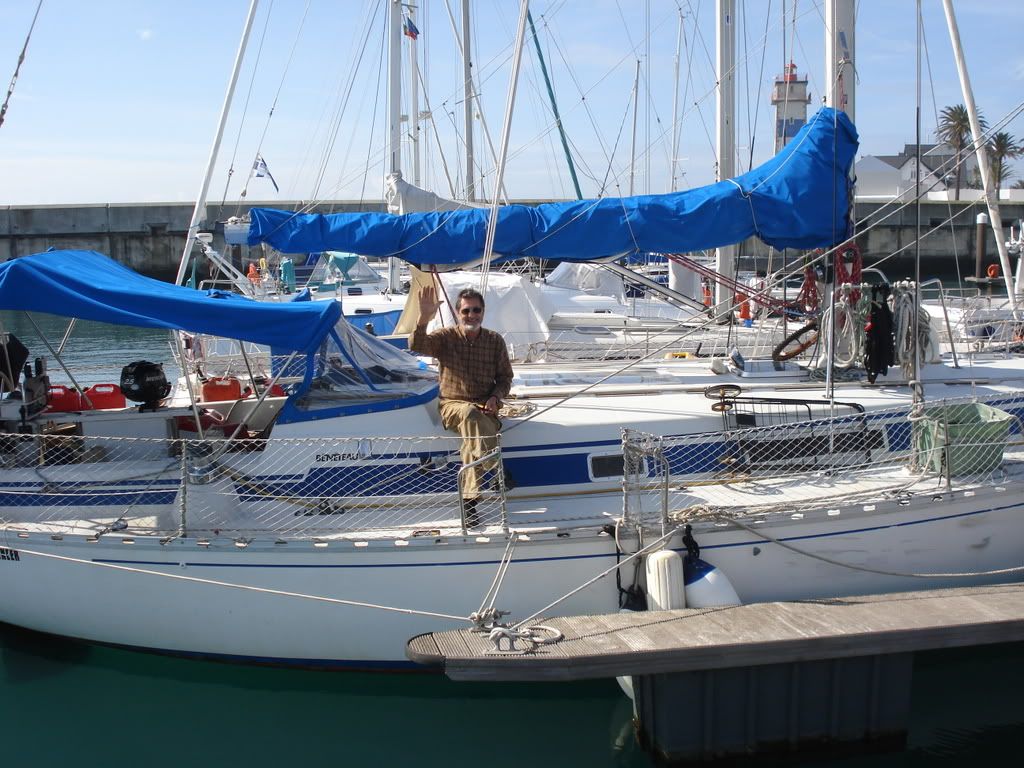 By the way..behind him...my ex neighbour that today was shredding his main sail to do a cover for his already shredded dodger!!!!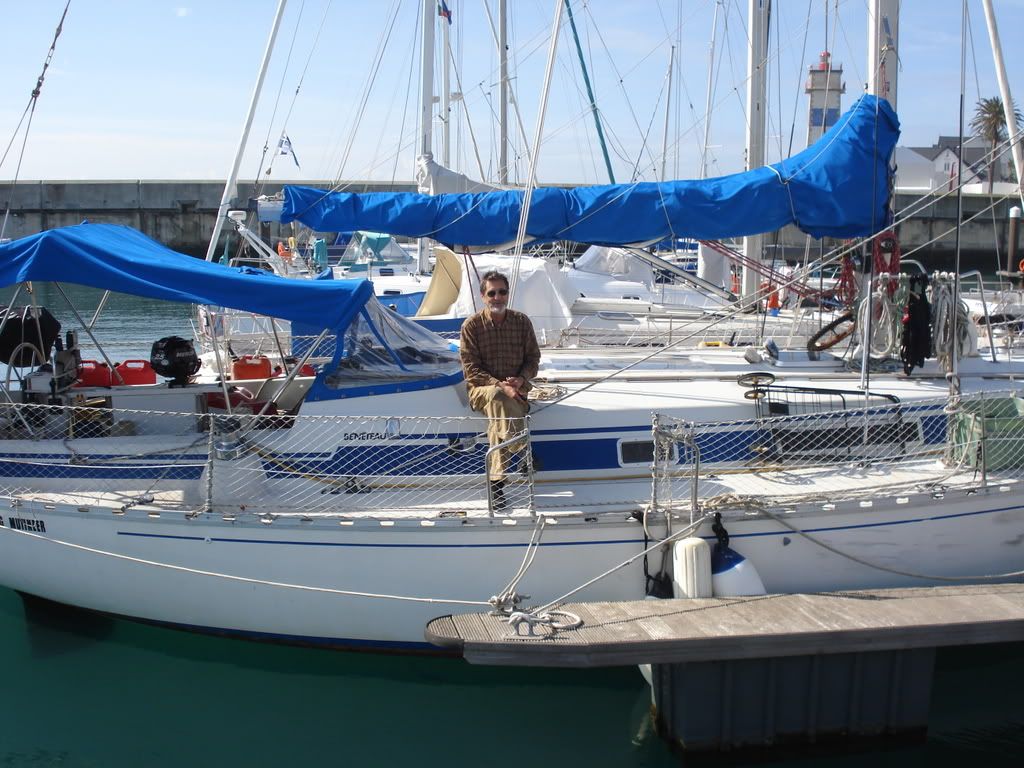 1997 Dehler 33
Join Date: Mar 2004
Location: Rhode Island
Posts: 745
Thanks: 0
Thanked 0 Times in 0 Posts
Rep Power:
14
Giu, tell your new friend Alois "Hello" from us here in America; from your review thus far he is a very skilled seaman, and congratulations to him on his voyages.
Senior Member
Join Date: Jun 2006
Location: Toronto
Posts: 5,491
Thanks: 0
Thanked 2 Times in 2 Posts
Rep Power:
13
Congratulations, Alex. If you can understand a Czech who moved to Australia (I can't even imagine what that must sound like, but it isn't pretty), you can understand anybody speaking English.
I've noticed that the people who quietly go around the world tend to dress completely for comfort and durability, and therefore look like gardeners or librarians.
These pictures remind me of a couple we had aboard last summer for a glass of wine or three. When they had finished cruising the Great Lakes, they simply trucked their boat to the West Coast!
http://www.yachtsentinel.co.uk/
moderate?
Join Date: May 2002
Location: East Coast
Posts: 13,877
Thanks: 0
Thanked 6 Times in 6 Posts
Rep Power:
18
---
No longer posting. Reach me by PM!

Senior Member
Join Date: Aug 2006
Location: Philadelphia
Posts: 2,713
Thanks: 0
Thanked 0 Times in 0 Posts
Rep Power:
13
---
Cam,
How the hell did you ever find that! You definitely have too much time on your hands. Good work.
moderate?
Join Date: May 2002
Location: East Coast
Posts: 13,877
Thanks: 0
Thanked 6 Times in 6 Posts
Rep Power:
18
Hercule Poirot at your service M. Shannon! ....actually I just googled the name of the boat when Giu said there was a Coast Guard Rescue. I remembered he story cause it was fairly local to me and I had some thoughts about it at the time...so I knew it had to be out there. It will be interesting to hear the story from him.
---
No longer posting. Reach me by PM!

Currently Active Users Viewing This Thread: 1

(0 members and 1 guests)
Similar Threads
Thread
Thread Starter
Forum
Replies
Last Post
Atlantic SSB weather channels

ughmo2000

Cruising & Liveaboard Forum

6

11-27-2004

06:57 AM