.
Join Date: Nov 2006
Posts: 10,851
Thanks: 0
Thanked 5 Times in 2 Posts
Rep Power:
15
TDW met a legendary figure...
---
When TD visited me in Portugal, and in one of our multiple goings to my favorite bar at the marina for a few beers and expresso, TD met a legendary figure of Cascais..
His name is Ze Gordo, (Ze is small for Jose)...he is a true old salt...and looks like it too...sun burnt face of 45 years at sea as a fisherman...had to burn his boat to ashes, a 40 foot trwaler with a crew of 5, when the European Union anounced his type of fishing (small local for sea bass) was to be extinct in favour of the fishing going to the Spanish...and gave him a monetary compensation..
Anyway..if you want I will tell that story later..I have plenty stories about Ze.
Ze Gordo knows the sea, the wind and the weather here like no one..he is also my boat keeper...this guy is the one I call in the morning to know where I should sail that day...he smells the wind and the weather and says...go there or there...never fails...he knows the little tricks and the places to be in Cascais and all the way to Algarve...he knows the coast like his hand..no BS...
He is also very short sighted and Val and Tommyt (who have met him) know a story or two...he delivers boats non stop all around Portugal France and Spain...
Anyway..sorry TD I forgot to show you this one..
Alex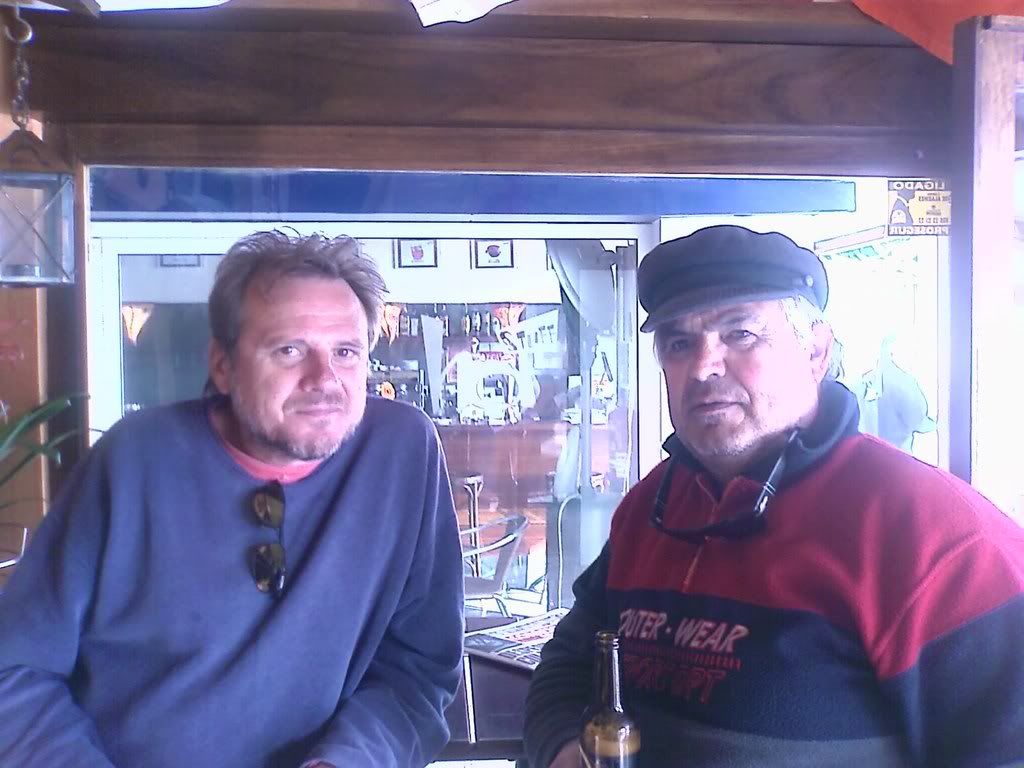 Member
Join Date: Jan 2007
Posts: 86
Thanks: 0
Thanked 0 Times in 0 Posts
Rep Power:
11
Ah, the EU infringing on the fisherman yet again. I have heard that Norway (which only can only plant on 10% of its land) will never join the EU, because the fishing restrictions would destroy the maritime nation.

Sounds like an interesting guy, I would love to have a beer with him.

-Spencer
---
Surprise
Catalina 22
Super Fuzzy Moderator
Join Date: Oct 2006
Location: Sydney Australia
Posts: 17,134
Thanks: 22
Thanked 128 Times in 119 Posts
Rep Power:
10
It was a neat little bar that one.
Damn that fella with him is a handsome devil.
Great little marina complex. Ours is a boatshed , ramshackle jetty and a few moorings. You buggers get bars and restaurants. Sheesh. Ah yes, you did mention how much you pay for your berth however.........
---
Andrew B (Malö 39 Classic)

"Life is a trick, and you get one chance to learn it."
― Terry Pratchett.
Senior Member
Join Date: Jun 2006
Location: Toronto
Posts: 5,491
Thanks: 0
Thanked 2 Times in 2 Posts
Rep Power:
12
I didn't get to go to the bar...Alex had us working the whole time...sob!

Hey, Alex, does your head still flush? And did you put a soap dish in the dent my head left in your bulkhead?

Anyway, I remember that fellow being pointed out to me. He looks like the cousin of half the people in my Portuguese neighbourhood...seriously! I would just call him Gordo, because that is a very common nickname for Canadians with the name of Gordon, a fine old Scottish name.
Senior Member
Join Date: Aug 2006
Location: Philadelphia
Posts: 2,713
Thanks: 0
Thanked 0 Times in 0 Posts
Rep Power:
13
Alex,
I'd love to hear the story about Ze. Fire away.
Handsome devil
Join Date: Jan 2008
Location: LaConner,Washington
Posts: 3,477
Thanks: 0
Thanked 1 Time in 1 Post
Rep Power:
12
Looks like a nice good dark beer
Currently Active Users Viewing This Thread: 1

(0 members and 1 guests)