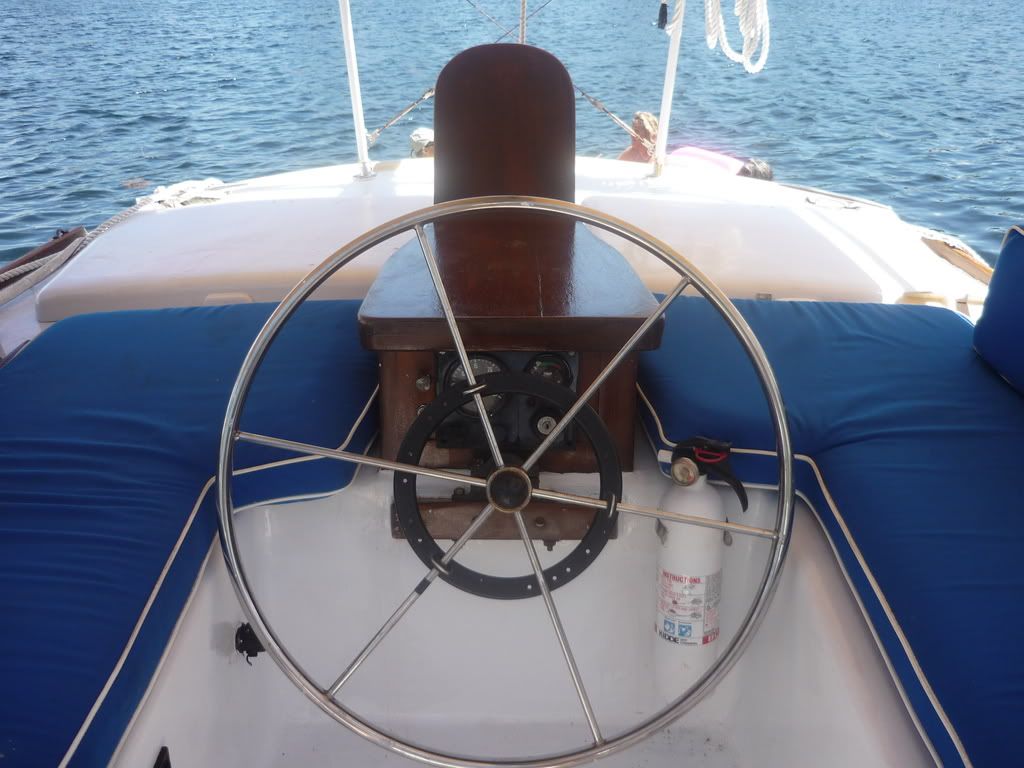 OK I am back. The boat actually appears to be Cutter Ketch, the owner bought it to learn how to sail and was evemn more clueless than I was if that were possible.
The hull is sound.
Did not find any meat hooks on the running rigging but figure on replacing it anyway, the electrical wiring for the DC appears to be shot out as the running lights are out...
Sails need to be replaced.
The mast and boom are made of wood and painted.
[IMG]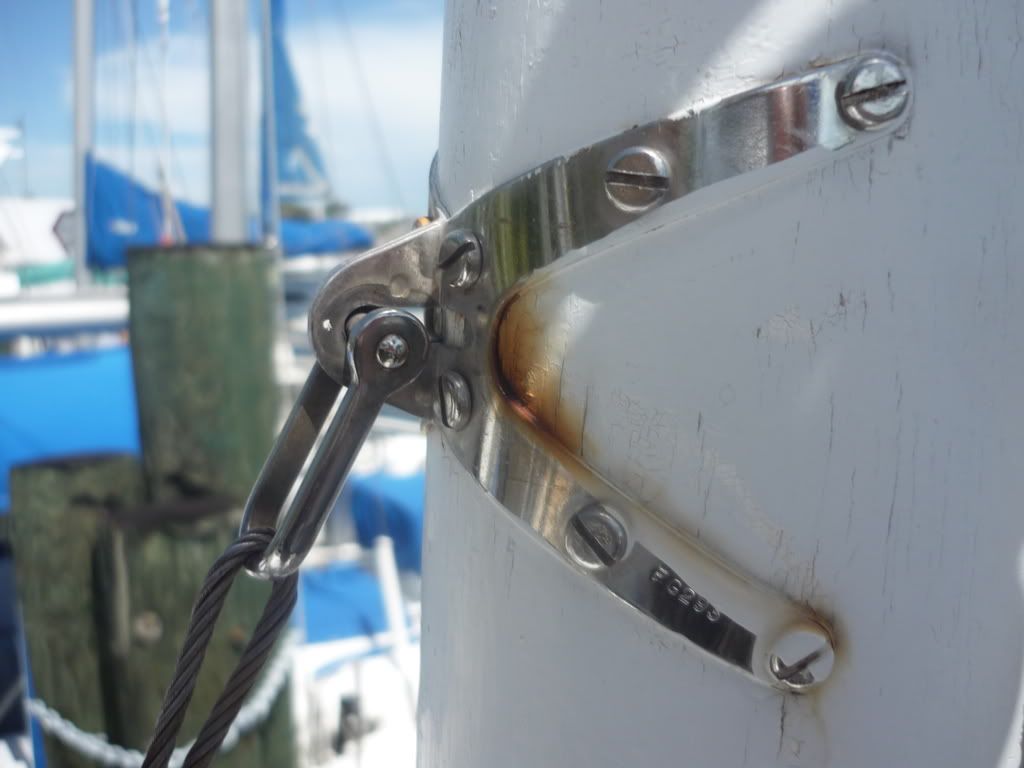 [/IMG]
[IMG]
[/IMG]
Thing is the bottom of the mast looks to be coming loose from its base by the looks of these screws... Nothing I can't handle I reckon.
[IMG]
[/IMG]
The volvo purr's like a kitten. But I noticed dripping coming from where it went down through the hull where the green thing attaches to the brown thing.
Other than that the boat is dry to the bone...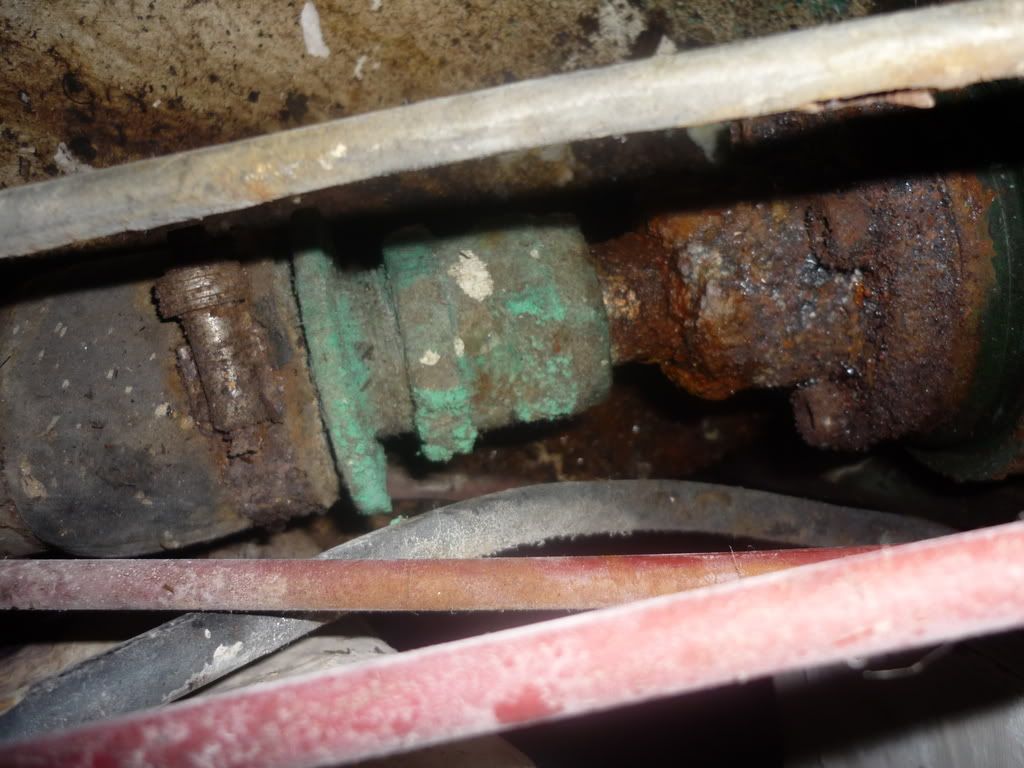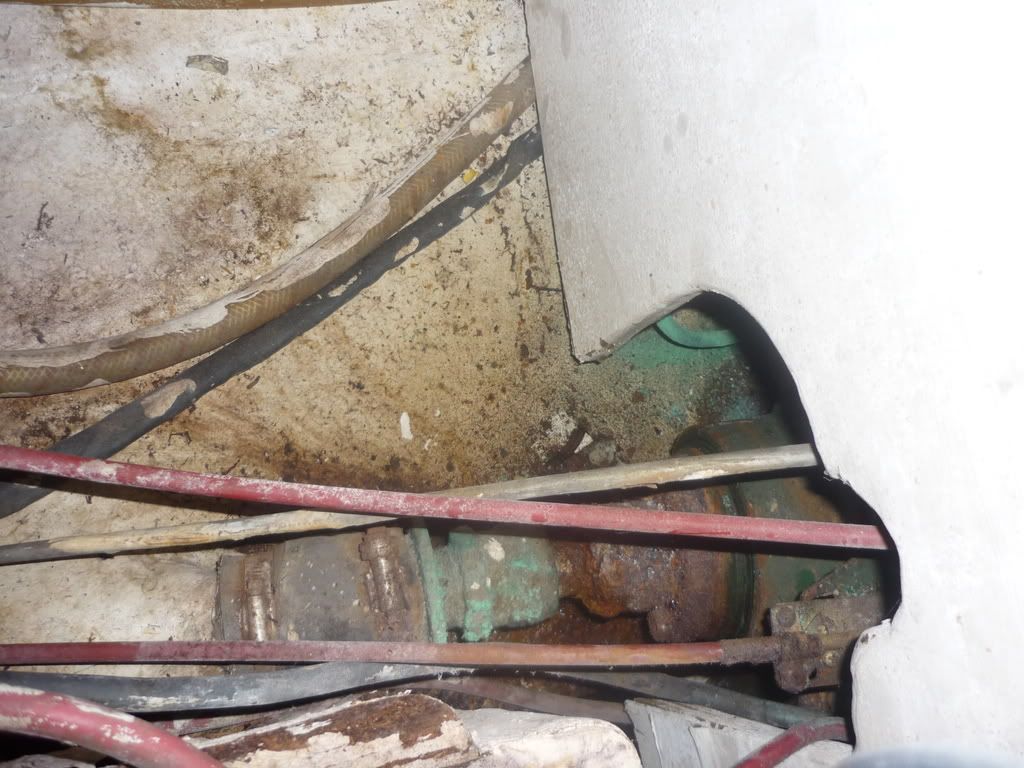 What is this?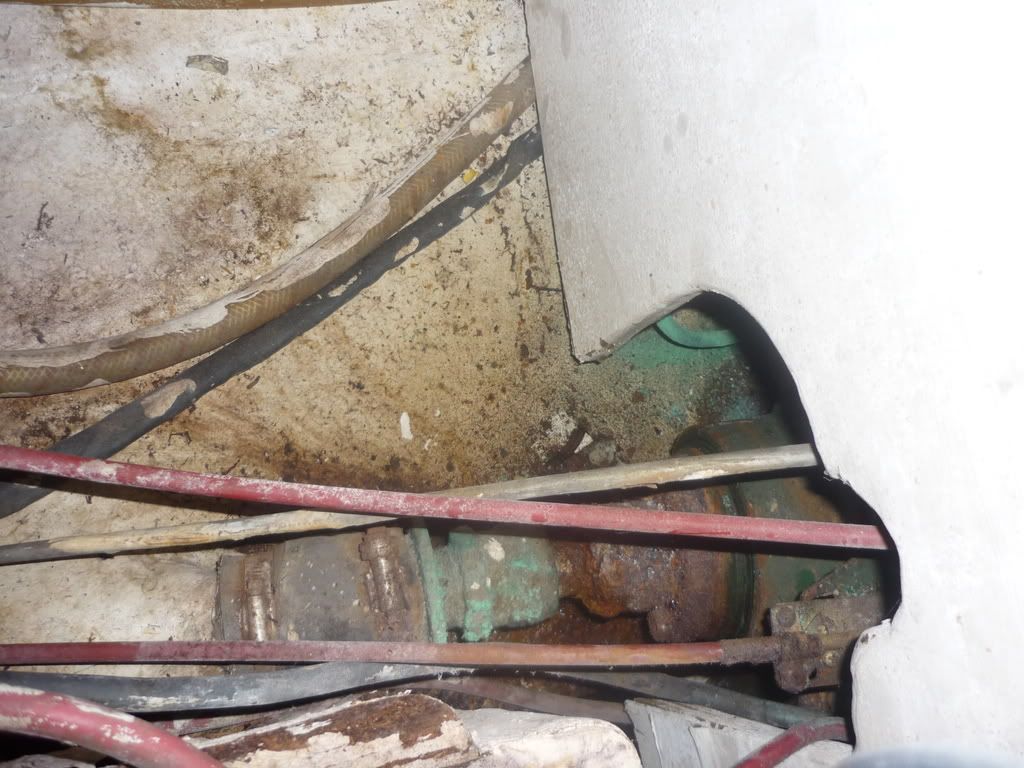 Here is a sight with some other pic's...
Ketch Cutter
My question being posed to you all as I am sold on the boat realizing I am going to immediatly going in the hole for about 8-15k to get it where I want it which is somewhere in the blue...
BTW as I sat there listening to it to try and get resonating frequency I could hear it calling my name...
Now will someone please talk me out of it...
be back later... Girls are dying to go and play now...
Senior Member
I bought an old boat myself, and I thought the former owner didn't take care of things. But now that I see your pictures, way to go PO. My boat is in **** and span shape compared to your pictures. (g)

The mast would worry me along with the rust in most of the pictures you posted.
---
S/V Scheherazade
-----------------------
I had a dream, I was sailing, I was happy, I was even smiling. Then I looked down and saw that I was on a multi-hull and woke up suddenly in a cold sweat.
To view links or images in signatures your post count must be 10 or greater. You currently have 0 posts.

The green and brown thing would scare me........if the mast didn't......

I hope you're stealing this but can certainly understand how you feel.......

I fell in love with a three timing whore once.........still think about her......
---
Poverty motivates me in ways prosperity never could.
(stolen from Eddie Jones)
moderate?
Join Date: May 2002
Location: East Coast
Posts: 13,877
Thanks: 0
Thanked 6 Times in 6 Posts
Rep Power:
17
Oh Gawd Jags...you better have a love for boat work and a steady job. Sorry but if you are STILL serious about this boat you need a real survey and haulout and test it in gear under power.
BTW...that green thing next to the ball of rust was your stuffing box attatched to your prop shaft attached to your transmission.
---
No longer posting. Reach me by PM!

░░░░░░░░░░
Join Date: Apr 2006
Posts: 12,258
Thanks: 6
Thanked 173 Times in 170 Posts
Rep Power:
12
Yah, the green and brown thing are rather critical. From the amount of rust it has been wet too much too long. The stuffing box can be repacked, but you probably would want to replace it before the rubber fails, and clean up all the rust to see what shape the shaft is in under it. Also, the cables/tubing that are running alongside it don't appear to be secured properly, I'd worry about chafing failures and if the red cable is a battery cable--a fire.

The wood is sunbleached, there may be structural damage from going unprotected for too long. If you cna find someone who will still inspect a wooden mast--they may tell you to replace the mast and boom, and that may eat your entire repair budget. A conventional aluminum mast is simply stepped, held down by the tension of the stays (and more recently by a pin or bolt into the shoe) and the way those screws are all lifted, would indicate there's been a lot of movement there.

A purring engine is good...but I think a proper survey could give you a bill of specifics that you could use to reality-check your refitting budget. In any case, make up a bill of goods yourself and price 'em up. Rigging and sails, with nothing else, could also eat up your budget.

Could be a bargain--but one major slip, like needing a new mast and boom, could also double the price of your entire project. (Purchase AND refit budget combined.)

The nicest part of being a pessimist, is that it is always a pleasant surprise to be wrong about these things! [g]
Thanks for the advice guys. I plan on going over to captain Gatto this morning and insisting he getting it hauled and surveyed before I can hand over my savings on a boat that will more than likely wind up costing me the price of a steal that is currently out of my price range now. Guess I will just keep on saving, considering the issues I have discovered are going to cost me 8-15K to fix, if not double that if the mast has to be replaced...
Even if I put 30K into this boat it will still get the Oh Gawd look when I pull up into a marina. That is not the kind of thing that is going to motivate the blood, sweat and tears this thing is going to need out of me. Initially I figured a 40' boat for 8K, was a bargain, but it is clear to me this was more of a you get what you pay for than a bargain after all.
It is really nice being down here... It was worth the trip... Now how do I go about avoiding getting ripped on a $500.00 deposite to hold the boat next time?
---
Last edited by JagsBch; 07-27-2008 at

09:29 AM

.
Senior Member
Join Date: Nov 2002
Location: New York
Posts: 5,856
Thanks: 0
Thanked 18 Times in 17 Posts
Rep Power:
17
Quote:
Now how do I go about avoiding getting ripped on a $500.00 deposite to hold the boat next time?
It never ceases to amaze me how much of a treasure finding this forum has been...
When you make a offer on a boat next time , make your offer subject to satisfactory Survey, financing, Insurance, and sea trail. It will give you some "outs"
Currently Active Users Viewing This Thread: 1

(0 members and 1 guests)