.
Join Date: Nov 2006
Posts: 10,851
Thanks: 0
Thanked 5 Times in 2 Posts
Rep Power:
15
Now..this is really..really different, have a look!!!
---
OK, here we go…
Those of you that know me, (to some extent), know that I am absolutely crazy and proud with the rich history of my country, and have a special passion and an absolutely blind love for our great proud, still standing firm castles and our unique monuments; buildings that would be impossible to build today, no matter how we tried.
These buildings and castles, followed the formation and history of my Country, step by step.
On many occasions, I have shown, here, some of the rich history and the old "goodies" we have in Portugal, in threads like the Santa Maria do Bouro Monastery, the Roman road of Geres, the Jeronimos, etc. etc.
You may also know, that I am crazy and an absolute lover of sailing.
The Problem is, it is quite hard, and sometimes not well received, when on a sailing site, I talk and show images of castles and monuments that have very little to do with sailing, and sometimes, folks remind me about it. (one of the reasons I stopped doing it).
Well…this year, I found the perfect spot, one of the only places in the World, where you can actually combine sailing with castles, and even pre Jesus history, as far back as 600 B.C..or even as far back as 2500 B.C. if you want to.
In this place, I am about to show you, you can actually sail into History, and imagine, what it was like, 1000 years ago, when Portugal was invaded by the Moors, and the fighting was a daily thing that lasted 700 years, until we expelled the Islamic Moors out of Portugal.
But you can travel backwards in time even more, and sail, pretending you are a Roman sailing vessel, looking for trade…the year is 200 B.C….
So please enjoy what I am about to show you, and above all, admire the beauty of the sceneray, as well as the beauty of a place, where time stopped, and only on a sailboat will you feel the true feeling a place like this provides.
Ladies and Gentlemen, I present you ALCOUTIM.
Strategically placed in the Guadiana River, that divides and forms a natural and political border between Southern Portugal and Southern Spain.
It's located roughly some 22 Nm up the river, in fresh water domain, and this year, I went there with the family, by boat.
Yes, the river is sailable even for a 10 foot draft like mine, in fact its sailable all the way up to almost 50 nm, where it gets shallower. In Alcoutim, the water is fresh, the tide is small but you still move up and down with the tides.
More about Alcoutim…
Menhirs and dolmens testify to a human presence at the end of the Neolithic and beginning of the Chalcolithic (approximately 4,000 B.C), in the context of the megalithic culture that covered the whole of what is now Portugal.
It was the deposits of copper, iron and manganese however that attracted men from about 2,500 B.C. until the time of the Roman occupation and a number of mines were established. The ores dug from them were smelted locally, then shipped down the Guadiana river to the Mediterranean and from there to the four corners of the Empire.
Human occupation continued under the rule first of the Visigoths and then the Moors (5th to 13th centuries), often on the same sites, giving rise, after the Christian reconquest, to some of the settlements still to be found in Alcoutim municipality.
Alcoutim's origins are presumably linked to the, fact that it is situated at the place where the Guadiana becomes tidal. The vessels that plied the trade in metals and other mares were obliged to wait at this spot for hours, until conditions allowed them to sail down the river. Consequently there was a need for structures to support and defend them.
Conquered during the reign of King Sancho II, in 1240. The town of Alcoutim was not repopulated until that of King Dinis, who granted it a charter in 1304 arid, in view of its strategic position in relation to the neighbouring kingdom of Castile, granted it to the Military Order of Sant' Tiago (St. James),
At the time of the wars between Portugal and Castile (now Spain) in the 14th century, a peace treaty between kings D. Fernando I and D. Henrique was signed in the middle of the river, opposite Alcoutim.
There followed centuries of peace, interrupted only by the War of the Restoration (1640-1648) and, in the first half of the 19th century, by the struggle between liberals and defenders of the absolutist monarchy, when the fearless guerrilla leader Remexido hid with his forces in the hills of Alcoutim and the surrounding region.
The decline of the mining industry, the difficulty of raising crops on the area's poor soils, the town's distance from the coast and the Guadiana river's diminishing importance as a transport route all led to a lengthy period of economic stagnation for Alcoutim and its municipality chat has only gradually been reversed in recent decades.
So hoist your sails, secure the cabins..here we go...to Alcoutim.
First... as Neil Armstrong would see it from the sky..(use google Earth).
Start in southern Portugal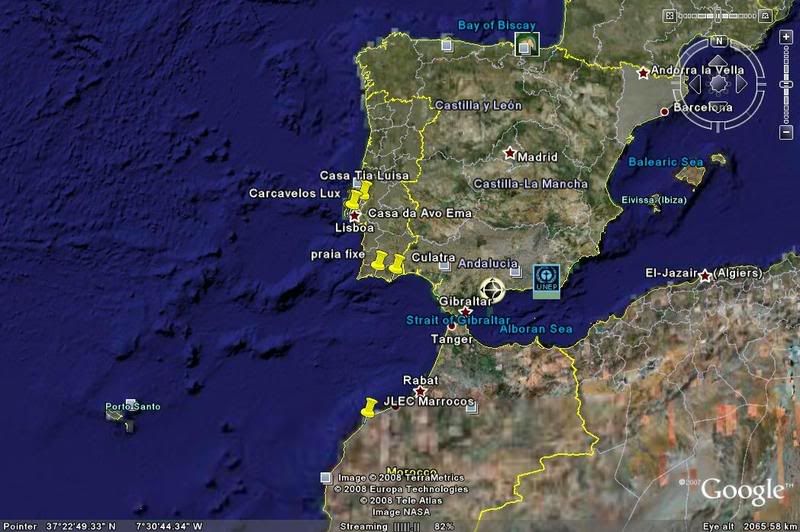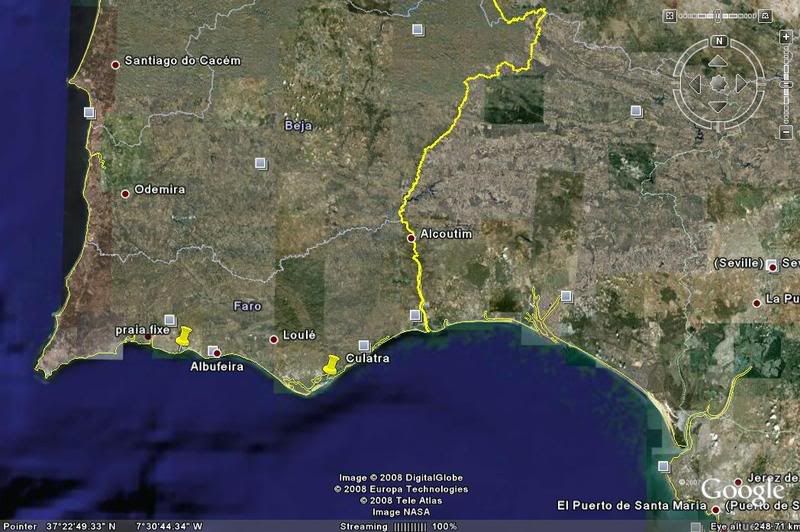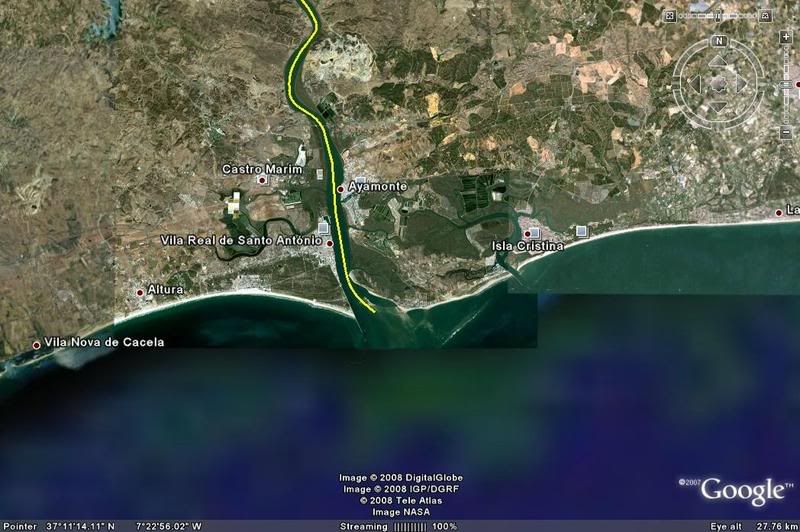 We enter thru the chanel in
Vila Real de Santo Antonio
(which was once destryed by a Tsunami because of the Lisbon earthquake of 1775)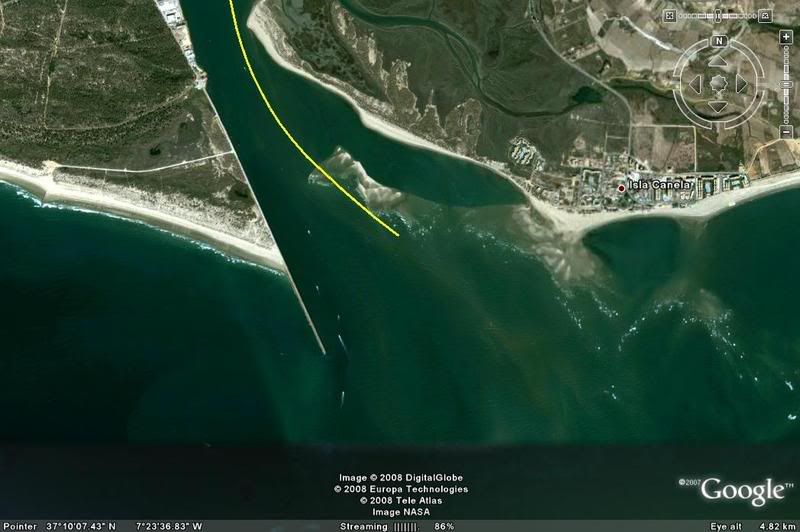 Then navigate up the river, which on a good day can be done all by sail. (we did up to half way thru, then continued on motor, as I was affraid of my draft, which was never an issue as we got over 15 all the time in mid river).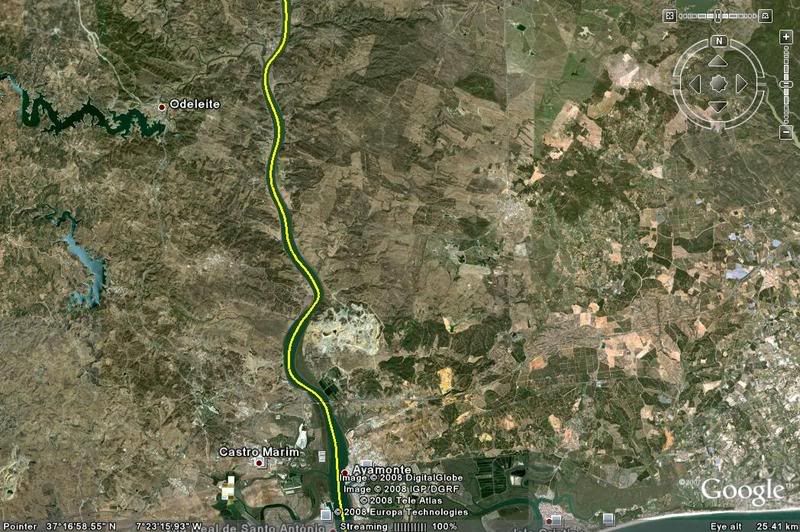 Here is Alcoutin, on the left, with Spain's Sanlucar on the right
And here, you can see the Castle from above.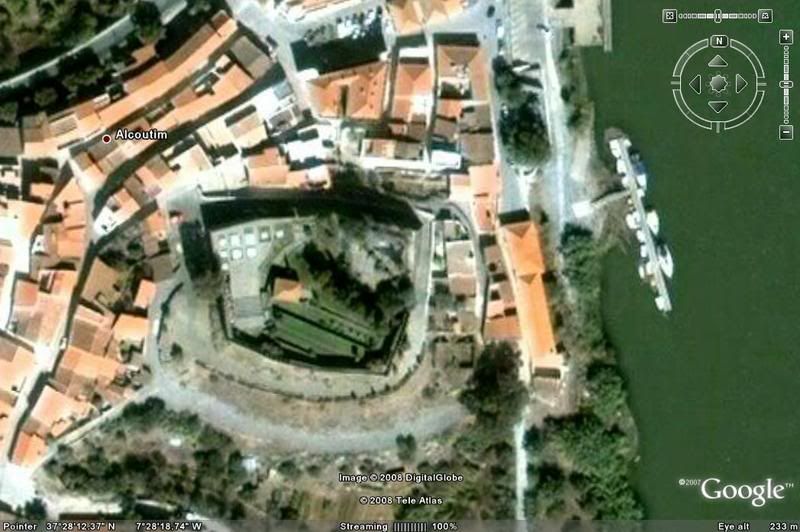 Ok, so what about from the boat??
As soon as you pass Vila Real, you know where you are because of the bridge between Portugal and Spain.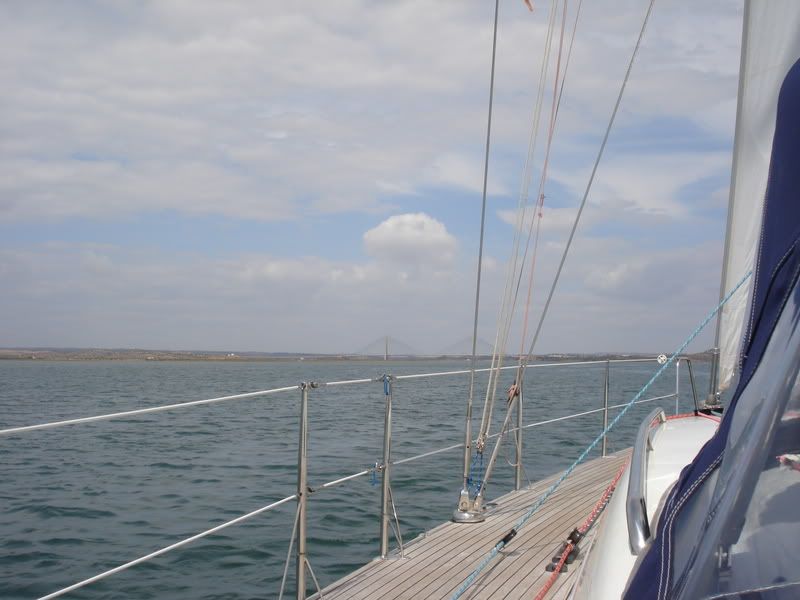 This is looking back at the channel entrance.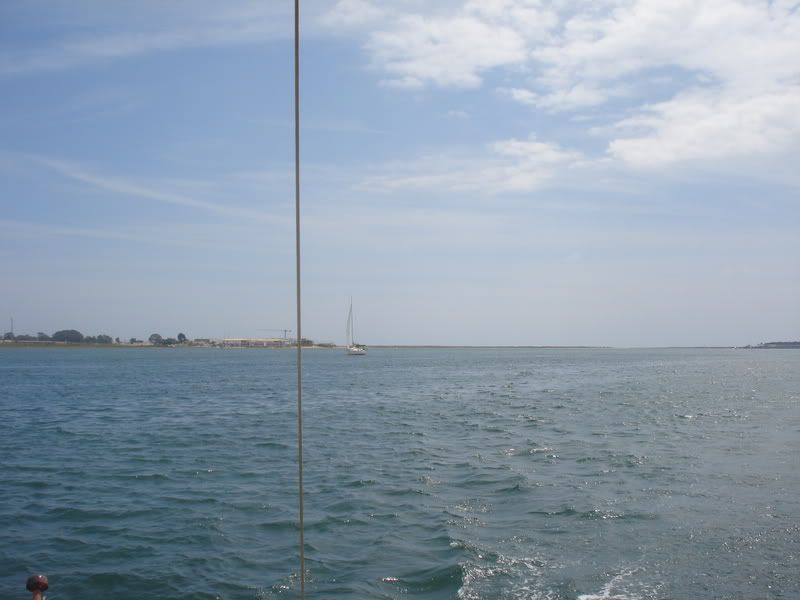 We then proceeded North, the bridge is getting near, the river will get narrower.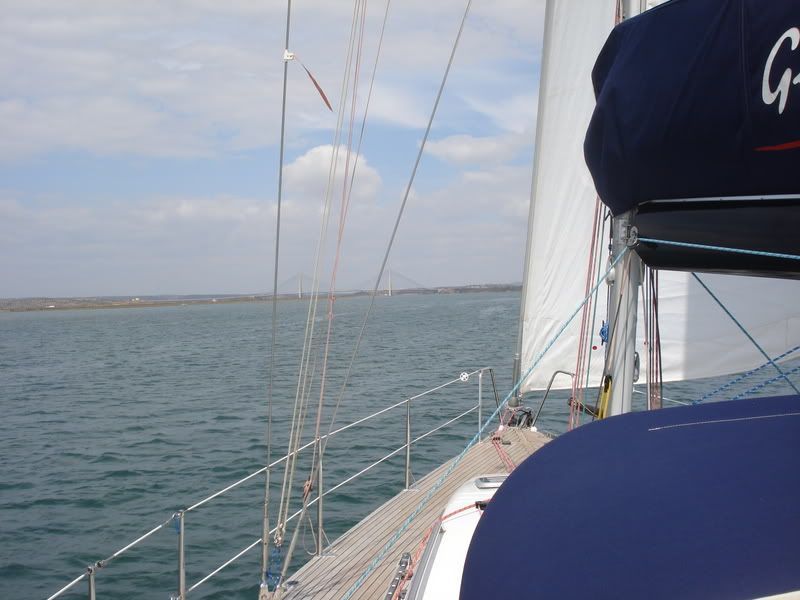 On the right side, in Spain, is the City of Ayamonte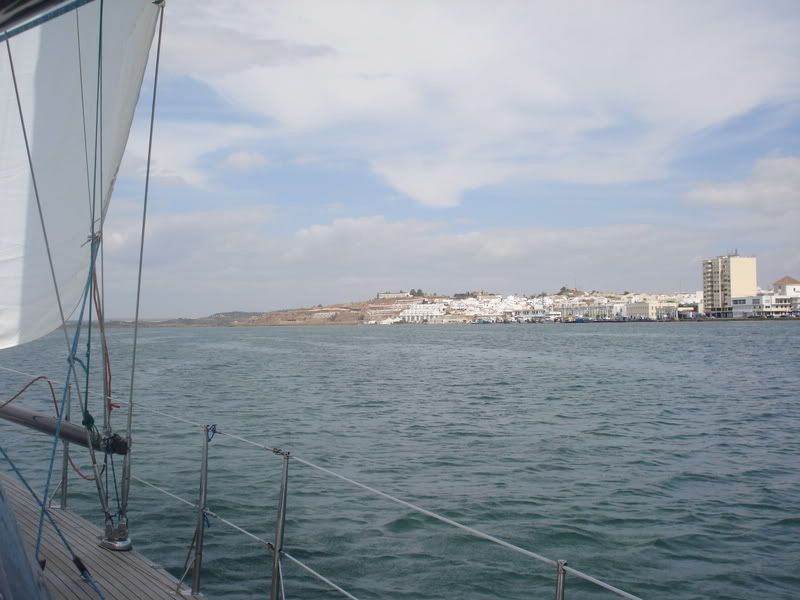 That has also a nice marina, but I prefer the marina opposite to that one on Portugal's side (the photo is the Spanish one)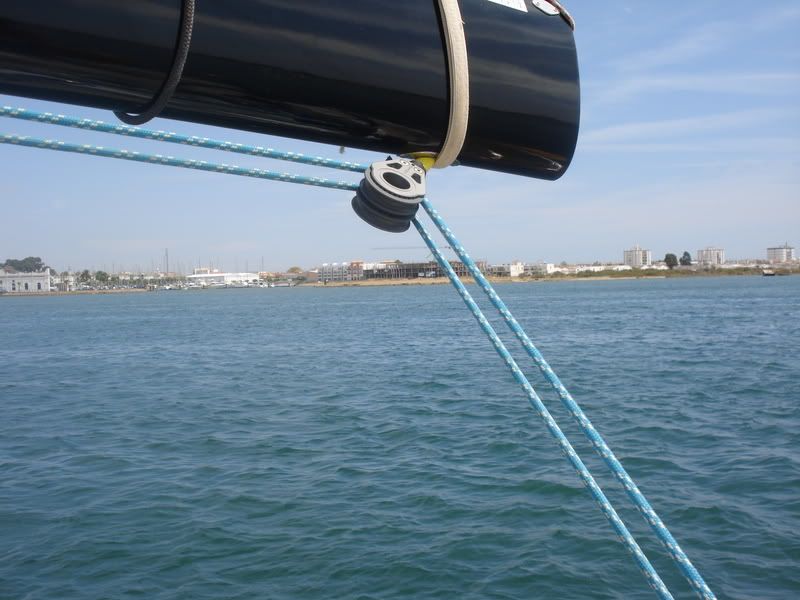 but let's move on, shall we?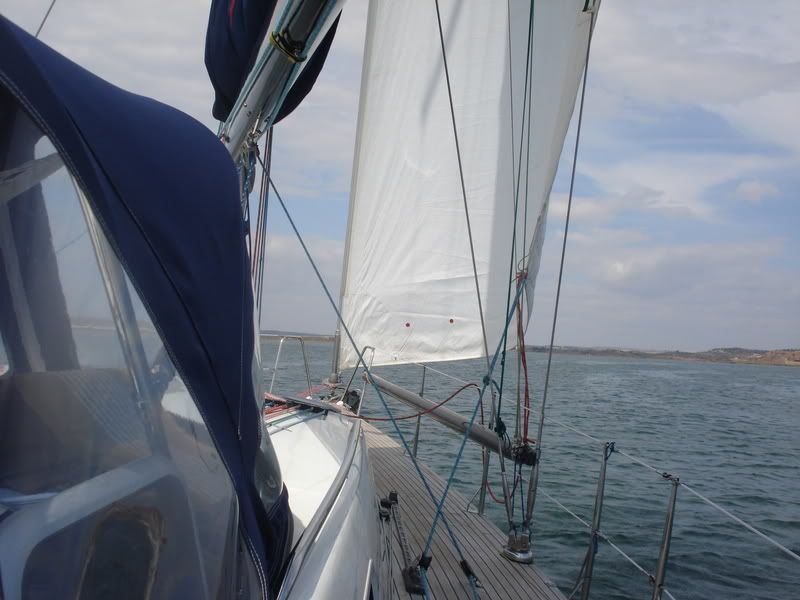 Luis has become a true sailor now, he moves about the boat as if did it all his life...
Well Fred is Fred..he's happy anyway...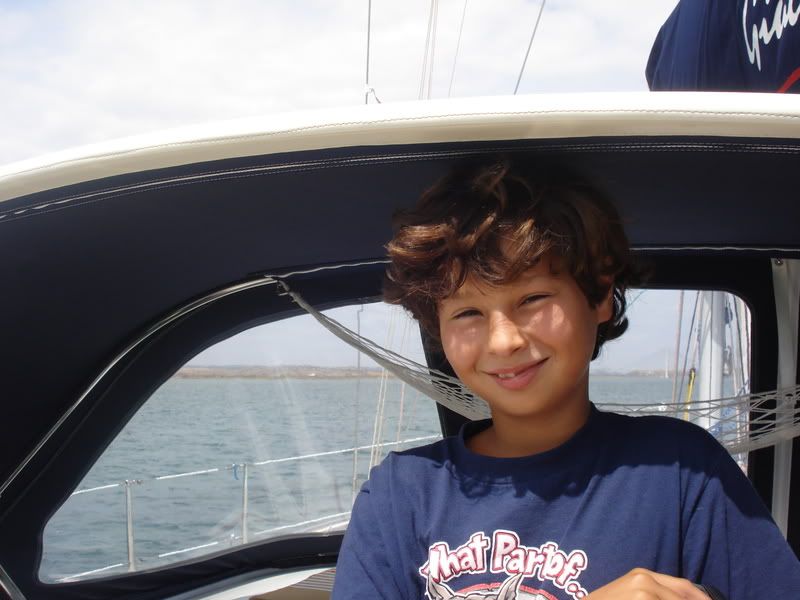 me??? I'm allways cool...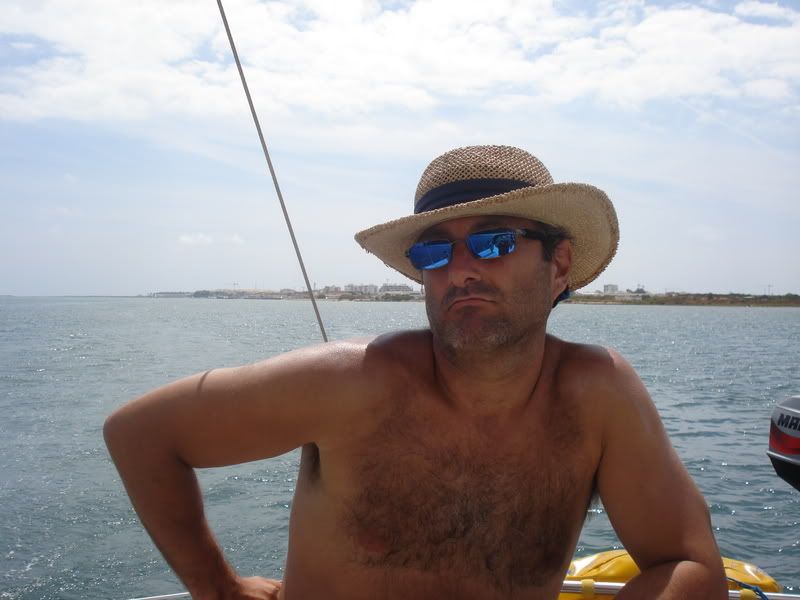 Fred wanted to brag about sailing in the river, so he did most of the sailing..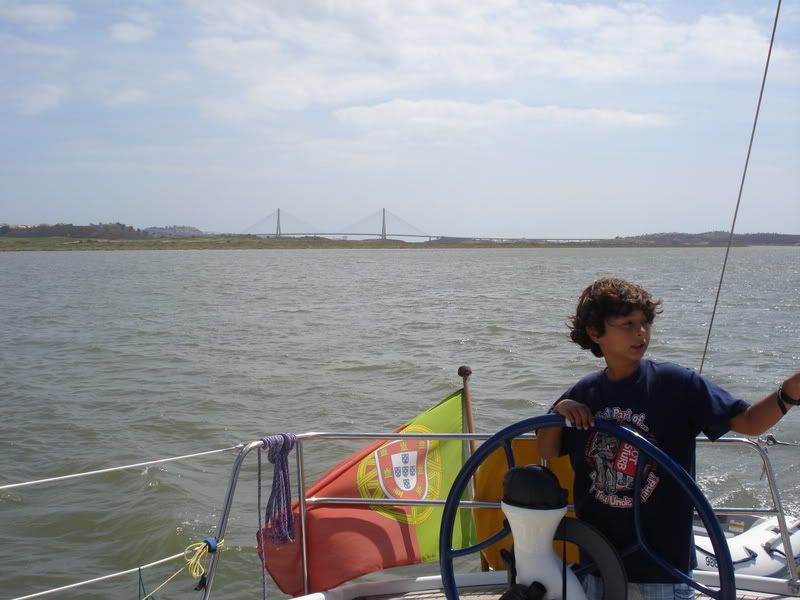 we then got near the bridge, at this point I got a little nervous..my mast height is almost 20 meters...a phone call to a friend showed we were OK, we had 2 meter clearance..(me?? I think we had less, but we passed..sloooooowly but surely).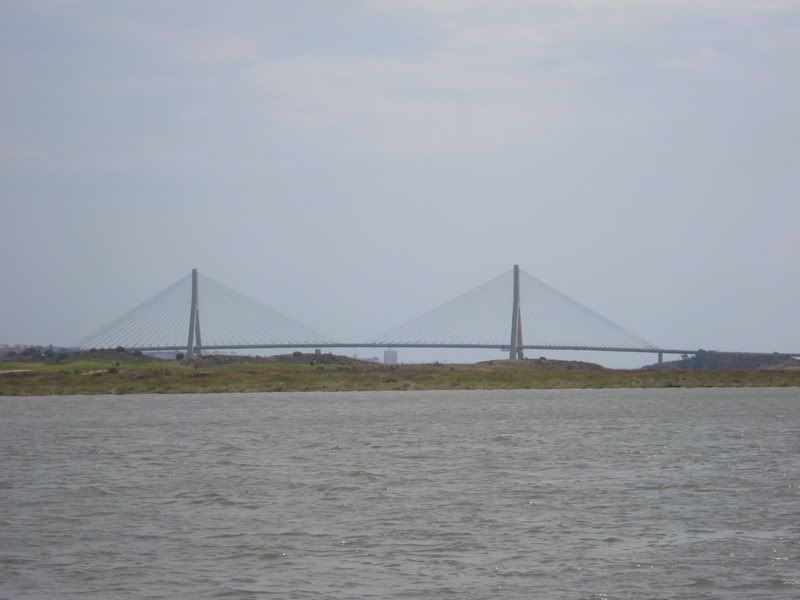 Spain is investing heavily in this coast, as they are losing the race to us...at least here..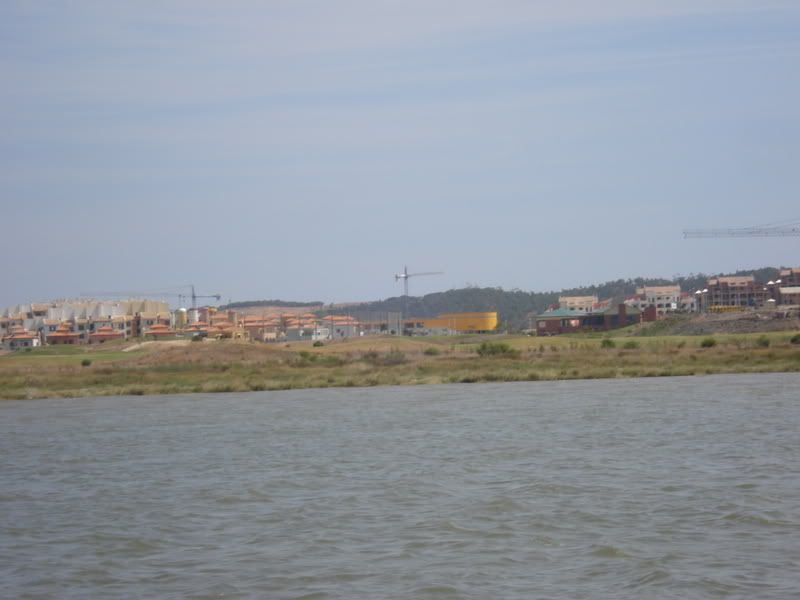 nice golf course here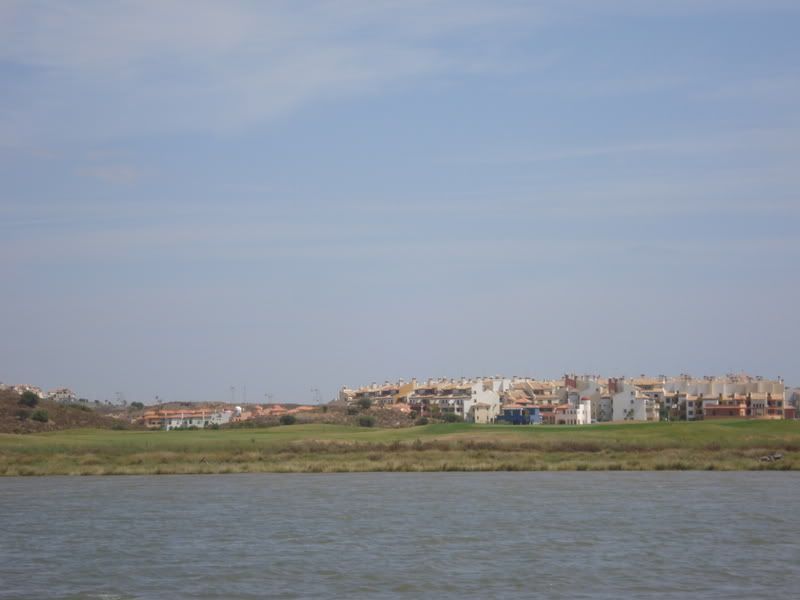 and opposite, on the Portuguese side..Oilve trees, for the best olive oil in the World, not that stuff they sell in Italy.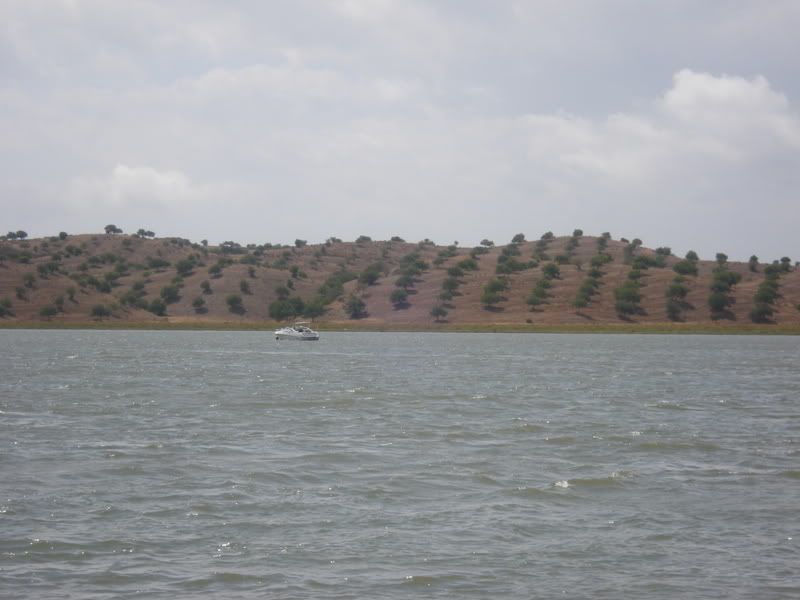 Then as we ventured up, the wind picked up a litttle and we hauled (you know what), with the current and wind we were doing 10kts SOG, which at 10 feet draft made me nervous..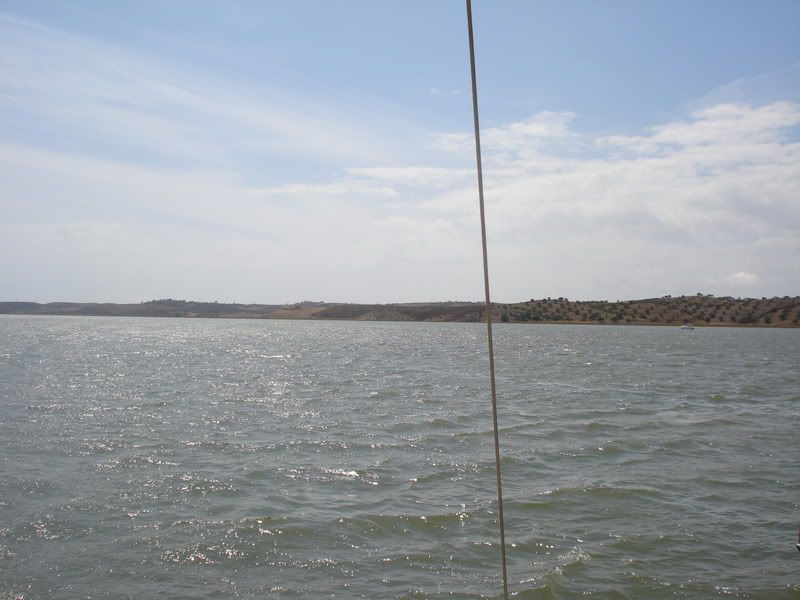 By the way, that boat in the left far away is the one we passed a few photos before...fast...fast...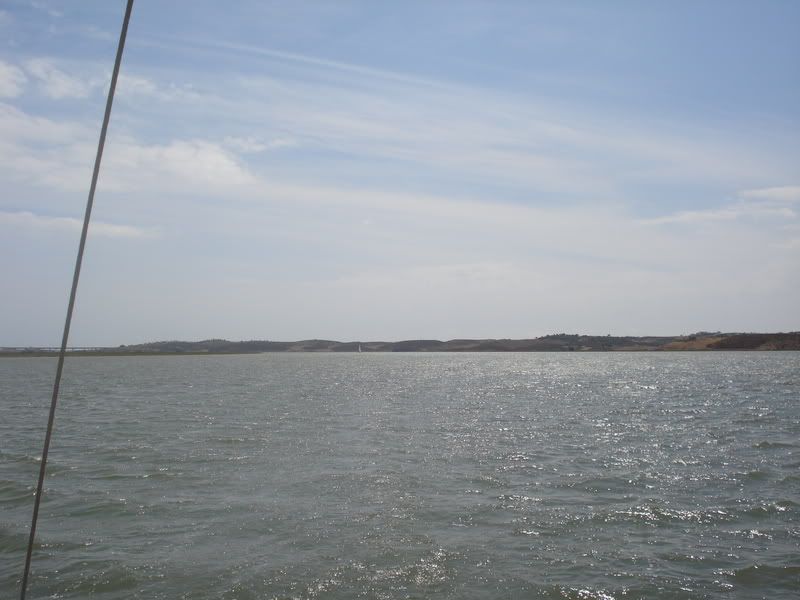 and so we went up the river..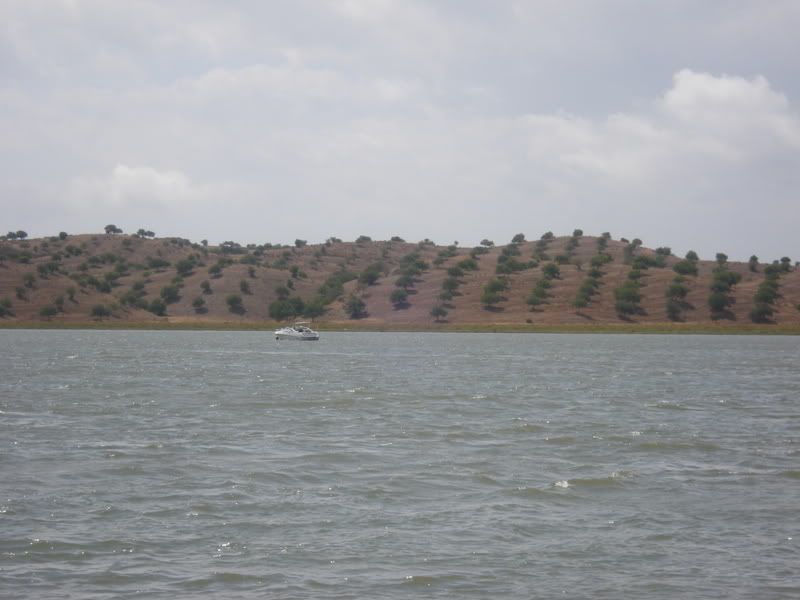 and it got narrower and narrower...at 10 kts, in places with the depth probe indicating as low as 12 feet..down came the sails, and on the motor, for a while.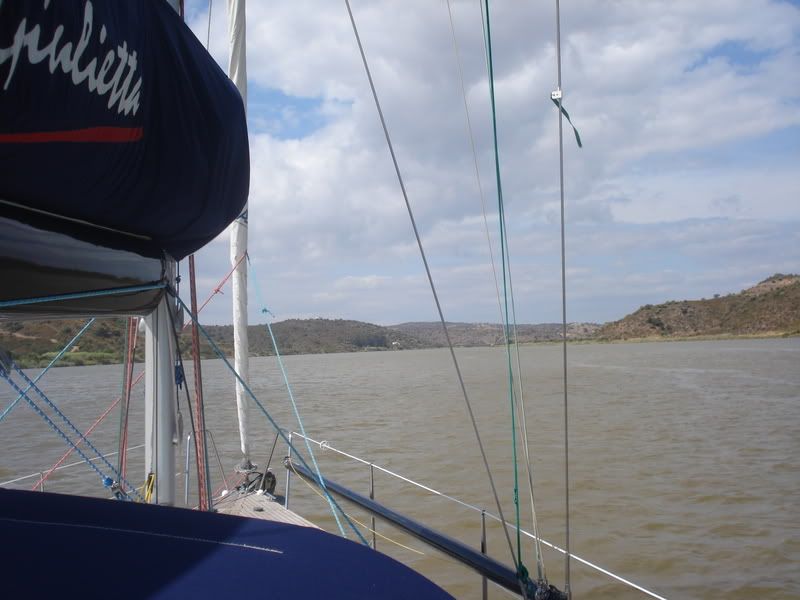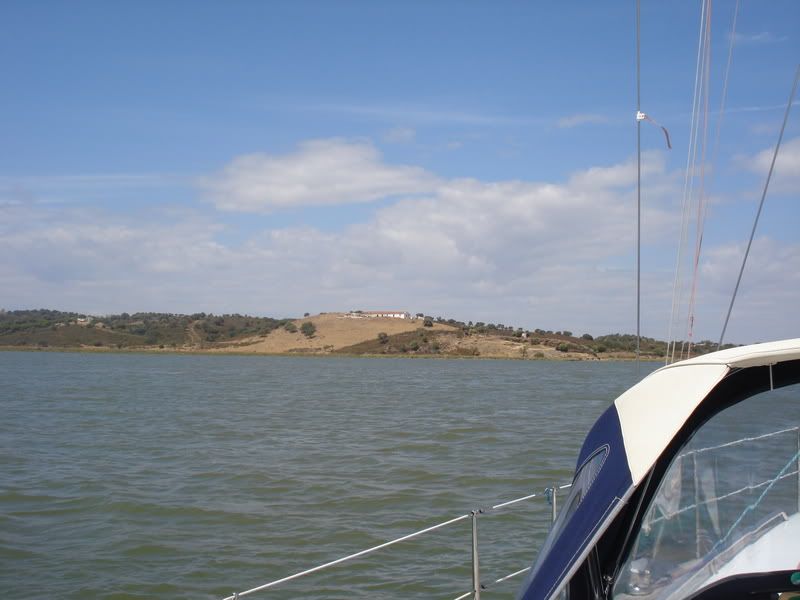 Sometimes we would be really near the coast.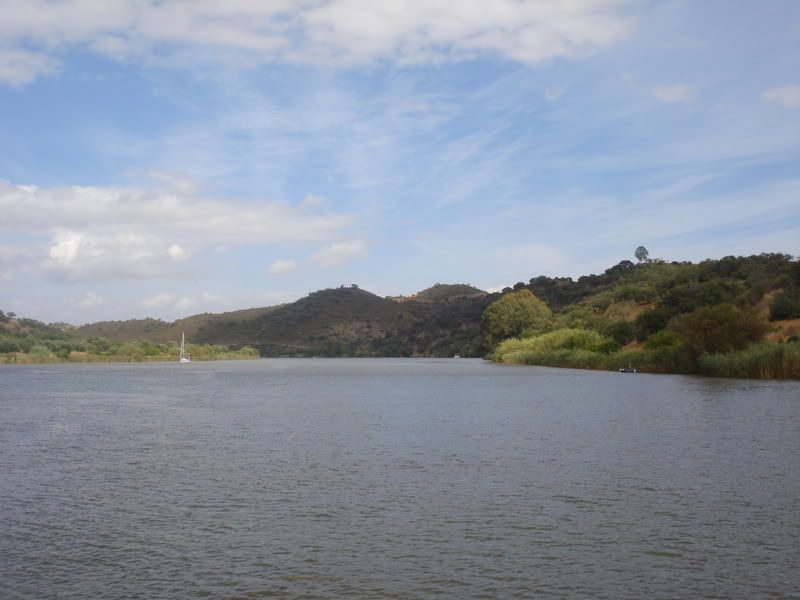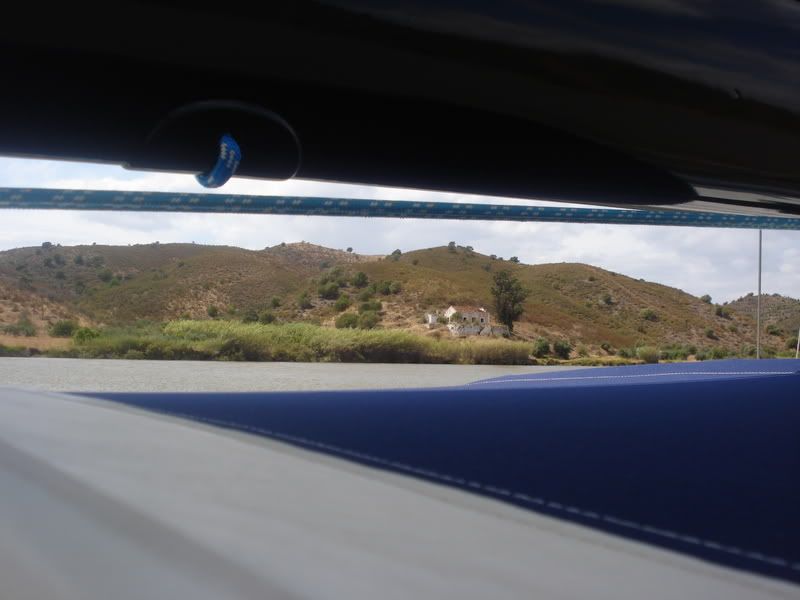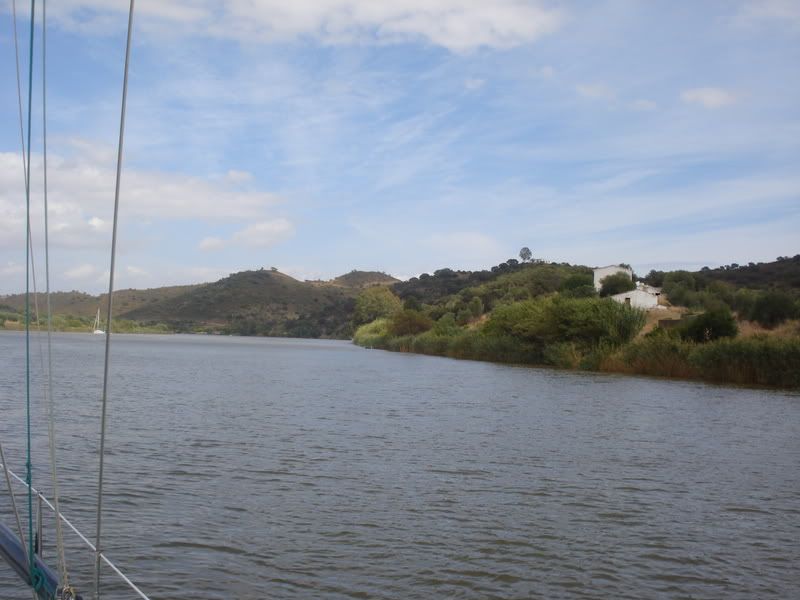 Just a curiosity see those little houses, you see in the photos above, there are little houses like that every 2 Kilometers or so, and all on the edge of the shore, and all visible from one another in a straight line.
They are the left over's, reminiscences of the Fascist Government we had till 1974.
They were outposts or Guard houses, for the GNR (National Republican Guard poilce), a spin off the Army that used to have 2 or 3 men patrolling the river day and night to stop illegal emigrants and immigrants, as well as "contrabandistas" (smugglers).
In those days, Spain a country that never managed to have a decent coffee, (even today, yukkk), used to buy smuglered coffee, silk tobacco and almonds from Portugal, and in return the smugglers would bring shoes..go figure..shoes from Spain..but even today the tobacco and coffee are number one buy by Spanish in Portugal.
Let's keep going...are we there yet??
The view is so peaceful, especially if you got hammered in the ocean before.
And so we moved on...are we there yet???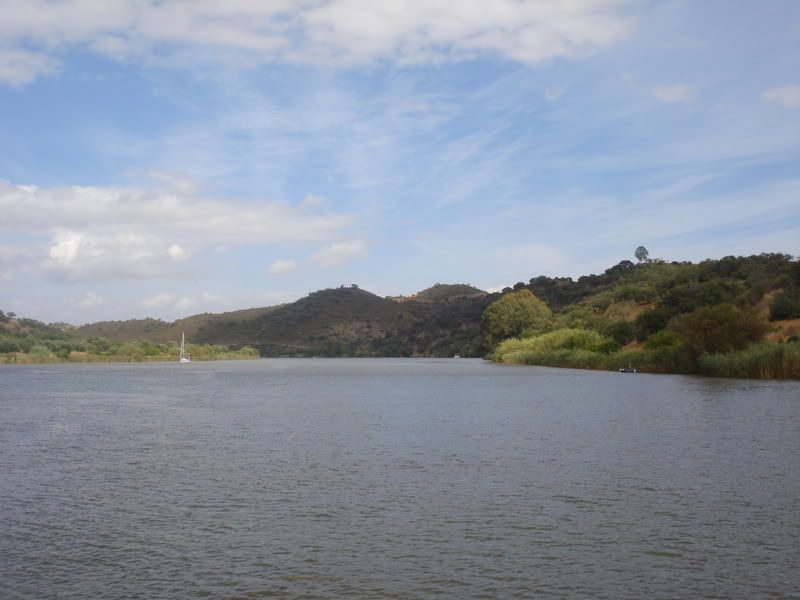 Then....we arrived....ALCOUTIM!!!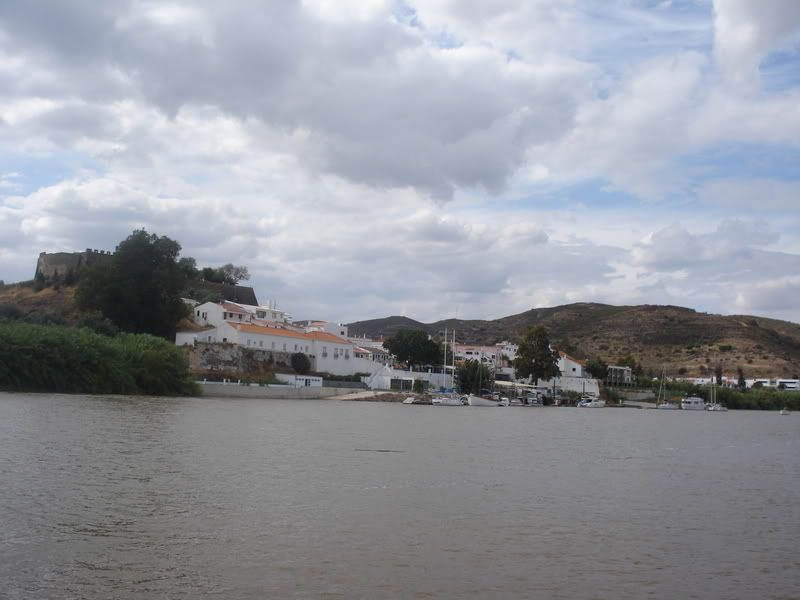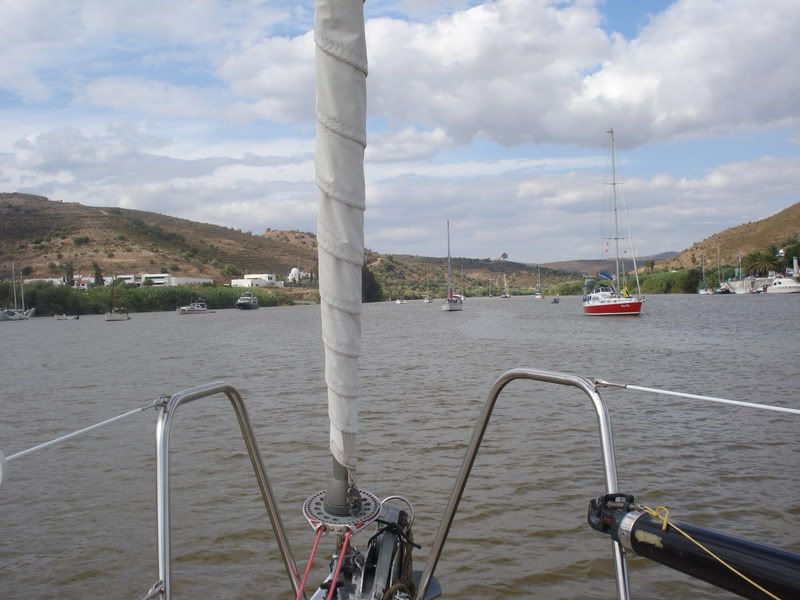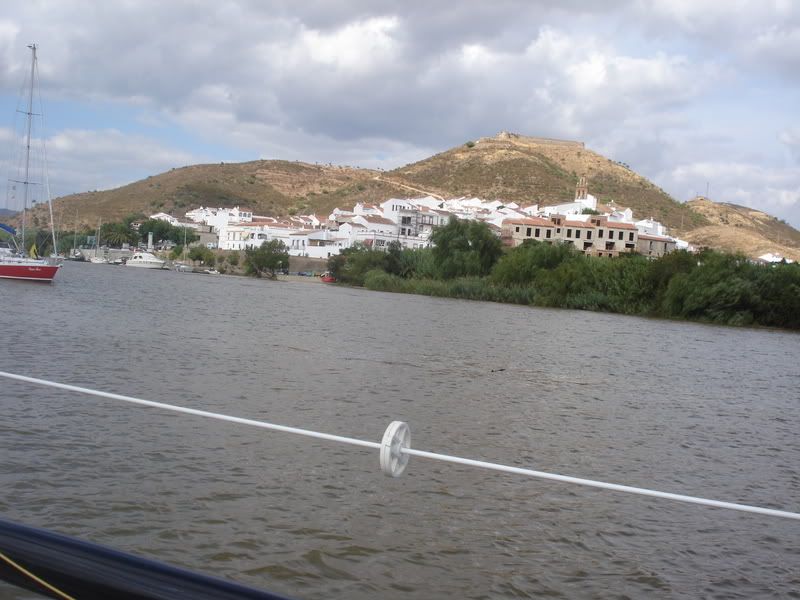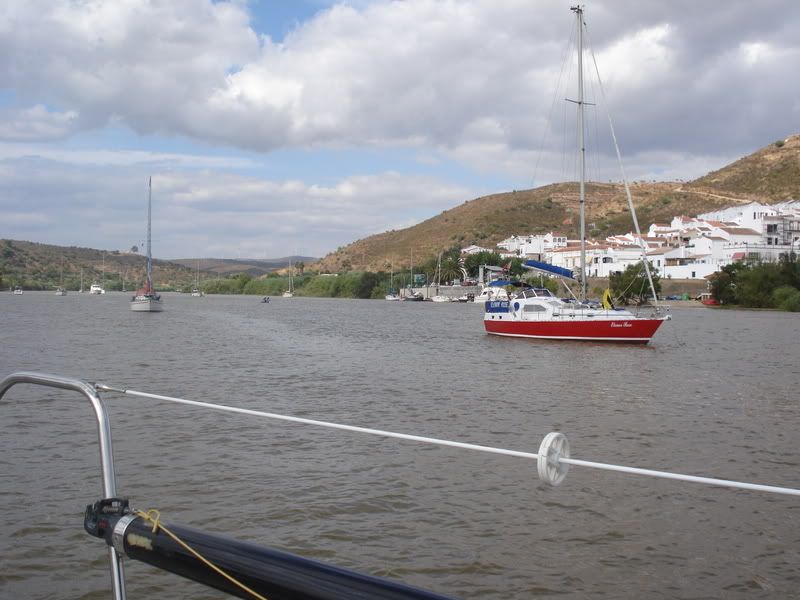 The river continues like this for another 50 miles or so..but we stay here, in Alcoutim, let's anchor. (time for my double anchor tandem method, the currents are strong) Gotta have something to piss the Rocna guy, anyway..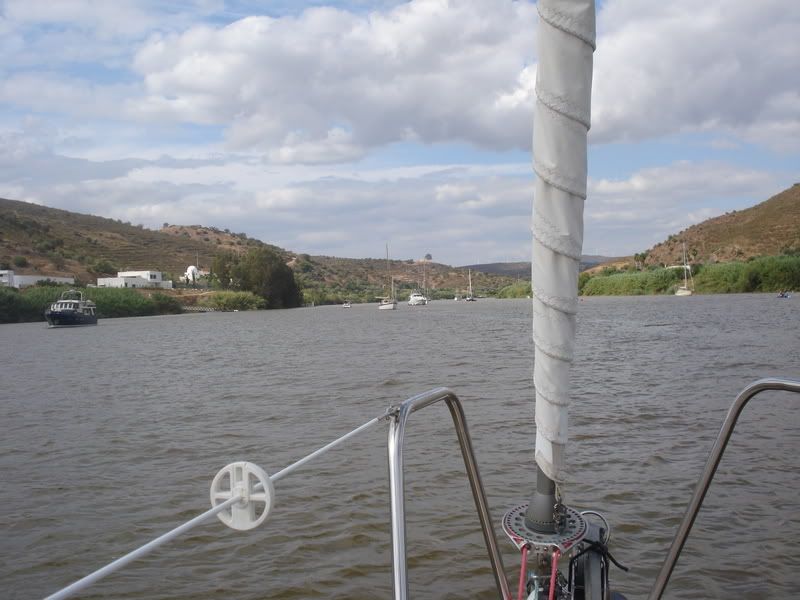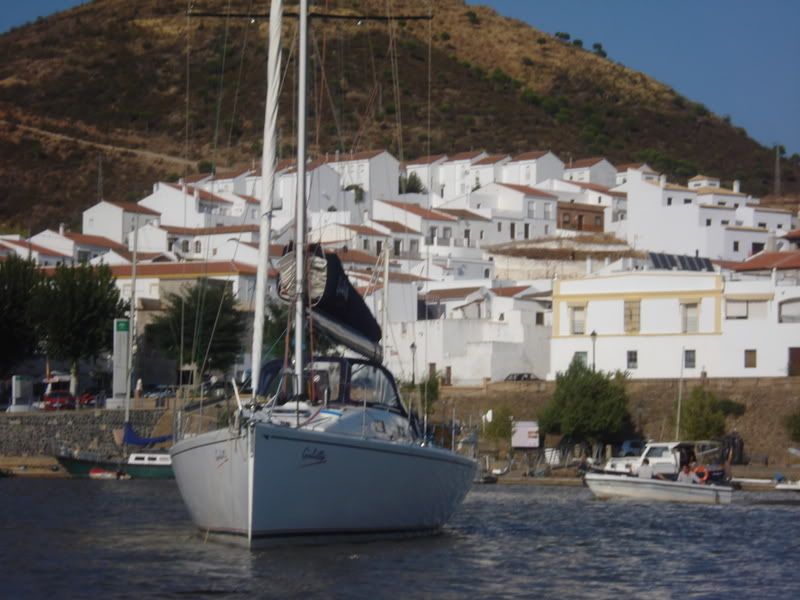 besides, there are people swimming here..I like it already..the water is so warm..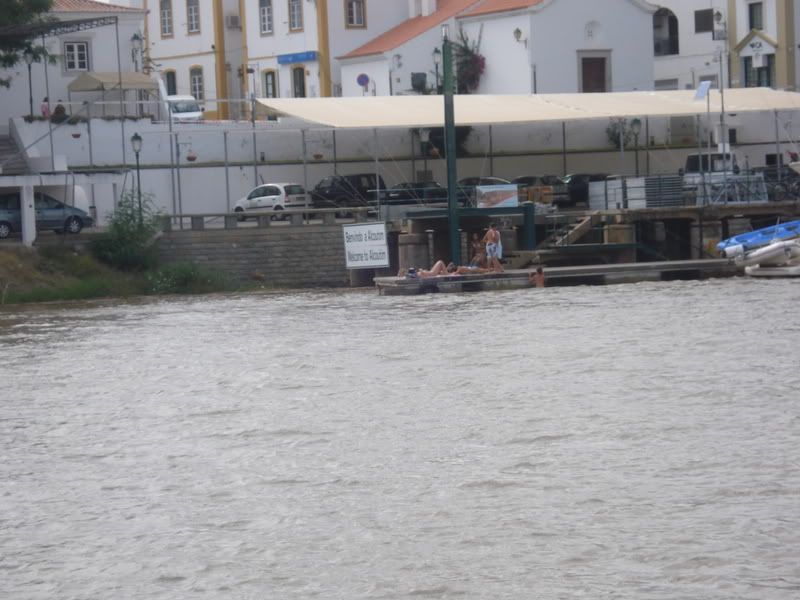 Anyway, let's anchor...right in the middle of the river, this way we can use the dinghy and go to Spain...besides, this is where the treaty was signed..and I like the view...hey it's my friend there in that Jeanneau...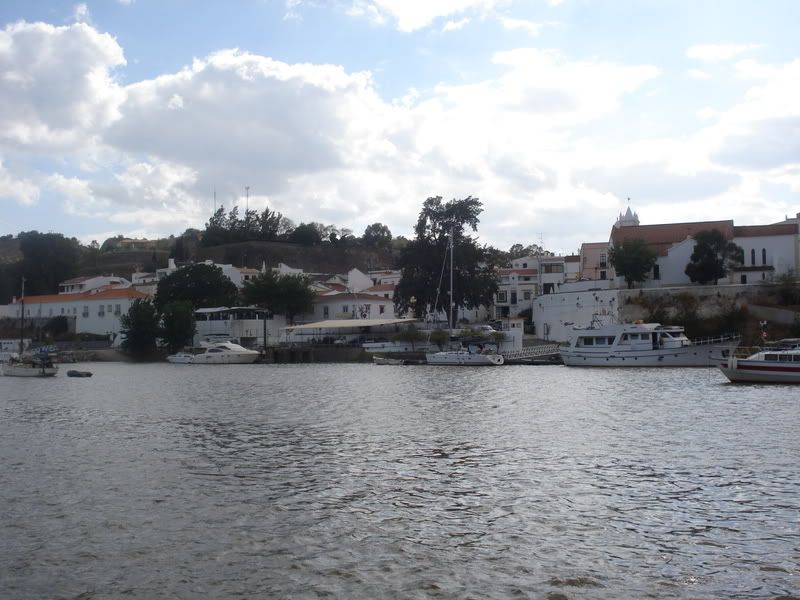 That's where we came from..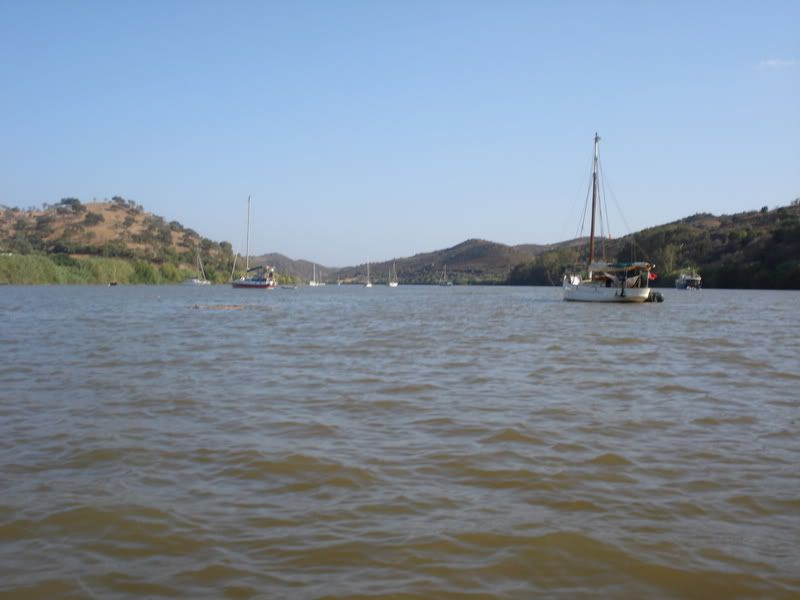 This is looking upstream...
On the right shore, is Sanlucar de Guadiana, in Spain, with the Castle on the top of the hill, but wait...if you think "that" castle is pretty just keep on scrolling down...(hey..look who's on the right!!)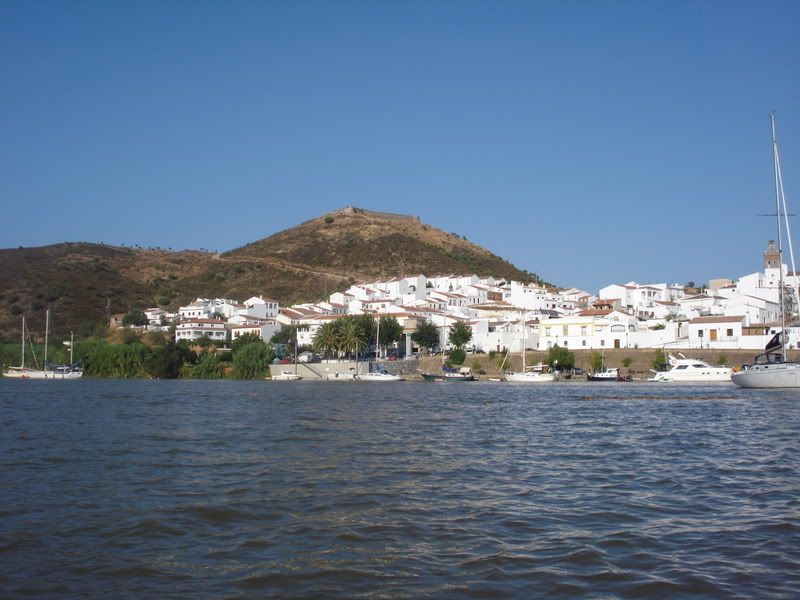 So..now that we are surrounded by history, let's get in the dinghy and go explore...GET READY FOLKS, doesn't get any better than this...and will be worth the reading before..
That pier before, it's there since 100 B.C., the statue of the smuggler is new, and so is the ATV...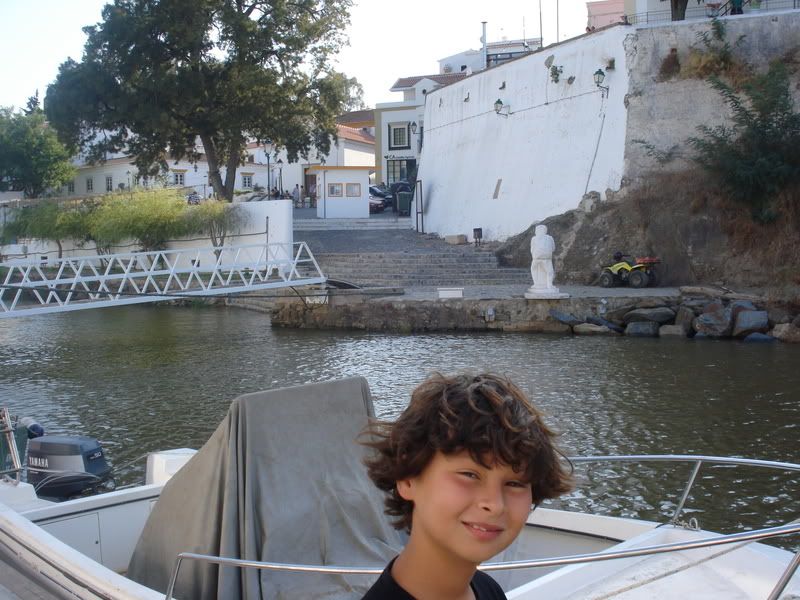 Let's climb thru history..and enter the past...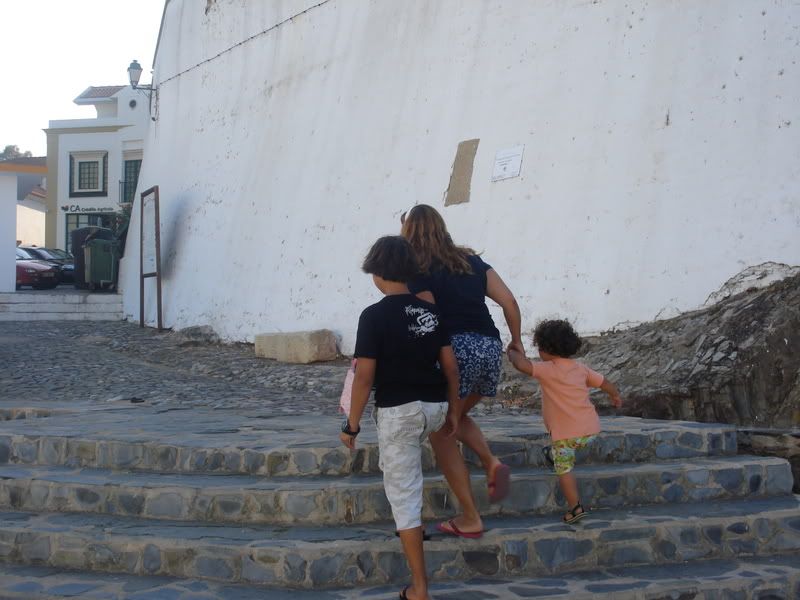 Pretty clean town...old as time itself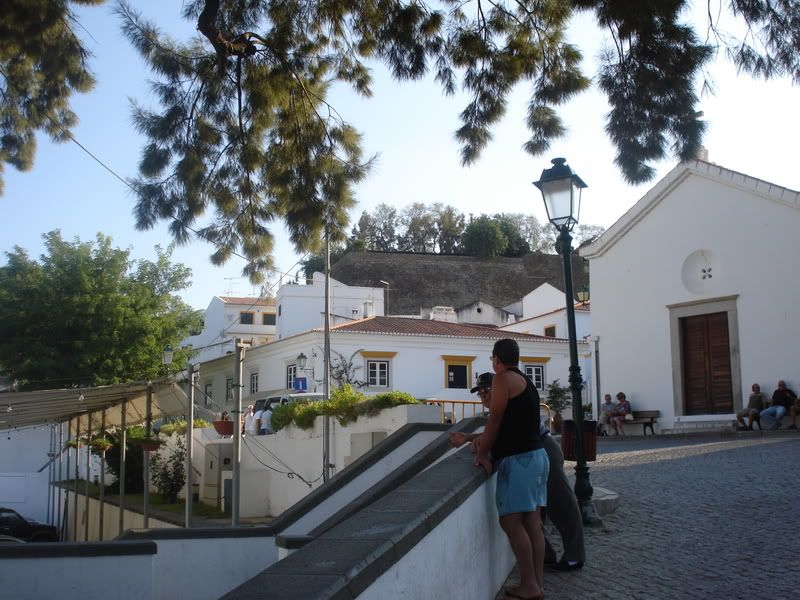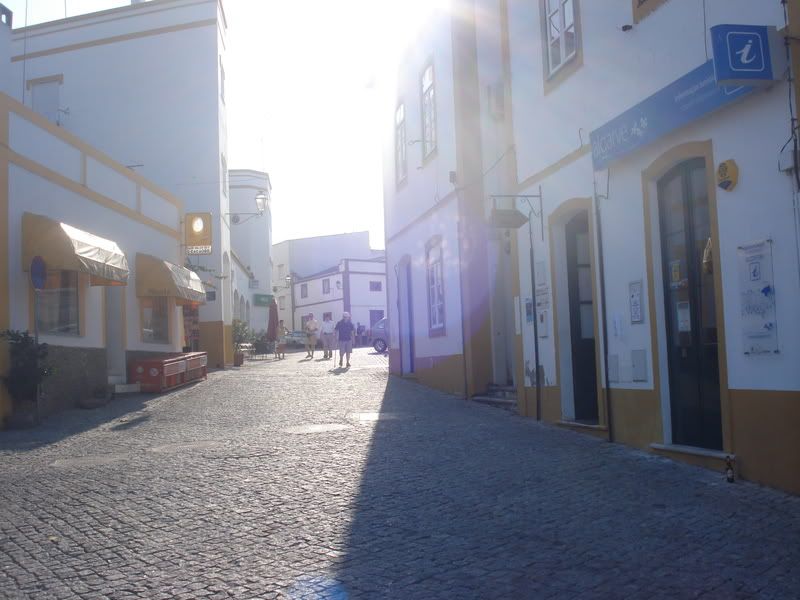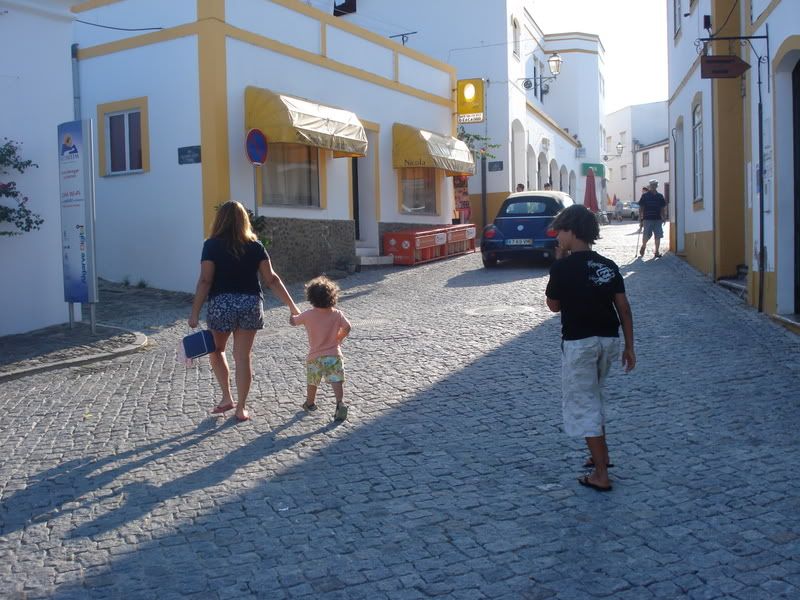 Then we keep going up, towards the castle..
The kids stop to see the fisherman statue
The fountain before the Castle, this has been modernized...
Kids say hello to you, take the time to rest on the way up..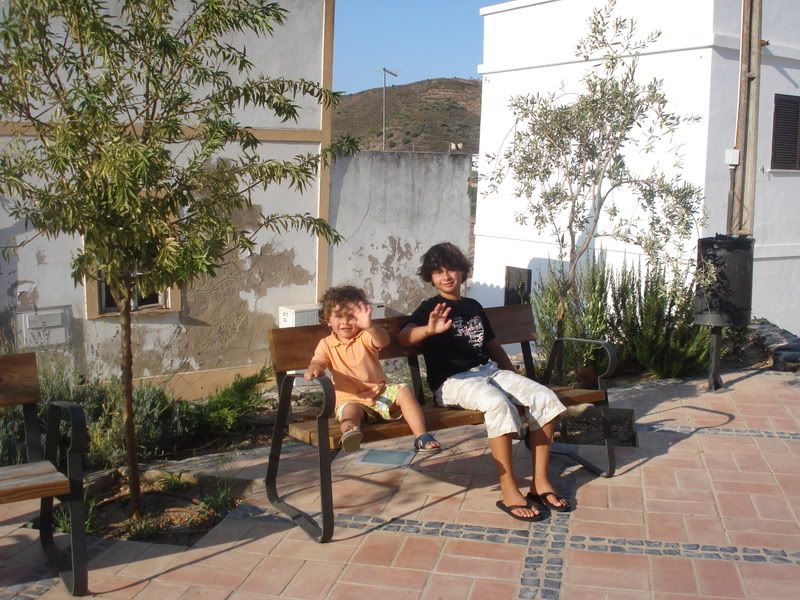 Then...we enter the castle...look at this..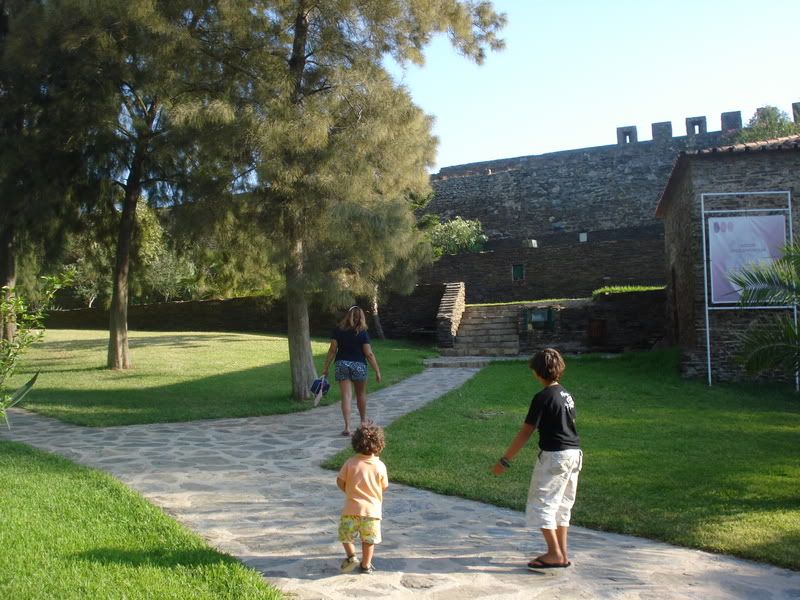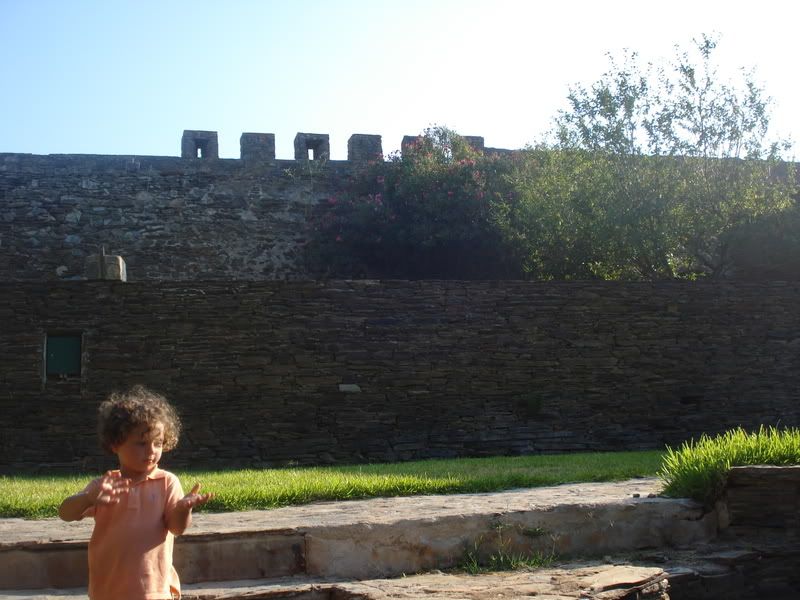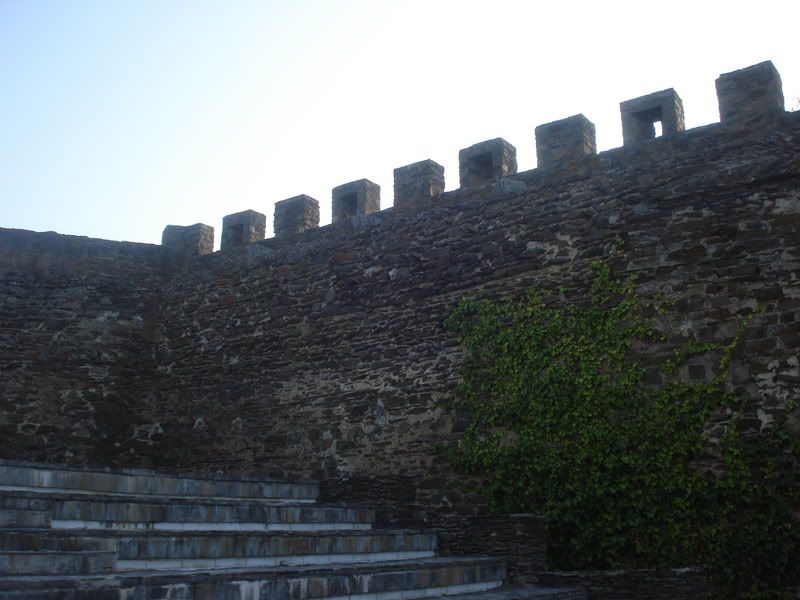 THEN..BRACE YOURSELVES..THE VIEWS....
Start with this door...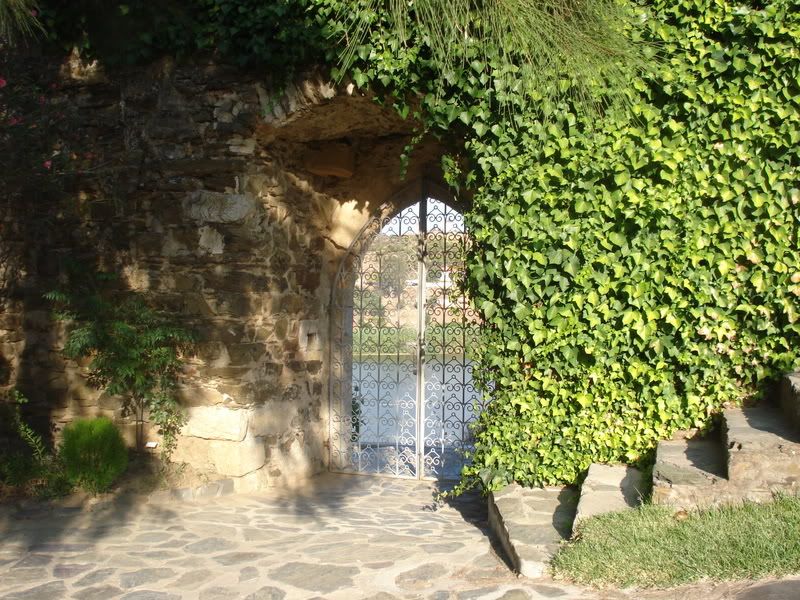 Then, get on the edge and see..(there's my boat..right in the middle)..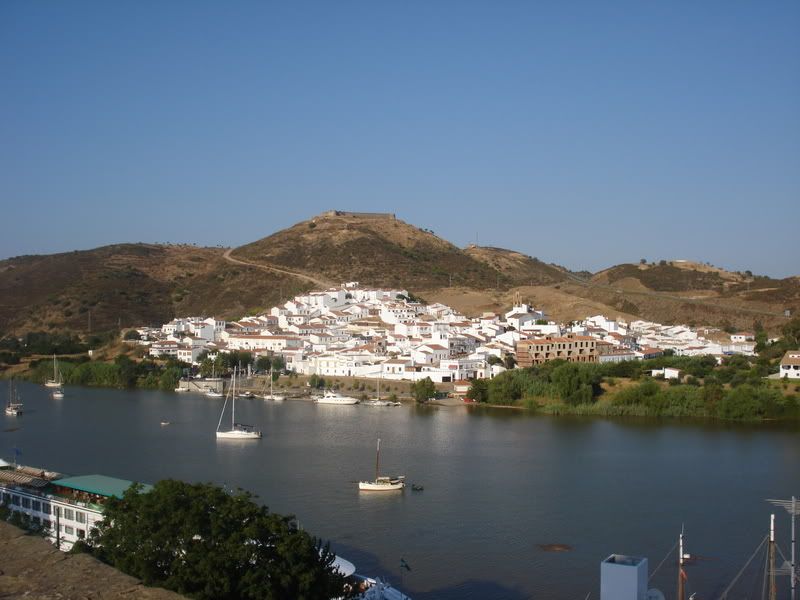 looking up the river
Across to Spain and Sanlucar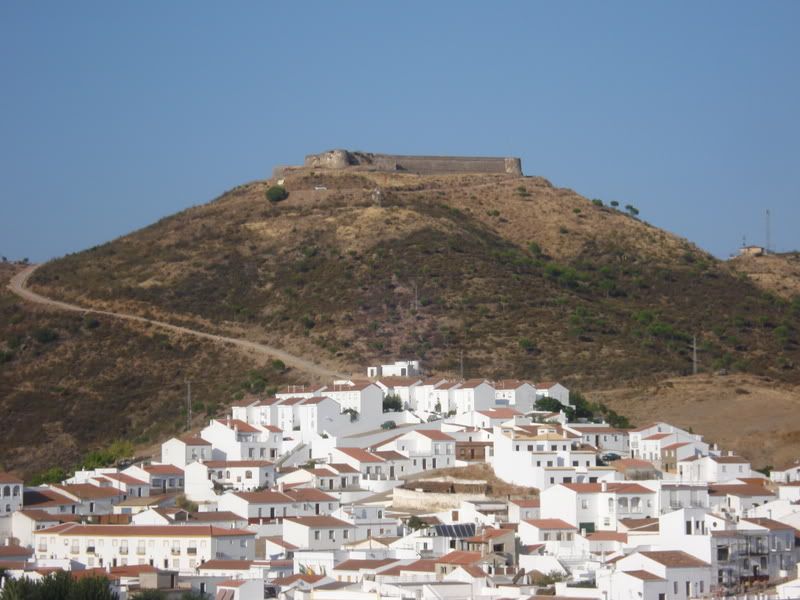 Then down the river, where we came from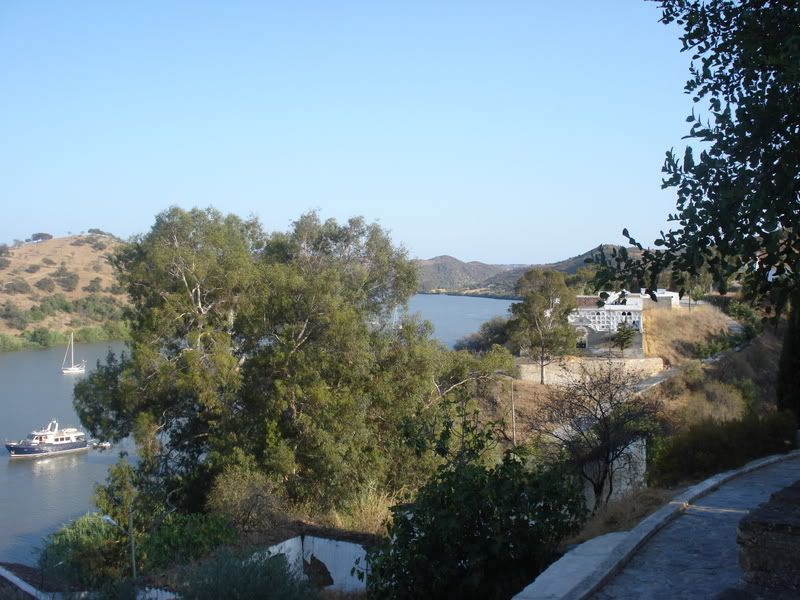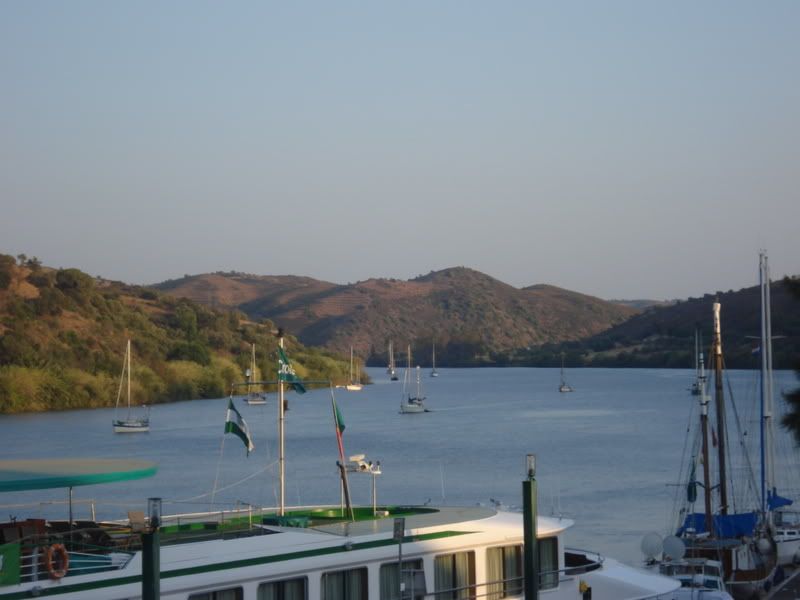 A few more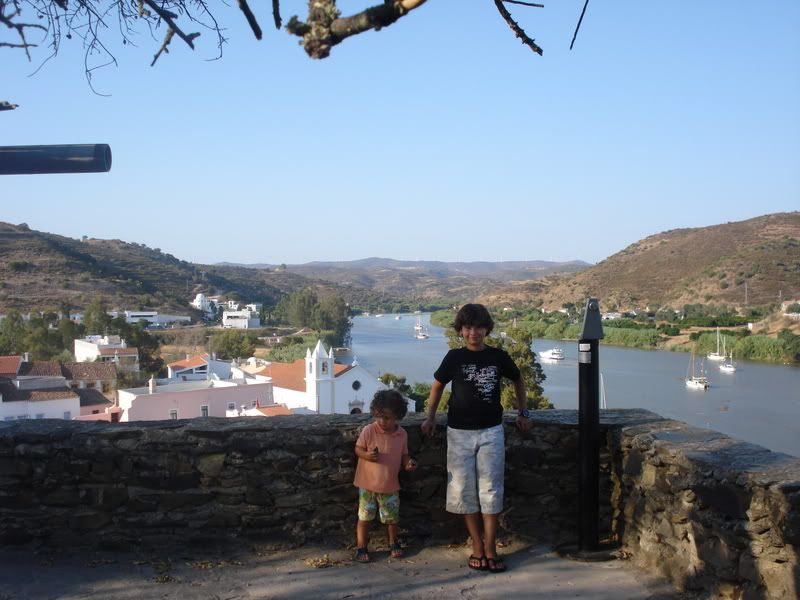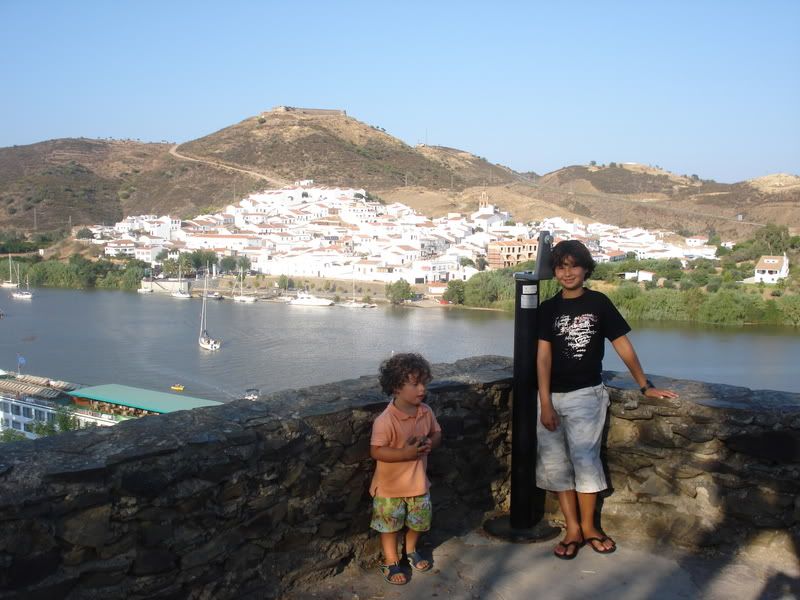 Then down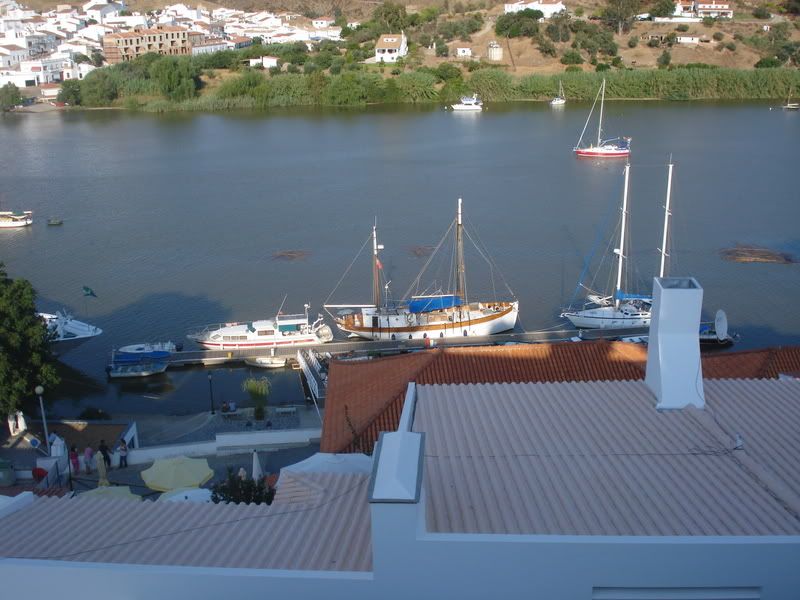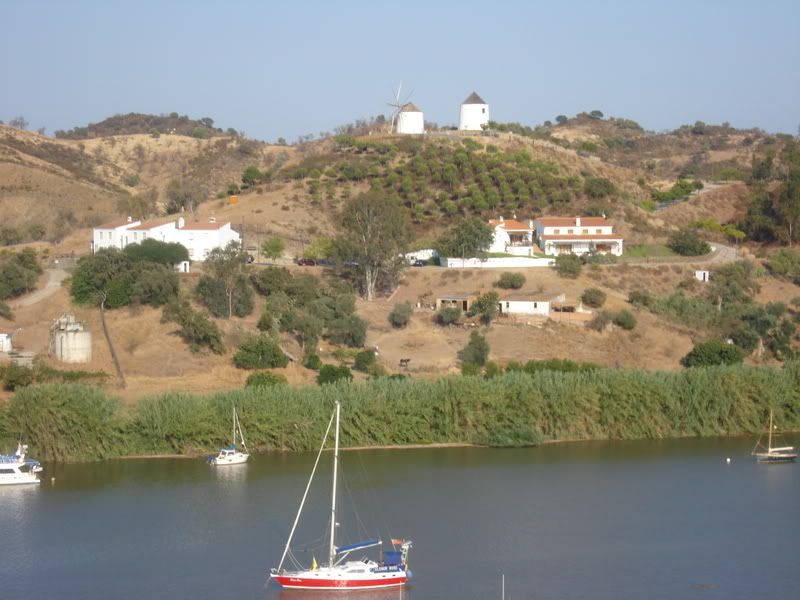 Here I became an artist..
and here..imagine being a XIII th Century archer man...guarding the city...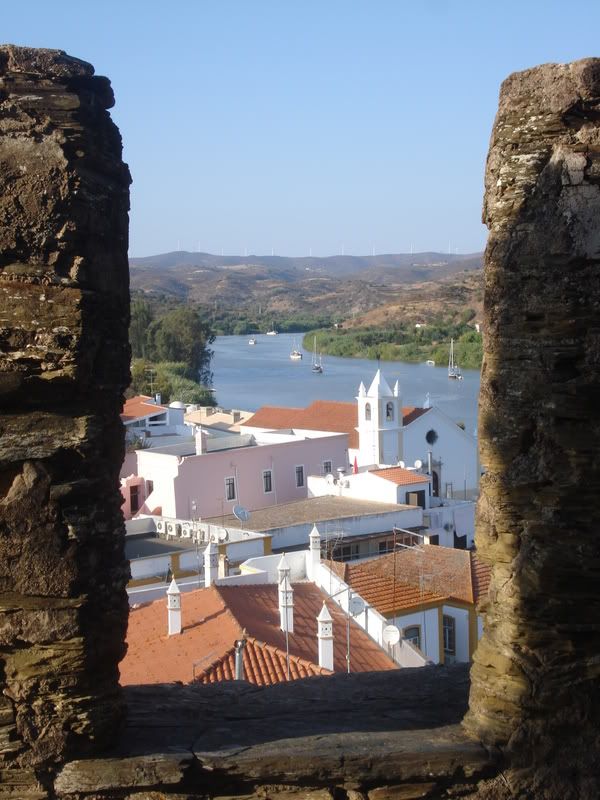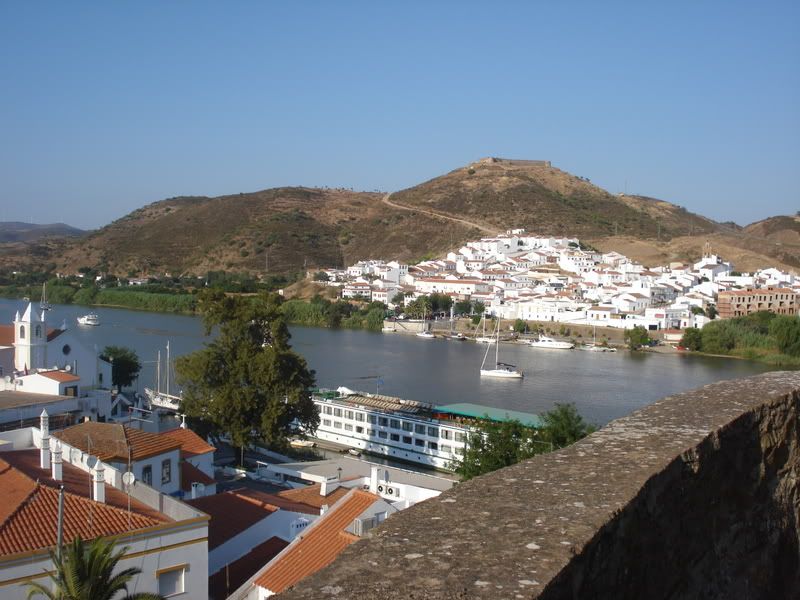 Then, inside the Castle, there is a museum, that has some of the roman artifacts as well as XIIIth Century stuff...
Roman pilons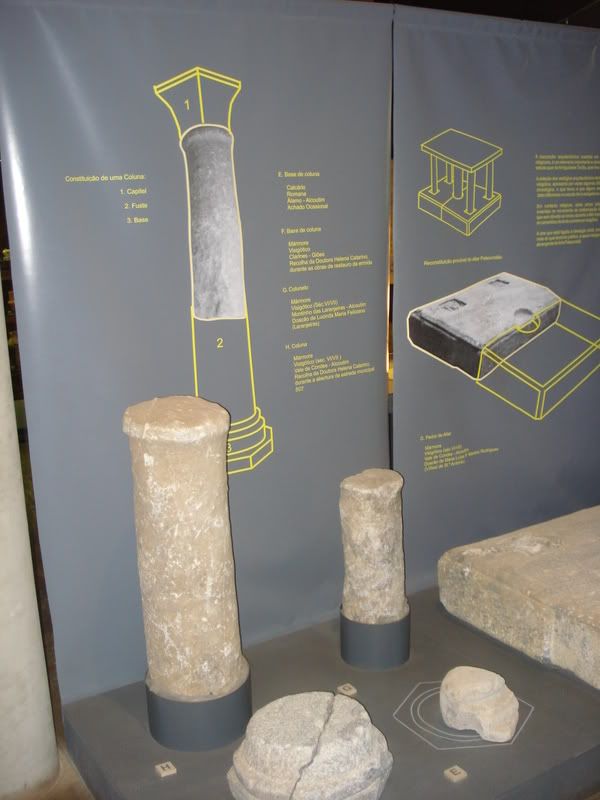 a canon, or what's left of it..(maybe was made by the same guy that made the Liberty Bell
The castle ruins are well preserved indoors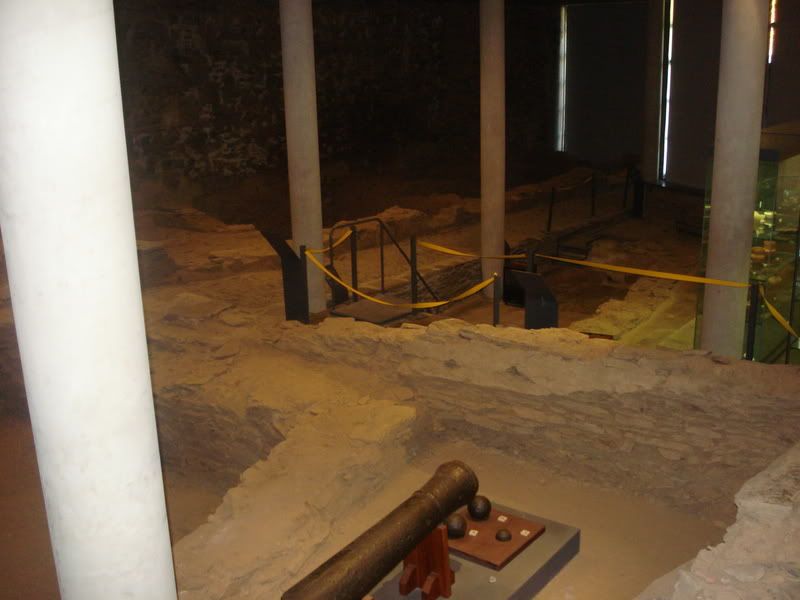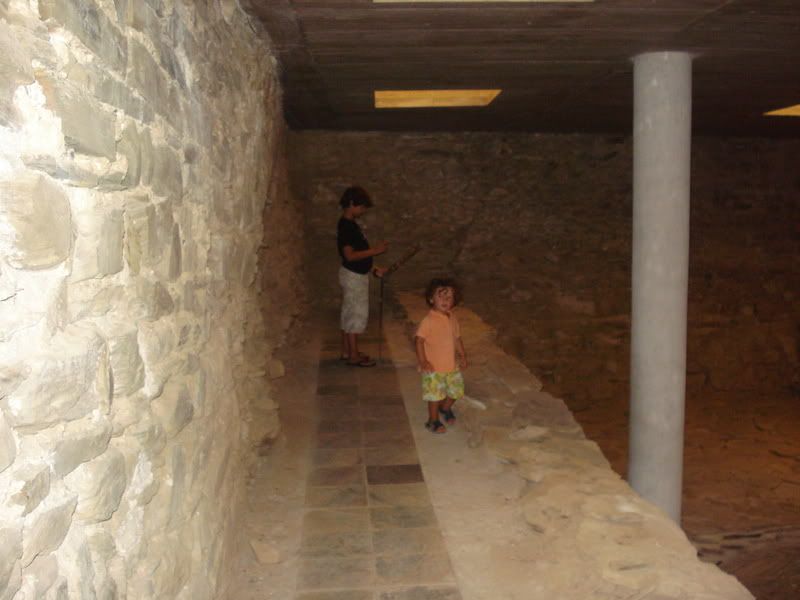 a XIIIth century scissors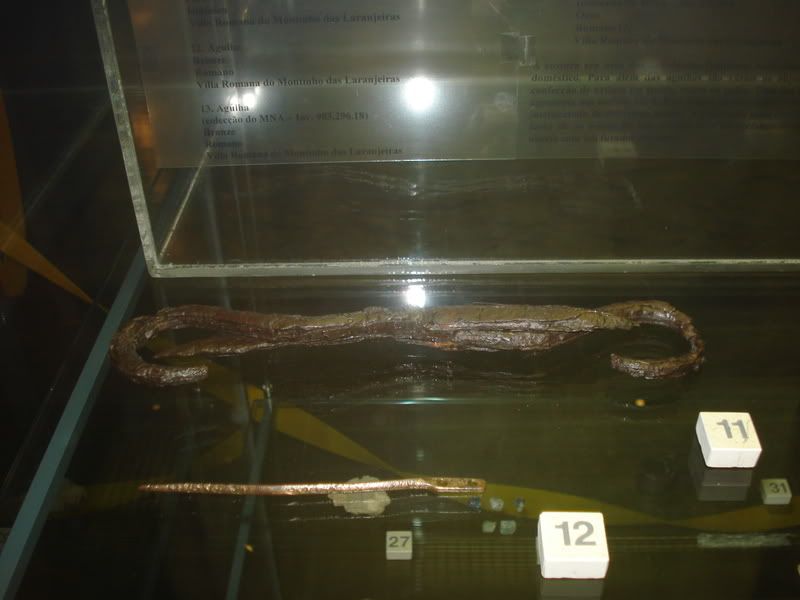 a 2200 year old gold ear ring, from some Roman lady, and her ring, too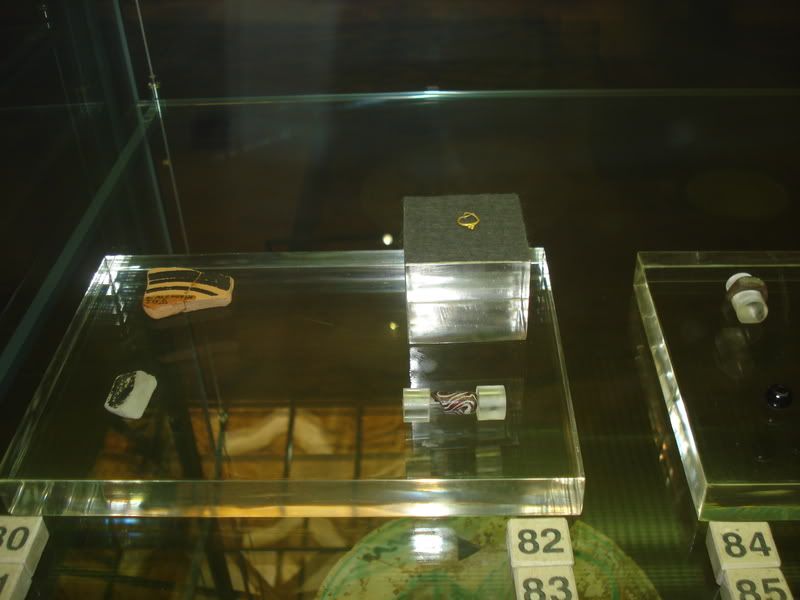 600 B.C. photoshop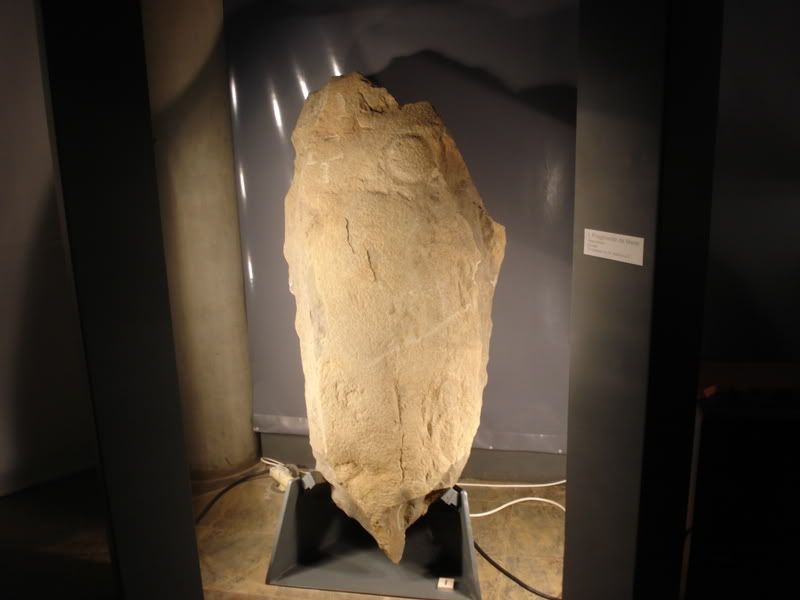 A "Jack was here" sign, by some guy in 200 B.C.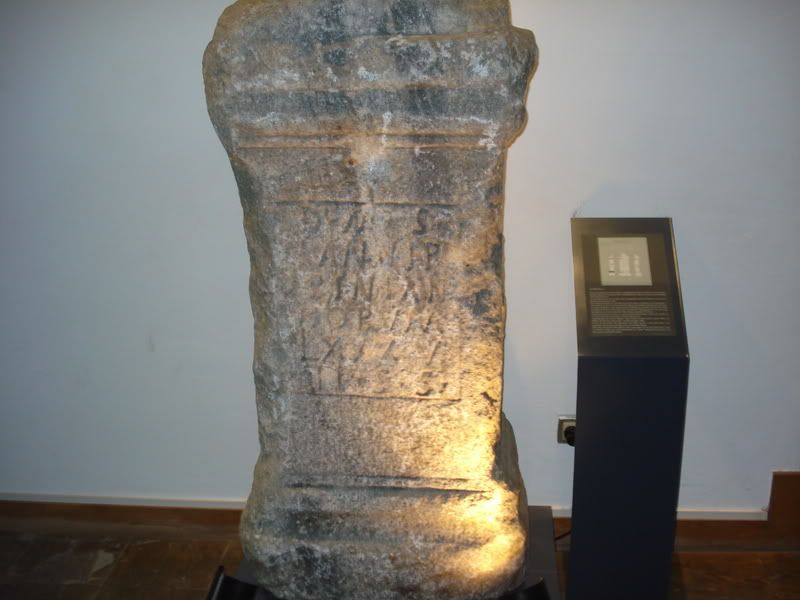 Then, there is a room full of table games that belonged to the moors, and date back to 1100..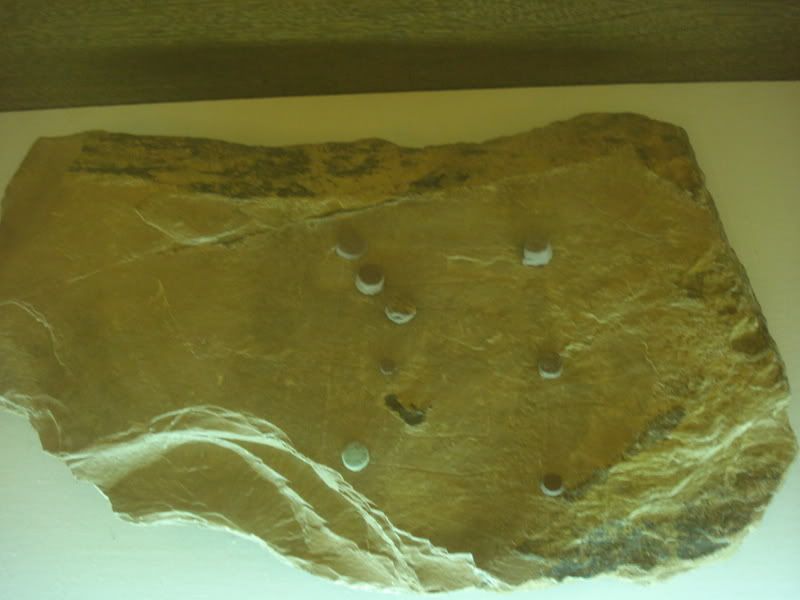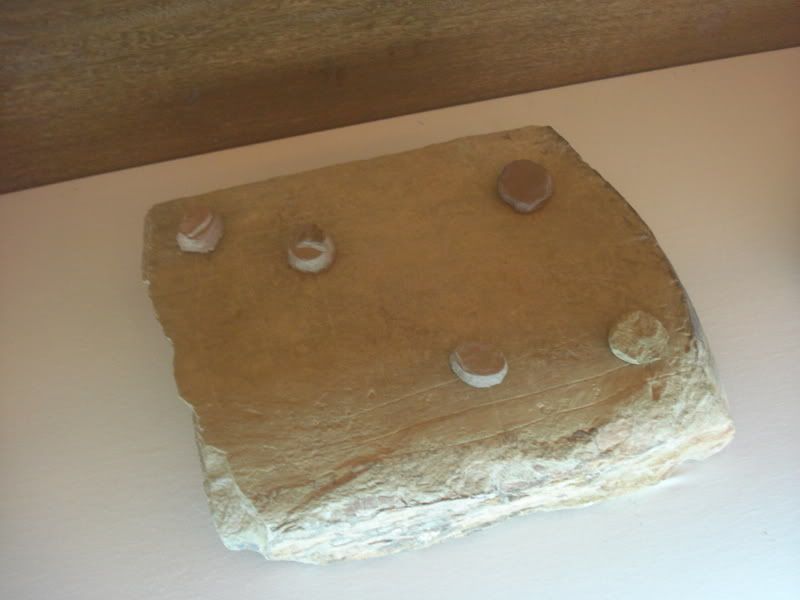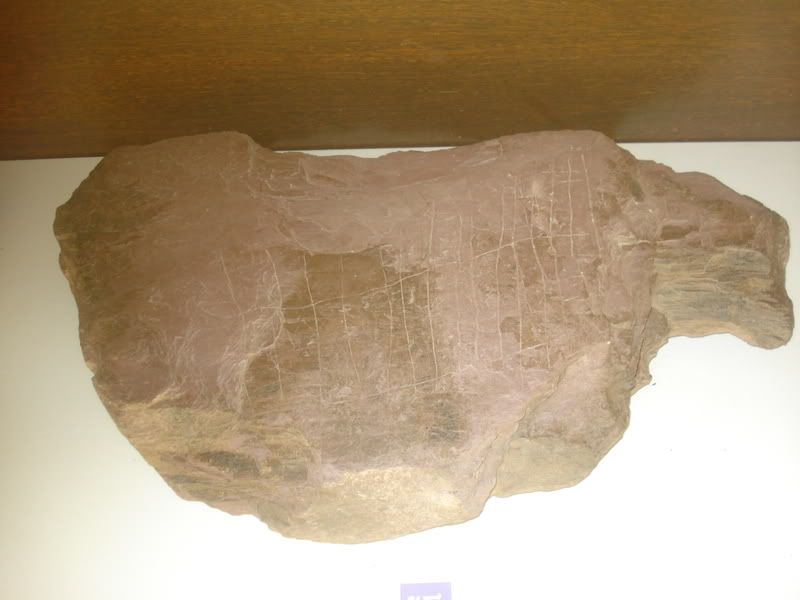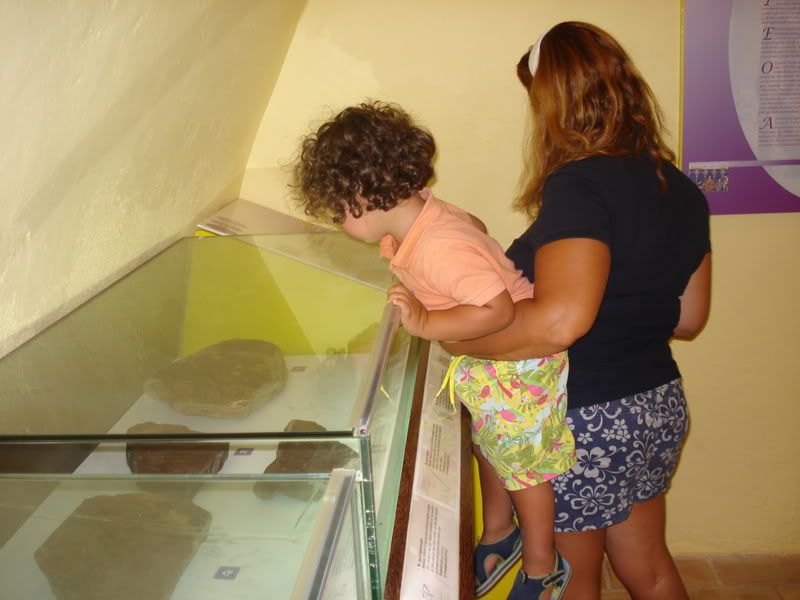 We then let the kid from hell lose..here..after 2 months at sea, grass was a nice welcome for them..
looks like they never saw land before...weirdos...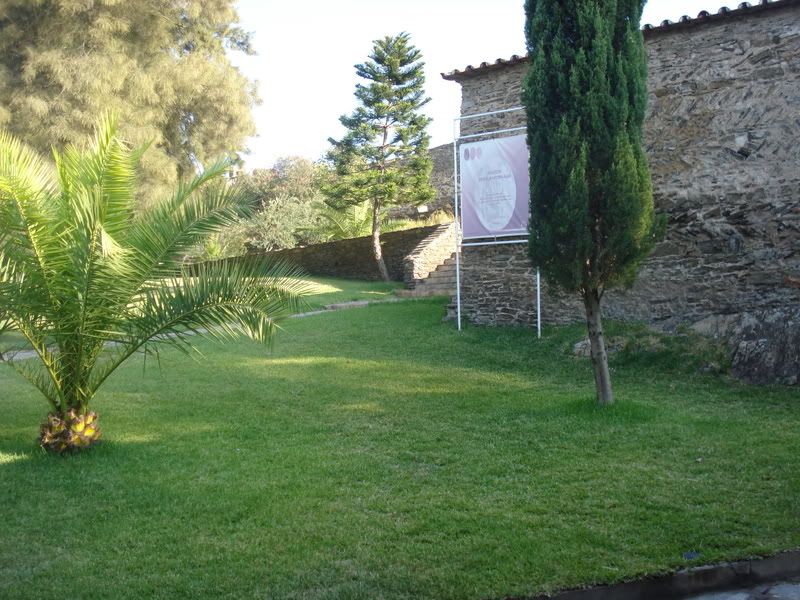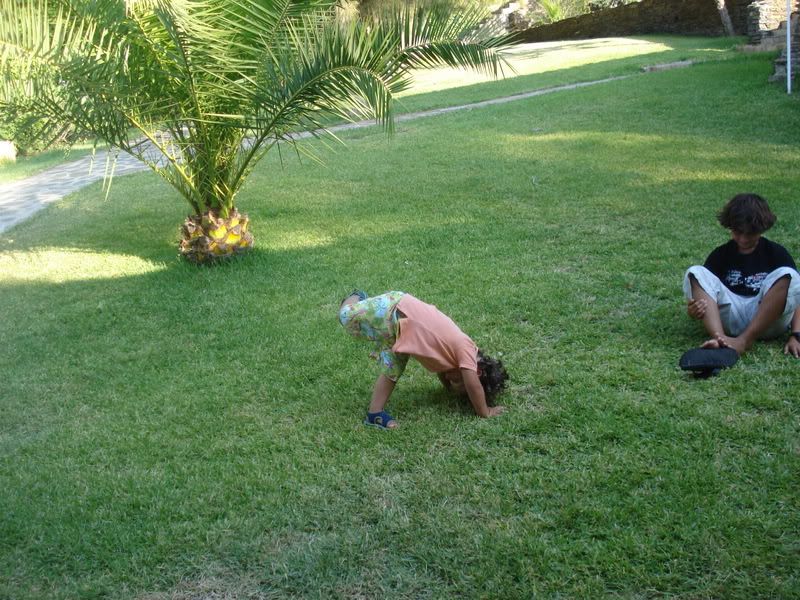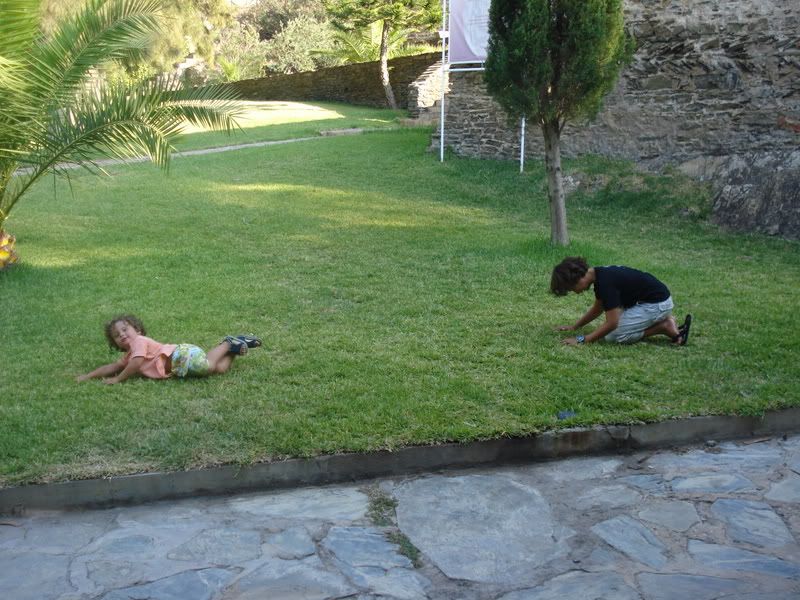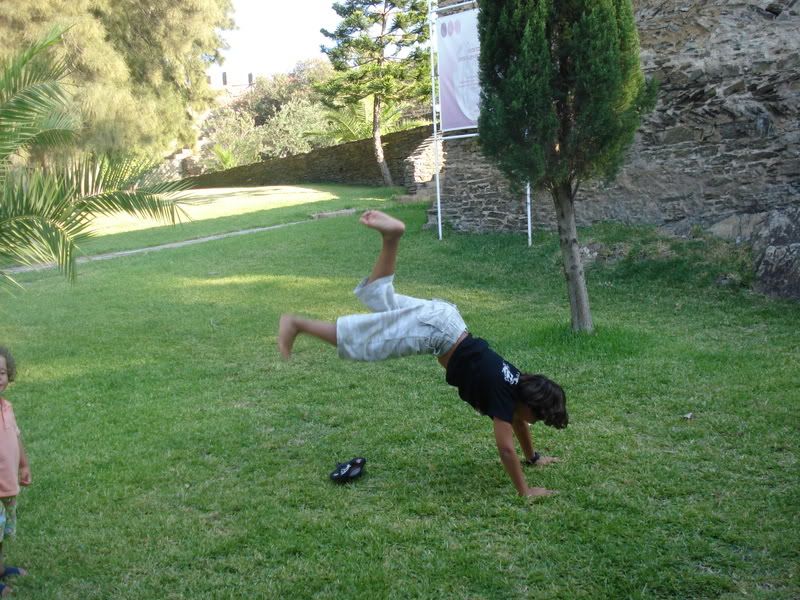 The place is so quiet and calm..it's breathtaking..the temperature just right..the humidity almost none...perfect climate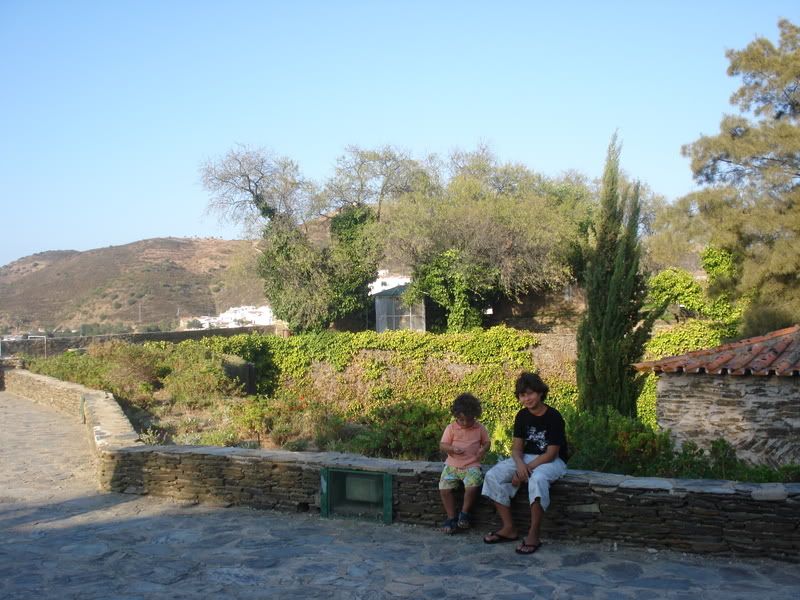 If you ignore the guy..you can see the Portuguese wind mills..all over now..producing electricity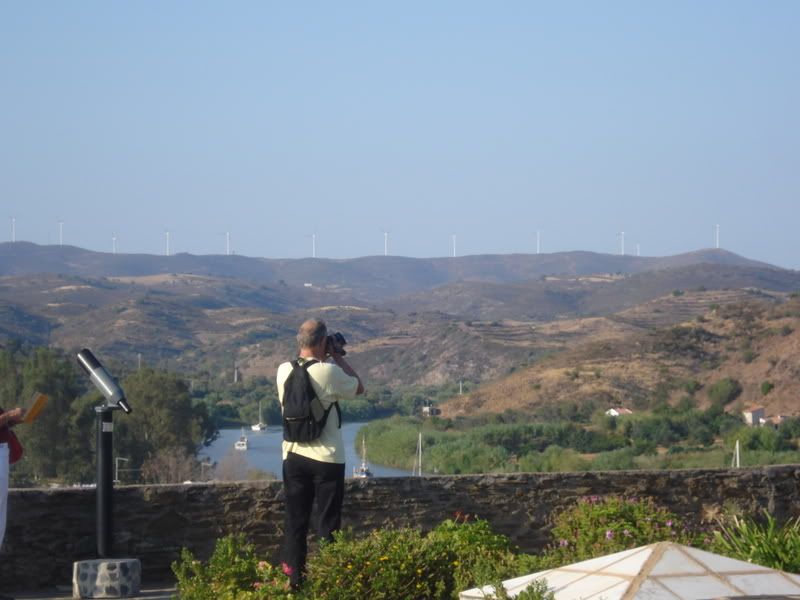 and the way out of the castle
There she is...a modern boat in between old cities...beautifull, both of them...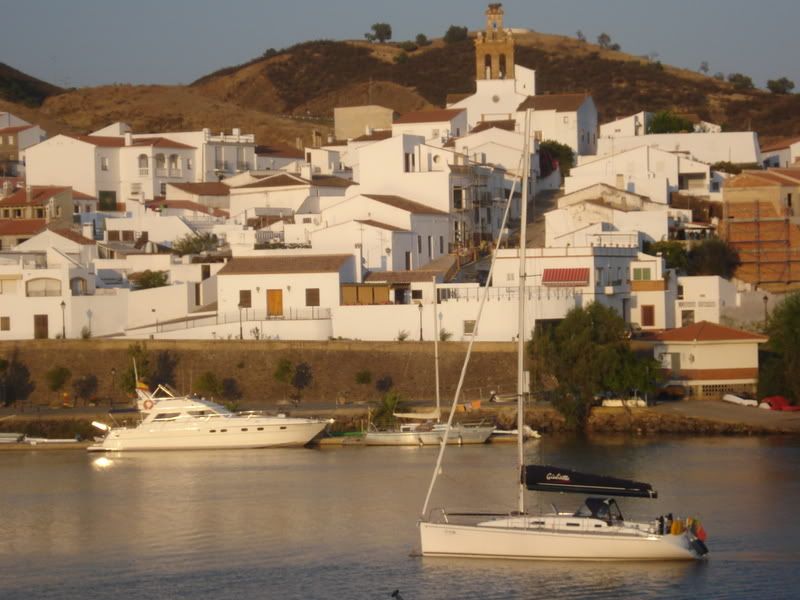 Pit stop...get some fuel...and a rest..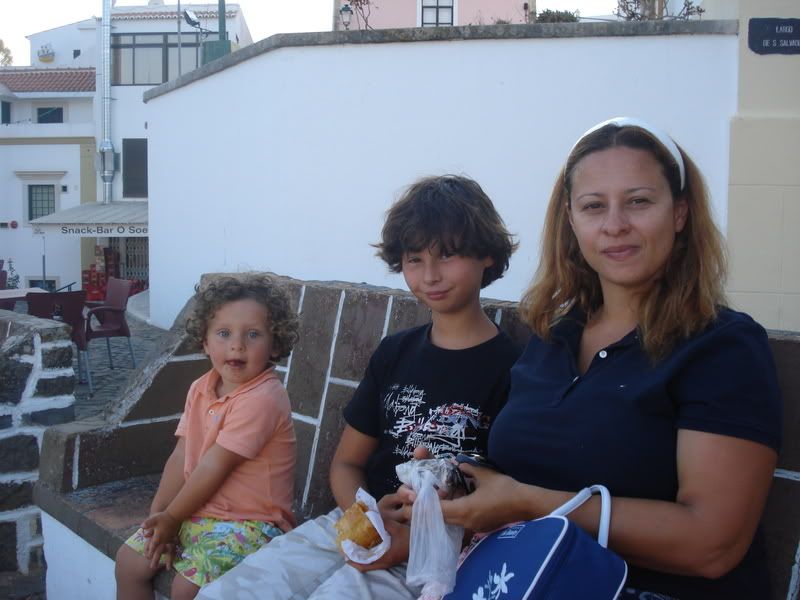 And while we had a snack...I took these...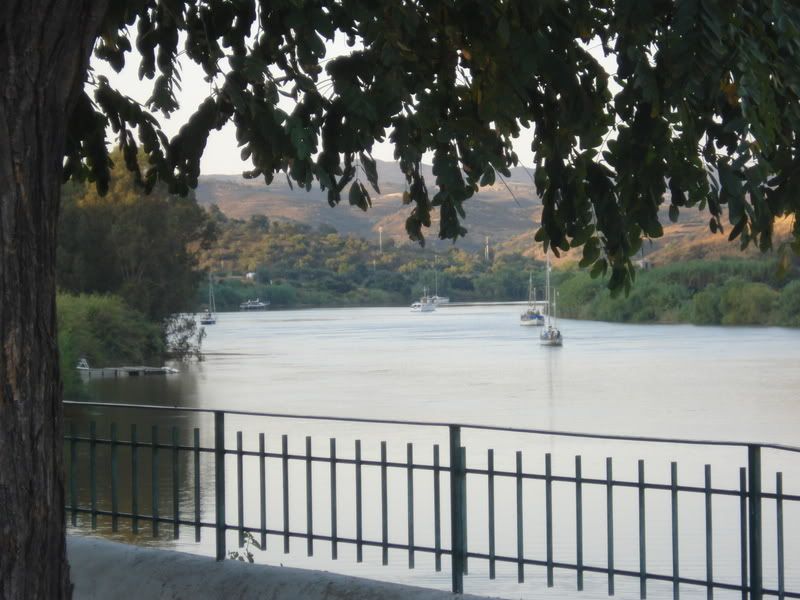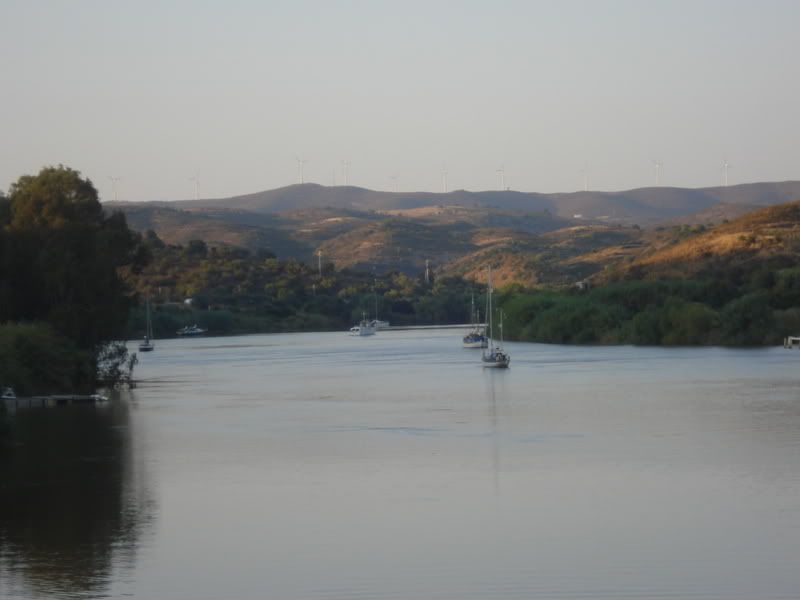 A quick trip of 2 minutes, by dinghy from Alcoutim to Spain...and I found this Senorita...(I love the fact we hdon't have borders anymore)....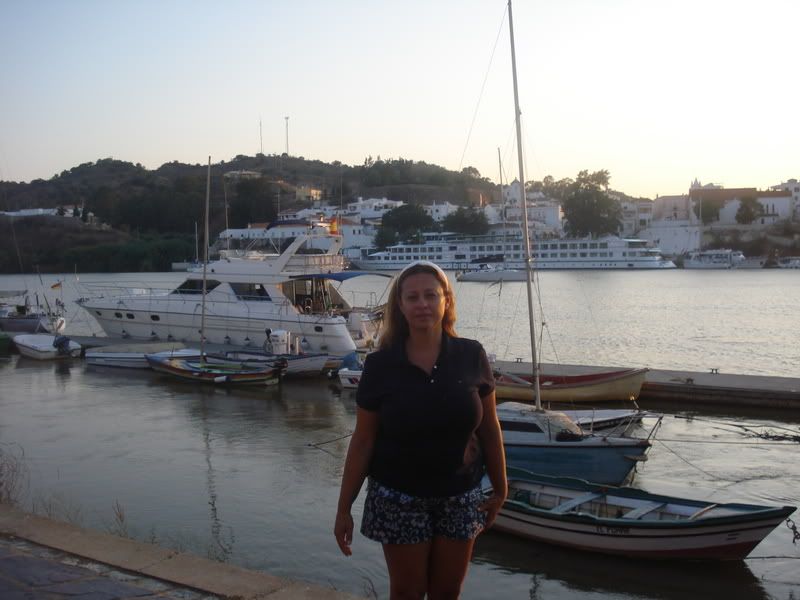 That I grabbed immediately...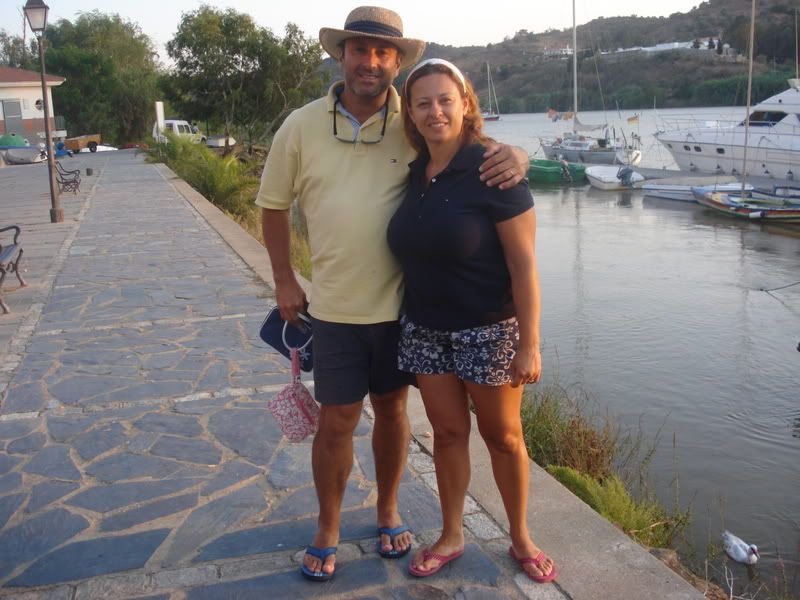 Ahhh the piece the quiet...and Giulietta...as seen from Spain..(no difference, looks the same no matter what country you are in...)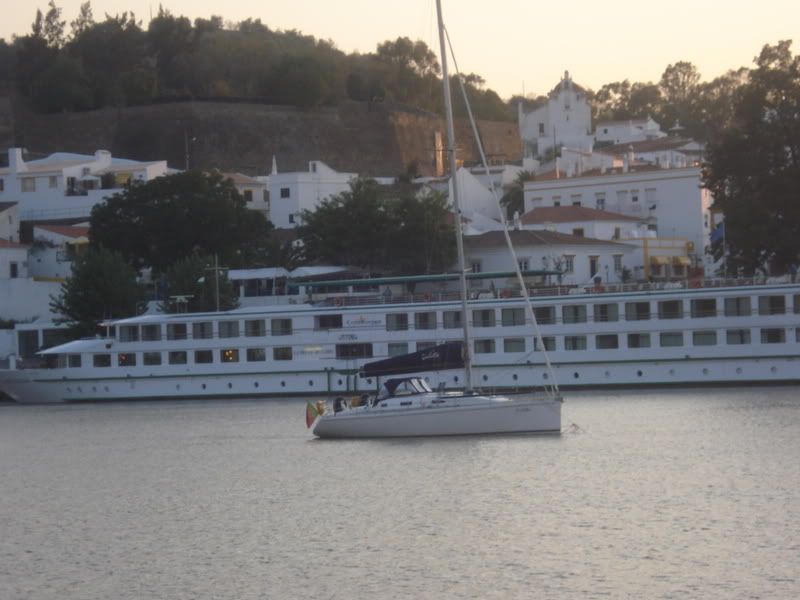 There...a last image that stays forever...at least for me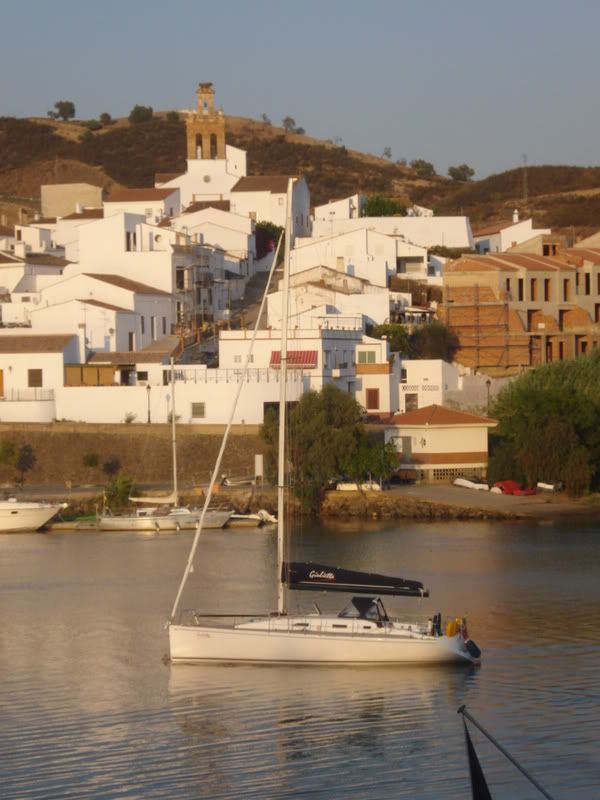 well..I hope you enjoyed that, I surely did....
Thanks for watching
Alex
READ MORE ABOUT ALCOUTIM
HERE
HERE
HERE
---
Last edited by Giulietta; 02-24-2009 at

01:32 PM

.
Alex, not full of crap
Join Date: Nov 2006
Location: Lafayette, CO
Posts: 2,446
Thanks: 0
Thanked 0 Times in 0 Posts
Rep Power:
12
Alex
Thanks again for sharing your voyages with your family. Did you hang your balls off the mast for that bridge?
---
Charlie

Courtney's my Dancing Angel

Where am I, and where's my paddle?
It's not impossible, it just costs more.
Give me ambiguity, or give me something else.
Ignoring Trolls in 2009
Join Date: Apr 2008
Location: Houston, TX
Posts: 453
Thanks: 0
Thanked 0 Times in 0 Posts
Rep Power:
10
Wow
---
That was amazing Alex, thanks for sharing and fueling my dream to cast off and see the world by sail.
Michael
---
S/V Anything Goes
1987 Pearson 31-2
Hull #15
Super Fuzzy Moderator
Join Date: Oct 2006
Location: Sydney Australia
Posts: 17,134
Thanks: 22
Thanked 128 Times in 119 Posts
Rep Power:
10
Now that does look like a cool thing to do.
Alex old man that was good of you to show us what a great time you have been having while the rest of us have been working away........you bastard.
How nice that the river is open to sailing boats. Down here I have to admit, any decent sized rivers that we have will invariably sport a bloody 30' high bridge across the estuary making access by masted vessels impossible.
Seriously beautiful.
Thanks.
---
Andrew B (Malö 39 Classic)

"Life is a trick, and you get one chance to learn it."
― Terry Pratchett.
I don't get it Alex, clearly you don't need a Rocna - what you need is this:
Telstar 28
Join Date: Mar 2006
Location: New England
Posts: 43,290
Thanks: 0
Thanked 18 Times in 14 Posts
Rep Power:
16
Gui-
Nice photos and post..... BTW a bow man is the guy running the spinnaker pole... an archer is a guy with a bow and arrows defending the city.
---
Sailingdog
To view links or images in signatures your post count must be 10 or greater. You currently have 0 posts.
Telstar 28
New England

You know what the first rule of sailing is? ...Love. You can learn all the math in the 'verse, but you take
a boat to the sea you don't love, she'll shake you off just as sure as the turning of the worlds. Love keeps
her going when she oughta fall down, tells you she's hurting 'fore she keens. Makes her a home.
—Cpt. Mal Reynolds, Serenity (edited)

If you're new to the Sailnet Forums... please read this
To view links or images in signatures your post count must be 10 or greater. You currently have 0 posts.
.
Still—DON'T READ THAT POST AGAIN.
Senior Member
Join Date: Dec 2005
Location: Porter, IN
Posts: 4,647
Thanks: 1
Thanked 1 Time in 1 Post
Rep Power:
13
Thanks Alex.
---
Courtney is My Hero
If a man is to be obsessed by something, I suppose a boat is as good as anything, perhaps a bit better than most - E.B. White
Anything-Sailing Founder
Awesome pics Alex. The Google Earth pics were a nice touch too
I'm afraid I'm still pretty far off from being in a position to sail the world. Thanks for sharing your adventures.
---
Chris

S/V "The Jade Dragon"
1975 O'Day 25
To view links or images in signatures your post count must be 10 or greater. You currently have 0 posts.

Meet me at
To view links or images in signatures your post count must be 10 or greater. You currently have 0 posts.

Ignore Power = Currently Rebuilding
--
Pearson 303
Join Date: Oct 2007
Location: Washington, DC
Posts: 410
Thanks: 0
Thanked 0 Times in 0 Posts
Rep Power:
10
Thanks, Alex - what a wonderful break with the family. One day I hope my wife and I have the opportunity to explore your beautiful country.

Nathan
Moderator
Join Date: Feb 2000
Location: Annapolis, Md
Posts: 7,420
Thanks: 11
Thanked 235 Times in 186 Posts
Rep Power:
10
Alex,

Great stuff! I have to hand it to you, you sure know how to live. Thanks for sharing it with us all.

Nice to have you back here and home safely....

Jeff
Currently Active Users Viewing This Thread: 1

(0 members and 1 guests)