Senior Member
Join Date: Feb 2007
Posts: 2,527
Thanks: 0
Thanked 0 Times in 0 Posts
Rep Power:
14
Quote:
Okay - I've come across 3 tantalizing tales that most likely qualify for the BFS Hall of Fame. Here are the teasers these guys threw out.
I say we get 'em up to tell us some lies!!!!!
DENBY
(I just KNEW he had it in him)
"The 14ft following seas and winds gusting to 50 was interesting, and yes we were under sail. And on several occasions we have snorkeled the boat."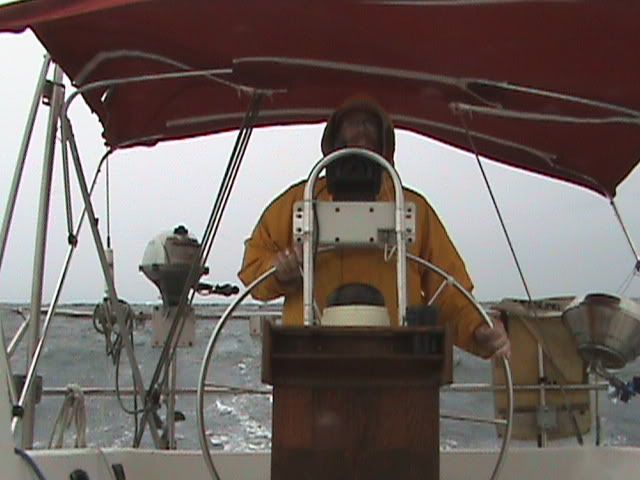 ++++++++++++++
Cough 'em up boys! We'll keep the rum flowin'!
smacky,
Just came across this. You look at this as something big and exciting, I look at it as just another day sailing but in different conditions.
I was on my return trip half way throw my vacation and had a choice, stay at Cuttyhunk Harbor and ride the storm out at anchor which would have meant doing one night of sailing or ride the storm and no night sailing.
---
To view links or images in signatures your post count must be 10 or greater. You currently have 0 posts.
The Elephant
Join Date: Aug 2008
Posts: 16,271
Thanks: 195
Thanked 195 Times in 186 Posts
Rep Power:
11
Quote:
smacky,
Just came across this. You look at this as something big and exciting, I look at it as just another day sailing but in different conditions.
No, see Den that's just it! Many would call that a "bad" decision. I won't. It was a choice to sail in challenging conditions for completely valid reasons. And you did great! THAT'S BFS!
I'm convinced that the reason you didn't have to punch your EPIRB is that you have your Magma safely tucked under the bimini. Drogues schmogues - THAT'S actually the key to heavy weather sailing!
Now c'mon, dude, spill the beans! Tell me about the snorkel!
---
S/V Dawn Treader - 1989 Hunter Legend 40
Senior Member
Join Date: Mar 2009
Location: DFW Area
Posts: 245
Thanks: 0
Thanked 0 Times in 0 Posts
Rep Power:
9
Okay, I guess I've got one
---
I remember the scene that kept happening over and over. We would be healed over at least 45 degrees in a centerboard dinghy, with me shouting "release the jib" at the girl I had just started dating--who had never been on a boat before. I was thinking that if we go over, I wasn't sure we can get the boat righted in those conditions with just the two of us.

We were on my first boat, a old (as in 3 digit hull number) Coronado 15. If there is a hall-of-fame for worst choices for a first sailboat, the C15 is probably in it. It had a completely soft chine, no ballast, and lots of attitude. I have personally capsized that boat by stepping aboard from the dock in zero winds. It's only stable position was upside down.

We had plenty of wind that day. It was July 4, 1992. (I think I've got the year right, but I am sure about the day.) We were in the middle Lake Grapevine in north Texas. We found at later that the wind had been blowing a steady 25 mph with gusts over 30.

This was probably our second date, and I was starting to suspect it would be the last.

Did I mention this was my first boat? This was the first time I had it out without someone who knew more about sailing that I did. We had already been through a comedy of errors. When we launched the boat from the trailer, I failed to tie a proper knot attaching the jib-sheet to the sail. It promptly came undone, and left us with a sheet slipping through the clew. I handed the tiller off to my date and went forward to try to fix it. By the time I got it tied correctly, we had run all the way across the lake. When we tried to head back upwind, I noticed the mainsail was behaving badly. On inspection, I determined that the battens were missing. Not misplaced exactly; I knew exactly where they were--the trunk of my car back at the boat ramp.

So now we had to beat our way back to the boat ramp with no battens. The boat would just barely point above a beam reach. We spent probably 4 hours tacking back, with each tack finding us only a little closer than before. We almost capsized more times than I could count. We made it back without capsizing, but we were sunburned, windburned, and exhausted.

I was floored later when we met up with some friends. They asked if she had been afraid. She said no, that I seemed to know what I was doing and she was confident I would get us back alive. I had the bad sense to point out that, as confident as she might have been, I had personally been terrified the whole time.

We're married now, and she approved the purchase of boat number 3 last April--out new Beneteau 31. We both almost know what we're doing now. The C15 is long gone--we donated it to a university sailing club some years back.
The Elephant
Join Date: Aug 2008
Posts: 16,271
Thanks: 195
Thanked 195 Times in 186 Posts
Rep Power:
11
Heh-heh. Bac, great story, dude! No wonder you married that fine lady! Any girl that feels safe while you know everything's going to hell in a bucket is the kind you need around. Nicely played my good man!

Lakies...+1.
---
S/V Dawn Treader - 1989 Hunter Legend 40
The Elephant
Join Date: Aug 2008
Posts: 16,271
Thanks: 195
Thanked 195 Times in 186 Posts
Rep Power:
11
And another freakin' CLASSIC!
Quote:
(I've been lurking on sailnet for quite a while now, posting last fall with questions on buying a beginner sailboat. It turns out I had a friend who's dad was willing to give us a Melges M20 to fix up and learn on, which has been a blast, if challenging at times. We put a lot of work into it, and then joined the yacht club at Perry Lake (KS), where we've done our best to get as much tiller time in as possible every weekend. I thought the folks here might get a kick out of hearing our experience over the weekend...)

My brother, Dad, and I took the boat out on on a moderately windy, but very choppy day this past Saturday - I had been out on a slightly windier day once, and wanted more practice. After having a good time sailing for a couple of hours, we practiced a couple man-overboard drills, before heading back to meet the rest of the family. While we were heading back, the wind died a fair amount, and I thought I'd give my brother, who so far had crewed regularly for me, a turn at the tiller. But it soon became obvious that I hadn't given him enough instruction prior to giving him the opportunity at the tiller, and when we got up too much speed (and heel) he let out the mainsail to de-power the boat, but turned the tiller the wrong direction, causing us to heel severely. With the boat at just about 90 degrees, dad fell into the sail, ensuring what was already a likely capsize, and driving the mast downward, until it rotated a full 180 degrees and turtled! With all of us now in the water, my brother held onto a shroud while my dad and I stood on the centerboard to try to bring the mast up to water level. We eventually succeeded, and I took down the sails before we attempted to right the boat. Unfortunately, we didn't have enough flotation in the rear of the boat, which was now completely under water, and we weren't able to get the mast out of the water. We put a PFD under the mast to keep it from turtling again, while trying to figure out our next step.

Finally, a nearby sailboat came to our "rescue," which in this case meant circling around us, hollering the same instructions for how to right the boat that we'd already tried but failed at. But he was insistent, so we tried again, mostly to appease him. Surprisingly, our second, renewed effort was more fruitful, and we eventually had a swamped, but upright boat. It was at this point that I realized the repercussions of how I had taken down the sails: I had gotten the mainsail down about 3/4 of the way before the halyard had fouled on something underwater. Rather than go underwater to figure out where the line was fouled (I was a little concerned about getting tangled in lines, while underwater) I had disconnected the halyard from the head of the sail before bringing it down the rest of the way. Unfortunately, this meant that once the boat was righted, the mainsail halyard was now at the top of the mast, well out of reach. Not only that, but I had lost my hand bailer when the boat turtled, and I was trying to decide whether the jib alone would have enough pull to empty a swamped boat, when a motorboat stopped and offered a tow.

Unfortunately, the motorboat that stopped to offer help was under control of the most inexperienced people on the lake! With us under tow, the boat started to drain, and things were looking promising for the first few minutes. But then they proceeded to swerve back and forth like they thought they had a skiier behind them, until the boat started submarining first on the port side, then on starboard, while we all jumped from side to side trying to counterbalance the effects. I wasn't sure whether I should try to man the tiller while under tow to fight being pulled under or if this would only make things worse. But before I could make up my mind, it was no longer a problem - the motorboat grounded us (and them) on a local underwater concrete foundation! That they didn't know about this area, which is marked by buoys, was a surprise to me - it was the first thing that was pointed out to me when we signed up at the club, and I assume it's common knowledge to avoid that area altogether. With my boat being a performance scow, we didn't have too much trouble getting it off the foundation, but the motorboat was a huge monstrosity that took a concerted effort between them reversing and my brother and I pushing for all we were worth to get our rescuers off the foundation. I don't know what sort of damage they may have taken, but they were still afloat, and offered continued assistance. We declined, figuring it would be safer at this point to swim the boat to shore rather than to be sunk by their continued help.

It wasn't too long after this that we were within sight of the club, and several members came out on a work pontoon to help tow us to shore. We eventually got the boat to a nearby beach, where we were able to bring the trailer around and haul the boat out, but it was a rough end to a fun day. We ended up with about 2 hours sailing time, and 2 hours recovery. Thankfully, the only damage was to my Windex. Chalk it up to another (several) lessons learned:

1) Give more instruction prior to handing the tiller over, and start in a cove.
2) Don't disconnect the halyards from the sails!
3) The procedure for capsizing does work - it just takes a concerted (and coordinated) effort!
4) My bailer apparently floats! When I was digging around in the (underwater) bag it was stored in, I couldn't find it because it was floating above my hand.
5) It may be better to be at the tiller, even while under tow?
6) Should I have tried to sail a swamped boat by jib alone?
7) Get a submersible handheld vhf radio - I could have radioed the yacht clubhouse for assistance.
8) Anything I've missed?

Humbly,
~Dean
---
S/V Dawn Treader - 1989 Hunter Legend 40
Are we having phun or what!
---
She drives me boat,
I drives me dinghy!
The Elephant
Join Date: Aug 2008
Posts: 16,271
Thanks: 195
Thanked 195 Times in 186 Posts
Rep Power:
11
Bluto - you just brought a tear to my eye, dude. That's living - right there.

I thought Giu was the only one that could get his boat to do that in a controlled way. You are the man.
---
S/V Dawn Treader - 1989 Hunter Legend 40
From a little earlier in the evening. Picture night at the club. Not sure if David has any of his C30 to show or not, I'll look for some later tonight. Need to put the above and a couple of others in the sunset shot thread.
Downwind into the finish, my eldest daughter has my newest crew, 4.5 month old Sir Winston who survived in the cabin! Phun night it was
---
She drives me boat,
I drives me dinghy!
---
Last edited by blt2ski; 08-18-2009 at

10:03 AM

.
snake charmer, cat herder
dont have any pix--we were sailing not tooo long ago in the w fla gulf off ft myers and got caught in thunderstorms---went back---then next dsy went out to marco island---the day after we got t o marco island, we set out again--this time for louseyanny----aiming at ponchartrain--via harbor hops--started out nice---clear with some nice simpsons clouds----at night thise decided to become lightning storms--so for the 3 days we were sailing at night, we had some wild rides to make mr toad feel some slime inn his pants----was a gas----we sailed a seidelman 37 at approx 8 kts continuously with gusts making our --per gps--speed up to 10--and that is with reefed main and jib...LOL--wooohooo---did this for 3 nites--into appalachicola we found the rain stopped but the lightning didnt nor did the wind----woohooo---we surfed into appalachicola bay with 6 footers sliding us in---i know the west coast doesnt care about 6 footers--i am from there--so i didnt wake up--my friend, whose boat it is--was impressed--i slept thru that part--kat slept on top of me---he was a bit scared --lol--doesnt like lightning---was fun----now we are gonna go out in some goood gulf weather for another few days to weeks of fun and games--play hide n seek with ma nature and her friends ---- possibly find some more bfs in store----LOL
---
Last edited by zeehag; 08-18-2009 at

03:58 PM

. Reason: boatkat thinks sexyterrier is a dawg lol--cannot typo
The Elephant
Join Date: Aug 2008
Posts: 16,271
Thanks: 195
Thanked 195 Times in 186 Posts
Rep Power:
11
Sweet Zee! Take a camera with you on this next one. But, for the love of all that's just, no photos of mr. toad's pants. I don't even want to know.
---
S/V Dawn Treader - 1989 Hunter Legend 40
Currently Active Users Viewing This Thread: 1

(0 members and 1 guests)