.
Join Date: Nov 2006
Posts: 10,851
Thanks: 0
Thanked 5 Times in 2 Posts
Rep Power:
15
Who found Australia?? Was it the Portuguese?
---
Well Cook wasn't for sure…that's a fact.
When my good old friend Andrew (that's TDW for you guys), came over, I couldn't understand why he was so interested in Portuguese naval history, and our boats, to the point where he spent a whole day at the Portuguese Navy Museum (museu da Marinha)..
He also brought me a gift, that now, a few months later I had the pleasure of finally enjoying to the fullest, only because of my lack of time....
the gift?? A book by a known Australian Journalistic investigator writer called Peter Trickett..the book is called "Beyond Capricorn"...let me tell you, not because I am Portuguese and in love with Naval history, especially that of my Country, richer than any other country's history...but probably the best book I have read in many years.
In this book, Peter Trickett explains how, in 1522, that's 250 years before Cook, and 90 years before the Dutch (1606), a Portuguese Captain called Cristovao Mendonca, had sailed around Australia and New Zealand, and mapped the land he called Terra Java. He took with him a Nau (Carrack), a Caravel, a bergantim and an Indian boat called a Prau. All but the Carrack sank, and the crews probably stayed in Australia, and mixed with the arborigines. (see later in this thread).
Peter Tricket seriously investigated this, when once by accident he stumbled upon the Vallard Atlas, dated 1547, now in a collection in the Huntington Library in Los Angeles, CA, whose features seriously resembled that of the Australian coast line.
The original Portuguese map was lost, or not, but in 1547, a French made Atlas called the Vallard Atlas, made in Dieppe, was made and all the words in it are Portuguese, as can be seen in that map.
CLICK HERE
), a former captain with Vasco da Gama (found India in 1499), was either a traitor or a spy and seeks refuge in France in or around 1525…hence the maps with the coast of Australia being made in France.
By the way, at the time, they made the maps with the south on top, because the Portuguese sailors sailed south first, out of Portugal, so when you google these maps, turn them upside down)
The finding of Australia by Portuguese is surrounded by mystery and political plots and secrecy.
One of the reasons it is believed that Terra Java (Australia) was never mentioned is because of the treaty of Tordesillas, (
click here
) signed in 1494, where the World was divided in two parts, one given to the Portuguese, the other to the Spanish, (curiously, with that division – see photo bellow - Portugal kept Brasil and the part where gold was found 6 years later in 1500, meaning Portugal already knew Brasil was there before Pedro Alvares Cabral officially found it in 1500 !!!). If the Portuguese claimed having been in Terra Java, they would be in the Spanish half, and had to pay the Spanish for violating the treaty..
Photo bellow shows the red line Tordesillas treaty and clearly shows how Portugal kept Brasil in 1494, when it was only found in 1500. The bellow map is at the entrance to the Museu da Marinha in Lisbon.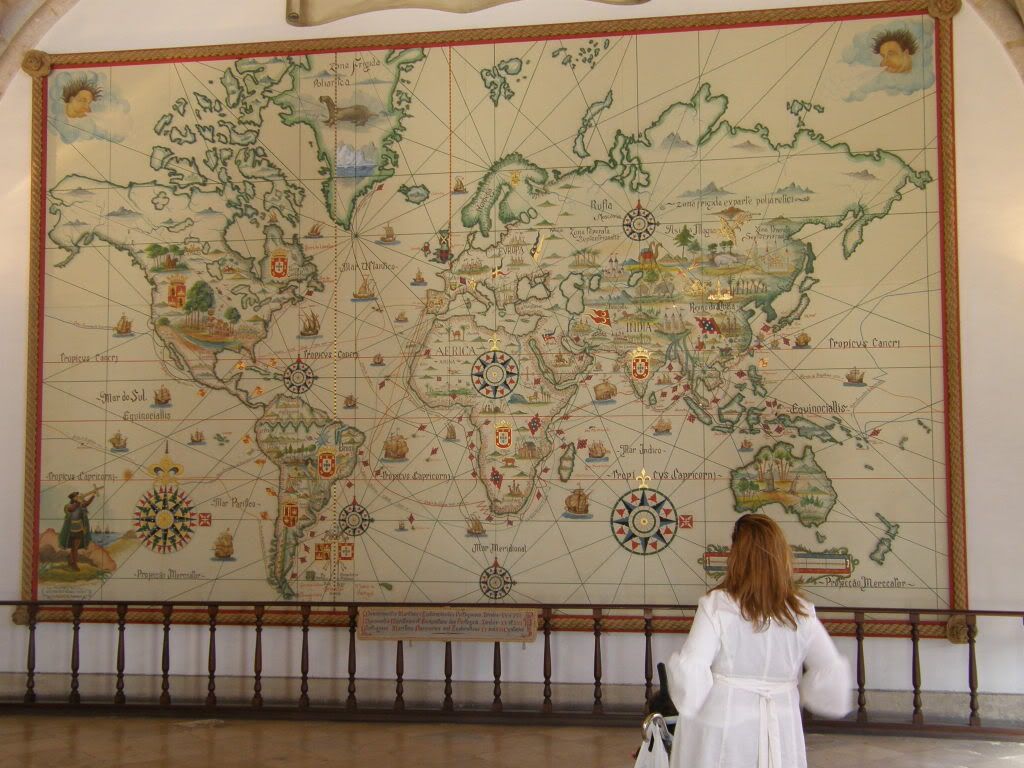 Was it impossible for the 1520 Portuguese to have sailed to Australia?? NOT AT ALL, they were already in where is now Timor and Indonesia, a mere 300 miles from Australia..Certainly a captain that sailed all around the World from Portugal to India, China and Indonesia, wouldn't mind a few more miles and see what was there..
Another possibility for the maps ending up in France, was the fact that French, instead of discovering or setting sail (the first French expedition to the Pacific is pretty pathetic and ridiculous, with the Captains' retreating to their cabins to write poems, and play music, when the ships were either attacked or in storms..this is true!!..any way)…resorted to sail around the North Africa coast, and acting as corsairs or pirates would raid the Portuguese Carracks and caravels coming from India (typical)…they actually had orders to invade Portuguese ships just for the maps..this way, maybe the maps were stolen and ended up in France..
I strongly recommend if you can, read this book…as it is..Pretty amazing.
The boats they used were the Carrack (NAU in Portuguese),
click here
, the Caravel, and the Bergantim (that later the English used also hence the English Term Brigantine or Brig), which was in its early stages almost a barge with square sails, derived from the Mediterranian sea.
Models in the Museu da Marinha (photos by TDW)
Nau or Carrack
Click Here
perfect to haul cargo and as Admiral ships. But deep draft, and poor at pointing.
The Caravela (Caravel in ENGLISH) a shallow draft ship, perfect to explore coastal features
CLICK HERE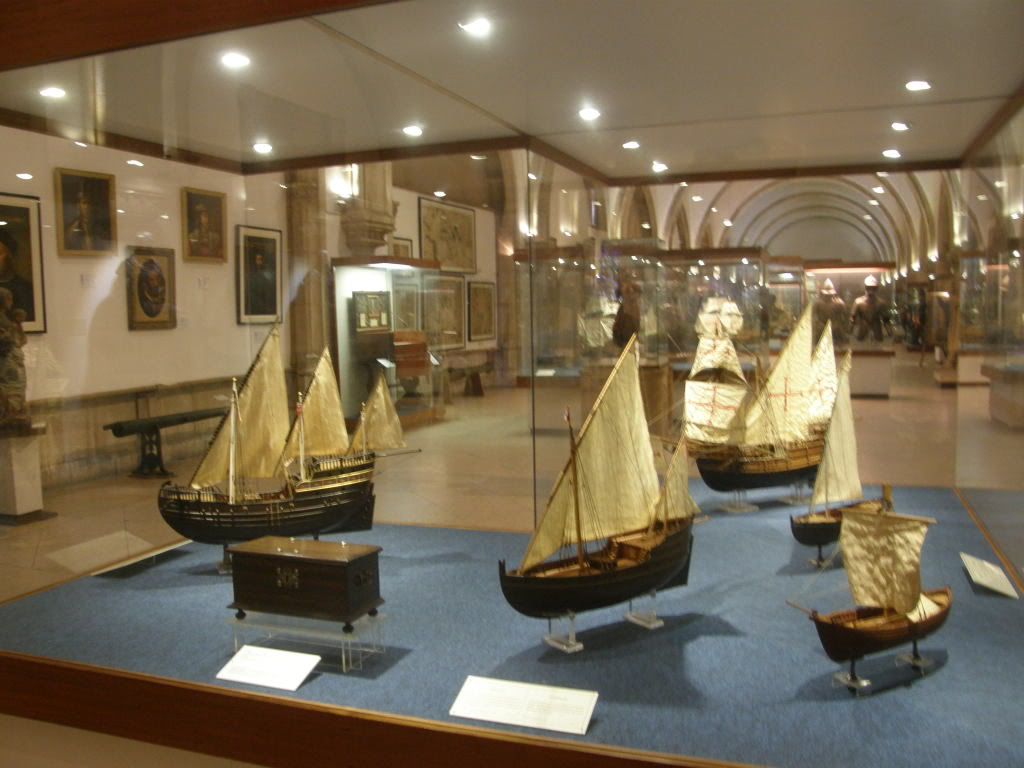 and bellow a real Caravela replica, for size is a good example.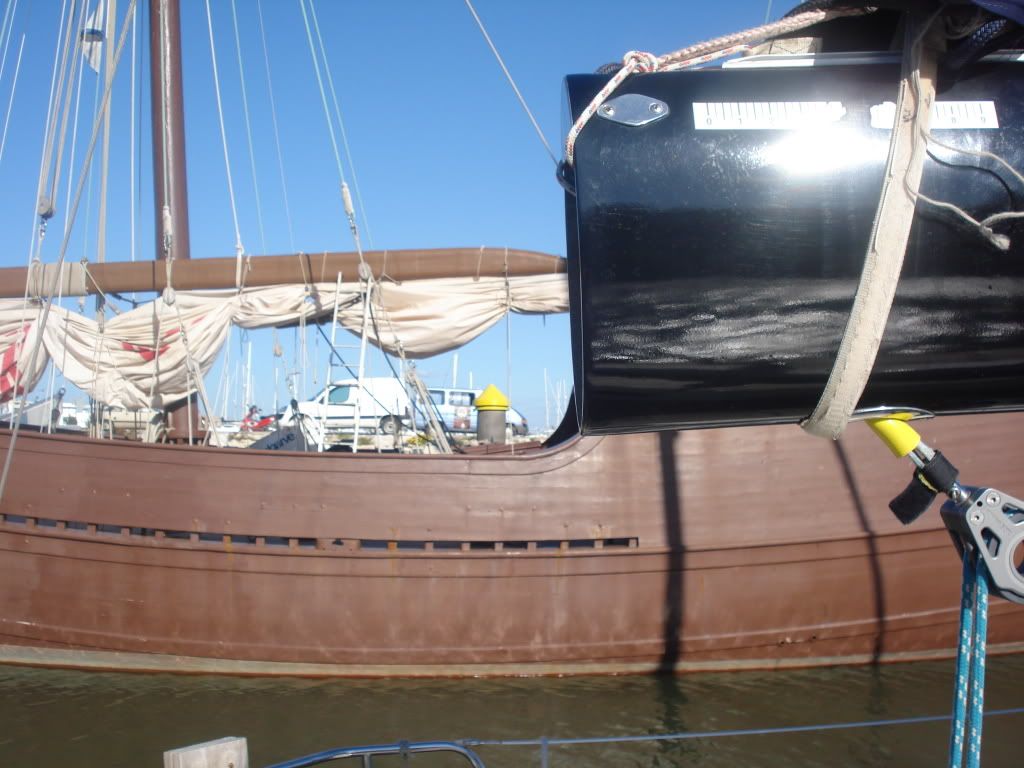 One can only imagine what it was like..back then they could find whwere they were longitudinally, North / South, but East West, was only done by estimate using boat speed.
The Portuguese boats were at the time, the fastest boats in the Worls, averaging 5 to 6 knots..
A curiosity, a league, (today almost 3 NM), back then was a measure, not in distance as we know it now, but how much "an average sail boat could sail in one hour", and was around 5 miles...funny IMS racing is almost like this...distance in time for rating...coincidence? maybe not..
Vasco da Gama found India 1499
Pedro Alvares Cabral (official founder of Brasil 1500)
Hope you enjoy a little history, although stubbornly denied by Australian Orthodox (read English butt kissers) academics, after reading the book..no questions are left…the Portuguese were in fact there…
They have canons, vestiges of stone constructions, aborigines that called Cook saying "venka", in Portuguese we say "vem ca", means come here, strong muscular aborigine tribes in North West Australia (the Brits wiped them out, by the way), that are whiter and have typical European physiognomy (remember the boats that I said sank there? Where did the crews swim to?? Not Portugal for sure..and even a fishing lead sinker carbon dated to 1500, and they just blindly refuse to accept..one wonders why…even a tribe that sang a Portuguese shanty…
None of this diminishes Cook…what are they afraid of???
Please…see if you can read the book, then come here..it's so amazing
Sorry for the long post..if this thread evolves, I have more to tell..
Thank you
Alex
INTERESTING LINKS
HERE
HERE
HERE
HERE
Original Vallard Atlas photo
Huntigton Library
, Los Angles
Portuguese map dated 1594 (see on top right corner), that shows Java in the left lower corner, altough not exactly correct as far as shape goes..but none the less, pretty amazing, considering.
---
Last edited by Giulietta; 11-09-2008 at

07:29 PM

.
Senior Member
Join Date: Jun 2004
Location: West Michigan
Posts: 515
Thanks: 0
Thanked 0 Times in 0 Posts
Rep Power:
14
Very interesting Giu, I've always had an intrest in history, and ever since I was a kid I've been fascinated with maps.

Ken.
.
Join Date: Nov 2006
Posts: 10,851
Thanks: 0
Thanked 5 Times in 2 Posts
Rep Power:
15
What is interesting is that when you look at the maps, they do not resemble Australia, then...you turn them up side down, and rotate a section 90 degrees, and BINGO...

Why rotate?? The Portuguese maps were called Portolans, were made in goat skin on a wood frame and were very small..when the French guy drew them, he didn't know how they all conected, and simply drew them..

Peter Trickett in his books shows how rotating the sections of equal size, one gets not only Australia, but also New Zealand..
Thanks Courtney.
Join Date: Sep 2006
Location: IL
Posts: 3,954
Thanks: 1
Thanked 1 Time in 1 Post
Rep Power:
13
I think there are many historical facts that have just simply been lost through time, either not recorded or the records lost. Amazing.
---
hunter Legend 37 Semper Paratus
Formerly - Tartan 34C Yawl
Larus Marinus
Join Date: Jan 2007
Location: Brussels
Posts: 1,756
Thanks: 0
Thanked 2 Times in 2 Posts
Rep Power:
11
Did the Portuguese get there before the Aborigines? Wow!
---
Jonathan-Livingston
Super Fuzzy Moderator
Join Date: Oct 2006
Location: Sydney Australia
Posts: 17,134
Thanks: 22
Thanked 128 Times in 119 Posts
Rep Power:
10
Quote:
Did the Portuguese get there before the Aborigines? Wow!
Idiens, G'day. Trust all is well with you.
Ref the Blackfellas......there are actually two relatively distinct groups. Those who comprise the various tribes that make up the mainland Aboriginal population and then there is the Tasmanian.
While no one is ever going to get to the bottom of it, it would appear that the Tasmanians were the first known inhabitants of Terra Australis and they were in turn pushed south by the incoming second wave. Eventually of course Tasmania was cut off from the mainland and there was little or no contact between the two groups for many thousands of years.
As to whether or not the mainland population is partly a result of later migration and/or interbreeding between the two groups I have no idea.
In support of this argument is the animal population of Tasmania that has of course many species once found on the mainland and now only found or at least recently found in Tassie. Fossil records of the animals now known as Tasmanian Devil and the now extinct Tasmanian Tiger have been found on the mainland.
So who discovered Australia ? That is surely one of the great inponderables. All we can really be certain of is that when Blackfella met Whitefella, Blackfella got the wrong end of the stick.
What I can say however is that my cousins were here before any of you upstart bipeds.....
Giant carnivorous Wombat.......bwahahaha......(from National Geographic)
Some ancient giant wombats (above, an artist's rendering of an animal with its young) weighed as much as a pickup truck and stood as tall as a person. Others were much smaller, about the weight of a compact car.

A new study suggests that—despite their vastly different sizes—these marsupials all belonged to the same species, and that gender accounted for the size gaps.

Illustration by DEA PICTURE LIBRARY
---
Andrew B (Malö 39 Classic)

"Life is a trick, and you get one chance to learn it."
― Terry Pratchett.
.
Join Date: Nov 2006
Posts: 10,851
Thanks: 0
Thanked 5 Times in 2 Posts
Rep Power:
15
Quote:
Did the Portuguese get there before the Aborigines? Wow!
My mother allways said, if you have nothing good to say..better say nothing...
No one said they were the first there, off course the Aborigines were there first...
Thanks Courtney.
Join Date: Sep 2006
Location: IL
Posts: 3,954
Thanks: 1
Thanked 1 Time in 1 Post
Rep Power:
13
I really have new found respect for the people of Portugual. Despite their early finding "Terra Java" long before any other Whitefella's they had the good sense, as early as the 15th century, to know to get the hell out of there and not tell anyone they found it!!
---
hunter Legend 37 Semper Paratus
Formerly - Tartan 34C Yawl
.
Join Date: Nov 2006
Posts: 10,851
Thanks: 0
Thanked 5 Times in 2 Posts
Rep Power:
15
Quote:
I think there are many historical facts that have just simply been lost through time, either not recorded or the records lost. Amazing.
And to make things worse, the NAtional Archives were totally lost in the 1755 Lisbon earth quake (the biggest in history), and the gigantic tsunami that engulfed Lisbon..after that, the plague killed the whole country, but a few...it was the begining of the delcine of a vast empire, now tottaly lost..the last "outpost" was MAcau, returned to China in 2000, as the 500 year old rent contract expired (Hong Kong was only 99 years)...
So all records etc. were lost..sadly
Senior Member
Join Date: Aug 2006
Location: wherever
Posts: 5,608
Thanks: 8
Thanked 30 Times in 29 Posts
Rep Power:
13
isn't the port side of the boat named for the portugese?

I read that they discovered sheep shagging too. is that true alex?
Currently Active Users Viewing This Thread: 1

(0 members and 1 guests)