.
Join Date: Nov 2006
Posts: 10,851
Thanks: 0
Thanked 5 Times in 2 Posts
Rep Power:
15
For Marty - BLT2SKI
---
Dear Marty,
I know you love Jeanneau, and have one, and even better..I know you love the new Sun Fast 3200..
well..have a look at what is in front of my boat..a real Transquadra race boat.
They race from France to Portugal to Martinique, under the motto by Eric Tabarly "one ocean, one ma, one boat"...in oats from 9 to 13 meters. (30 to 45 feet).
Unfortunately one of them is missing, presumably dead, jean-Marc Hautbois, and a few rturned to look for him, probably why hey are here in Cascais.
This one, didn't finish, apparentely...
And to catch up on your French speaking, here is the site
CLICK
This is really interesting, if you're into real Hairy chest racing..not ACC BS...the real deal is here..on this side of the World.
Enjoy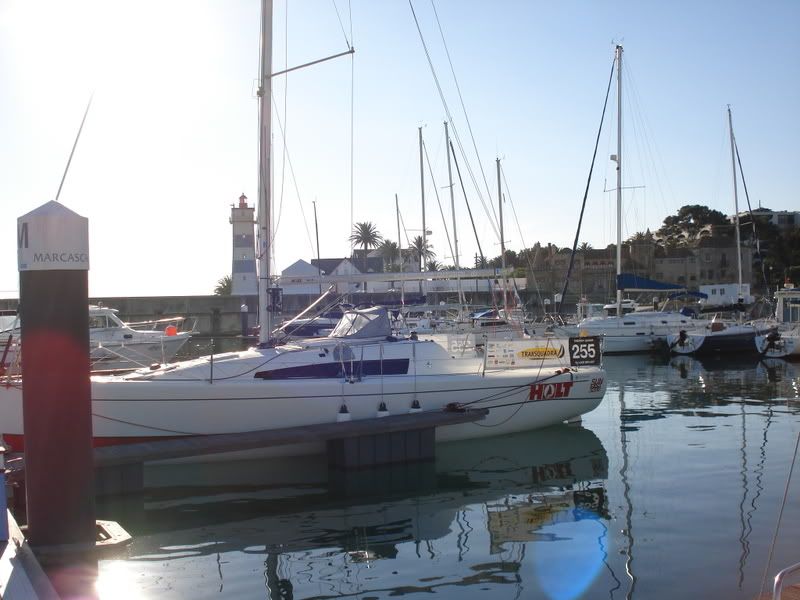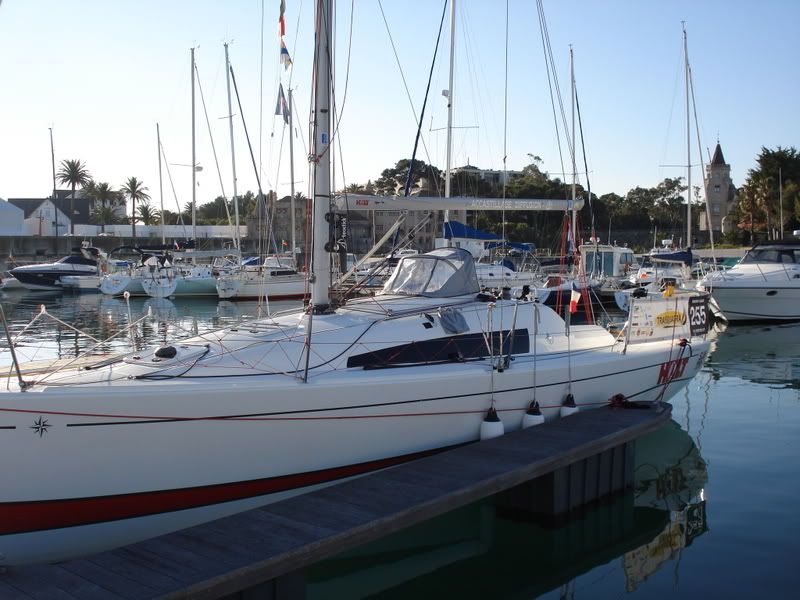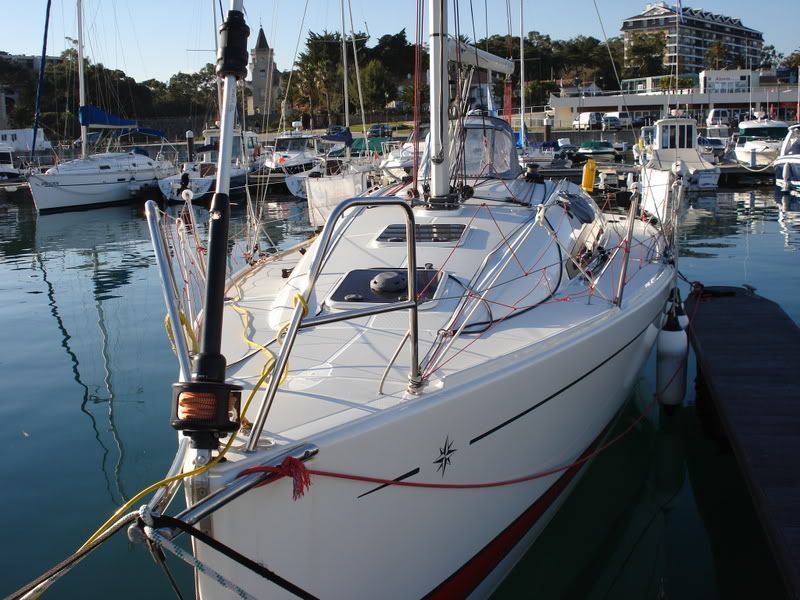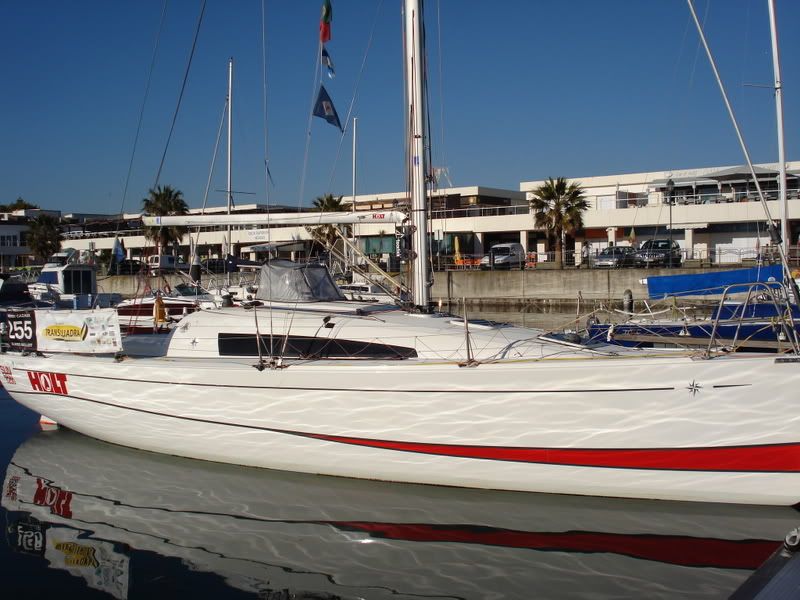 and there is an open on the other side from me, probably also one of the ones that returned to look for the missing sailor..but I had no time to go there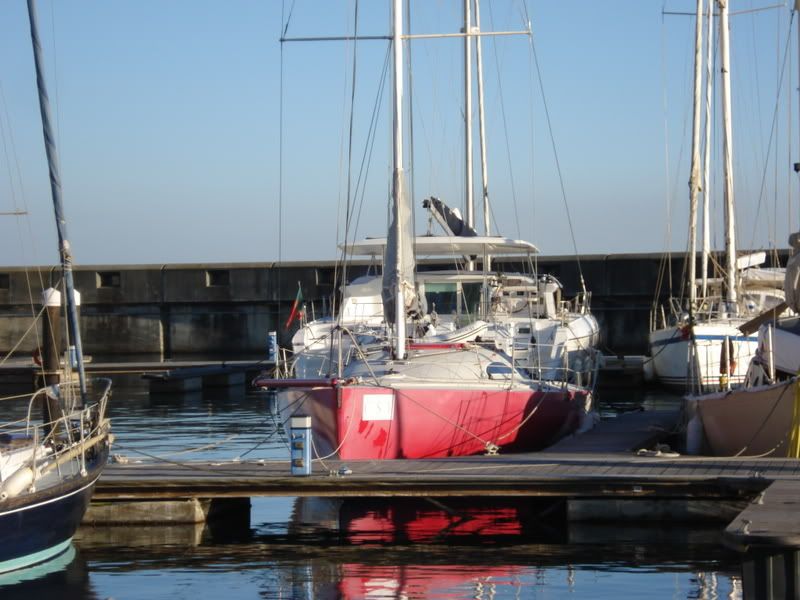 By the way..check the classifications, the first race, from France to MAdeira, Portugal, was won by a Sun FAst 3200...the boat you like so much..
Off course these are a "little" modified, for the purpose..but still...real deal..real Ocean..no Old Shoe stuff here
Alex
---
Last edited by Giulietta; 02-13-2009 at

07:02 PM

.
Alex,

Those look like sweet boats! Fast, easy to single hand, can go out on the ocean............yum!

I had not hear about the missing sailor as of yet. My francais is a bit weak, got a "D" for a grade in High School. but passed, barely!

Was the missing person sailing one of the 3200's? or a different brand size boat?

I have to say, that white hull with a red smile is pretty! Had not seen that color combo as of yet. I had seen the red/gray ones, and an all white one.

Marty
---
She drives me boat,
I drives me dinghy!
.
Join Date: Nov 2006
Posts: 10,851
Thanks: 0
Thanked 5 Times in 2 Posts
Rep Power:
15
Marty he was number 10, "XENON" on a First 31.7
Still not good. Has any one found the boat? or is everything missing? not sure where to look for info other than the tranquandra site. Wish it had an english translation to it. In the mean time, I can under stand where it probably does not need one, as it is mostly Europeans in that race, so language issues are not there.

marty
---
She drives me boat,
I drives me dinghy!
"This Monday February 9 with 12:00 YOU, the crew of the boat Avel (François Van Eetvelde and Patrick Bevernaege) are assembled on board First 31.7 Xenon to the request of the direction of race of Transquadra. They noted that the skipper Xenon, Jean-Marc Hautbois, was not any more on board. They just found a semi-mast harness and a shoe fallen on the bridge, forwards boat. Xenon only sailed under génois, bôme broken and lowered mainsail. Jean-Marc Oboe, 55 years, professor of physical education at Gap (the High Alps), took part in Transquadra (race with broad as a recluse and double reserved to the sailors of more than 40 years). It left on January 24 Oporto Santo (Madeira), course on the Sailor in Martinique. On February 7, Mico Bolo, Director of race of Transquadra, noted via the Argos system that the boat of Jean-Marc Hautbois had abruptly changed course and speed, with 760 miles in the East of Martinique. The skipper of the Xenon boat had announced with close relations his intention to go up in its mast. The direction of race did not have a news any more since, until the crew of the Avel sailing ship does not discover this morning the empty boat of any occupant."

Found this translation on SA. Something must have happened to the Jean-Marc while up the mast to fall out of his harness. Thoughts and prayers to the family.

Marty


---
She drives me boat,
I drives me dinghy!
Currently Active Users Viewing This Thread: 1

(0 members and 1 guests)