Senior Member
Join Date: Jan 2008
Posts: 288
Thanks: 1
Thanked 1 Time in 1 Post
Rep Power:
10
Perhaps it's because of my long years of racing, but I find on long passages I am either sleeping or busy with boatwork - trimming sails, fixing things, making meals, navigating. The beauty of cruising is that I can also take time to look around at the empty horizon and feel the joy of just being there!
---
genieskip
Northeast
J40
1991
Member
Join Date: Jul 2008
Posts: 30
Thanks: 0
Thanked 0 Times in 0 Posts
Rep Power:
0
Quote:
I hereby nominate this for the most informative sailnet, nay... whole internet post ever
this scares the life out of me because everytime I've though SD has some good insight, was I really just so dumb that most common knowledge is lost on me?
Aeolus II
Join Date: Feb 2002
Location: Gaithersburg, MD
Posts: 670
Thanks: 0
Thanked 0 Times in 0 Posts
Rep Power:
16
Quote:
Set your autopilot to sail a constant TWA and play with sail trim and watch the AWA and knot meter

Then set it to constant AWA and do the same thing (watching TWA instead).

Go up the mast and take pictures

Maybe your passages aren't long enough? I've found that the entertainment virtually takes care of itself after the first day.... either the weather forces you to be "on" or you've managed to get yourself into all sorts of stupid games/competitions with the rest of the crew
I would really like to see some of those pictures! I have been interested in the kite photos/videos being done lately to the point I bought a cheap water proof digital camera and a kite... now I need some time to perfect the skills...
---
Joe McCary,
Sailing on The Central Chesapeake Bay, West River, MD on my Catalina 27, Aelous II with my wife and friends.
Sailing Blog:
To view links or images in signatures your post count must be 10 or greater. You currently have 0 posts.

Senior Member
Join Date: May 2008
Location: sw florida
Posts: 196
Thanks: 0
Thanked 0 Times in 0 Posts
Rep Power:
10
We tend to try and get as much rest as possible because when things go wrong it's always when you're tired never when you just woke up and are totally refreshed.
Senior Member
What to to on long passages...
---
Like others, we take care of maintenance items. I've sanded, painted/varnished when I could. Bruce has a gas-powered generator and upon occassion would use it to run power tools (Amphora's engine room was quite roomy!). Bruce made alot of our accommodations while underway on (e.g., bunks, cabinetry, shelves, & handrails for our boat).
Dry days take care of the laundry. I constantly clean and make sure items are properly stored and check portholes and hatches and seacocks... and follow behind Bruce to make sure his tools don't go overboard.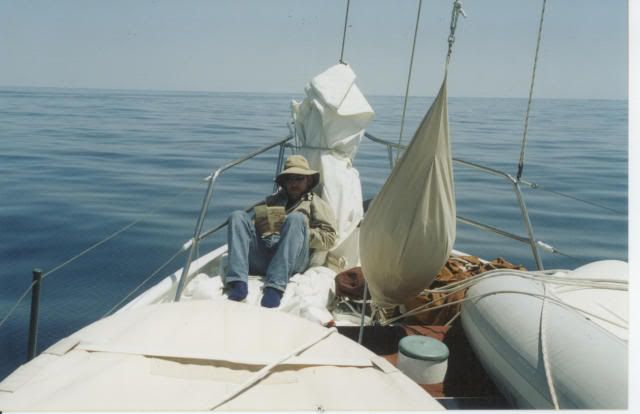 Curl-up somewhere with a good book (Bruce on the
Manawa Nui
, a 1941 55' Ketch).
Think about what to make for dinner.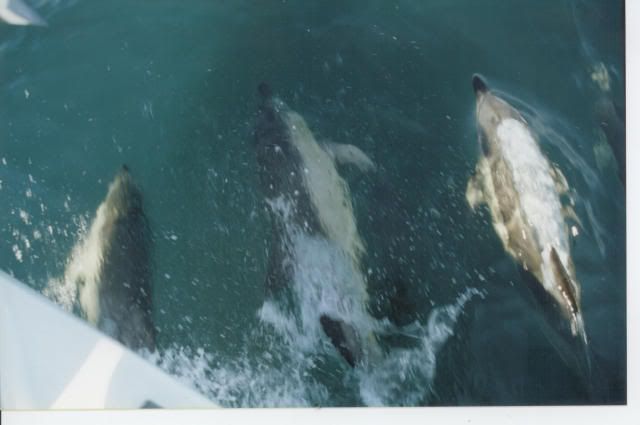 See what the neighbors are up to.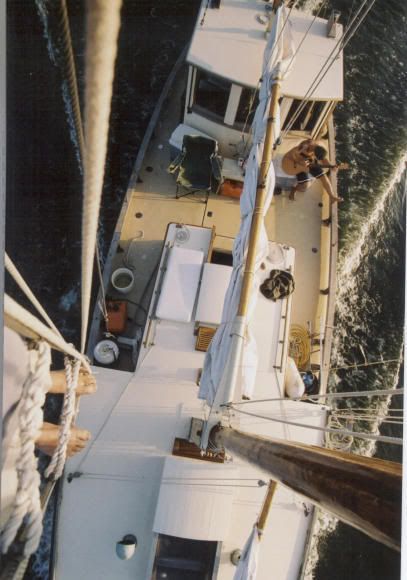 Test rattlings (which I made underway). Or perhaps, listen to a little mood music (Bruce and his sons play, I don't.)
Bruce and I take turns reading to one another or if it's just the two of us?
Other things.
When the weather starts to turn ugly? Make a pot of most excellent coffee and prepare and store a few
easy-to-keep-down
snacks and/or meals just-in-case the galley needs to close. And again, check that items are stowed and hatches/portholes are buttoned up.
Michele
---
The secret of a good life is to have the right loyalties and hold them in the right scale of values.
Norman Thomas (1884 - 1968)
Senior Member
Join Date: Jun 2006
Location: Toronto
Posts: 5,491
Thanks: 0
Thanked 2 Times in 2 Posts
Rep Power:
13
Michele, I like the way you think. Work when there's work, and play when it's done!
---
Can't sleep? Read my countdown to voyaging blog @
To view links or images in signatures your post count must be 10 or greater. You currently have 0 posts.

Currently Active Users Viewing This Thread: 1

(0 members and 1 guests)