The Elephant
Join Date: Aug 2008
Posts: 16,268
Thanks: 195
Thanked 194 Times in 186 Posts
Rep Power:
11
Damn straight lad. I've got a scar I can show ya from when the USS Sheboigan went down in our lake....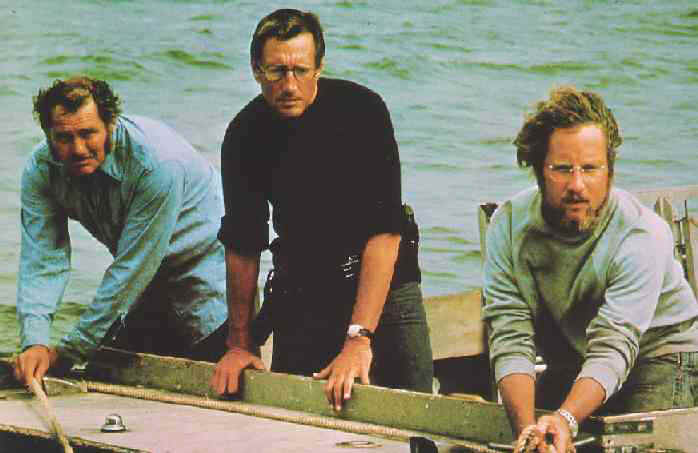 Sorry Ocean. I'll leave now.
---
Last edited by smackdaddy; 06-04-2009 at

06:00 PM

.
Rail Meat
Join Date: Nov 2007
Location: Valparaiso, IN
Posts: 29
Thanks: 0
Thanked 0 Times in 0 Posts
Rep Power:
0
We're gonna need a bigger boat!
Senior Member
Join Date: Apr 2008
Location: Melbourne, Florida
Posts: 418
Thanks: 0
Thanked 0 Times in 0 Posts
Rep Power:
10
This thread reminds of a reoccurring dream similar to Oceangirl's description, only mine was a shark...looking down on me like some tasty soft morsel in a hard shell, the sharks smile always woke me up! Guess that doesn't count...
I've only had one 'true' offshore experience, a 1200 nm passage from the Bahamas to St. Thomas...seven hundred nm due east to pick up the trades, then into the islands. Two man crew, 4 on 4 off, so there was a couple clear nights with opportunities to watch the masts do their little dance with the Milky Way. A man could easily just lay back in awe and choke on his own spit at this awesome site. Don't ask how I know. Truely privileged viewing.
What was so unsettling for me, was just the opposite of the other's experience. For the entire passage, we never saw one bird, fish or turtle until nearing St. Thomas. Luck of the draw, I suppose. Anyway, we experienced some of the same conditions OG described and with my reoccurring dream in mind, I searched the waves above for my shark. Didn't happen...and I've never had that dream again.
Senior Member
Join Date: Sep 2008
Location: Texas
Posts: 281
Thanks: 51
Thanked 14 Times in 13 Posts
Rep Power:
9
You guys are a hoot.
Shark week on the discovery channel, sleep with a night light
Senior Member
Join Date: Sep 2003
Location: Auckland New Zealand
Posts: 2,705
Thanks: 1
Thanked 36 Times in 33 Posts
Rep Power:
14
1) Green flash - I was always sceptical until we saw it about 900nm out from San Diego. Never saw it before or since - just the once.
2) A light show about 50m under water - about 2:00am - flashing lights of subtely different colours flashing quite brightly. It was so unusual I went and woke up the others on the boat and we watched it for about an hour. Sometimes the flashes were bright enough to reflect off the side of the boat! We only discovered some time later that the source was a shoal (?) of giant squid that use flashing light in their bodies apparently to disorientate their prey during attacks but we have also heard it said (National Geographic) that they use the flashes to communicate. I think if we had known that we would have been more circumspect about hanging over the side of the boat watching!!
About 500nm east of the Kermadec Islands. See it here:
BBC NEWS | Science/Nature | Large squid lights up for attack
---

To view links or images in signatures your post count must be 10 or greater. You currently have 0 posts.

__________________

"Two possibilities exist: Either we are alone in the Universe or we are not. Both are equally terrifying."

Arthur C. Clarke
Senior Member
Join Date: Sep 2008
Location: Texas
Posts: 281
Thanks: 51
Thanked 14 Times in 13 Posts
Rep Power:
9
urgo
---
I bet that was gorgeous! I love squid and octopuses but would never want to be in the water with the big guys!

In the gulf of mexico I saw some unusual glowing objects and still don't know what it was. It was a moonless night and the phosphorescence were so active it seemed like you could see the breaking waves from horizon to horizon. The first URGO ( Unidentified Round Glowing Object for you civilians out there) was about 15-20 ft diameter. We passed so close to it that I thought to myself "wow! glad I didn't hit that sleeping whale" but it was too round for a whale. In fact, it was almost perfectly round and the surface had imperfections like freckles (some area dimmer than others), it was defiantly solid not just a glob of phosphorescence. It was stationary in the water, very near the surface say five feet. We sailed on and I spotted another one but it was smaller and deeper maybe 20 feet down and only about 10 feet in diameter. I've racked my brain trying to imagine what it was, Submarine? Submerged oil platform? It seemed organic Giant Squid? Giant jellyfish?
ex-Navy
Join Date: May 2009
Location: Baltimore
Posts: 224
Thanks: 0
Thanked 0 Times in 0 Posts
Rep Power:
9
Perfect
---
It was warm with a steady breeze that cloudless evening in mid-June. We'd just crossed the stream on our way to Bermuda. The sun was near the horizon and the evening star was bright in the sky. I'd just come up to take an evening sight. As I sat on the cabin top, I could hear the rush of the water and the wind in the rigging; I could smell dinner cooking in the galley.
Then Joey, in the cockpit began to play Shenandoah on his harmonica.
I just sat there, lost in the moment.
It was almost as if the powers that be had scripted the perfect sailing moment and presented it to us as a gift.
There have been many other moments of joy and terror, but nothing to quite equal the perfection of that June evening.
Currently Active Users Viewing This Thread: 1

(0 members and 1 guests)