Member
Join Date: Aug 2007
Posts: 80
Thanks: 1
Thanked 1 Time in 1 Post
Rep Power:
10
I'm 32 and co-own a jeanneau 32' with my dad (though I got into sailing first). I envy those on open-ended or extended cruises, and hope to be taking an extended cruise in the next few years.
---
Pearson 33-2
Western Long Island Sound
Junior Member
Join Date: May 2009
Posts: 3
Thanks: 0
Thanked 0 Times in 0 Posts
Rep Power:
0
I'm 27 and have a Ericson 30+. Sailing the SW Caribbean with my pal. Heading to San Blas and Cartagena from Panama in the next few days.
99% landlubber, 1% sailor
Join Date: Oct 2008
Posts: 140
Thanks: 0
Thanked 0 Times in 0 Posts
Rep Power:
9
37 here.. I wish I had caught the sailing bug younger. One more thing you might add to the equation is vacation time-- Since the boomer generation is probably the last one to have the luxury of a lifetime career (nowadays jobs change much more frequently) the 5 week vacation will be a thing of the past. Few will hold onto jobs long enough to accrue that much vacay. This means shorter trips for the average working stiff, and more weekending, at least until retirement comes along.. probably the reason most younger folks are into fishing and power boating--they can get to where they want quickly. They probably don't realize that with sailing, it's not so much the destination, but the journey.
Senior Member
Join Date: Aug 2007
Location: Buffalo
Posts: 838
Thanks: 0
Thanked 0 Times in 0 Posts
Rep Power:
10
Me, just made it under the wire at 35.
Member
Join Date: Mar 2008
Location: Buzzards Bay
Posts: 33
Thanks: 0
Thanked 0 Times in 0 Posts
Rep Power:
0
Just turned 31
---
I'm 31. Grew up on Buzzards Bay in powerboats, but have had the sailing bug since 2000 and have had a subscription to Cruising World for the past 3 years. I got the bug by teaching and sailing on Sunfish. I currently co-own a 23' O'day and own a 14' Tanzer. The kicker is I also own a 27' powerboat, a cruiser set up with aft cabin, microwave etc. We enjoy spending weekends on it in Buzzards Bay and the Vineyard. I'd like to trade in the powerboat for a 30-34' sloop, maybe an older 34' Tartan or a 34 Pearson, Sabre... (the list goes on) but so far the wife is not onboard with the switch to sailing. I'll keep trying though... I find that when sailing you are just so much more in touch with the sea than planing over it at 20 knots.

Keep up the great posts! I love hearing about other younger sailors.
Senior Member
Join Date: Apr 2007
Location: Long Island
Posts: 404
Thanks: 0
Thanked 0 Times in 0 Posts
Rep Power:
11
Got two more!
---
Speaking of younger sailors and how we need more I think I just converted two!!
This weekend I took one of my good friends out along with his new girlfriend and my girlfriend for a weekend sail and night spent out on the boat. We are all 24 years old. His girlfriend who he is getting pretty serious with has never been sailing.
We had a nice 2 hour powersail from Mt. Sinai to Smithtown enjoying some cool brews and blasting some good old Jimmy buffet under a gorgeous sunny day. The girls lounged out on the bow just about the whole time till we got to the channel to Stony Brook Harbor. I let my buddy's girl friend steer the boat in while him and I took down the Main and put the sail cover on. She then helped him get the lines and fenders ready. We clipped onto a mooring in the back of Stony Brook Harbor (which is very pretty) and went for a cool dip in the water. Afterwards we fired up the grill and bbq'ed some hot sausages along with some watermelon that was marinaded in vodka!
After some more relaxing we actually took the dink out at low tide and raked in about 60-70 clams which we then put back on the grill later that night along with some garlic and butter and ate under the lantern in the cockpit. Overall we had an awesome day and night and then another great trip back to Mt. Sinai the next day.
So...long story short, my buddy called me today and kept going on and on about how much his girlfriend loved sailing and just being on the boat and how it could be something she could see really getting into. He has been considering getting a boat for the past year and says he now might get a sailboat! So hopefully we can add 2 more for the younger ones out there!
Here are some pics of the trip:
Ladies posing on the bow
[IMG]
[/IMG]
My good friend Rich
[IMG]
[/IMG]
Rich, and the girls
[IMG]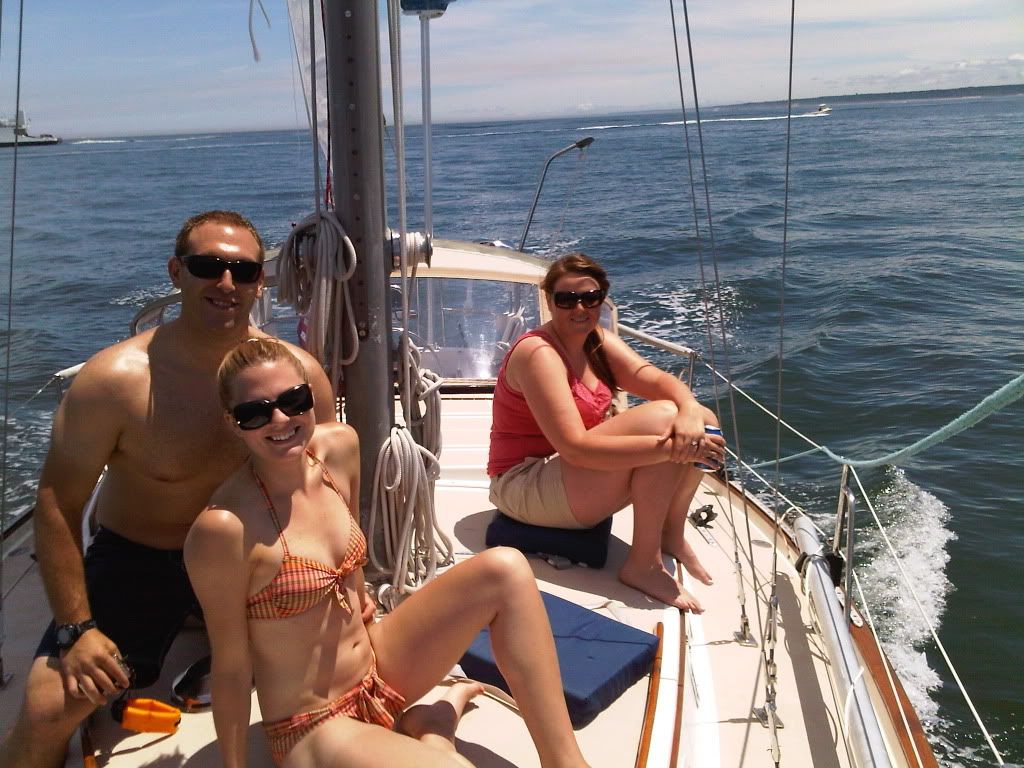 [/IMG]
[IMG]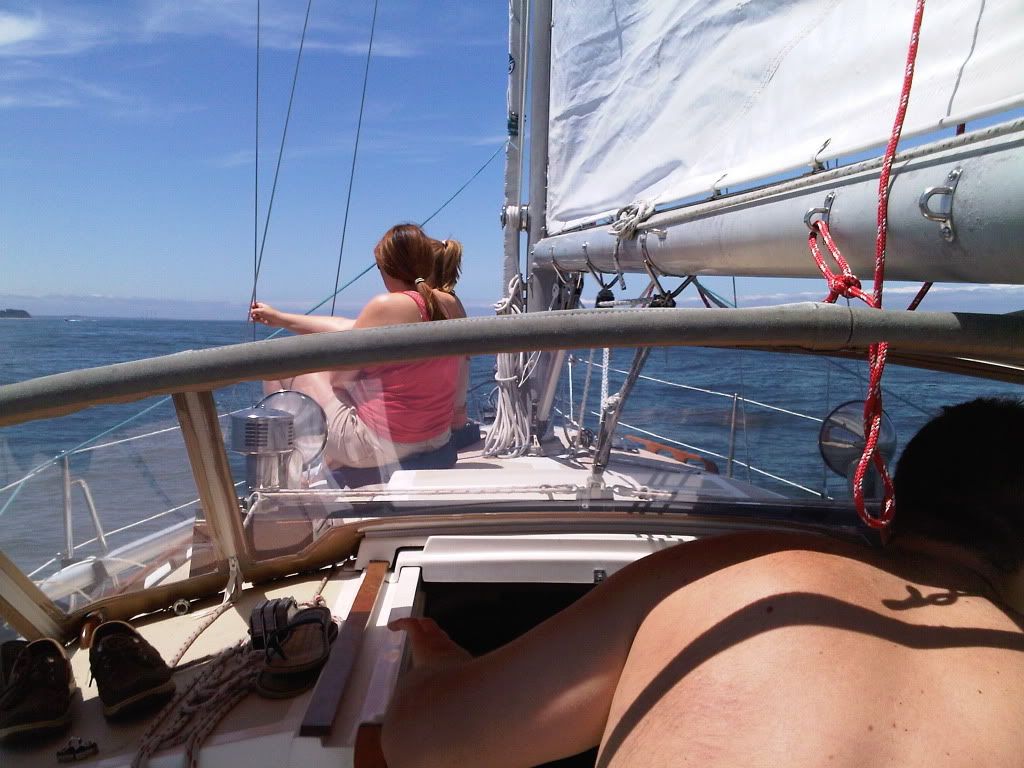 [/IMG]
Vodka soaked Watermelon!
[IMG]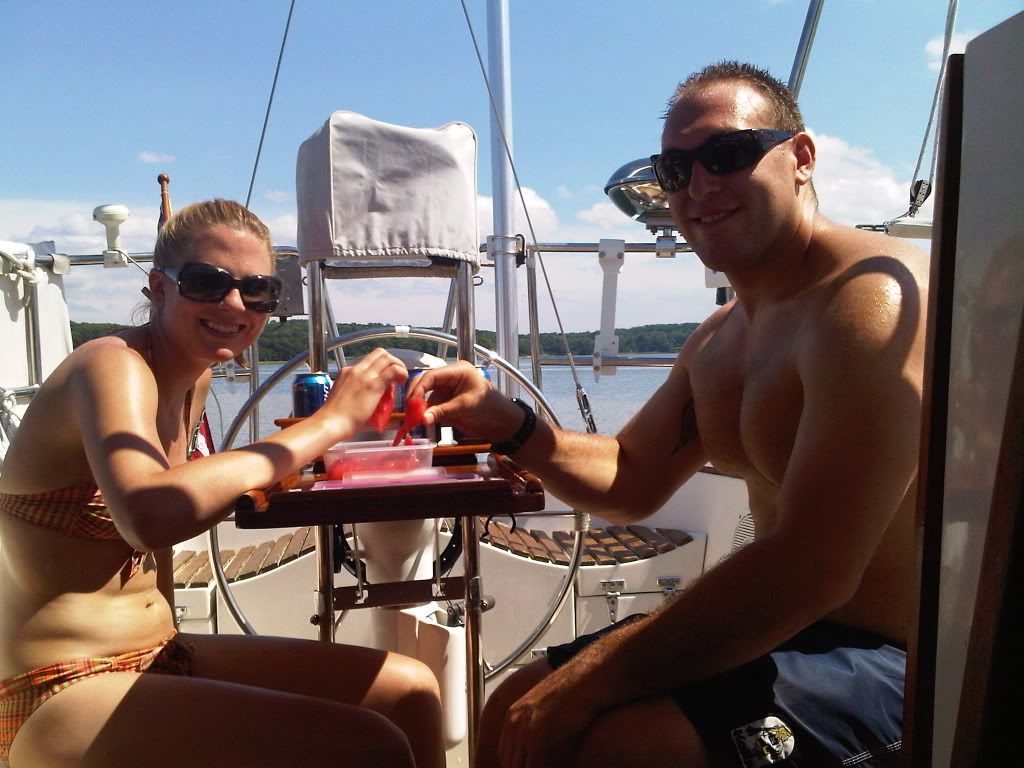 [/IMG]
Christa enjoying the shade
[IMG]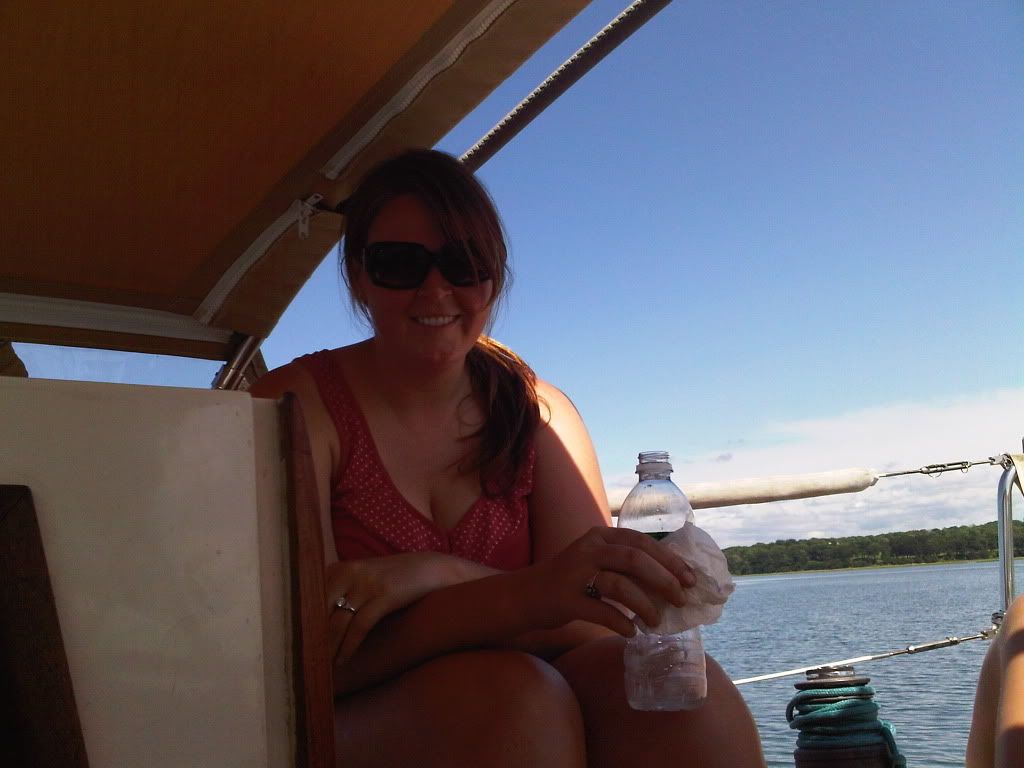 [/IMG]
Dingy Fun
[IMG]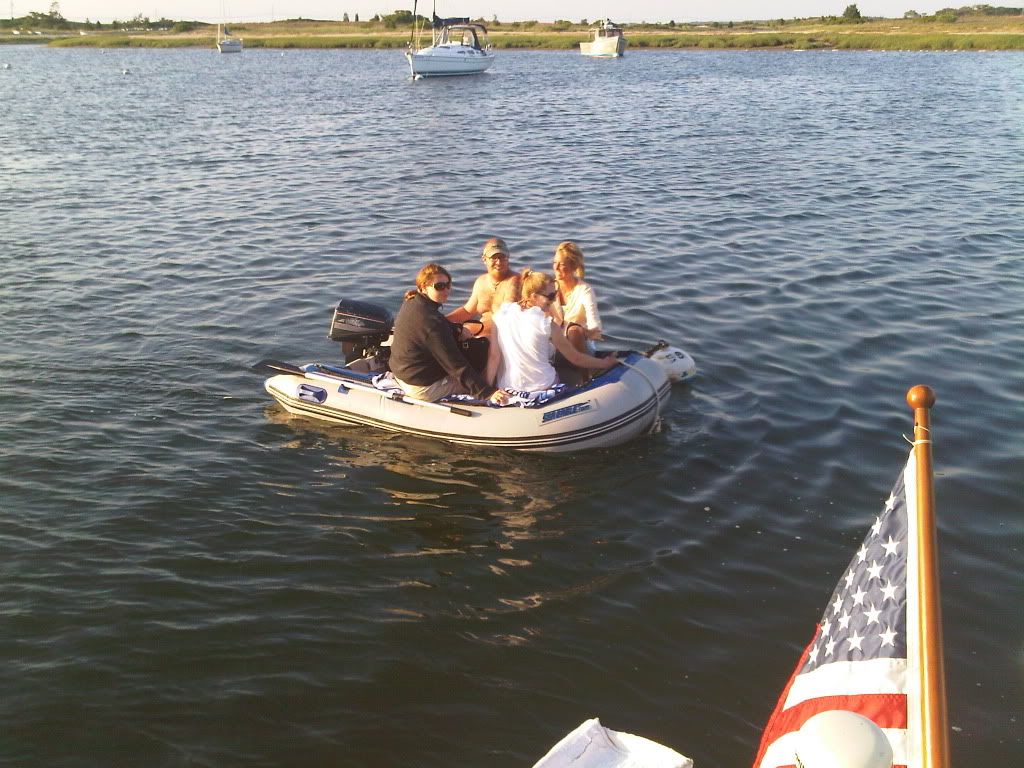 [/IMG]
Gorgeous Night
[IMG]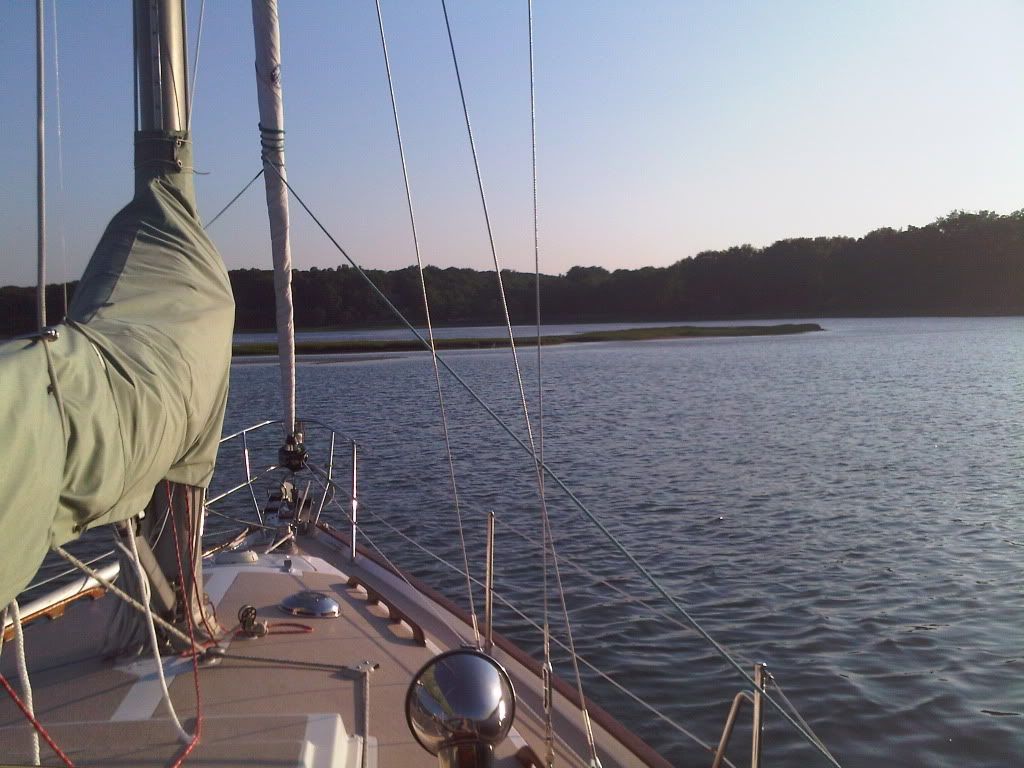 [/IMG]
What happens when you run out of sunscreen!
[IMG]
[/IMG]
---
Morgan 323
Picnic Sailor
Join Date: Oct 2002
Location: Sydney
Posts: 1,953
Thanks: 25
Thanked 32 Times in 28 Posts
Rep Power:
15
Nice photos NK. I am very jealous, we are just starting to hit winter over here.
---
'Life is either a daring adventure or nothing' - Helen Keller



To view links or images in signatures your post count must be 10 or greater. You currently have 0 posts.

We are 34 & 35 and just finally purchased a Allmond 31. We are currently in the process of bringing it though the Erie Canal this week to keep it near Detroit on Lake Erie. We really have no sailing experience but have been wanting one for a long time so we took the plunge. We are clearly the youngest with a sailboat at our marina from what I can see.

Since we have 2 young kids age 1 & 4 we plan to mainly use it for weekend overnights. We have been living aboard for the last 9 days now with our 4yr old as we have been making the trip from NJ to MI and its been a great experience!
---
Last edited by wright1d; 06-09-2009 at

10:32 PM

.
Member
Join Date: Sep 2006
Location: North Carolina
Posts: 97
Thanks: 0
Thanked 0 Times in 0 Posts
Rep Power:
11
I'm 26 and I've got a Pearson Triton. She's totally restored and ready to rock. No engine though, I like to sail, not motor. I don't get to take her out as much as I would like as I drive boats for a living and am often gone. As for sailing, I've been into it since I was 10 and I started working on schooners at 14.

It's tough turning kids onto sailing. As an instructor at Outward Bound's Hurricane Island Sailing School in Maine I had the opportunity to properly introduce many kids to the world of sailing. Few, if any, took to it after their course was completed. I don't know what it is, these kids aren't that much younger than I am yet sailing had little to no allure to them. It's almost as though it's not fast paced or glamorous enough. A great deal of sailing is finding pleasure in doing things the hard way instead of the easy way. Beating to windward, for example, as opposed to motoring. That has no appeal to most people my age. They don't seem to care about adventure, only convenience.

A buddy of mine is on the offshore racing team at Maine Maritime. His school buddies, all of whom should appreciate all boats to a certain extent as they are going to school to learn to drive them, make fun of him for being interested in sailing. I don't get it.
Junior Member
Join Date: May 2009
Posts: 12
Thanks: 0
Thanked 0 Times in 0 Posts
Rep Power:
0
27 here...getting ready to take the plunge. Searching for a boat...have my eye on a Allied Princess II. My Dad and I are just going to take off and go where the wind takes us.
Currently Active Users Viewing This Thread: 1

(0 members and 1 guests)
Similar Threads
Thread
Thread Starter
Forum
Replies
Last Post
people buying boats...

Orion48

Boat Review and Purchase Forum

8

04-10-2005

08:10 AM