Member
Join Date: Mar 2009
Posts: 46
Thanks: 0
Thanked 0 Times in 0 Posts
Rep Power:
0
What plotting tools?
---
I would like to know what tools are needed for navigation using paper charts: parallel plotter, nautical slide rule, and a divider, parallel ruler-any others? Also what material/brand do you all recommend? I am not racing and will be sailing coastal and open ocean passages.

Thanks Ditch

Senior Member
You should also have a compass for drawing circles of position and other arcs. I like to use plotting sheets, since it means I don't have to mess up my charts. Also it's fun to create them manually; Bowditch has a description for how to do it and customize the scale to your latitude or longitude. Oh, make sure you have a copy of Bowditch
What sort of nautical slide rule have you got? I've been looking into slide rules and am thinking of getting a linear rule with trig functions on it. I've got an aeronautical computer which has this cool screen on one side you can draw on, and can supposedly be used to do leeway/current computations, but I haven't figured out how to work it yet. Unfortunately I'm not too impressed with the precision on the slide rule side of the computer.
---
s/v Laelia - 1978 Pearson 365 ketch
Senior Member
Join Date: May 2007
Location: Glen Cove, NY
Posts: 3,623
Thanks: 3
Thanked 134 Times in 126 Posts
Rep Power:
10
You basically need a way to plot a course and then determine the compass reading and distance. I use parallel rulers and dividers.
Member
Join Date: Apr 2007
Location: Portland, ME
Posts: 560
Thanks: 0
Thanked 1 Time in 1 Post
Rep Power:
11
You want one of these: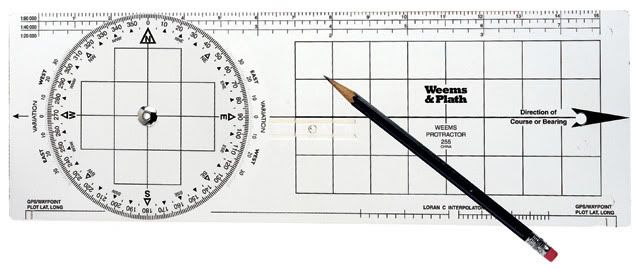 ---
S/V Gracie
P303
Senior Member
Join Date: Feb 2007
Location: New Orleans, LA
Posts: 3,070
Thanks: 1
Thanked 1 Time in 1 Post
Rep Power:
12
Tools for Navigation:
A class one Brain.
For paper charts;
Dividers & Compass. (the difference is that one has pencil lead in one leg)
Parallel Ruler with a Navigation triangle or Two Triangles.
#2 pencils or a mechanical pencil
white rubber erasers (the best for charts)
Scientific Caculator. ( I perfer the Casio FX300 series)
Up to date charts.
latest weekly Notice to Mariners to keep those charts up to date.
A work book for your navigation notes.
Most importantly: Learn to use your tools before you even go offshore. There are a lot of Navigation exercises that you can use for learning how to navigate.
Learn Coast Piloting.
GPS is a good tool... Learn to use it properly and don't rely on it 100% of the time.
Now you can go coastal.
For the crossing of Oceans learn celestrial Navigation. GPS's have been know to give up the ghost every now and then. And I have had three of them quit on me.
But then I am a professional Navigator and have always double checked the electronic tools with OLD FASHION means of Navigation. And have found that the modern Electronic tools to be off a bit. They don't always agree with the charts.
Note: GPS has had me from a few yards to a couple of miles from where I was really at. It really shows up when you are on a bayou and the GPS shows you a few hundred yards on the shore.
A side of the above have a nice sail
---
1600 Ton Master, 2nd Mate Unlimited Tonnage

To view links or images in signatures your post count must be 10 or greater. You currently have 0 posts.
Maritime Instructor
To view links or images in signatures your post count must be 10 or greater. You currently have 0 posts.

S/V Rapture
---
Last edited by Boasun; 07-22-2009 at

10:23 AM

.
Member
Join Date: Mar 2009
Posts: 46
Thanks: 0
Thanked 0 Times in 0 Posts
Rep Power:
0
Thanks all for your thoughts and opinions, very helpful.
Ditch

Currently Active Users Viewing This Thread: 1

(0 members and 1 guests)