Again, thanks all. And also for the compliments on our boat. For those who have not seen my posts from over a year ago when we purchased her, 'Heron' is a 1990 model name 'Clearwater,' designed by Craig Walters (when he worked in Clearwater, FL). It was built by Holby Marine of Bristol, RI. They only made 7 of this model. We have hull #5. One of the 7 has circumnavigated. They also built a 47' version, I believe.
I searched for about 2 years for a boat that would accommodate the shallow (4') creeks we have in and around our house in NC. The Keel swings up as does the rudder for a very shallow 1' 10" draft. Nominally 6' with the keel down. And there is the rub, the keel is 4,000 lbs of lead and it is currently raised by a manual winch. Raising the keel to return to the dock is physically the hardest part of the trip, believe me.
She basically had one previous owner, from CT, (he commissioned her) and he maintained her very well.
Here are a few more pictures, just because I like looking at her also.
Port Side View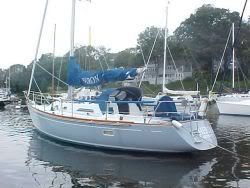 The Cockpit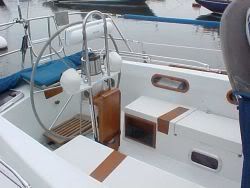 The galley looking aft, on the left is the pocket that the keel swings up into, so the salon is divided. The dinning table halves are on slides along either side of the pocket wall, so it slides out and rotates up with the 2 halves making a full table.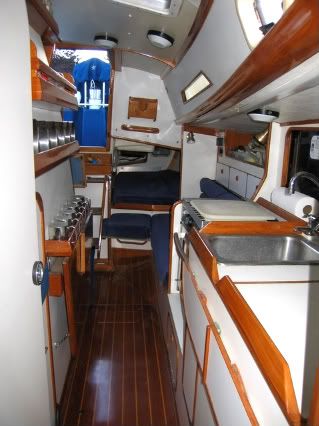 We sailed her from CT to NC last fall after spending the summer in the Sassafras river. This is from off the Jersey shore.