Member
Join Date: Jun 2009
Posts: 75
Thanks: 0
Thanked 0 Times in 0 Posts
Rep Power:
9
When would you run with just the genoa?
---
When would you run with just the genoa instead of going wing-on-wing?
Midwest Puddle Pirate
Join Date: Feb 2005
Location: Gardner, KS
Posts: 2,160
Thanks: 0
Thanked 0 Times in 0 Posts
Rep Power:
14
If the wind was very shifty and I didn't want to rig a preventer.
---

To view links or images in signatures your post count must be 10 or greater. You currently have 0 posts.
John USYacht 27 "Cora Lee"
Senior Member
Join Date: Mar 2006
Location: VA
Posts: 2,132
Thanks: 2
Thanked 7 Times in 7 Posts
Rep Power:
12
When its like this....
---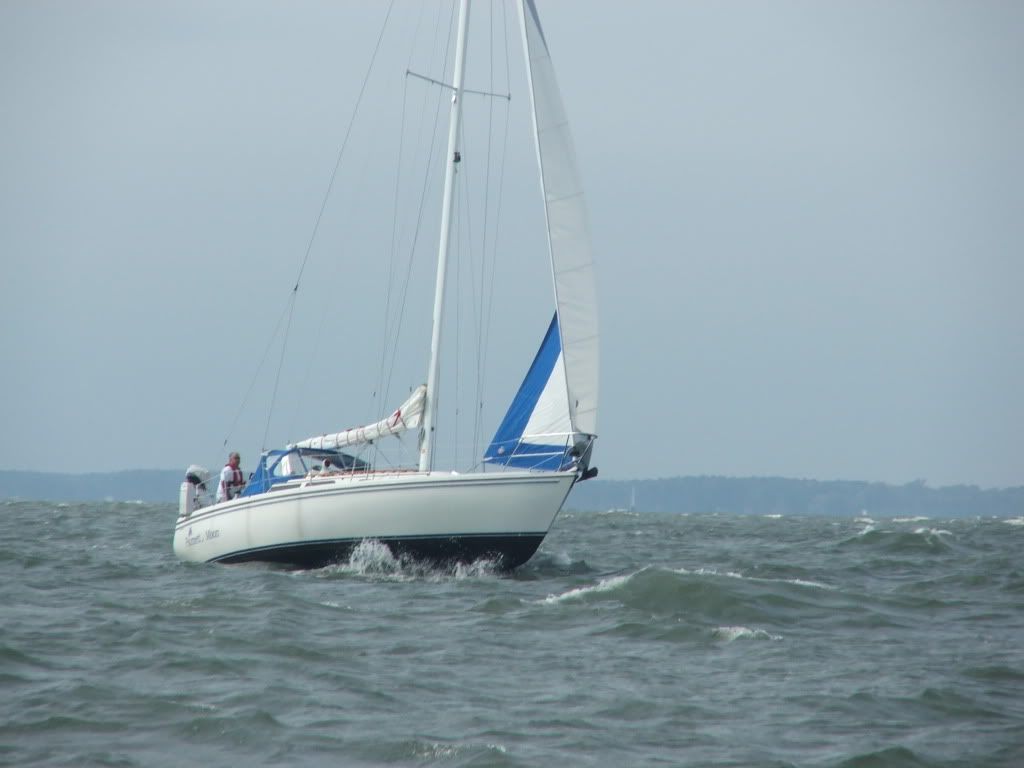 ---
PalmettoSailor
s/v Palmetto Moon
1991 Catalina 36
---
Last edited by PalmettoSailor; 10-16-2009 at

05:39 PM

.
Just another Moderator
Join Date: Sep 2005
Location: New Westminster, BC
Posts: 19,132
Thanks: 153
Thanked 545 Times in 519 Posts
Rep Power:
10
When you have roller furling and you're too lazy to hoist the main!
You do see a lot of this, though, and I think that my statement above has some truth to it.
We often sailed into our home port in an increasing breeze, typically peaking in the high 20s on most sunny days, with just one sail. We did not have furling and generally preferred to sail main-only mostly for the stability of the sail.
True, we had to be vigilant to avoid an accidental gybe, but - esp when running deep where the genoa can have a tendency to collapse and refill with a bang - all in all we felt more secure flying just the main. It's also easier (and safer, IMO) to drop and secure a mainsail than a non-furling genoa in high wind conditions.
However with the now-ubiquitous headsail furling, running genoa only is commonplace when there's enough wind that you get the speed you want. And lets face it, it does simplify things quite a bit. (But is it really "sailing"???)
---
Ron

1984 Fast/Nicholson 345 "FastForward"

".. there is much you could do at sea with common sense.. and very little you could do without it.."
Capt G E Ericson (from "The Cruel Sea" by Nicholas Monsarrat)
Moderator
Join Date: Mar 2007
Location: Chesapeake
Posts: 5,680
Thanks: 0
Thanked 4 Times in 3 Posts
Rep Power:
10
Only rarely -- usually in light air if we're feeling particularly lazy.
What kind of boat do you have? Masthead rig, fractional? Is it an older design, or a modern boat?
You may be interested to
read this thread
, where a few years ago some of us discussed the pros and cons of sailing under headsail alone, and in which I had an interesting exchange with former member Robert Gainer (Sailnet monicker "Tartan34C", now deceased). Robert was a highly knowledgeable and experienced sailor -- much missed here.
---

To view links or images in signatures your post count must be 10 or greater. You currently have 0 posts.

Pacific Seacraft Crealock 31 #62

NEVER CALLS CRUISINGDAD BACK....CAN"T TAKE THE ACCENT
---
Last edited by JohnRPollard; 10-16-2009 at

05:49 PM

.
Coastal Traveler
I see a lot of boats on the ICW that run a genoa. It's easier do roll it up if the wind is shifting. I run a 175 Genoa most of the time, and only raise the main if someone is with me.

Dave
Senior Member
Join Date: Oct 2009
Location: Gloucester, MA
Posts: 586
Thanks: 0
Thanked 0 Times in 0 Posts
Rep Power:
8
If you are off the wind, it will often make it easier to steer. The main tends to push the stern around and give the helmsman a workout whereas the jib pulls the bow off the wind and makes it easier to steer.
Wish I never found SN!
Join Date: Jul 2006
Location: Presently in Brisbane, Australia
Posts: 2,114
Thanks: 9
Thanked 6 Times in 6 Posts
Rep Power:
11
If I am in no hurry I will only use the genoa but mainly in light airs or any strength aft the beam. If its blowing hard and on the beam you will put too much strain on the steering, so the main has to go up to balance boat.
---
Simon

I miss my boat
Brisbane
DELIVERY SKIPPER
Drinking Rum before 10am makes you a Pirate NOT an alcoholic
We sailed with only the jib on two occasions that I remember, one was at night and the wind was blowing 30kts so I did not want to have crew go forward to hoist/reef the main. It was just easier and safer to un-furl the jib and reach to our destination.

The second occasion was a daytime blow when it must have been blowing in the high 40's if not 50's. We had to sail from SF to Richmond and we sailed with a roller reefed jib (50%) on a deep reach nearly the entire way. We hit 8kts on occasion, 7.5kts sustained, with only 50% headsail!!
Handsome devil
Join Date: Jan 2008
Location: LaConner,Washington
Posts: 3,477
Thanks: 0
Thanked 1 Time in 1 Post
Rep Power:
12
Every chance I get...( Which hasn't been much)....as I'm one of those horrible lazy sailors...
Running Genny only and up to Hull speed in 10 to 12 knots of wind ....why pull more strings then you need...
[IMG][/IMG]
---
"Go Simple...Go Large"

Relationships are everything to me..everything else in life are just tools to enhance them.


The purchase price of a boat is just the admittance fee to the dance...you still have to spend money on the girl...so court one with something going for her with pleasing and desirable character traits others desire as well... or you could find yourself in a disillusioned relationship contemplating an expensive divorce.

---
Last edited by Stillraining; 10-17-2009 at

03:08 AM

.
Currently Active Users Viewing This Thread: 1

(0 members and 1 guests)