Sailing by Aberdeen Proving grounds I thought at first my engine was about to die!
---
I left the C@D canel yesterday heading for Baltimore but I had to stop for fuel and well I just decide to lay over for a day or two here at Green Point Landing until the weather clears. I was going by Aberdeen proving grounds yesterday morning when I heard this thund and felt the boat shake a bit. I thought my outboard was about the die. I freaked for a min when I heard it agian. I then realized where I was and thought wow shooting them big guns must be fun. As I was going along it got louder and louder. I could really feel it in the boat. It was sort of freaky. Anyway the weather is crap but this Green Pt. is cool. Nothing but sailboats.
A few pics from yesterday!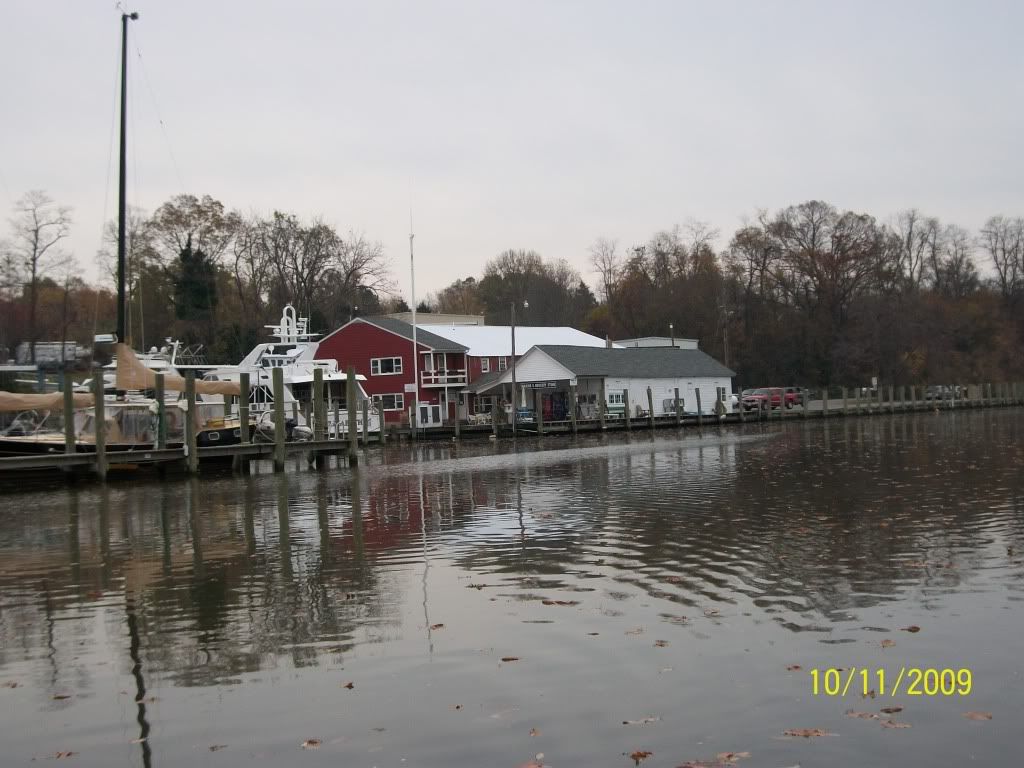 Senior Member
Join Date: Jul 2000
Location: Pennsylvania
Posts: 4,565
Thanks: 42
Thanked 259 Times in 245 Posts
Rep Power:
18
You should be near Aberdeen when the auto-cannon (?) trials are going off !!!! .... makes the geese quite nervous and loud.
October Moon B43
Join Date: Mar 2009
Location: SE Pennsylvania
Posts: 400
Thanks: 0
Thanked 0 Times in 0 Posts
Rep Power:
9
On cloudy days you have to listen carefully to see if it's thunder or Aberdeen
When you head to Baltimore check in with Inner Harbor East 410 625 1700 to see if they're still offering their weekday special. They were giving the slip away for free all you paid was electic. It's our summer marina and is very convenient to resturants, bars, shopping, etc. Watch for crab pots between Worton and Baltimore. There's usually quite a few located in separate areas. Enjoy Worton in the mean time.
Mike
Senior Member
Join Date: May 2007
Location: Glen Cove, NY
Posts: 3,775
Thanks: 3
Thanked 149 Times in 141 Posts
Rep Power:
11
Weather sounds lousy for next couple of days in the Mid Atlantic states area. Find a good spot to wait it out.
---
Last edited by JimsCAL; 11-11-2009 at

07:45 PM

.
Unpaid Intern
Join Date: Oct 2006
Location: Maryland
Posts: 992
Thanks: 0
Thanked 2 Times in 2 Posts
Rep Power:
11
Quote:
Weather sounds lousy for next couple day in the Mid Atlantic states area. Find a good spot to wait it out.
No kidding. It's blowing 35 knots where I'm at, and approaching 50 knots at the Chesapeake Bay Bridge Tunnel.
---
1984 Sabre 34 Mk I
Senior Member
We sail a lot up to Worton Creek and especially in the Spring and Fall in the Northern Chesapeake so my wife and I are familiar with the "booming sounds in the Aberdeen Area.

Our first Summer trip to New england so us coming home through that area. We had ridden the tide up the Delaware through the C&D canal the day before for 10+ hours and had anchored in the mooring field at dusk at the Elk Neck Yacht Club almost across from the Bohemia River. After a nice grilled dinner of tuna , grilled asparagus and a bottle of pinot noir we retired for the night.

Next morning after a nice peacefully breakfast we pulled anchor and started the last 6 hours of our trip home to Rock Creek motoring as the wind was still light in the AM. After we passed the Sassafras and could see Still Pond and Worton Point by eyes started getting heavy. Must have been all the motoring the day before on the Delaware. Feeling my wife was now more confident taking the boat after she had had the helm every day for 15 days for at least 3 hours on the Atlantic Ocean and the Long island Sound I asked her if she would take it for a few hours and let me take a nap till we went past Pooles Island. I showed her the large buoys marking the channel visually and also on the C-80 chart plotter which I thought she had gotten used to. We also had the paper chart in the cockpit and we went over that also. I had her sight Poole's Island and told her to keep it on the Starboard. I then went below and went lights out in 2 minutes.

I was awoke rudely some hour 15 minutes minutes later by my wife blowing a whistle followed by 3 HUGE rattling booms. I rushed up the companionway steps squinting in the sunlights and noticed a whole bunch of stakes around us and Poole's Island 2 miles ahead of us and to the port. Then two more huge rattling booms.

I grabbed the wheel and went exit stage left (East). 30 minutes later we were back in the correct area. She had mistakenly "wandered" us over into the gunnery range and not even aware until the huge explosions.

Needless to say we laugh about it now, but she is wary about taking the helm north of Poole's Island.

Dave
---

To view links or images in signatures your post count must be 10 or greater. You currently have 0 posts.
___________________________
S/V Haleakala (Hawaiian for" House of the Sun")
C&C 35 MKIII Hull # 76
Parkville, Maryland
(photos by Joe McCary)
Charter member of the Chesapeake Lion posse

Our blog-
To view links or images in signatures your post count must be 10 or greater. You currently have 0 posts.


"Sailing is just the bottom line, like adding up the score in bridge. My real interest is in the tremendous game of life."- Dennis Conner
Member
Join Date: Mar 2009
Location: Towson, MD
Posts: 53
Thanks: 0
Thanked 0 Times in 0 Posts
Rep Power:
9
I am suprised the patrol boats didn't come charging out. Normally if you drift over the demarcation line for APG they come out with lights flashing.
---
Alan
s/v "Zig Zag"
Pearson 39 Yawl
Currently Active Users Viewing This Thread: 1

(0 members and 1 guests)